The recent EIA Petroleum Inventory did not do much to cool the bearish sentiment surrounding crude oil prices (NYSEARCA:USO) (NYSEARCA:OIL). While crude oil inventories fell as expected, there are growing signs of a glut in gasoline production. Yet, refiners are slowly addressing the issue.
A look inside the numbers
US crude oil inventories posted a 2.3 million barrel decline last week. Though, this would have been larger if imports had not risen. As has been the case for much of 2016, the headline inventory number is more a reflection of weekly import fluctuations, and hence, is more noise than signal.
Oil imports rose by 293,000 bpd week over week to 8.0 million bpd. If imports had stayed flat week over week, the crude oil inventories would have fallen by a much more substantial 4.4 million barrels.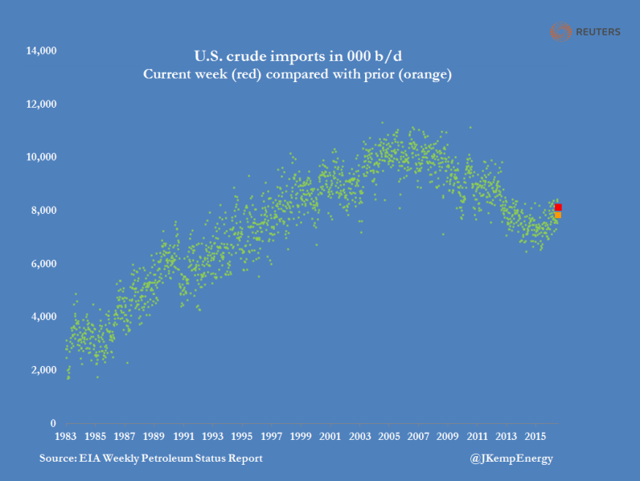 Source: Reuters
Imports from Canada were more or less flat week over week at 2.9 million barrels. I continue to be surprised that this number is so high, as the impact from the Alberta wildfires has yet to show up in the data. These wildfires took offline around 1 million bpd of production at their peak, and a few 100,000 bpd of production were out of commission for several weeks after. While it does take time for lost production to show up in the data, I have a feeling Canadian producers simply tapped into surplus inventories to keep the pipelines flowing.
US oil production shows another decline
US oil production rose by 9,000 bpd versus the 57,000 bpd increase in last week's report. Though, this headline number is deceiving, as seasonal pipeline maintenance in Alaska knocked out 194,000 bpd of production two weeks ago. Lower 48 production, the number you want to focus on, fell by 29,000 bpd, while Alaska rose by 38,000 bpd.
When backing out the Alaska data, which is still off ~100,000 bpd from maintenance, oil production fell at an annual run rate of ~1.5 million bpd, a pace well above the 2016 trend line.
Refiners respond to the gasoline glut, but more is needed
Refiners processed 16.8 million bpd of crude oil, up 2% from last week and near the 2016 high. In addition, gasoline stockpiles rose 900,000 barrels and distillate stockpiles fell 200,000 barrels.
While implied gasoline consumption remains near the 2016 high at around 9.7 million bpd, refiners are still producing too much of the fuel, as seen by the increased stockpiles. The summer is supposed to be a period where inventories shrink, not increase. Also not helping matters is a sudden surge in gasoline imports to the US east coast (PADD 1) to levels not seen since 2011.
Refiners are slowly responding to the gasoline glut. The EIA data suggest that they have started to shift output to distillates and from gasoline, reversing the trend in the opposite direction from that seen in April.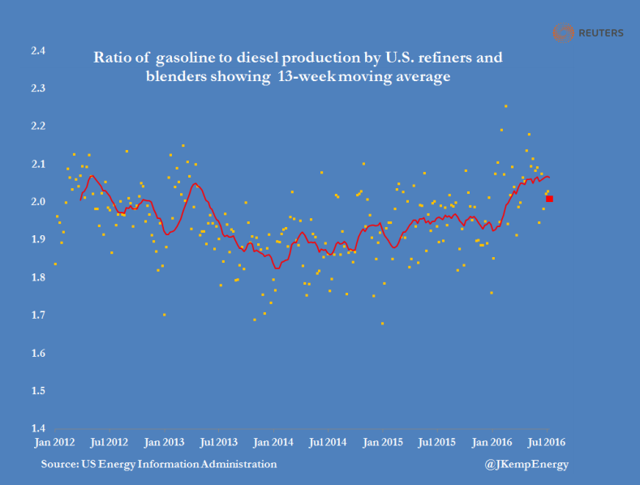 Source: Reuters
Nevertheless, the real solution to this glut is for refiners to ramp down throughput. Crack spreads, an indicator of refining profitability, have collapsed so far in Q3, a bad omen for earnings. Luckily, this should come organically, as some refining capacity tends to go off-line during Fall, which is refinery turnaround season.
Conclusion
Compared to last week, this EIA report was far more bullish for crude oil. US production seems to be falling at a rapid rate, and only imports are keeping inventories from collapsing.
Though, high gasoline supplies has emerged as a new threat for the commodity. Refiners need to cut back production of the fuel or face a major profitability squeeze.
As for how to play an oil price recovery, take your pick from the majors: Exxon Mobil (NYSE:XOM), Chevron Corp. (NYSE:CVX), BP Plc (NYSE:BP), Royal Dutch Shell (RDS.A, RDS.B), ConocoPhillips (NYSE:COP). Shale players Apache Corp. (NYSE:APA), Anadarko (NYSE:APC) and EOG Resources (NYSE:EOG) are also interesting, though they are much more oil pure-plays.
Disclaimer: The opinions in this article are for informational purposes only and should not be construed as a recommendation to buy or sell the stocks mentioned. Please do your own due diligence before making any investment decision.
Disclosure: I am/we are long COP.
I wrote this article myself, and it expresses my own opinions. I am not receiving compensation for it (other than from Seeking Alpha). I have no business relationship with any company whose stock is mentioned in this article.