Kansas City Southern (NYSE:KSU) is not one of my favorite Class I rail stocks as the company is consistently valued with a higher multiple than the likes of Union Pacific (NYSE:UNP), Canadian National (NYSE:CNI) and Canadian Pacific (NYSE:CP), who all in my opinion, have better fundamentals.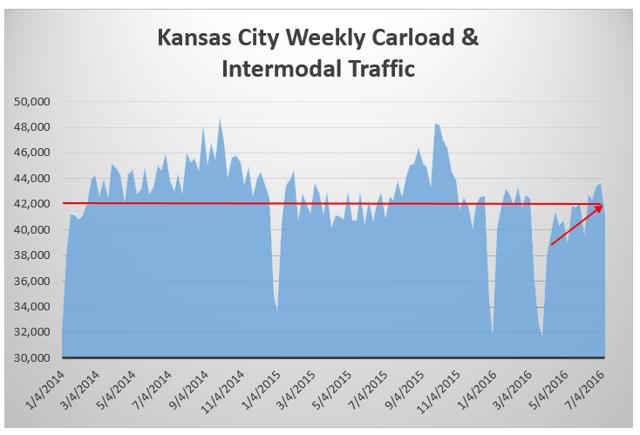 Click to enlarge
Source: Kansas City Southern website and personal database
That bias aside, so far during 2016, it cannot be argued against the fact that Kansas City Southern has performed better than its peer group based upon total rail traffic. Through Week 27, Kansas City Southern's overall rail traffic declined just under 3 percent. All other Class I peers have witnessed declines between 5.5 to just over 10 percent, with two of my three favorites in Union Pacific and Canadian National being the worst performers.
For weekly total rail traffic the 42,000 number is a key level for investors to monitor as over the previous two years, Kansas City Southern has generally witnessed average weekly total rail traffic above this level; 43,500 average for 2014 and 42,800 average for 2015. During 2016 so far, average weekly traffic is below this level by 3 percent, but the recent breakthrough during June has the company with some momentum.
Clearly, Mexico rail traffic has been the catalyst to Kansas City Southern's performance as traffic improved 0.5 percent through Week 27 versus the U.S. decline of nearly 6 percent, more in-line with other Class I peer performance. Not all of the Mexico business has been smooth through the year though as metals and products and motor vehicles and equipment have declined by 5 and over 6 percent respectively.
During the second quarter, Kansas City Southern witnessed revenue declines of 3 and 5 percent for year-over-year, YOY and year-to-date, YTD performance. Both GAAP and non-GAAP diluted EPS performed well with improved performance of 9 percent YOY and YTD, and 18 and 9 percent YOY and YTD respectively. Driving these bottom-line results was the company's substantial improvement in operating ratio to a record low 61.3 percent in the June quarter.
A strong driver for improved operating efficiency was a $34 million fuel excise tax credit recognized in the second quarter covering the first half of the year. Management stated that the fuel excise tax credit was expected to total around $60 million for the entire year, or another $30 million during the second half. Excluding this tax credit, the June operating ratio would have been closer to 68 percent, but still would have improved by around 40 basis points, bps YOY.
A lot of interest and discussion revolved around the tax credit subject as the credit is expected lead to around $0.35 to $0.40 per share for 2016. Management explained that they expect this tax credit to continue to offset the higher fuel costs in Mexico versus the U.S. through 2017, until energy reform becomes effective in 2018. New CEO Patrick Ottensmeyer was quoted by saying,
"I would just say we think the intention of this credit was to put the -- all energy markets sort of on a glide path an equal footing to converge to deregulation and free market prices in 2018. So we feel pretty confident that what the behavior is going to be for this year and next year. Again, once we get to 2018, then it's really the effect of Mexican energy market deregulation that that will continue on for, God knows how long in the future, so we think this is just the way to put everyone on equal footing and gain some of the benefits of the intention of deregulation on an accelerated basis."
It should be reiterated that there is no guarantee that these tax credits will be in place, but that Kansas City Southern management is confident they will occur. Since the initial tax credit for both quarters was recognized during June, investors should consider checking in with investor relations to get more clarity whether the credits will be recognized semi-annually or quarterly moving forward.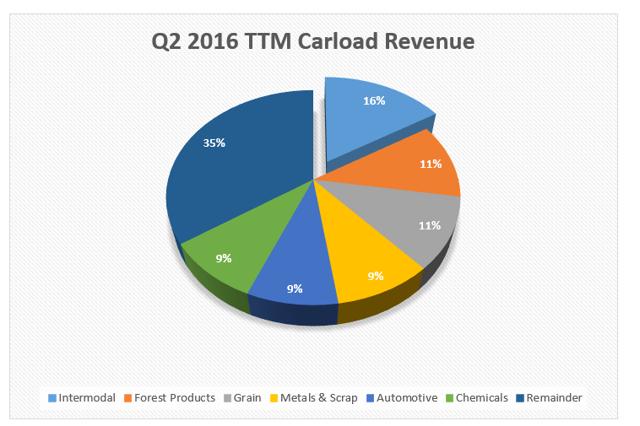 Click to enlarge
Source: Company financials and personal database
Of the $2.3 billion generated over the TTM period, 16 percent was driven by intermodal, which includes international and domestic containers and trailers. During the second quarter, intermodal freight revenues declined 6.6 percent YOY and 8.5 percent YTD representing $365 million for the TTM period. The second quarter witnessed improvement, despite continued heavy flooding in Texas impacting operations.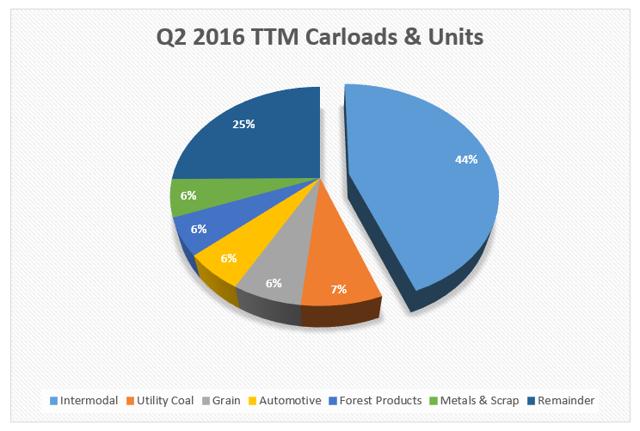 Click to enlarge
Source: Company financials and personal database
The amount of traffic generated by intermodal container units like with many Class I rail operators was substantial for Kansas City Southern as of June 2016. On a TTM basis, 44 percent of total rail traffic was attributed to intermodal. During the second quarter, intermodal units declined 1.5 percent YOY and 4.4 percent YTD representing 968,000 for the TTM period. Both intermodal units and freight revenues displayed improvement during the second quarter.

Click to enlarge Source: Company financials, company weekly rail traffic from website and personal database; all numbers are rounded
Kansas City Southern also breaks out their cross-border and Port of Lazaro Cardenas unit traffic. However, these totals do not reflect all of the other intermodal rail traffic that occurs. By including the split between Kansas City Southern Railroad, KCSR and Kansas City Southern Mexico, KCSM weekly rail traffic for intermodal, the remaining units can be classified as Mexico and U.S. domestic as displayed in the table above.
It should be noted that all intermodal categories may include international and domestic containers and trailers, with the exception being the Port of Lazaro Cardenas which only includes international containers.
From this information as of June 2016, positive performance has clearly been led by cross-border and Mexico domestic intermodal rail traffic. The Port of Lazaro Cardenas and U.S. domestic intermodal have both witnessed strong declines as of June 2016. Container twenty-foot equivalent unit, TEU traffic has declined across North America, which is partly the reason for the decline at the Port of Lazaro Cardenas. Competition from the trucking industry is the other primary factor.
In the U.S., domestic intermodal has softened across the country, which has likely impacted Kansas City Southern's business resulting from interchange arrangements with other Class I rails to get goods to and from final destinations for customers.
The automotive industry is strong focal point for Kansas City Southern and correlations can be drawn to intermodal's improved performance during the second quarter. Automotive carloads witnessed flat traffic performance YOY during the June quarter, but remained down over 6 percent YTD. Investors should expect a similar trend throughout the remainder of the year as Kansas City Southern looks to grow the automotive segment more after plant adjustments made during the first half of the year.
Overall, management was enthusiastic for the performance during the second quarter. Compared to both CSX (NYSE:CSX) and Canadian Pacific's recent second quarter results, they should be. CSX witnessed revenue declines of roughly 12 percent and diluted EPS declines of 17 percent YOY and YTD respectively. Canadian Pacific witnessed revenue declines of 12 and 8 percent and diluted EPS declines of 16 and 3 percent YOY and YTD respectively.
All three Class I rails have beat earnings estimates, but it speaks a lot when Kansas City Southern grew diluted EPS 9 percent, while others are witnessing substantial declines. Management is eager to keep things going for the second half of the year. Of specific highlight was new industrial development activity including investments into automotive plants, intermodal terminals ethylene refineries and grain elevators among others. Mexico remains a substantial opportunity moving forward for these developments.
Kansas City Southern may very well lead the rail industry forward, and in the past I have been inclined to view other peers more highly based upon fundamentals. The company is currently trading 19 times estimated adjusted earnings for 2017, which is in-line with the upper end of my maximum P/E ratio level.
If Kansas City Southern is able to benefit from tax credits through the next year and a half and form eventual energy reform in Mexico to get fuel costs at parity, the company may have a catalyst for margin expansion. At today's closing price of $98.23/share, the stock is currently trading 21 times adjusted earnings. Based upon this P/E level, if the company is able to meet next year's earnings a potential return over the next twelve months of 12 percent excluding the current 1.3 percent dividend could be achieved.
Over the long-term, I expect that Kansas City Southern will need to trade between 21 to 22 times adjusted earnings in order to return around 8 percent per year not including the dividend payment. Mexico's future reform policies are highly unknown though, so anything is possible. For the near-term, investors should feel pretty well about getting into the stock below $100/share. Any revisit below $90/share would offer a strong buying opportunity.
Disclosure: I am/we are long CNI.
I wrote this article myself, and it expresses my own opinions. I am not receiving compensation for it (other than from Seeking Alpha). I have no business relationship with any company whose stock is mentioned in this article.