The post-Brexit run-up in the SPDR Gold Shares (NYSEARCA:GLD) ended today.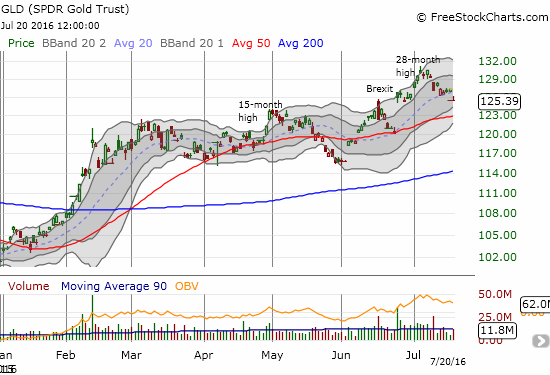 The SPDR Gold Shares enjoyed a week of additional gains after the first post-Brexit gap up. Today's gap down of 1.4% officially ends that run-up.
Source: FreeStockCharts.com
The entire post-Brexit gap could easily fill if current momentum in other gold-related indicators continues.
Most importantly, the quick healing in financial markets in the wake of Brexit and on-going positive economic data from the U.S. have helped to get the market comfortable with predicting that the Federal Reserve will next hike rates in December, 2016. This is a dramatic turn-around from late June when the odds for a rate hike essentially went to "don't even bother thinking about it."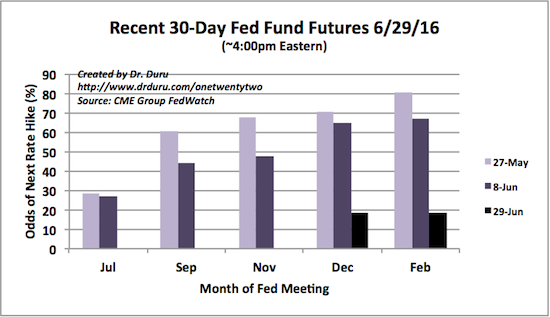 In the wake of Brexit, the odds for the next Fed rate hike went from a very likely December move to nowhere on the horizon…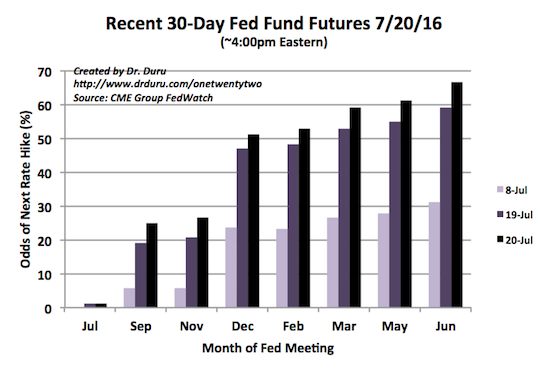 …now, the odds are dramatically higher for the next rate hike: as soon as December, 2016.
Source: CME FedWatch Tool
The bond market has responded by lifting rates off recent lows. This means the iShares 20+ Year Treasury Bond (NYSEARCA:TLT) has backed off its all-time high.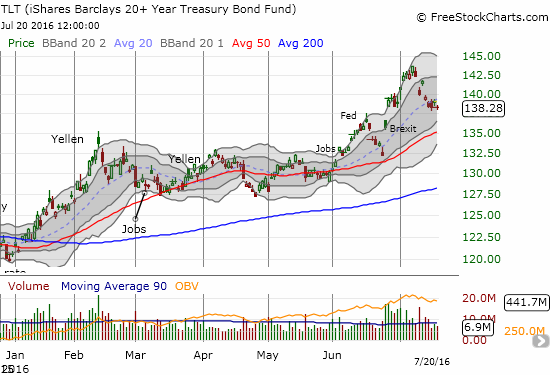 The iShares 20+ Year Treasury Bond is off its all-time high but still up a market-beating 15% year-to-date.
Source: FreeStockCharts.com
The volatility index, the VIX, confirms the market's comfort level (aka complacency?). The VIX last closed this low on August 26, 2014. Since the financial crisis, the VIX experienced its lowest close on July 3, 2014 at 10.3.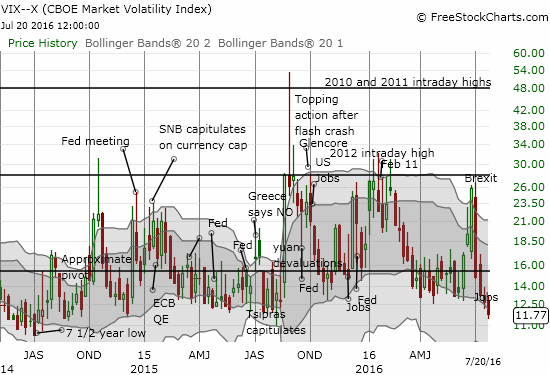 This weekly view of the volatility index, the VIX, shows how post-Brexit relief has caused a volatility implosion.
Source: FreeStockCharts.com
The U.S. dollar index (NYSEARCA:UUP) is adding to the headwinds for gold. The index recently topped its 200-day moving average (DMA), a very bullish move. The maintenance of this breakout now depends on the outcome of the upcoming monetary policy meeting with the European Central Bank (ECB). No matter what happens, I am particularly impressed that, unlike so many other asset/financial classes, the U.S. dollar hasmaintained its post-Brexit momentum. I think this resilience indicates U.S. dollar's strength is likely to sustain for a while.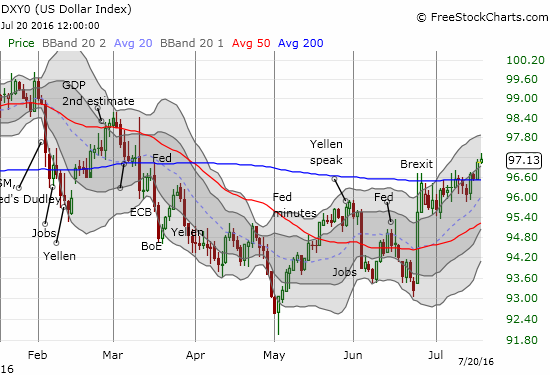 The U.S. dollar index is breaking out. If it sustains this momentum, the U.S. dollar index will likely work against gains in gold.
Source: FreeStockCharts.com
And then there is the sentiment of speculators. While net longs decreased slightly in the previous week (data last recorded for the week ending July 12th), they remain at historic highs. This kind of surge is typically the sign of a crowded trade, but net gold longs have been at historic highs for most of the last two months. The main warning here is that a definitive negative catalyst for gold could lead to a very steep and swift sell-off as the crowd tries to fit through the exit at the same time. Note how the 2011 peak in gold did not occur until after several lower highs in net longs. In other words, the unwind of longs may not happen all at once or generate an immediate sell-off.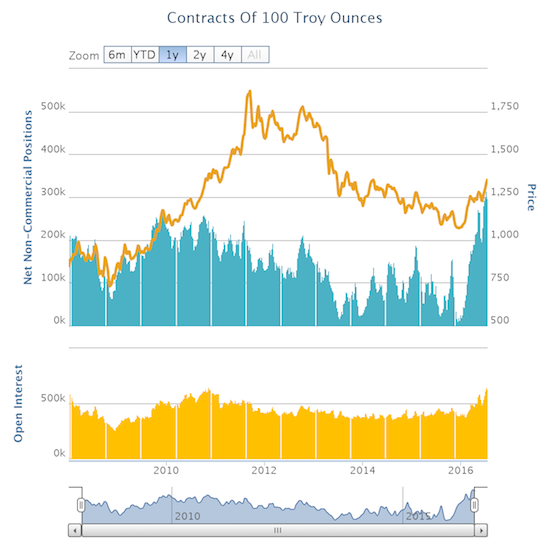 Speculators have not been this bullish on gold since at least 2008.
Source: Oanda's CFTC's Commitments of Traders
My favorite check on gold sentiment is the index for Google Trends on the search "buy gold." I have been watching this indicator for over 8 years and the current episode has been the toughest yet to decipher. I have been on a vigil for a blow-off top in GLD since mid-June when sellers took down GLD in a technical topping pattern. Brexit promptly invalidated that sign of a top. The indicator has not quite reached the extreme I need to get a final confirmation of a top in gold. For new readers, I consider an extreme in Google Trends as an indicator that GLD will reverse from its existing extreme. In this case, a reversal would mean a top.
There was a very well-reported and notable spike in "buy gold" on the day after Brexit…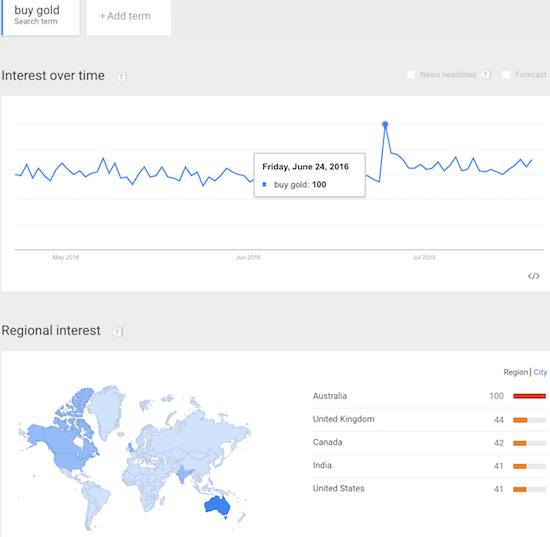 Interest in "buy gold" soared in the wake of Brexit.
Source: Google Trends
But this spike was not quite enough to push the monthly trend to an extreme spike and the following weeks have not quite delivered either.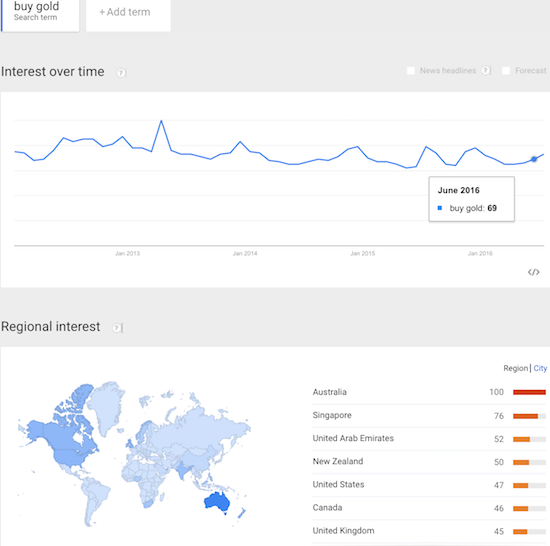 On a monthly basis, interest in buy gold has not registered an extreme.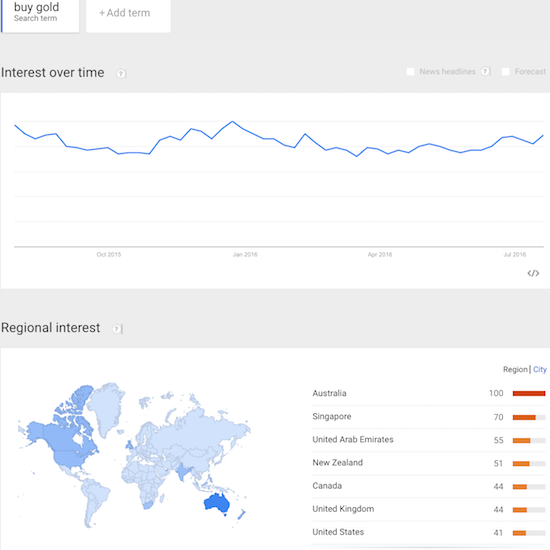 On a weekly basis, buy gold sentiment is "elevated" but not quite at an extreme. Continued momentum could push the weekly and monthly sentiment measures to extremes.
Source: Google Trends
For my trading strategy, this potential topping in gold has meant I have stayed away from trading around my core GLD position since I sold my call options in VanEck Vectors Gold Miners ETF (NYSEARCA:GDX) in early June. I will continue to stay away until something changes in the 30-Day Fed futures to push rate hike expectations back into 2017 and beyond. In the meantime, I may press my longs on the U.S. dollar. I have also purchased a bullish call spread on TLT in case the uptrend for TLT continues its June/post-Brexit breakout regardless what happens to gold.
Be careful out there!
Disclosure: I am/we are long GLD, TLT.
I wrote this article myself, and it expresses my own opinions. I am not receiving compensation for it (other than from Seeking Alpha). I have no business relationship with any company whose stock is mentioned in this article.
Additional disclosure: In forex, I am net long the U.S. dollar