No money-center bank has been more plagued by the lower-for-longer US rate environment than Bank of America (NYSE:BAC). The recurring sound bite on the asset-sensitive bank is that earnings would explode should rates move up. In fact, the most recent estimate of the impact of a 100 bps parallel shift in rates to BAC's Net Interest Income (NYSEMKT:NII) is an increase of $7,500m.
At the start of the year, thanks to BAC's rate sensitivity, investors were bullish on its prospects. At one point, forecasters had been predicting three rate hikes before the close of 2016.
Recently, however, a dour jobs report and the Brexit vote have put a damper on expected economic growth with the Fed responding with a more dovish stance on rate hikes. This in turn has punished the stock prices of BAC and other rate sensitive institutions.
Yet in 2Q16, BAC made a monumental shift in its business reporting that went largely unnoticed by investors. The reporting change eliminated the Legacy Assets & Servicing unit and redistributed the loans in the unit between BAC's Consumer Banking and All Other units.
The reporting shift coincides with the completion of a transformation that the bank has been making since 2008. One that could be the inflection point for net growth in deposits and loans allowing the bank to grow despite a weak rate environment.
The problem isn't JUST interest rates
There is no disputing that low rates are a significant headwind for Bank of America, but in a previous article I argued that the company's growth problems were more nuanced than a simple play on the interest rate environment.
The reality is Mr. Moynihan has been running off the equivalent of a large sized "bad bank" for almost a decade. Fig. 1 illustrates this problem quite well. Bank of America's strategy has been to run-off or sell vintage loans that no longer meet the credit criteria of the current administration.
From 2011 till today, BAC has eliminated nearly $220bn in non-core loans, while adding $197bn of core loans over the same period. So despite BAC growing its loan book nearly 33% between 2Q16 and the end of 2011, its net book has actually shrunk from the run off or sale of its legacy loans.
Fig. 1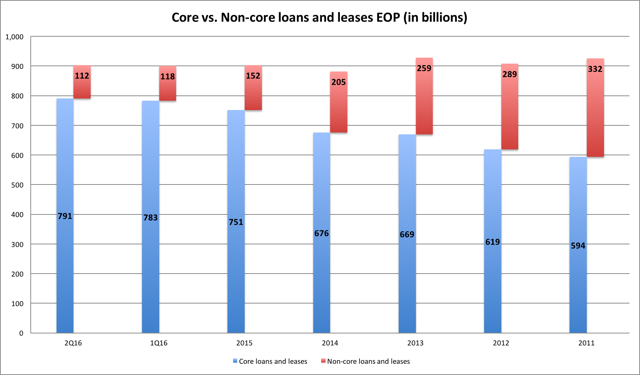 Source: SEC filings, author's calculations
Legacy issues in the rear view
On July 12th, Bank of America issued an 8-k notifying investors of its intention to stop reporting the performance of its Legacy Assets & Servicing unit and reallocating all of the unit's assets into other existing BofA reporting segments.
Fig. 2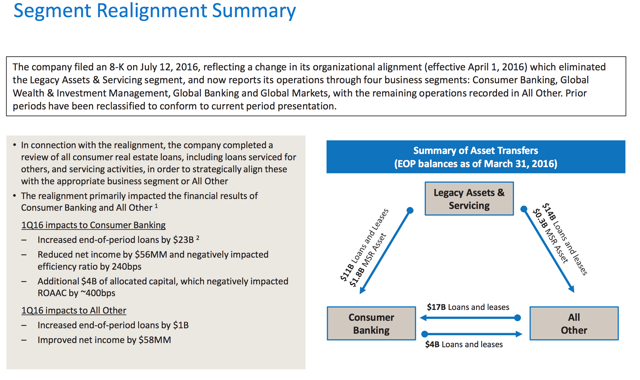 Source: 2Q16 earnings presentation
And while the change was received with virtually no fanfare, for Bank of America investors it should have been a banner day. Here is Mr. Moynihan's discussion of the change on the 2Q16 earnings call:
While I'm on the topic of expenses, I want to point out another important milestone for our company in the quarter. This quarter we changed our reporting to eliminate the legacy assets and servicing segment. This completes our transformation. This segment was the last place that product orientation was reported, not customer orientation. And more importantly, it also reflects the last of legacy is really behind us from an operational basis.
For investors, the reporting change represents a key inflection point in the growth of the company's loan book where it's likely that we'll start to see net-loan growth as opposed to net-attrition. And as this plays out, stabilization or even growth in the company's NII line.
Greenshoots from the second quarter
Analysts hit Mr. Moynihan on the topic of NII on the bank's 2Q16 earnings call that provides some useful color on revenue growth in this tepid rate environment.
Jim Mitchell - Buckingham Research

Maybe I could follow up a little bit on the NII discussion. Maybe if you could help us think through - you talked about near-term kind of flattish, but as we think a little bit longer term, if the forward curve is realized and/or maybe give some color. You've had good deposit growth, core loan growth of 9% but net loan growth's only been about 2.5%. Do we start to see that inflect more? And does that start to help the out years as well? So just any color on NII beyond the next quarter or two would be helpful.

Brian Moynihan

But as you get out to 4Q and next year, I think we get more optimistic about being able to grow, given just our current pace of deposit and loan growth. We've obviously experiencing good deposit growth. We've got, as we talked about, a strong risk in client framework, so we'd like to put all of that deposit growth into loan growth. But we're going to only do so if it meets our criteria. Whatever deposit growth doesn't get absorbed by good loans with our clients obviously goes into the investment portfolio and we get a return there. So I think, look, it's just a question of the further you get out, the more that wave of deposits and asset growth kind of overwhelms the change in interest rates and we see growth.
This wasn't the only encouraging greenshoot from the call. Mr. Moynihan and his team announced a forward-looking estimate of $53bn in operating expenses per annum by the end of 2018.
An incredible prediction considering that it is nearly $3bn lower than the expense base for the bank's trailing four quarters. It also comes after years of cost cutting first under the "New BAC" initiative and more recently the "Simplify and Improve" intiative.
In sum
"Lower-for-longer" has become the rallying cry for the Bears on Bank of America's stock. And while the forward rate curve is an important factor in the bank's profitability, an overemphasis on it has caused investors to have missed an important inflection point at the company.
After almost a decade of wrestling down legacy loans and assets, BAC is finally poised to see net loan and asset growth that will feed the top line and mitigate the impact of lower for longer rates.
Coupled with an expected $3bn in expense savings, higher dividends and share buybacks, 2Q16 could be the launching point for earnings and book value growth unseen at the bank since before the credit crisis. A rate hike then could be just icing on the cake as opposed to a necessary element for growth.
Disclosure: I am/we are long BAC.
I wrote this article myself, and it expresses my own opinions. I am not receiving compensation for it (other than from Seeking Alpha). I have no business relationship with any company whose stock is mentioned in this article.