Investors looking to participate in the biotech space without taking on risks associated directly with drug development may want to take a closer look at Ligand Pharmaceuticals (NASDAQ:LGND).
The company describes itself as a "biopharmaceutical" company that is focused on developing or acquiring technologies that help pharmaceutical companies discover and develop medicines. They describe their revenue model as diversified and their cost structure low and efficient. Their goal for investors is to offer a lower-risk investment opportunity to participate in the promise of the biotech industry. Their operations focus on drug discovery, early-stage drug development, product reformation and partnering. Their Captisol platform technology is a patent-protected chemical structure that optimizes the solubility and stability of drugs. Their OmniAb technology is a patent-protected transgenetic animal platform used to discover human therapeutic antibodies. Ligand has established multiple business relationships with world leading pharmaceutical companies including Novartis (NYSE:NVS), Amgen (NASDAQ:AMGN), Merck (NYSE:MRK), Pfizer (NYSE:PFE), Celgene (NASDAQ:CELG), Gilead (NASDAQ:GILD), Janssen, Baxter International (NYSE:BAX) and Eli Lilly (NYSE:LLY).
Prior to their most recent acquisition the company was already a diversified biotech through their Captisol platform. Now it can lay claim to technology, OmniAb, based on altered genetics - of rats.
In January of this year the early-stage biotech acquired OMT, a firm that developed Open Monoclonal Technology, a technique for discovering human antibodies for therapeutic use from Rodent DNA. Ligand now has a new growth avenue in a very hot area of drug development.
Several top selling drugs - Humira, Remicade, MabThera/Rituxan, Avastin and Herceptin - were developed using human antibodies.
Since the OMT acquisition Gilead, Emergent BioSolutions (NYSE:EBS), Tizona Therapeutics and ABBA Therapeutics - a Swiss Biotech, have licensed the technology. In addition, one current OmniAb licensee exercised their option to expand access to the platform and another agreement with Wuxi to sub-license Chinese rights to an IND-ready antibody was struck. OMT was already working with 16 licensees including giants Merck, Pfizer and Celgene.
Ligand has several drug on the market with partners. In mid-March licensee Spectrum Pharmaceuticals won FDA approval for Evomela for treating certain cases of multiple myeloma. Ligand earns a healthy 20% royalty on the drug.
In early April more good news arrived from the European Commission when they expanded the use of Promacta, one of Ligands top two licensed drugs for use in a rare blood disorder in pediatric patients.
The primary source of revenue for the company, representing nearly half of the company's drug partnerships prior to their OMT acquisition, is based on a proprietary formulation technology called Captisol. Based on a sugar molecule, the technology helps cells absorb drugs into the body, especially helpful for those drugs with harmful side effects.
The company has been very successful at forging partnerships for dozens of early-stage drugs to treat a multitude of diseases such as hepatitis, diabetes, cancer, anemia, Alzheimer's and kidney diseases, among other.
Financials performance has been a little uneven but that is expected to improve with the OMT acquisition. Here is a look at sales and earnings growth.
| | | | | |
| --- | --- | --- | --- | --- |
| Sales Growth Last 4 Qtrs | Latest Qtr. | 2-Qs Back | 3-Qs Back | 4-Qs Back |
| LGND | 103% | -8% | 18% | 74% |
| Source - Marketsmith | | | | |
| EPS Growth Last 4 Qtrs | Latest Qtr. | 2-Qs Back | 3-Qs Back | 4-Qs Back |
| LGND | 194% | 10% | 28% | 654% |
| Source - Marketsmith | | | | |
| Ann. EPS Growth Last 3 Years | Latest Yr. | 2-Yrs Back | 3-Yrs Back | |
| LGND | 115% | 39% | N/A | |
| Source - Marketsmith | | | | |
The drop in sales back in December was attributed to lower material sales, which can vary quarter to quarter based on clinical trials and commercial needs for their Captisol technology. Still, revenue rose by $11 million over the prior 4 quarters.
Earnings have been firmly in positive territory since 2013 and are expected to grow to $5.03 in 2017.
| | |
| --- | --- |
| 15-Jul-16 | LGND |
| Current P/E Ratio | 33 |
| Market Cap | $2.6Bil |
| Sales Total Last 4 Quarters | $87mil |
| EPS Total Last 4 Quarters | $3.90 |
| 2017 EPS Estimates | $5.03 |
| 2017 EPS Estimates Growth Rate | 52% |
| EPS Growth Rate | 113% |
| Earnings Stability | 22 |
| Source - Marketsmith | |
It's refreshing to see a biotech company with a $2 billion market cap that has actual revenue as well as significant growth opportunities both near and longer term.
Here's a look at the companies operating performance.
| | |
| --- | --- |
| 15-Jul-16 | LGND |
| Return on Equity | 42% |
| Debt Level | 67% |
| % R&D | 18.6% |
| Annual Pre-Tax Margin | 96.7% |
| Cash Flow Vs. EPS % Last Year | -40.0% |
| Source - Marketsmith | |
The company has been able to keep operating expenses relatively flat during the last few years which has contributed to very high operating income and annual pre-tax margin. They expect to continue this trend in 2016. Pre-tax margin seems high but could be attributed to the very large deferred income taxes carried on the balance sheet. I inquired with Marketsmith on the reported number and their data team is going to look into it. When looking at the total reported revenue of $29,648,000 and income from operations of $15,096,000 we still get a very healthy 51% annual pre-tax margin as of the last three months ending March 31, 2016.
The negative cash flow versus EPS % last year is a concern. The company is light on cash reporting $31 million, down from $97 million 3 months prior. The company also reported a lot of investment activities on their cash flow statement, which makes sense given the OMT acquisition and other activities, so this may end up correcting itself in the future but will be an important area to watch. Profitable companies generally produce more cash flow per share than earnings per share.
From a trading perspective LGND is coming into a decent technical set-up.
Here's a look at trading over the last 90 days.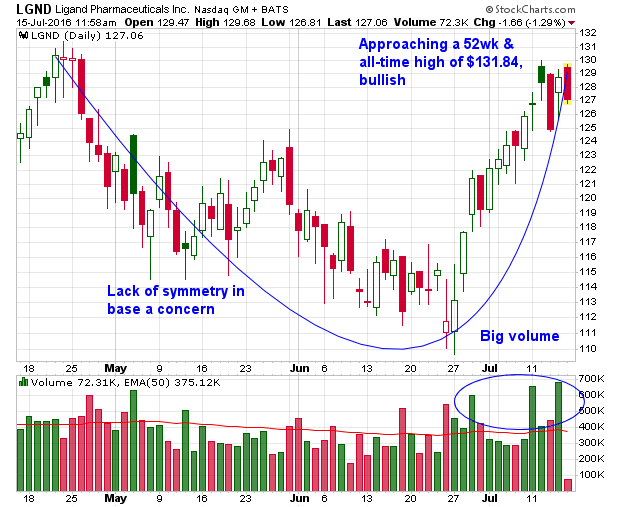 The base is a bit steep on the right side but shallow depth may indicate support, especially considering the difficult trading environment biotech stocks have experienced over the last year.
Here's a look at trading over the last year.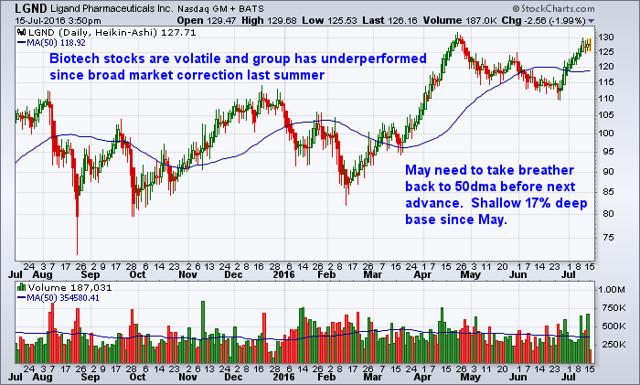 Click to enlarge
Ligand has repeatedly made trips below the 50 day moving average. However, the slope of the left side of the current base starting in late April is less steep than earlier pullbacks. Watch to see if LGND can find support at the 50 and potentially rally off it.
For another entry perspective we can turn to the Point & Figure Chart. Here we have the potential for a consolidation of X & O columns to form in the low $120's. This may coincide with the price meeting support at the 50dma. If this were to materialize the PnF chart may provide a double or triple top breakout. The other possibility is for the stock to break out from current trading levels. A move to $130 would constitute a double top breakout on the PnF chart.
At this point LGND has a trigger price at GDT listed at $130. UPDATE - The price was triggered this morning as I am submitting this article. First price target is $160 where GDT would suggest 50-75% of the investment be sold and made available for other ideas. A stop loss in the area of $120 is also suggested for downside protection.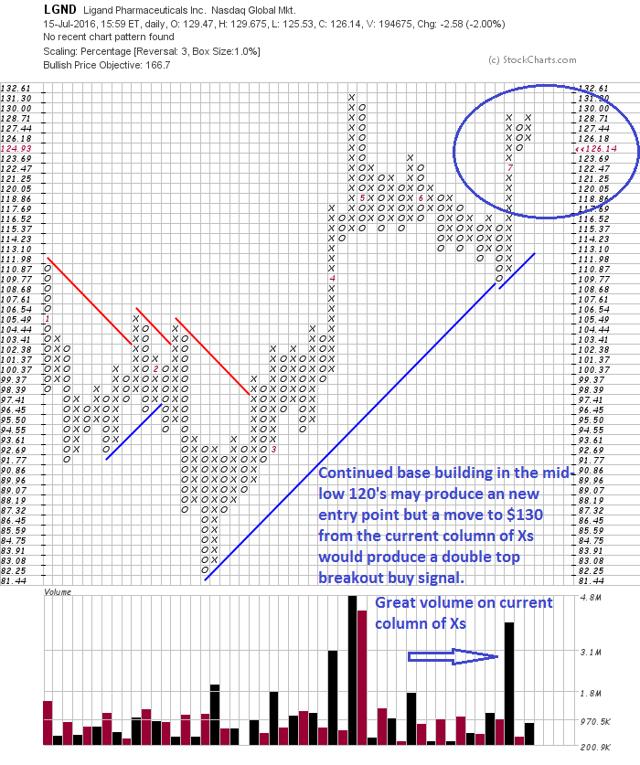 Click to enlarge
Again, investors interested in the high-growth opportunities associate with the biotech area might find Ligand a worthy investment idea. The company has a good set of fundamentals which should only improve with the OMT acquisition. Marketsmith indicates 427 mutual fund currently own shares in LGND, a number that has steadily increased over the last year although the most recent quarter only saw two new fund report ownership which is on the low side given the OMT acquisition earlier in the year. The company is expected to report earnings on August 4 th so investors won't have to wait long to hear how well the company is executing on their growth plans.
MarketSmith Data Definitions
Return on Equity: The amount of net income returned as a percentage of shareholders' equity.
Debt Level: Calculated by dividing long-term debt by shareholders' equity.
Annual Pre-Tax Margin: Calculated by dividing annual operating income by sales.
Cash Flow Vs. EPS % Last Year: Percentage difference between operating cash flow per share vs. earnings per share from the last completed fiscal year.
EPS Growth Rate: The compound growth rate using the least squared fit over the latest two to three year's earnings per share on a running 12-month basis.
Earnings Stability: Indicates in percentage from one standard deviation of the variability around the trend line fitted through 3 to 5 years of earnings history with a scale ranging from 1 to 99. Lower numbers represent more stable company earnings history.
Disclosure: I/we have no positions in any stocks mentioned, and no plans to initiate any positions within the next 72 hours.
I wrote this article myself, and it expresses my own opinions. I am not receiving compensation for it (other than from Seeking Alpha). I have no business relationship with any company whose stock is mentioned in this article.
Additional disclosure: No specific investment recommendations have been made to any person or entity in this article. Investing involves risk including the loss of capital. Conduct your own research before making any investment decision.