Pipeline giant Kinder Morgan (NYSE:KMI) just posted its Q2 2016 results. Overall, these were decent numbers given the volatility in the energy markets. Though, they did miss estimates, sending shares lower by 5% in after hours trading. The following are several of the important takeaways investors should know about the quarter.
DCF drops to a level not seen since 2014
For starters, let us look at Kinder Morgan's distributable cash flow, or DCF. This key metric came in at just $1.05 billion, down 4% versus $1.095 billion for Q2 2015. On a per share basis, the drop is slightly worse, at $0.47 down 6% versus $0.50 last year. The variance between the two is a slightly increase common share count and the impact of the preferred stock offering.
This is the lowest level of DCF per share for Kinder Morgan since Q3 2014, which happens to be the last quarter before the various MLPs were rolled up into the KMI C-Corp. In other words, given that Kinder Morgan measures its success based on DCF generation, this was the worst showing ever under the new structure. Ouch.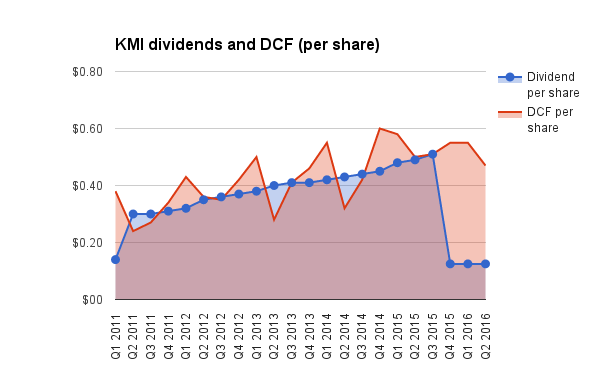 Source: Data from KMI's SEC filings
Low oil prices are mostly to blame for the DCF drop
Besides the above noted preferred stock impact, which was a ~$39 million headwind this quarter, by far the biggest operational drag on Kinder Morgan DCF generation was its CO2 segment. Year over year segment earnings slipped by 21% to $227 million, a $59 million impact. As you would imagine, this drop was a result of lower oil prices in the quarter, down to $62.17 per bbl, versus $72.82 per bbl in 2015, as well as a 9% drop in oil production.
On the flip side, outside of CO2 and Natural gas pipelines (which was down 1%), Kinder Morgan's other segments saw modest segment earnings growth rates, ranging from 4 to 8%. Though, these were not enough to offset the CO2 decline.
Kinder Morgan is paying down debt with excess cash
While DCF was down year over year, Kinder Morgan did put the cash to good use. Of the $1.05 billion, $870 million went into expansion capex and contributions to equity investments, $279 million was paid out to shareholders as dividends, and $234 million went towards debt repayments. Keep in mind Kinder Morgan also received $220 million in divestment proceeds and benefited from a $110 million in working capital adjustment.
This is the first quarter where net debt has dropped sequentially since the dividend cut, down to $41.3 billion versus $41.6 billion in Q1 2016.
Lower capex should result in much more excess cash in the second half
Kinder Morgan's full year DCF guidance is for $4.7 billion. This suggests another $2.4 billion in DCF coming in the second half of the year. With $1.88 billion of the $2.8 billion capex budget spent in the first half, this leaves only $920 million for the second half. Coupled with estimated dividend payments of $558 million, this would result in another $922 million in excess cash in the second half of the year.
Leverage is dropping due to asset sales and joint ventures
Thanks to a recent asset sale and joint venture with Southern Company (NYSE:SO), Kinder Morgan expects its year-end leverage ratio to decline to 5.3x net-debt/adjusted EBITDA, versus its prior guidance of 5.5x. Once completed, this transaction will reduce Kinder Morgan's long-term debt by $3 billion.
Kinder Morgan access to the credit markets has greatly improved
On the conference call, Kinder Morgan's CFO Kimberly Dang suggested that the company could issue 10-year bonds at a very attractive 4% yield. The company may even be looking to "pre-fund" its 2017 capex budget given these low rates.
This is a far cry from what happened in 2015 where Kinder Morgan credit rating was almost getting cut to junk status. Indeed, due to the debt reduction efforts noted above, Kinder Morgan's credit outlook has improved greatly.
Capital project backlog has been significantly high-graded
Lastly, Kinder Morgan has been fine-tuning its project backlog. This backlog, once at over $20 billion, now stands at just $13.5 billion. Furthermore, the company expects these projects to generate an average capital-to-EBITDA multiple of around 6.5x. In other words, Kinder Morgan new investments stand to be very accretive to DCF.
Disclaimer: The opinions in this article are for informational purposes only and should not be construed as a recommendation to buy or sell the stocks mentioned. Please do your own due diligence before making any investment decision.
Disclosure: I am/we are long KMI.
I wrote this article myself, and it expresses my own opinions. I am not receiving compensation for it (other than from Seeking Alpha). I have no business relationship with any company whose stock is mentioned in this article.