In the past 2 weeks gold has fallen from its intraday high of $1,376/oz to just below $1320/oz currently. Despite gold being well above support and its uptrend clearly intact, many are already beginning to panic. Bloggers have quickly shifted their sentiments towards sell recommendations on GLD and GDX, stating that fear has left the market. A 10% correction is completely normal after a 120% rally, and no assets should ever be expected to go up in a straight line. The GDXJ has had two 11% + corrections in the past 3 months and both occurrences provided excellent buying opportunities. The current tumble in the junior gold miners GDXJ has shaved 13% off the index, but many investors are now eager to short. While panic selling is the wrong move here, shorting the GDXJ as many miners are sitting right on support is an even worse idea. While there could very well be another 5-6% downside before the index finds support, I believe the bounce will easily surpass the current 52-week highs at $50.29.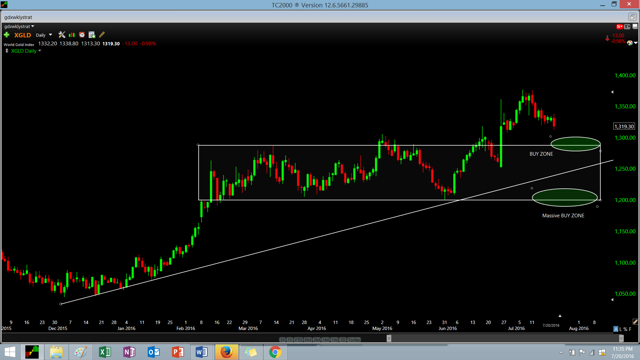 Click to enlarge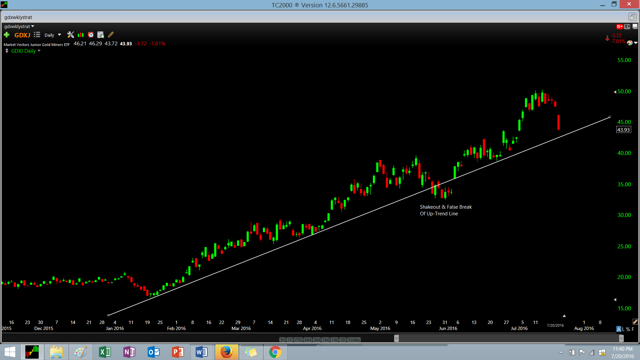 Click to enlarge
After going through over 150 different gold stocks this afternoon, there is a very clear divide between the charts. While some gold stocks are currently being left for dead and have broken their up-trends like Nevsun Resources (NYSEMKT:NSU), Seabridge Gold (NYSEMKT:SA) and Centerra Gold (OTCPK:CAGDF), others are experiencing routine pullbacks. Despite all of the gold stocks being heavily oversold currently, I am looking for ones that are oversold into critical levels of support. The distinction is necessary in my opinion as stocks that are oversold into support, have more levels of defense than simply a stock that is oversold. Oversold stocks can stay oversold for a very long time, but oversold stocks sitting on support and up-trend lines have a much better chance of being bid higher. Out of the 150 gold stocks I went through, only 5 of them caught my attention and I will take a deeper look at 2 of them in this article.
Buying Oversold Stocks Into Support Zones
As a trend follower and a huge proponent of the Turtles, my main strategy is buying stocks when they make new 3-month highs. The GDX and GDXJ are nowhere near a current Turtle entry (new 55-day highs) but are very oversold while they are in long-term up-trends. My second strategy which I use very rarely is buying severely oversold stocks as they approach their support zones. Buying oversold stocks alone is not a winning strategy. Stocks can remain oversold for a very long time and doing so in a down-trend is a great way to erode an investment portfolio. Take a lesson from Bill Ackman who added to Valeant Pharmaceuticals (NYSE:VRX) on the way down, that oversold can get much more oversold. While many of the green arrows at oversold levels provided 5-8% bounces, they also preceded 20-30% drops. Purchasing stocks that are oversold in clear down-trends, is akin to trying to pick up pennies in front of a steamroller.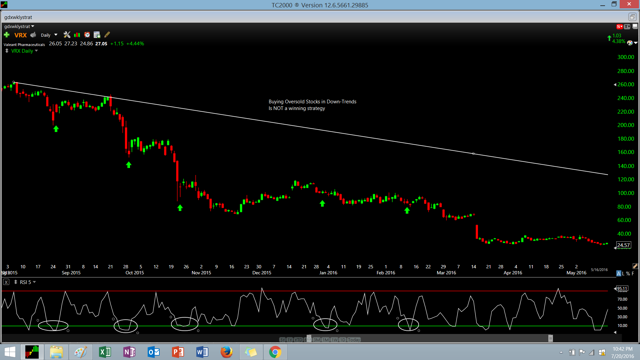 Click to enlarge
On the other hand, buying oversold stocks in clear up-trends is a winning strategy. The premise of the strategy is that you are trading in the direction of the dominant trend and are using a low-risk entry point to enter that trend. As you can see on the below VRX chart, this exact same strategy was much more successful if used the prior year while VRX was in a clear up-trend. The strategy alone of buying oversold relative strength readings is not a favorite of mine, but an oversold RSI coupled with price on a support zone is a much more alluring setup. I have found that using a support zone provides a second and third level of defense to the initial strategy of purely using an oversold relative strength indicator as a buy signal. This setup is shown in my article on Roxgold (OTC:ROGFF) written 2 months ago. I waited for a clear up-trend in Roxgold to be established, and purchased the stock as it tested its up-trend line with an oversold RSI reading. The below image shows where I wrote my article on Roxgold based on my TipRanks profile located on their website.
Currently several gold stocks are at deeply oversold levels, but that does not mean I am going to go out and buy them all. Based on my strategy I would much prefer to narrow the list down to those that are sitting on the strongest levels of support, in hopes that it will provide a second line of defense to the oversold RSI reading. The two stocks that I have found to exhibit low-risk entry points while sitting at defined support also happen to be very fundamentally strong gold companies. The two companies are African gold producer SEMAFO (OTCPK:SEMFF) and Canadian junior miner Osisko Mining (OTC:OBNNF).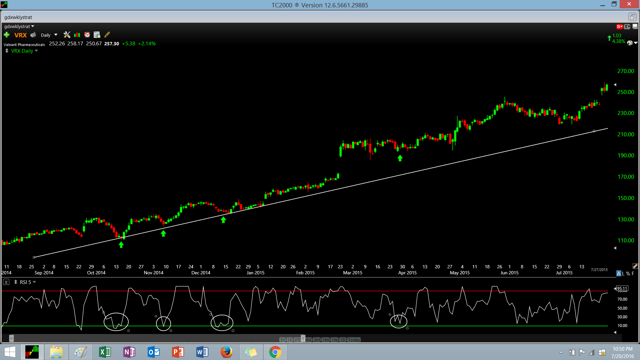 Click to enlarge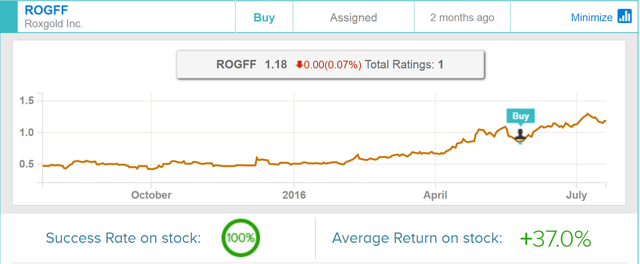 Click to enlarge
SEMAFO
SEMAFO is a Canada-based mining company with operations in Burkina Faso, West Africa. The company currently operates the Mana Mine which produced over 250,000 ounces of gold last year at all-in sustaining cash costs under $650/oz. SEMAFO has some of the lowest all-in sustaining cash costs relative to its peers and has reduced its cash costs by nearly 50% since 2012. Remarkably, SEMAFO's operational excellence extends further than just record production and massive cost reductions. The company has also managed to increase its reserves by over 400% since 2009, through both acquisition and exploration. The company currently has 324 million shares outstanding, given a market capitalization of $1.92 billion.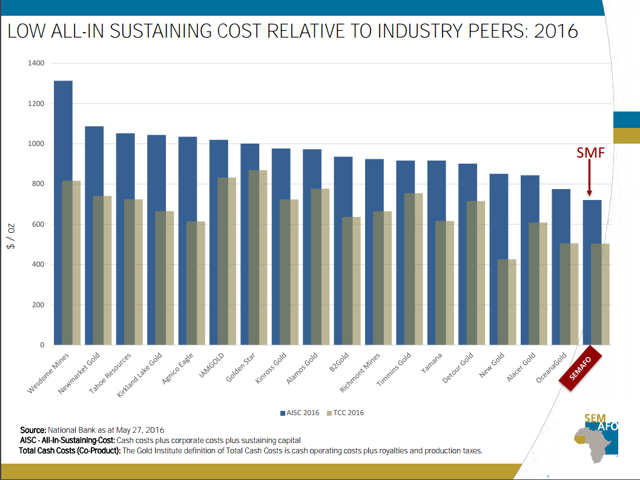 Click to enlarge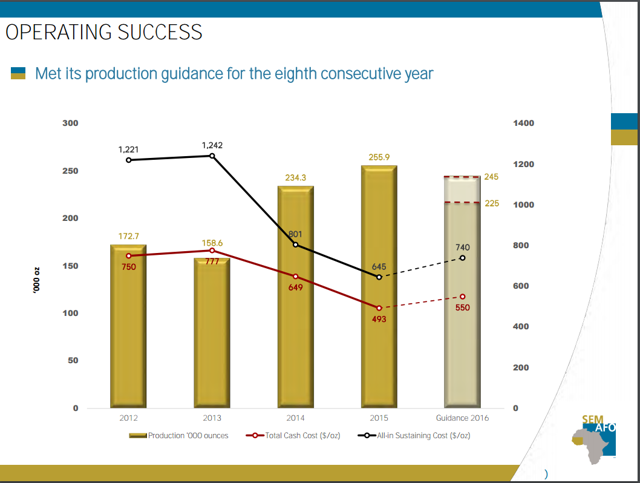 Click to enlarge
SEMAFO currently operates the third largest gold mine in Burkina Faso with its Mana mine and is looking to nearly double production looking out to 2018. The company's Natougou project is slated to produce over 225,000 ounces annually at industry leading all-in sustaining cash costs of under $400/oz. These exceptional cash costs allow SEMAFO to operate the mine with margins of over 70% using a gold price of $1,300/oz. The mine build has an extremely low capex at only $220 million and is already fully financed by SEMAFO. The project will provide massive free cash flow to SEMAFO and double its current free cash flow by the second half of 2018 if commercial production is on schedule.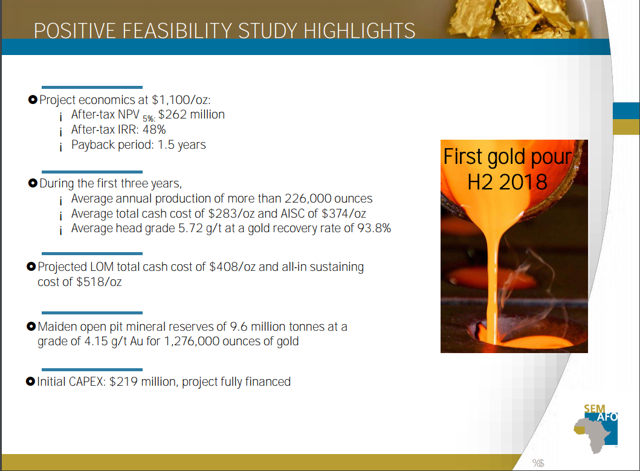 Click to enlarge
In addition to Mana and Natougou, the company has a third project in its pipeline with very exciting exploration potential. SEMAFO's Nabanga mine is located nearly 100 kilometers southwest of Nabougou and has a current resource of 590,000 ounces at 10 grams per tonne gold. These grades are world-class and almost on par with ROGFF who operates the Yaramoko deposit closer to central Burkina Faso. SEMAFO is planning a 16,000 meter drill program this year at Nabanga to further delineate the deposit and open up the potential for a third mine in its arsenal down the road.
I rarely have any interest in African producers but SEMAFO is in a class of its own. The company is moving towards becoming a 480,000 ounce producer and has the potential to add a third mine after 2020 if its discoveries continue at its Nabanga project. SEMAFO's operational success has made it an industry leader not only in Africa but worldwide, and Natougou's all-in sustaining cash costs are some of the best in the industry. Roxgold ROGFF is the only African producer I have endorsed and invested in up until now, but SEMAFO definitely has lots to offer for investors willing to look at gold producers outside of North America.
Osisko Mining
Osisko Mining (previously Oban Mining), is a Quebec exploration company with 152 million shares outstanding, giving it a market capitalization of $310 million. Osisko is currently exploring its 3 different flagship properties which host a total combined resource of over 5 million ounces. The company is currently advancing its properties with massive drill programs, aided by its cash of position of over $90 million. Based on its cash position, the company's enterprise value is nearly half that of its market capitalization, at a paltry $220 million.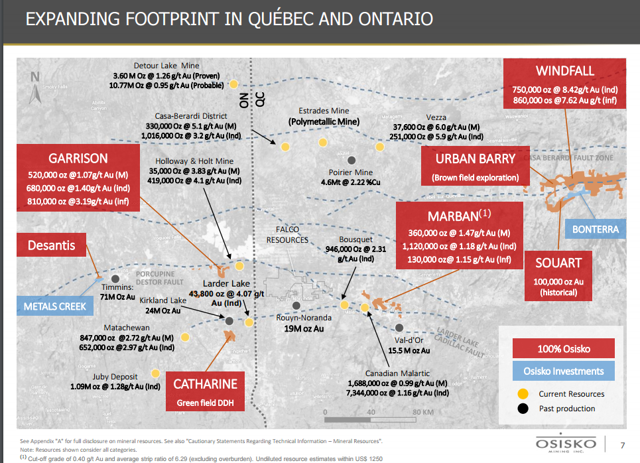 Click to enlarge
1) Garrison Project - Currently its largest deposit which is located in the Kirkland Lake Camp of Ontario, Canada. The deposit has a resource of 2 million ounces at an average grade of 1.4 grams per tonne gold. The deposit is over 750 hectares in size and sits less than 15 kilometers west of Kirkland Lake Gold's (OTCPK:KGILF) Holloway and Holt mines. The Holt and Holloway mines are new additions to KGILF's portfolio as they were acquired from St. Andrews Goldfields just last year for $180 million. There's no question in my mind that Osisko Mining is exploring in the right territory when it is the closest exploration property to a major junior gold acquisition.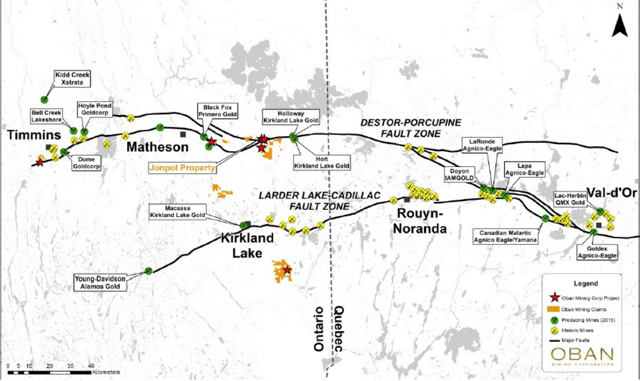 Click to enlarge
2) Urban Barry - The company owns over 70,000 hectares of land along the Urban Barry greenstone belt. The property is located 200 kilometers north of Val-d'Or and is accessible year round by all-weather roads. Osisko Mining acquired the Windfall Lake deposit from Eagle Hill Exploration which sits just west and along strike of the majority of their claims. The Windfall Lake deposit is its highest grade deposit and has exceptional economics to support the 1.5 million ounce resource with grades averaging over 8 grams per tonne gold. The Preliminary Economic Assessment completed by Eagle Hill exploration shows the deposit can produce gold at all-in sustaining cash costs of $536/oz and has a very modest initial capex of $207 million. Recent exploration at Urban Barry has discovered new mineralization over 3 kilometers southwest of the Windfall deposit, with 2 drill holes spaced over 700 meters apart. The grade of the drill results is consistent with the current grade of the Windfall Lake deposit as it showed 1.5 meters at 12.72 grams per tonne gold.
3) Marban Block - Osisko Mining's Marban Block property is located 15 kilometers west of Val d'Or in the Abitibi region of Quebec, Canada. The property is its most exciting property on an infrastructure basis as 6 active or producing mines are located within a 10 kilometer radius. Its Marban deposit has just over 2 million ounces at an average grade of 1.4 grams per tonne gold, with an updated resource estimate expected in the second quarter.
I believe Osisko Mining is a very likely takeover target given its massive resource at grades much higher than the average acquisition thus far this year. The company's 5.3 million ounces are all located in mining friendly jurisdictions and in very close proximity to infrastructure. There are several catalysts in place to catapult Osisko's share price higher, including over 100,000 meters of diamond drilling to further delineate its projects and two feasibility studies scheduled for early next year.
Technical Outlook and Summary
While the GDXJ sits within 5% of its up-trend line (shown at the top of this article), both SEMAFO and Osisko Mining sit right near support. As shown in the chart below, Osisko Mining has its lowest RSI-5 reading for the past year while sitting right on top of its past breakout level. Its recent breakout from resistance at $2.25 fueled a rally to $2.80, and the stock has done a round-trip right back to its old resistance. For those that study technical analysis, old resistance very often becomes new support and I believe there is a good chance this happens with Osisko Mining. If old resistance does not become new support just 1% below, the up-trend line comes in at $2.17, which provides more support just 5% lower from today's closing price.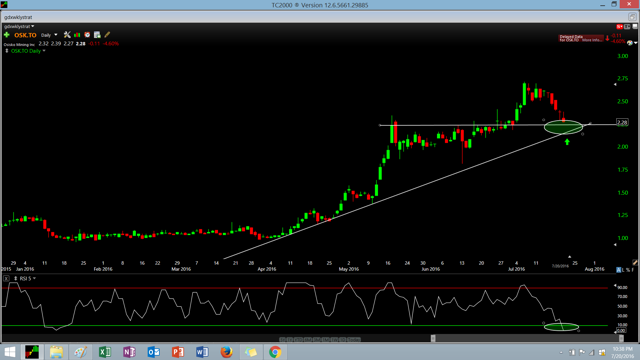 Click to enlarge
Looking at SEMAFO, the chart shows very similar properties. SEMAFO is sitting just 4% above its up-trend line which has provided strong support on the past 2 tests. In addition to up-trend support, SEMAFO is at a RSI-5 level that has preceded strong bounces in both January and March. The current oversold condition comes after a 20% dip over the past 9 trading days from its 52-week high of $7.39. While it's possible that SEMAFO overshoots its up-trend line briefly, I am confident that support will come in at the $5.30 level on a worst case scenario here. This level represents a 10% drop from current prices and I would be very surprised to see it get there.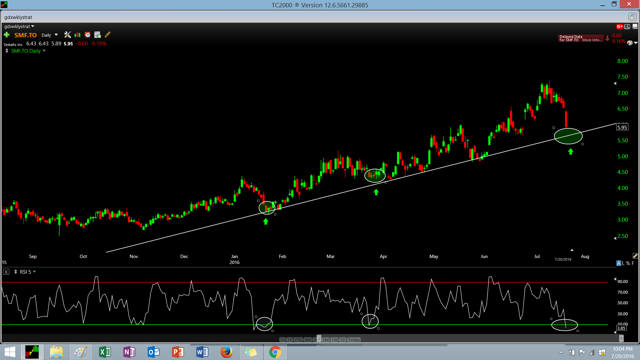 Click to enlarge
From a trend following perspective, SEMAFO's 50-day moving average is rising and has provided support during the past 4 months of this up-trend. While SEMAFO violated support today by a nickel closing below the 50-day moving average, I believe the up-trend line to be much more important which sits just 2% lower. SEMAFO's 200-day moving average is rising with a strong positive slope and is guiding SEMAFO in its current renewed bull market as of 2016. If SEMAFO continues its plunge we can expect the 200-day moving average to provide very strong support at its current level of $4.50. I do not think SEMAFO gets anywhere near its 200-day moving average on this plunge and expect it will find support here, and if not at the $5.30 range. Having said that, if both of these support levels fail, it is worth knowing that $4.50 should provide an extreme buy zone going forward on its first test of this level.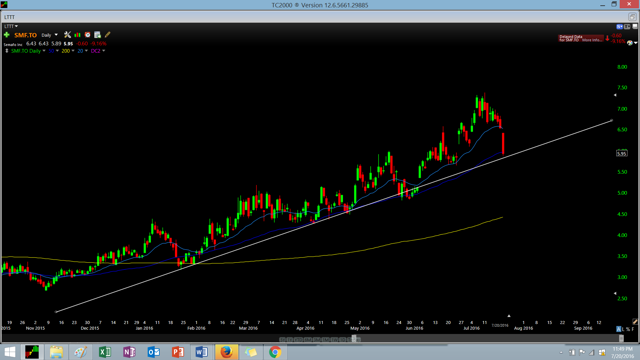 Click to enlarge
Osisko Mining also has rising 50-day and 200-day moving averages and is trending higher despite its correction over the past 2 weeks. The 200-day moving average has finally begun to slope positively for Osisko and is indicating that a new bull market is underway in this stock. The 50-day moving average has yet to be tested during this 100% rally and should provide very strong support on its first test which coincides with the $2.20 level currently. A shakeout below the 50-day moving average is possible but I would not be surprised to see Osisko Mining go below the 50-day moving average but close above it by the end of the week. Osisko Mining currently has three levels of support working for it with the 50-day moving average, new support (old resistance) at $2.25 and an up-trend line at $2.17.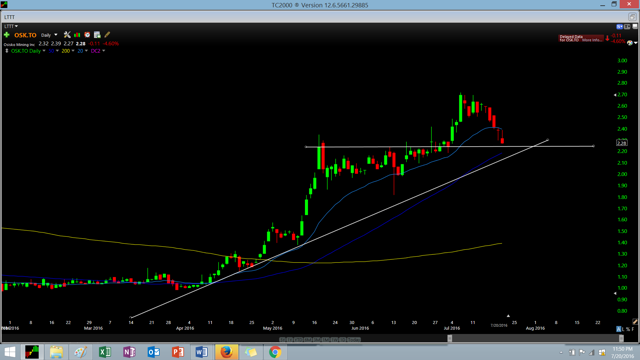 Click to enlarge
I believe these two stocks to provide great dip-buying candidates as they are currently sitting right near a bounce area, while many other juniors sit in no man's land in terms of support. Both companies have very strong fundamentals and are takeover targets which mean any weakness should be met with buying by those who are interested in becoming potential suitors. While a deeper decline is possible in these two names, I believe the current entry point provides a good risk-reward entry going forward. I expect the price of gold to find strong support at $1295/oz if it continues to slide, and this should provide a floor under both SEMAFO and Osisko Mining.
Disclosure: I/we have no positions in any stocks mentioned, but may initiate a long position in SEMFF, OBNNF over the next 72 hours.
I wrote this article myself, and it expresses my own opinions. I am not receiving compensation for it (other than from Seeking Alpha). I have no business relationship with any company whose stock is mentioned in this article.
Additional disclosure: If you liked this article and found it useful, please feel free to follow me by clicking on my name next to my avatar at the top of this article. I also invite you to check my performance at TipRanks.com where my average return on equities this year is over 60% on new long positions.
Editor's Note: This article discusses one or more securities that do not trade on a major U.S. exchange. Please be aware of the risks associated with these stocks.