Housing is one of two recognized long leading indicators that are not financial (the other being corporate profits). It has been one of the relatively bright spots throughout the recent slowdown.
So let's take an updated look.
The first thing to bear in mind is that YoY comparisons are still very much affected by last year's NYC housing surge. But that only really affected multi-unit dwellings. So first, here is a look at single-family permits (blue, left scale) versus multi-unit permits (red, right scale):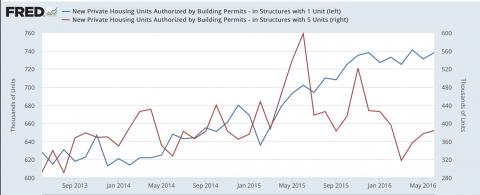 Single-family permits did make a new high several months ago, but generally, these have gone sideways. Multi-unit permits have only recently started to rebound, but are still below their artificial high seen one year ago.
Since mortgage interest rates are one of the big drivers of housing, let's compare interest rates (inverted, red) with the YoY% change in housing permits (blue) and single-family permits (green):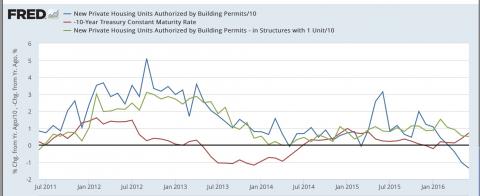 While the overall YoY numbers are still affected by the NYC program last year, the single-family numbers continue positive YoY, as interest rates have generally declined over the last several years. Hopefully, the recent further decline in interest rates will show up in further increases in permits.
Finally, while they are much more volatile than permits, because actual economic activity is only reflected once the house is under construction, here are the housing starts: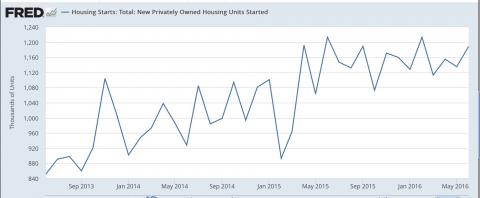 These have gone basically sideways for the last year. There may have been the beginning of a slight upward trend in the last few months.
So, basically a "meh" report, with some hints that lower interest rates might offer a little boost in coming months.