At the end of last year, I had noted that Potash Corp. (NYSE:POT), one of the worst performers of 2015, could be a winner in 2016. I had also noted that a dividend cut was unlikely. My call was wrong. Potash announced a dividend cut earlier this year. Potash shares have had a mixed year so far as potash prices remain depressed. The stock did bounce back sharply from its January lows when global markets saw a huge sell-off due to a range of factors. Year-to-date, though, the stock has remained essentially flat. Is there any hope for Potash Corp. in the second half even as prices remain depressed?
Market Conditions Remain Challenging
In its latest market overview, Potash Corp. noted that the "absence of new contracts in China, limited demand from India and cautious buying patterns in spot markets" led to a drop in worldwide potash deliveries in the first half of 2016. The weaker demand has come at a time when potash producers are already facing pricing pressures due to competition.
Indeed, it was the breakup of the Belarusian Potash Company (BPC) in 2013 that led to the collapse of the potash market as we knew it. The market was made up of two cartels that essentially controlled prices; BPC being one of them. The other is Canpotex, a joint venture between Potash, Agrium (NYSE:AGU) and Mosaic (NYSE:MOS). Up until the summer of 2013, producers in the potash market were price makers. All that changed after the collapse of BPC. Producers are now price takers. And prices have come down significantly.
The long-term story for potash and other fertilizers remains bullish as it is driven by the need to feed ever increasing global population. But competitive pressures have hurt the medium-term outlook. Indeed, it forced Potash Corp., earlier this year, to announce a dividend cut.
The benchmark for prices in the potash market are set by annual contracting activity between China and producers. Last year, China delayed negotiating a contract and when it finally did sign a deal, the price set was $315 per ton. Usually other buyers pay a little more than what China does.
This year expectations were that China would once again delay signing a contract as it negotiates on pricing. However, the delay was significantly more than anticipated. In fact, India, another major buyer, decided to enter into contracts with suppliers before China. India signed the contract with Belarus-based Belaruskali's export marketing arm at a price of $227 per ton. Three weeks later, the much awaited Chinese contract was announced. China has signed for $219 per ton, substantially lower than last year's price.
The chart below highlights the weak pricing environment.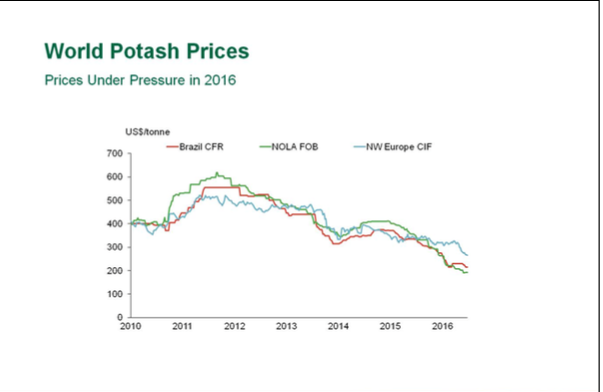 Source: Potash Corp. Market Overview
Dividend Cut
I had expected Potash Corp. to maintain its dividend. In an article at the end of last year, I had noted that prices would have to drop substantially before the dividends would become unsustainable. In fact, Potash Corp. had noted in a presentation last year that it can maintain dividend payments if prices average $200 per ton. While prices have come under pressure this year, they are still comfortably above the levels Potash Corp. felt it would need at the minimum to sustain dividend payments. Still, the company announced a dividend cut earlier in the year. I believe that this was a good decision and highlights Potash's financial discipline, which was also on display last year when the company refused to raise its bid for German rival K+S. I continue to believe that this financial discipline will enable Potash Corp. to sail through the challenging period. As for the challenging environment, there are some signs of hope.
Some Signs of Hope
Potash Corp. is positioned for the low price environment. What the company does not need is further drop in prices. The good news is that a further drop is unlikely. Analysts believe that prices could stabilize around $220 per ton, driven by improving demand from Brazil and India. Demand from India could be especially strong, as the country is witnessing a strong monsoon season following two consecutive years of drought.
This sentiment was also echoed by Potash Corp. in its recent market overview. According to the company, a combination of supportive prices, an opportunity for improved demand and the impact of recent production outages could lead to a more supportive price environment in the second half.
Potash also noted in its report that a late Chinese contract settlement in a particular year has tended to set the stage for increased demand in the following year. The chart below certainly backs Potash's claims.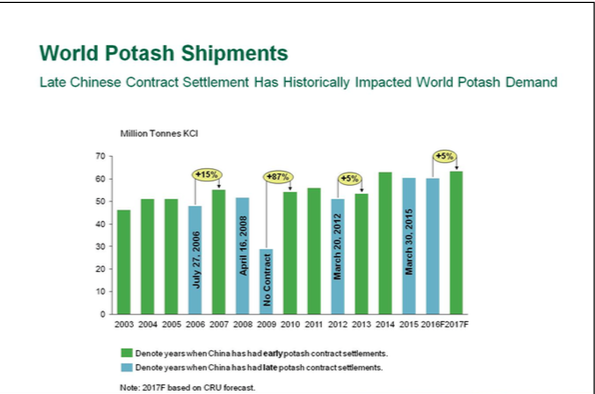 Source: Potash Corp. Market Overview
Of course, these factors will only provide support to prices and not boost them. Potash prices will only get a boost once competitive pressures ease. As I have noted in earlier articles, consolidation remains the only option for producers to strengthen their position. There might be some positive development in this regard though. According to a recent Financial Times report, there have been talks between Belaruskali and Uralkali, the two companies involved in the BPC venture. The revival of the joint venture could certainly provide a significant boost to prices.
Disclosure: I am/we are long POT.
I wrote this article myself, and it expresses my own opinions. I am not receiving compensation for it (other than from Seeking Alpha). I have no business relationship with any company whose stock is mentioned in this article.