S&P 500 (NYSEARCA:SPY) has continued to gain ground after it hit a new record on July 11 th. Since then, the index has gained another 1.68% to 2,173, a new all-time high.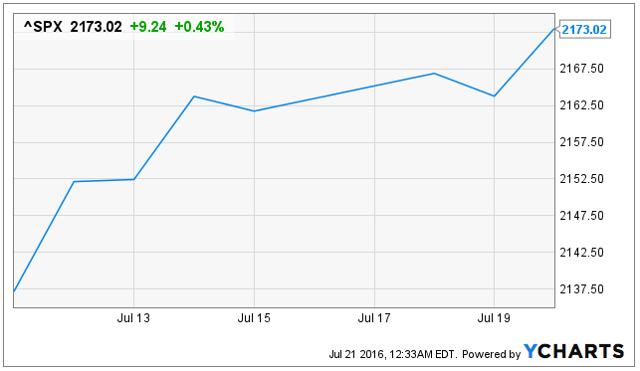 Click to enlarge
Given the current economic condition, I suspect that we'll be saying "all-time highs" on a monthly basis. But in times of prosperity, danger is just around the corner. The S&P 500 is a mixed bag of 11 sectors, and each sector has its own distinct risk exposures. Today I'll discuss one risk that is applicable to all 11 sectors: long-term treasury yields.
Long-term yields have been declining since the recession, or decades if we take an even more long-term approach. Just recently, the 30-year traded at new low 2.11%. Lower yields benefited everyone by lowering the cost of debt and decreasing the required rate of return for all assets. It's difficult to say how long the low rate environment will last, but it never hurts to be prepared, as a simple shift in sentiment can send yields higher.
Avoid REITs
I believe that REITs are at the greatest risk if rates increase. Lower yields allowed REITs to finance purchases with lower cost of debt and pushed up property prices. However, should rates go back up, it may be difficult for REITs to hold on to their gains. Yes, cost of debt will be higher across the board for all companies, but because REITs have one of the most stable top-line, it would be very difficult for them to adjust. Unlike a retailer, REITs can't just increase revenue whenever they like. So they will be faced with shrinking cash flows (higher interest expense, similar revenue) with no way to compensate.
Some REITs will be more immune than others. For example, mall REITs such as Simon Property Group (NYSE:SPG) can also collect additional rent based on sales of retailers. If retailers raise prices, then the impact of higher interest rates will be mitigated. However, for the vast majority of REITs, this is not the reality. Out of the top 10 holdings of Vanguard REIT ETF (NYSEARCA:VNQ), only two (SPG and O) receive significant benefits from retailers.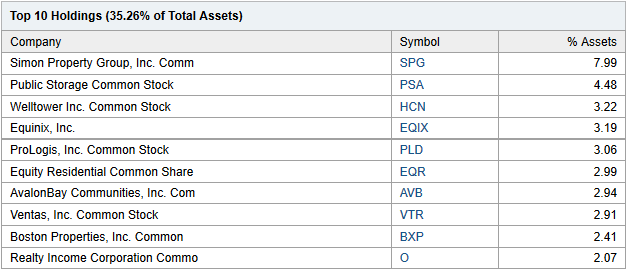 Source: Yahoo Finance
, (NYSE:PSA), (NYSE:HCN), (NASDAQ:EQIX), (NYSE:PLD), (NYSE:EQR), (NYSE:AVB), (NYSE:VTR), (NYSE:BXP), (NYSE:O)
As such, I believe that the REIT sector will suffer in aggregate, with retail REITs outperforming their peers.
Buy Utilities (NYSEARCA:XLU)
Utility stocks benefited from lower rates as well given their high leverage, which increased the positive impact of a lower cost of debt. Comparing to REITs, I believe that utility companies are more protected from higher treasury yields. While utility companies are not immune, they have much higher pricing power over their customers than REITs. It could take a year or more for a rate case to be approved, but a higher risk-free rate is a very good justification for higher prices, as DCF and CAPM models are often used.
There is a drawback however. If inflation picks up (this is not the current expectation, as demonstrated by low yields), utilities will not benefit as much as REITs, whose properties will act as a real hedge. However, if we focus solely on the potential rise of long-term treasury yields, I believe that utility stocks will represent a superior choice as their cash flow can scale with the higher cost of debt.
Click the "Follow" button beside my name on the top of the page to be updated with my latest insights. To learn more about the V20 Portfolio, whose goal is to compound capital at 20% over the long term, I encourage you to read the introduction to my investment process. Premium subscribers get full access to the V20 Portfolio.
Disclosure: I/we have no positions in any stocks mentioned, and no plans to initiate any positions within the next 72 hours.
I wrote this article myself, and it expresses my own opinions. I am not receiving compensation for it (other than from Seeking Alpha). I have no business relationship with any company whose stock is mentioned in this article.