COMPANY OVERVIEW

Vedanta Resources (OTCPK:VDNRF), headquartered in the UK, is a diversified natural resources company. Their most recent geographical revenue split was as follows: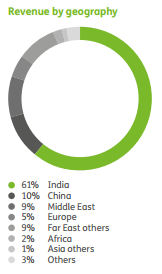 The company has operations in zinc, oil and gas, copper, iron ore, aluminum, and power generation. The following is their segmented EBITDA for the past two years: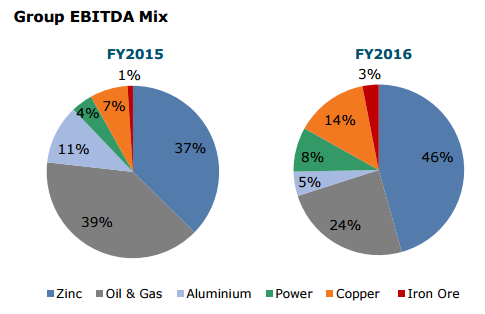 BUSINESS CLIMATE
India accounts for the majority of Vedanta's business-- a whopping 61% of revenue in 2015. This section examines the degree to which the company benefits from serving one of the world's fastest growing economies and analyzes Vedanta's regulatory climate.
Make in India
Make in India is a campaign launched by Prime Minister Narendra Modi designed to transform the nation into a global design and manufacturing hub. It was launched in September 2014 in response to India's 2013 growth having slowed to its lowest level in a decade. Important for Indian companies, Modi's philosophy and strategy is to minimize government and maximize governance, a major shift from India's past policies of having extraordinarily large governments.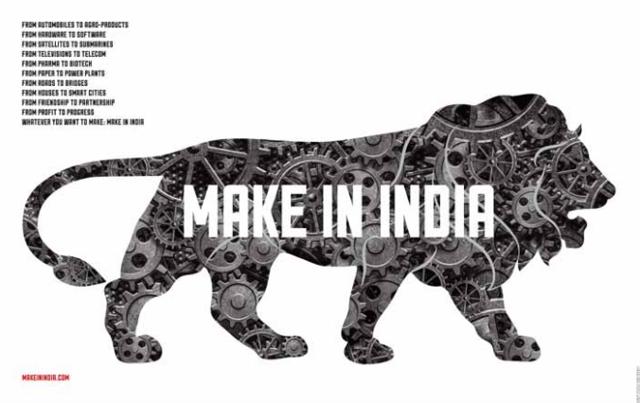 Click to enlarge
The entire objective of the program is to increase innovation and manufacturing in India, and through those to boost GDP and economic growth in the country. If successful, this goal is perfect for Vedanta-their raw materials are the fuel of growth, and more rapid growth in India means that there will be greater demand for the company's products.
Examining some of the policies already introduced, India has switched to now allow 49% FDI in their Defense sector, up from 26% previously. The only other two sectors with government-imposed FDI limits are Space (74% limit) and News Media (26%). Additionally, the government has rolled out numerous initiatives with the objective of improving the ease of doing business in the country. These include allowing environment clearances to be sought online, allowing online income tax returns, and extending the validity period of industrial licenses. Measures have also been taken to improve intellectual property rights and protection.
So far, there are some positive signs from the campaign. According to Moody's, net FDI inflows hit an all-time high for India in January 2016: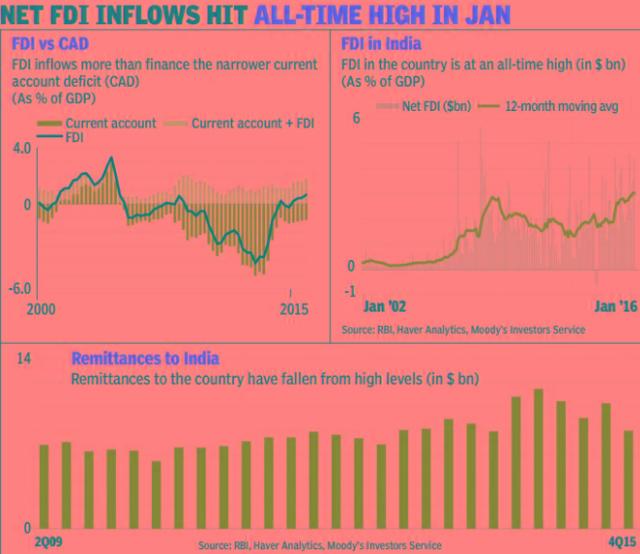 Click to enlarge
Moody's had positive commentary on the Make in India effort: " The rise in FDI points to stronger investor interest in India on the back of robust economic growth. Higher inflows also suggest that recent government policies, such as efforts to liberalize foreign investment limits in several sectors and the 'Make in India' initiative, are bearing fruit." The increased inflows and the early success of Modi's policies indicate a bright future for growth in India.
Indian Growth Prospects
India has overtaken China as the fastest growing large economy in the world, with 7.3% GDP growth in 2015: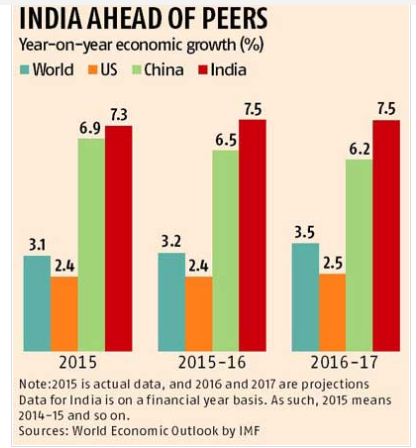 There is a general consensus that India will continue to be the global leader in economic growth in coming years; Harvard researchers projected a 7% annual growth rate for the nation in the coming decade, while the World Bank expected 7.6% growth in 2016 and 7.7% growth in 2017 and 2018.
American brokerage and banking firm Charles Schwab compares the demographics of India and China as evidence for India's favorable climate for growth:
India's birthrate of 2.5 children per woman is way above China's 1.5.
India's median age is 27 while China's is 37.
India's working-age population, aged 15-64, is projected by the World Bank to continue to grow and to surpass the size of China's shrinking workforce in about 10 years.
That means it is likely India will need to create 100 million new jobs over the next 10 years. For perspective, that is two-thirds of the size of the entire civilian labor force in the United States.
India's young and rapidly-growing population spells a bright future in terms of growth, which virtually every economic analyst out there backs up in their predictions.
Commodity Demand
Rapid economic growth is not new for India; the nation has enjoyed strong growth for most of the past two decades: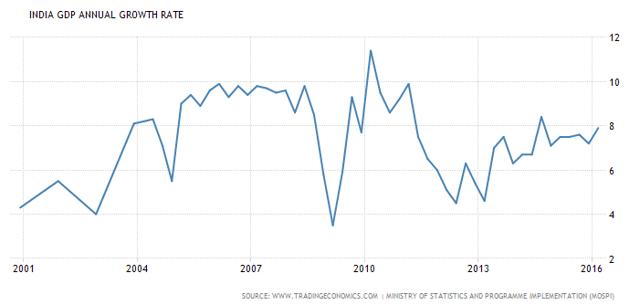 Click to enlarge
As a result of that growth, India's demand for commodities has ballooned over those fifteen years or so, far outpacing global growth rates: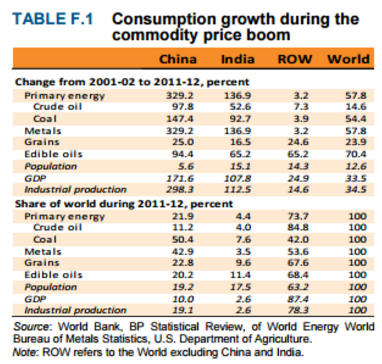 If India's attempt to become an increasingly manufacturing-based economy is successful, their demand for commodities will accelerate even more. Look no further than China, which used primarily manufacturing to drive their development into one of the world's top economies. The table above shows that their use of commodities in the 21 st Century has been even more prolific than India's, especially in the areas of crude oil and metals. Looking specifically at metal consumption in the chart below, China dwarfed India's growth since 2000-if India shifts towards manufacturing and becomes more similar to China's economy, they could potentially see that same type of exponential demand growth.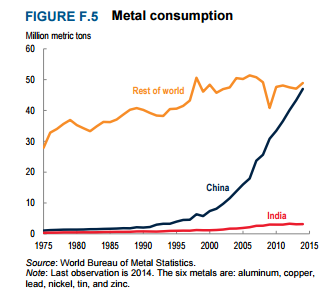 Regulation
India's government imposes some regulatory policies which directly impact Vedanta's business operations. For 2016, the company reported a $241 million hit to EBITDA because of regulation, up from $200 million in 2015 (before then the company did not specify any regulatory charges):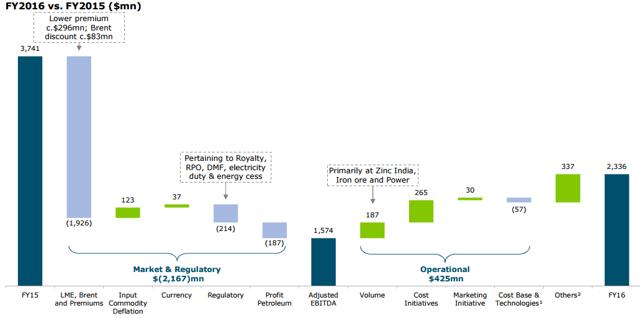 Click to enlarge
When asked if these regulatory charges were the "new normal" in the 2016 conference call, management responded that they have seen "relief" in some areas, but that due to increased urgency in India's clean air agenda there is likely to be significant continued costs moving forward. This is particularly evident in India's cess on coal; in February 2016 India doubled their levy on coal production to Rs 400 per ton from Rs 200 per ton. Vedanta bears a burden from the coal cess in their power generation segment, which involves coal as a fuel. This cess was also doubled in 2015 from Rs 100 per ton to Rs 200 per ton; the fact that India doubled it in back to back years indicates that cleaner air is a priority for them and that the government is willing to financially back that priority up. The coal cess could feasibly continue to go up in coming years, but the good news for Vedanta is that their power segment is a relatively small part of their business (only 8% of company EBITDA in 2016).
Another charge that Vedanta feels is India's oil cess, which was recently changed to 20% on domestically produced oil calculated ad valorem or in proportion to the estimated value of the transaction concerned. The previous levy was Rs 4,500 per ton, which was becoming an increasingly large burden as oil prices collapsed-the new rate is expected to provide relief to India's oil producers. This switch is a boon to Vedanta, which in 2016 generated 24% of company EBITDA from its oil and gas segment.
Continuing on the topic of oil, the regulatory picture could improve for India's producers looking forward. On March 27, 2016, Prime Minister Modi stated a goal of " reducing import by 10 per cent in 2022, by achieving 10 per cent growth in domestic production". India currently imports around 77% of its oil. If the country is serious about becoming more energy independent, government policy could play a major role in expanding domestic capacity, whether it comes through tariffs on imports or cutting the oil cess. Switching to the 20% ad valorem rate is a sign that India is willing to cooperate with its oil producers, who had requested the cess be changed to percent-based rate, and could signal further government concessions.
Another positive change for Vedanta is that India increased its import duty on aluminum to 7.5% from 5%. This move to shield domestic producers should benefit Vedanta, though their aluminum segment was only 5% of EBITDA in 2016.
Summary
While the increasing coal cess will likely continue to burden Vedanta in the future, other regulatory conditions are improving for the company under Modi's government. This trend reinforces the goals of the Make in India campaign to create a smaller government and a more favorable business environment in India, and appears to be a positive sign for Vedanta's future regulatory climate.
COMMODITY EXPOSURE ANALYSIS
While India's demand for oil and metals grew quickly over the past fifteen years, Vedanta did not always enjoy outstanding performance. The company's profitability has proven to be quite vulnerable to drops in commodity prices, such as the broad decline in 2008-2009 and the metals drop beginning in 2012 that has escalated with oil's plummet in 2014-2015. While Vedanta's revenue grew at a CAGR of 11.2% from 2006-2016, their operating margin has been inconsistent during that period: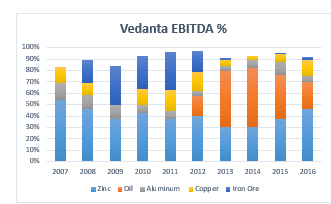 We will look more closely at the five commodities that have accounted for the greatest portion of Vedanta's business over the past ten years-- zinc, oil, aluminum, copper, and iron ore-and the effect that their price fluctuations have had on Vedanta's business and stock performance.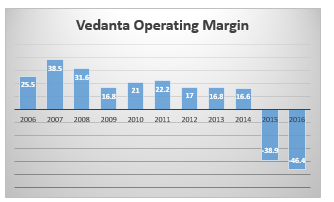 As visible in the chart above, Vedanta's EBITDA mix has changed considerably over the past ten years. Zinc was consistently the largest segment up until Vedanta acquired 60% of Cairn in 2011 and the oil and gas business rose to prominence, taking the top spot in 2013. As the company's oil segment rose, iron ore and aluminum faded into less weighty parts of the business.
The following charts illustrate how the prices of the five commodities have fared over the past ten years (notice that a lot of the charts look similar; there is fairly strong correlation between most of these commodities):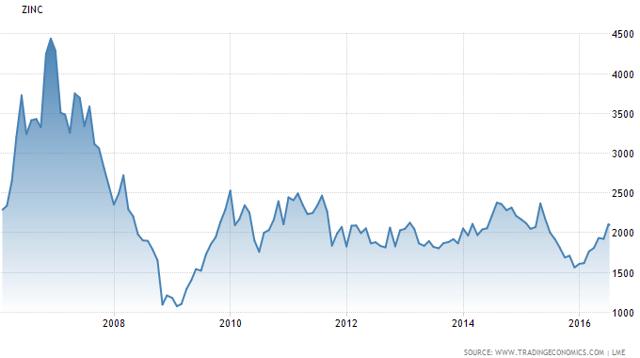 Click to enlarge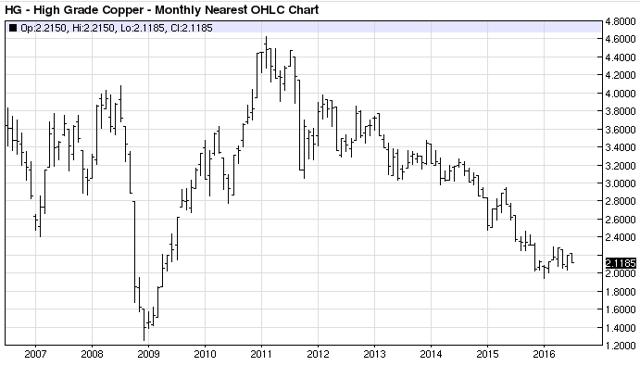 Click to enlarge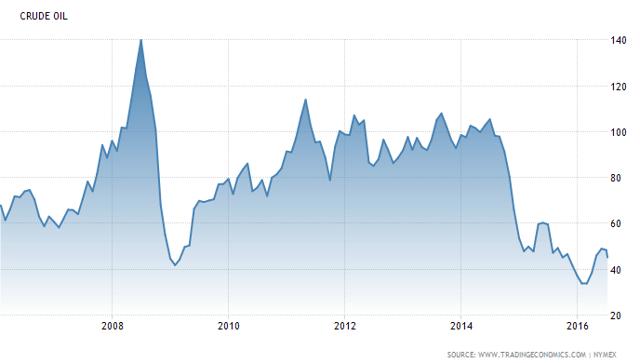 Click to enlarge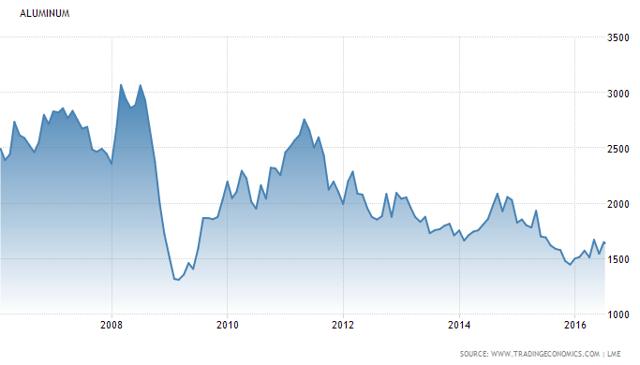 Click to enlarge
Iron Ore

Click to enlarge
One common trait between all five commodities is volatility-each of them are susceptible to rapid and major price changes. The next objective of this report is to look at how the price performance of Vedanta's commodities has affected the company's EBITDA growth and stock performance over the past ten years.
The following table presents four columns of data. The first one lists the commodities that made up the biggest percentage of Vedanta's EBITDA in the prior year. This sets up a basis to examine how the biggest pieces of the business at the beginning of the period are affected throughout the fiscal year. The commodities are listed along with the percentage of EBITDA that they accounted for, and each significant commodity (those with at least 10% of EBITDA) are included.
The next column shows the return of each commodity during the given fiscal year, which begins in April instead of January for Vedanta. We used the fiscal calendar in an attempt to line up the commodities' performance with changes in Vedanta's EBITDA to get the most accurate comparison between the two. The "WA" column is a weighted average calculation of the performance of each significant commodity for the year with weights based on the percentages in column one. NOTE: as column one percentages do not add up to 100%, they are converted to a 100% scale to determine WA weights.
The third column presents Vedanta's company-wide EBITDA as a percent change from the prior year, and the fourth column lists Vedanta's share performance during the period (again, using the fiscal year).
| | | | | |
| --- | --- | --- | --- | --- |
| Year | Vedanta's Important Commodities | Commodity Return | Vedanta EBITDA Change | Vedanta Stock Performance |
| | | | | |
| 2008 | Zinc (54%) | -29% | | |
| | Copper (15%) | 18% | | |
| | Aluminum (14%) | 9% | | |
| | WA | -14% | -11% | 59% |
| | | | | |
| 2009 | Zinc (46%) | -44% | | |
| | Iron Ore (19%) | -2% | | |
| | Aluminum (13%) | -53% | | |
| | Copper (11%) | -48% | | |
| | WA | -37% | -46% | -66% |
| | | | | |
| 2010 | Zinc (38%) | 81% | | |
| | Iron Ore (35%) | 189% | | |
| | Aluminum (12%) | 65% | | |
| | WA | 123% | 42% | 331% |
| | | | | |
| 2011 | Zinc (43%) | -1% | | |
| | Iron Ore (29%) | 4% | | |
| | Copper (14%) | 25% | | |
| | WA | 5% | 55% | -11% |
| | | | | |
| 2012 | Zinc (37%) | -16% | | |
| | Iron Ore (33%) | -18% | | |
| | Copper (19%) | -19% | | |
| | WA | -17% | 13% | -50% |
| | | | | |
| 2013 | Zinc (40%) | -6% | | |
| | Iron Ore (18%) | -7% | | |
| | Oil (18%) | -6% | | |
| | Copper (17%) | -8% | | |
| | WA | -7% | 22% | -1% |
| | | | | |
| 2014 | Oil (50%) | 3% | | |
| | Zinc (30%) | 7% | | |
| | WA | 5% | -9% | -2% |
| | | | | |
| 2015 | Oil (52%) | -50% | | |
| | Zinc (30%) | 3% | | |
| | WA | -31% | -17% | -40% |
| | | | | |
| 2016 | Oil (39%) | -27% | | |
| | Zinc (37%) | -11% | | |
| | Aluminum (11%) | -13% | | |
| | WA | -18% | -38% | -41% |
| | | | | |
| 2017 | Zinc (46%) | ??? | | |
| | Oil (24%) | ??? | | |
| | Copper (14%) | ??? | | |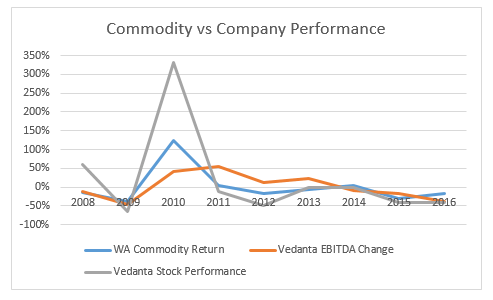 The first key takeaway from this data is that in years that the relevant commodities performed really well or really badly, indicated by a swing over 30% either way, Vedanta EBITDA and stock performance followed commodities up or down. 2009, 2010, and 2015 are all examples of this; in extreme years commodity price swings overwhelmed other factors affecting the company and have been the premier driving force on both EBITDA and stock. It also appears likely that commodities played a major role in stock performance in 2012 and 2016, with 17% and 18% movements downward from commodities respectively lining up with -50% and -41% stock performances. However, in the years when commodity price shifts were less significant, other factors have been able to affect the company besides commodity prices. One instance of this is 2011-commodity prices were fairly stable throughout the year, but Vedanta's acquisition of Cairn caused EBITDA to increase significantly and also contributed to the stock falling 11% during the year as investors lacked enthusiasm for the deal. 2008, 2013, and 2014 are other years when commodities do not appear to have affected the company in any meaningful way. Looking forward, this means that using commodity prices to predict company performance is only useful if one is expecting a big move from commodities, a price change in at least the 15% range.
Second, Vedanta's stock price has clearly been more volatile than its underlying commodities. Examining each year when relevant commodities shifted 15% or more, Vedanta stock has moved an average of 2.2 times more than the commodities. This means that Vedanta stock is highly vulnerable when commodities drop significantly, but also that shares in the company provide massive opportunities when commodity prices jump.
BALANCE SHEET AND LIQUIDITY
One of the key issues threatening Vedanta is debt; the company has significant payments coming due over the next three years: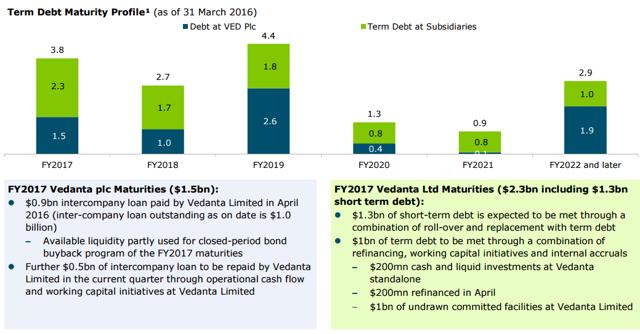 Click to enlarge
Vedanta generated $1.5 billion in operating cash flow and $2.3 billion in adjusted EBITDA in 2016, and the company had nearly $9 billion in cash and liquid investments as of the end of fiscal 2016. Given that information, their debt situation seems very manageable.
However, the problem lies in Vedanta's complex company structure. As visible below, the only operation at the same level of the parent company (Vedanta Resources) is KCM, which reported negative EBITDA in 2016. All other operations are subsidiaries of Vedanta Ltd.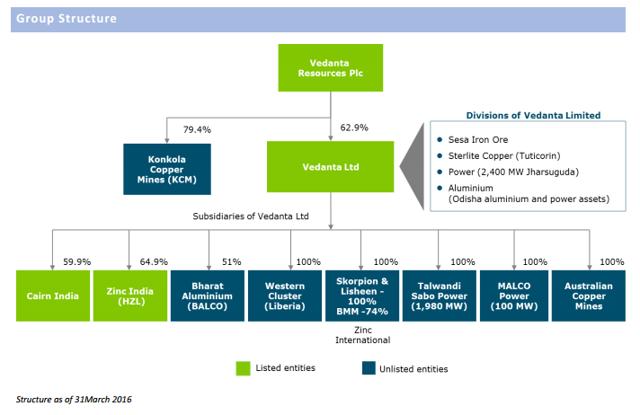 Click to enlarge
The problem with not having cash flows coming directly into the parent company is that Vedanta Resources has very limited cash at its top level but a significant amount of debt- $7.4 billion in aggregate and $5.6 billion coming due in the next five years.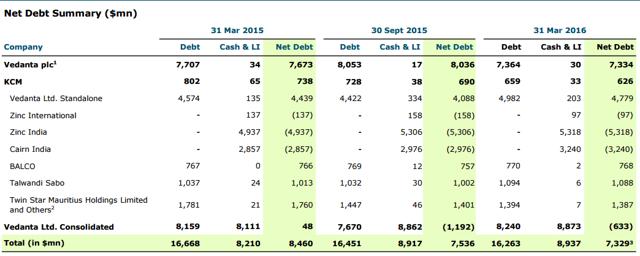 Click to enlarge
Subsidiaries Zinc India and Cairn India are debt-free and cash-rich; Vedanta desperately needs to funnel cash up the line to pay off the parent's debt coming due. They have used a couple different methods to do this in the past. An intercompany loan to Vedanta Ltd has been used to shift cash up, with the parent company collecting $0.9 billion of payments in April 2016 and another $0.5 billion to be repaid within Q1 2017. Unfortunately, starting from the $1.9 billion loan balance at the end of fiscal 2016, this leaves only $400 million left on the loan to finance next year's payments.

Click to enlarge
Another company cash transfer came when subsidiary Hindustan Zinc issued a special dividend entailing a $1.8 billion outflow, including tax. Vedanta Ltd received $982 million for its near-65% shareholding in the company, a portion of which was then passed on to Vedanta Resources, and Moody's lauded the event as a "credit positive", noting that it helped to lower short-term liquidity risk. The problem with dividend issuances like this is taxation on distributions; the Hindustan dividend caused Vedanta's effective tax rate to leap to 113% in 2016, (management stated that it would have been 33% without). Plugging that 33% percentage and subtracting it from the total of $256 million in taxes Vedanta paid in 2016 (excluding credits from special items), it appears that the company paid $181.4 million in distribution tax on the Hindustan dividend.
33% Effective Tax Rate * $226 Million Profit Before Tax and Special Items = $74.6 Million
$256 Million - $74.6 Million = $181.4 Million Distribution Tax (18.5%)
Cairn Merger
The big solution management is attempting comes in the form of a merger between Vedanta Ltd and the remnant of Cairn India. Vedanta Ltd currently has a 60% stake in Cairn India, but acquiring the other 40% would unlock Cairn's significant cash to Vedanta and make it available to be used for debt repayments. As Cairn reported a cash and LI balance north of $3 billion as of March 31, the merger would go a long way in cutting down near-term debt concerns for Vedanta.
However, the merger was announced in June 2015 and has yet to go through. Two obstacles stand in the way: first, the Indian government has to approve the merger and second, Cairn's minority shareholders have to agree to the terms of the deal.
Government
The government stated in April that it was not opposed to the merger, but also that it would not let it go through until a Cairn tax liability is settled. The claim is based upon a retrospective legislation and amounts to over Rs 29,000 crore (over $4 billion), which includes more than Rs 18,000 in interest. This is a huge amount and Cairn does not want to pay it-they have initiated international arbitration proceedings under BIPA and have claimed full compensation for the $1 billion erosion in shareholder value that the government's claim caused.
There is considerable uncertainty on this issue moving forward. On the positive side for Cairn, the government has shown a willingness to make concessions-in February 2016 India's Finance Minister Arun Jaitley offered Cairn a "one-time" opportunity to pay down the principal amount and waive interest, which would have decreased the liability by around 60%. Cairn rejected this offer, expressing confidence that they could get off without paying anything.
India's government does have power in this situation, however. They can continue to hold back the merger and also put additional pressure on Cairn by refusing to provide further approvals or licenses for exploration. Ultimately, the arbitration case will determine the result of the situation. It appears unlikely that Cairn will have to pay the entire liability considering that the government was willing to waive the interest charge; more likely is a smaller liability being set for Cairn. In the meantime, India's government could let the merger go through and simply let the combined entity deal with the tax liability situation-this would speed things up considerably for Vedanta as they would not need to await the arbitration results. Otherwise they will need to go back to other options to raise cash for debt payments in the meantime.
Minority Shareholders
Even after the merger gets government approval, it still needs to pass a vote from minority shareholders. These parties, including Life Insurance Corp and Cairn Energy Plc of the UK, have expressed concerns over not getting a fair valuation for their shares. The deal entails trading one ordinary share of Vedanta and a 7.5% preferred share in exchange for each share of Cairn. Some of the Cairn minority shareholders do not like the idea of trading their stake in a cash-rich, debt-free pure oil company for shares of larger, more diversified Vedanta and its considerable debt load.
Cairn's CEO, Mayank Ashar, has stated that a fair number of minority shareholders are positive on the deal and that the deal is on track. Potential positive effects of the merger for Cairn include diversification beyond the oil business as well as the increased economies of scale that Vedanta's established mining assets can facilitate. However, especially given that over a year has passed since the original terms of the deal were announced, it would not be overly surprising if the terms of the deal have to be renegotiated.
The key takeaway from the issues with the Indian government and with minority shareholders is that this merger may still take significant time to go through, if it goes through at all. Management had no guiding comments on the timeline of the deal at their conference call in May, so it appears prudent to analyze short-term liquidity from the basis of no merger.
Even without the merger, Vedanta does have options to manage their short-term payments. More special dividends like the Hindustan one could be in play if Vedanta needs to raise cash at the parent level; while sacrificing some of the company's profitability to distribution tax, it could be a way to get some payments out of the way. Additionally, Vedanta has the $0.4 billion remaining on their intercompany loan, which will likely be used rapidly, and they could further cut dividend payments currently equal to $0.30 per share if they get desperate.
Beyond that, Vedanta will be looking to refinance. They have a B rating from S&P with a stable outlook and B2 from Moody's with a negative outlook, both which are well below investment grade and will likely lead to high interest rates on replacement debt. With Vedanta's significant assets, though, they should have no trouble with being able to refinance, the issue is the cost of the new debt may be high. According to NYU professor Aswath Damodaran, the current estimated default spread for firms of B/B2 credit rating is 6.5%.
Another potential problem for Vedanta would arise if they cannot keep up with their covenants (as follows):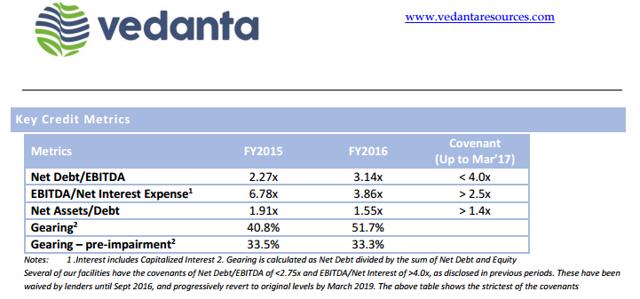 Click to enlarge
Creditors have granted a waiver until September 2018 allowing Vedanta to breach debt levels of 2.75 times EBITDA (which is the requirement for some facilities, as described in the notes above), indicating that they may be flexible with the company. These covenants also allow Vedanta to use net debt as a metric, which allows cash stored in Cairn India and other subsidiaries to counter debt at the top level. Net debt for Vedanta actually decreased by over $1 billion in 2016-unless EBITDA decreases drastically, Vedanta should be able to remain compliant with these covenants.
Summary
While Vedanta should survive their current debt situation, they are looking at high refinance rates and potentially at steep tax charges if they need to use dividends to send cash up from subsidiaries. A merger with Cairn India could improve the picture by unlocking over $3 billion in cash to use for debt payments, but the deal is facing resistance from the government (and potentially from minority shareholders) that will likely delay it and could mean renegotiations or even that the merger is stopped.
VALUATION
Revenue
In order to estimate revenue growth, we will first compare Vedanta to four mining competitors: BHP Billiton (NYSE:BHP), Rio Tinto (NYSE:RIO), Anglo American (OTCPK:AAUKF), and Freeport McMoRan (NYSE:FCX). Below is a chart of historical revenue growth for the companies over the past ten years (ending in 2015 because some of these companies have yet to report full-year results for 2016):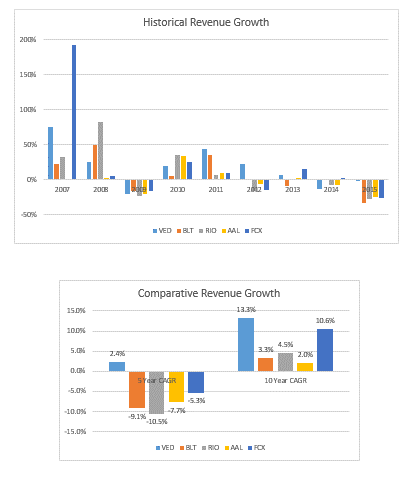 Vedanta has outperformed its competition in terms of revenue growth, partially because it is smaller than the other companies examined. But the biggest driver of the company's strong top-line growth has likely been the quickly expanding economy of India, Vedanta's number one customer. We saw in the first section of this report the extent to which India's growth increased the nation's commodity demand, and Vedanta has been able to capitalize on that trend over the past decade by producing a great record of revenue growth. With a promising "Make in India" campaign increasing the ease of doing business, ideal demographics for economic growth, and the potential to switch towards more of a manufacturing economy, India should continue to provide the increased demand for resources Vedanta needs to grow their revenue at a rapid rate.
Additionally, management sees the opportunity to significantly increase aluminum, power, and iron ore production, which could provide further boosts to revenue: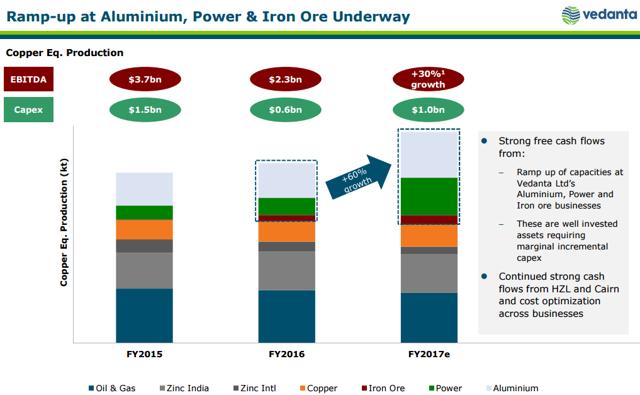 Click to enlarge
However, Vedanta's revenue did dip 17% in 2016, and if we take that into account, company revenue has shrunk at a rate of 5.2% since 2012, influenced by the commodity stumble during the period. Revenue growth since 2006 dips to 11.2% if we add in 2016's number. Looking forward, weakness in commodities could continue to be a drag on revenue in the short-term. Commodities do not affect the company's revenue as extensively as they do margins, as evidenced by Vedanta's overall solid revenue growth over the past ten years despite most of that period being a bad time for commodity prices (reexamine the commodity exposure section for a reminder of this), but they have caused hits to revenue in the worst years for commodity prices-2009, 2014, and 2016. In the first three years of our growth estimate, we average the -5.2% rate with Vedanta's long-term 13.3% rate to get 4%-- commodities may be a drag on the advantages of extremely favorable conditions in India, but they will not outweigh them. For the seven years afterwards, we model 12% growth-slightly higher than the long-term average because commodity prices will likely rebound sometime during the next ten years and when that happens revenue growth will be above-average. Additional market share in India also factors into that estimate; if the nation truly plans on meeting their goal of reducing oil imports by 10% by 2022 and they imported 202 mmt of oil and gas in 2015-2016, domestic producers like Vedanta will see significantly increased business.
Operating Margin
Again, we will examine the historical margins of Vedanta and its peers in order to derive a forward estimate:
| | | | | | | | | | | |
| --- | --- | --- | --- | --- | --- | --- | --- | --- | --- | --- |
| | 2006 | 2007 | 2008 | 2009 | 2010 | 2011 | 2012 | 2013 | 2014 | 2015 |
| VED | 25.5 | 38.5 | 31.6 | 16.8 | 21 | 22.2 | 17 | 16.8 | 16.6 | -38.9 |
| BLT | 45.6 | 46.6 | 40.6 | 24.2 | 37.9 | 44.3 | 32.9 | 29.1 | 34.8 | 19.4 |
| RIO | 39.3 | 28.3 | 18.8 | 14.2 | 34.8 | 23 | -2.3 | 14.5 | 23.8 | 10.4 |
| AAL | 4.7 | 4.2 | -7.9 | -5 | 1.4 | -4.4 | 0.4 | 5.2 | 10 | 15.1 |
| FCX | 49.5 | 38.7 | -71.4 | 43.2 | 47.8 | 43.8 | 32.3 | 25.6 | 0.5 | -84.3 |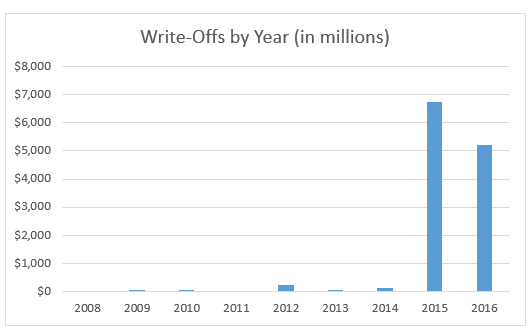 Vedanta has a fairly average level of profitability when compared with competitors. The big companies like BHP Billiton and Rio Tinto have an advantage over them with economies of scale, but Vedanta still puts up a respectable showing.
Unfortunately, when we add in Vedanta's 2016 operating margin of -46.4% (unadjusted), their averages get worse. The 5-year level goes negative to -2.1%, and the average since 2006 becomes just 11%. The reasons Vedanta's margins dropped so significantly in 2015 and 2016 were giant one-time write-offs in each year because of falling commodity prices. These are non-cash events, but a major question for investors is whether or not those write-offs should be factored into future margin estimates.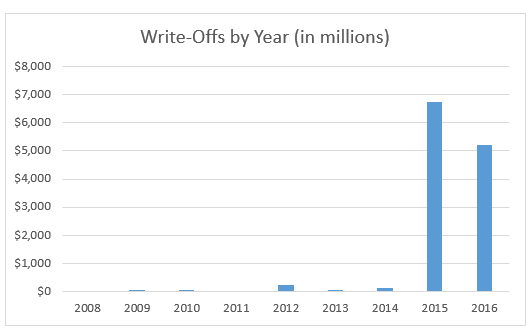 In all years except 2015 and 2016, the average "special items" charge was just $73 million; in their history, Vedanta has only needed to do two major write-offs. These were in the past two years, and both were primarily related to oil as the commodity slid during the period. This probably explains why the company had no huge write-offs in 2009, because they did not have any oil business at the time. -38.9% and -46.4% are not what Vedanta investors can expect for an operating margin in typical years, it is simply what the company was forced to report on an accounting basis after oil fell significantly in back to back years. Oil price collapses happen, but usually not more than once a decade or so-it is unlikely that Vedanta will face giant write-offs in the immediate future, but for modeling purposes the possibility must be included.
Another potential factor to consider is cost-cutting. Management highly touted their ability to slice costs in 2016, citing cost and marketing savings of $325 million, aluminum cost of production down 10%, and KCM C1 cash costs decreased by 27%. They plan more similar efforts in coming years. However, despite cost-cutting, adjusted margin (which excludes one-time write-offs) decreased from 38% in 2015 to 28% in 2016. Cost-cutting is unlikely to play a significant role in improving margins in the future when compared with the effects commodities have on them.
In 2016, Vedanta had $881 million of operating income excluding the write-offs for the year. This is the equivalent of an 8.2% operating margin, well below Vedanta's averages. Commodity prices may keep that number low in the short term if they remain depressed, but further write-downs and profitability decreases are unlikely barring further significant price collapses. Recall that unless Vedanta's commodities fall at least in the range of 15%, their EBITDA will not necessarily take a major hit. For the first three years, accounting for the potential of more commodity price weakness, we will average 2016's 8.2% with their long run average since 2006 EXCLUDING the write-downs in 2015 and 2016: 20.7%. The beginning of fiscal 2017 has seen oil prices rising, and after two straight years of tumbling oil prices and huge write-downs our model does not predict another in the short term. This creates a short-term margin estimate of 14.5%.
For the seven years after, we predict that at some point within that period commodity prices will come out of their depressed levels and Vedanta will see some above average years for their profitability. This will allow them to return to their 20.7% average. However, there remains the chance of another oil collapse during that period, and we will cut 2% off of the estimate to account for that possibility. This creates an 18.7% estimate.
Taxation
Vedanta had a 33% effective tax rate in 2016 excluding distribution tax on the Hindustan special dividend. However, more distribution taxation will be in play if Vedanta needs to raise more cash from its subsidiaries to make debt payments. As calculated earlier in the report, the tax was 18.5% of the Hindustan dividend, so if we assume that Vedanta will need to raise an average of $0.5 billion a year over the next three years when they have large payments coming due, that will be an additional tax charge of $92.5 million a year (8.5% of our projected 2017 operating income). Looking at Vedanta's debt payments in 2017, 2018, and 2019, half a billion appears sufficient to bridge together what the parent company will have available and what they need to pay. Therefore, we will model a higher tax rate in the first three years of the model-41.5% in the years 2017-2019, and back to 33% afterward.
Reinvestment
Vedanta had capex of $0.6 billion (8.2% of revenue) in 2016 and is guiding $1 billion for 2017 due to increased spending on ramp-ups. Over the past 10 years, they have averaged a spend of 21.1% of sales on capex. For the first three years, we will average 2016's 8.2% and the long term 21.1%, assuming it will take time for spending to ramp up again, getting 14.7%. Afterward, we will use the 21.1%, because if Vedanta is indeed going to be catering to more and more demand in India they will need to spend to increase their production capabilities.
Vedanta reported depreciation and amortization of $1.46 billion in 2016-we will simply increase that value proportionately to revenue each year in the model. Net working capital decreased from $3.53 billion in 2015 to $1.29 billion in 2016 and now is at just 12% of revenue, the lowest it's been in the past ten years. However, the ten-year average has been 35% of revenue and the five-year average was 20%. For the first three years, we estimate that the company will need 20% (the shorter term average) of their revenue as working capital and include the corresponding changes in WC they will need for each year. For the following seven years, we predict it will expand back to the average of the five and ten-year average: 27.5%.
All of these estimates were made in coordination with revenue predictions-as the first three years have lower revenue growth, they will also be less capital intensive. As revenue growth expands in the last seven years, so does reinvestment rate.
Discount Rate: 21.86%
Risk-free rate: 1.54%
Beta: 2.25
Mature Market Risk Premium plus Country Risk: 9.03%
Cost of Capital: 9.91%
Cost of Debt: 1.54% risk free rate + 6.5% default spread from companies with B2 rating= 8.04%
Cost of Equity: 21.86%
Capital structure of 13.5% equity, 86.5% debt
FCFF Model
| | | | | | | | | | | | |
| --- | --- | --- | --- | --- | --- | --- | --- | --- | --- | --- | --- |
| | 2016 | 2017 | 2018 | 2019 | 2020 | 2021 | 2022 | 2023 | 2024 | 2025 | 2026 |
| | | | | | | | | | | | |
| Revenue | $10,738 | $11,168 | $11,614 | $12,079 | $13,528 | $15,152 | $16,970 | $19,006 | $21,287 | $23,841 | $26,702 |
| Operating Margin | -40.3% | 14.5% | 14.5% | 14.5% | 18.7% | 18.7% | 18.7% | 18.7% | 18.7% | 18.7% | 18.7% |
| Operating Income | -$4,329 | $1,619 | $1,684 | $1,751 | $2,530 | $2,833 | $3,173 | $3,554 | $3,981 | $4,458 | $4,993 |
| After-tax Operating Income | -$4,984 | $947 | $985 | $1,025 | $1,695 | $1,898 | $2,126 | $2,381 | $2,667 | $2,987 | $3,346 |
| Subtract Capex | -$600 | -$1,642 | -$1,707 | -$1,776 | -$2,854 | -$3,197 | -$3,581 | -$4,010 | -$4,492 | -$5,031 | -$5,634 |
| Add D&A | $1,460 | $1,518 | $1,579 | $1,642 | $1,839 | $2,060 | $2,307 | $2,584 | $2,894 | $3,242 | $3,631 |
| Subtract Net Change in WC | $2,240 | $6 | -$89 | -$93 | -$1,305 | -$446 | -$500 | -$560 | -$627 | -$702 | -$787 |
| FCFF | -$1,884 | $831 | $768 | $798 | -$625 | $315 | $353 | $395 | $443 | $496 | $555 |
| Terminal Value (2% terminal growth rate) | | | | | | | | | | | $7,019 |
| Value Today | $2,903.97 | | | | | | | | | | |
| Add Cash | $8,900 | | | | | | | | | | |
| Subtract Debt | $7,329 | | | | | | | | | | |
| Value of Equity | $4,474.97 | | | | | | | | | | |
| Value per Share | $15.98 | | | | | | | | | | |
| | | | | | | | | | | | |
| Inputs | | | | | | | | | | | |
| Revenue Growth | 12% | | | | | | | | | | |
| Tax Rate | 33% | | | | | | | | | | |
| Cost of Capital | 10% | | | | | | | | | | |
| Number of Shares | 280 | | | | | | | | | | |
| Discount Rate | 22% | | | | | | | | | | |
Since we are valuing the shares of Vedanta listed on the London exchange, we must convert the value of $15.98 per share to £12.12, which implies that shares have 135% upside. Investors without access to the London shares can purchase the OTC shares, listed under ticker VDNRF. Do not be confused: Vedanta Limited (NYSE:VEDL) is easily accessible through an NYSE-listed ADR, but the valuation presented in this report will not line up with it as Vedanta Limited is only part of Vedanta Resources (see the corporate structure graphic above for a reminder on this).
CONCLUSION
Investors have fled shares of Vedanta in the wake of falling commodity prices and intimidating levels of debt. However, our analysis and valuation of the company indicate that the price decline was overly extensive and that Vedanta stock is a strong investment opportunity in the current market, with a 135% potential upside from current levels.
Disclosure: I/we have no positions in any stocks mentioned, and no plans to initiate any positions within the next 72 hours.
I wrote this article myself, and it expresses my own opinions. I am not receiving compensation for it (other than from Seeking Alpha). I have no business relationship with any company whose stock is mentioned in this article.
Editor's Note: This article discusses one or more securities that do not trade on a major U.S. exchange. Please be aware of the risks associated with these stocks.