Shares of Coach (NYSE:COH) have risen 35% in the past 12 months, as optimism surrounding luxury goods improved. The company has benefited greatly from a stronger economy, which has increased consumer spending on non-essential luxury goods. With this economic tailwind, management has begun a restructuring initiative with the goal of increasing profitability over the next year. For a company that has seen profits decline for the last three years this initiative would be a welcome change if successful.
Even after the run-up the company has had, Coach's 3.3% dividend is an enticing pull for investors. However, there are several issues that could stifle the growth of the company moving forward. In this article, I will evaluate Coach's current business, discuss their growth potential and point out where they could have problems.
Current valuation
With the current run, the stock has been on, it's hard to see how it could be under or even fairly valued. However, on certain valuation metrics, this is actually the case. Coach is currently trading at a PB of 4.6, which is slightly less than the industry average of 5. Also on a forward-looking basis, the company has a PEG ratio of 0.7, representing solid expected growth over the next year.
Despite these metrics, shares are priced at 31 times trailing earnings, which is higher than the company has witnessed since the 08 recession. Moving forward, the company is still trading at a forward PE of 20. Comparatively, one of their main competitors, Michael Kors (NYSE:KORS), trades at a forward PE of only 11.
For years now Coach has seen their operating margin get slashed--going from 40% to under 15% today. Margins continued to fall last quarter, although not as much as in the past, going from 70% to 68% year over year. Despite the consistent decline, there may be light at the end of the gross margin tunnel. With a profitability initiative in place, management believes things will turn around by the last quarter of this year. Estimates are stating a earnings improvement moving from last year's $0.31 per share to $0.40 per share. If they are able to achieve the improved numbers it would go a long way in demonstrating the company's ability to continue its growth path.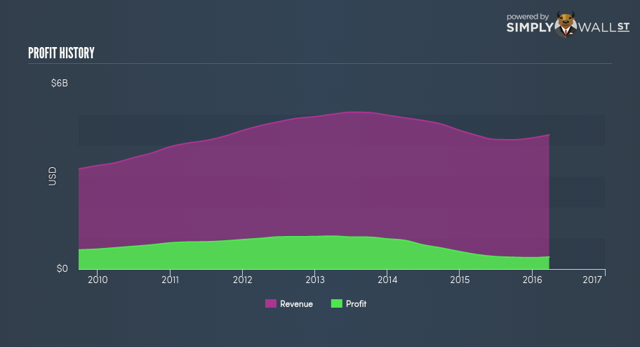 Coach has set the goal of a 20% operating margin by next year. In order to achieve this, they will have to offset the increased expenses investors have witnessed over the past few years. This will not be an easy task but it is also doable. They are already on their way as expense growth modestly trailed revenue gains last quarter. Although this is a solid start, the company will need to demonstrate a notable reduction in costs to make the profitability initiative stick long term.
As Coach works to improve profitability, shareholders should not be surprised if the stock price dips from current levels before moving higher in the long term.
Growth
Coach has seen its revenue decline each year since its peak of over $5 billion in 2013. However, this decline may be coming to an end. Over the past 12 months, sales are up nearly 5%, and management is projecting slight growth for 2016. Yet, the growth numbers are not especially impressive and the turnaround could be described as timid at best. US year over year sales were flat last quarter, and direct sales were up a meager 1%. This slow growth may have to do more with the market environment than a lack of execution on the part of Coach. Their competition isn't fairing any better as Michale Kors is estimating a drop in comps over the next year, citing a tough market environment. Coach on a relative strength basis may outperform-expecting a slight increase in comps this quarter. If the market continues to stagnate this anticipated growth could easily evaporate or move negative-hurting the recovery efforts of the company.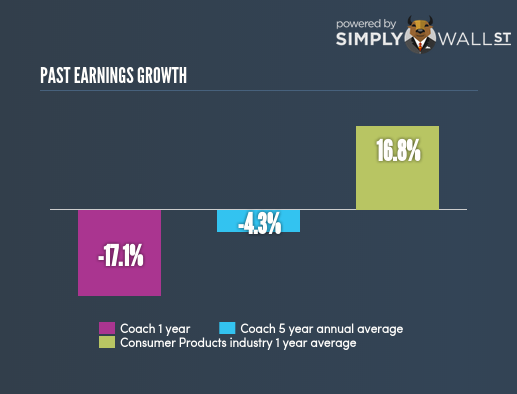 Another area that has hurt Coach over the past few years is the strengthening of the US dollar. With over one-third of their business coming from overseas markets, the company took a hit on the value of their overseas sales. Coach has little it can do about the currency situation but they have focused on growing key international markets in both China and Europe and have been successful to the tune of more than 10% in both regions.
One final note about Coach. Currently, the company pays a 3.3% yield which attracts a lot of investors. However, in order the achieve this, their payout ratio is a hefty 96%. This means that almost all profits are being put back in shareholder pockets. While this may seem like a great deal for investors, it also means that if the turnaround is not successful and there is even a slight dip in sales, it's hard to see how this dividend would not be cut.
Bottom line
In the end, most investments come down to what you pay for it-overpaying for companies is a bad idea. After a run up of 35% this year, it's hard for me to justify paying 31 times trailing earnings for a company who's growth has been stagnant. Couple their heightened valuation with a possible dividend cut and I think Coach is an investment you will want to pass on.
Disclosure: I/we have no positions in any stocks mentioned, and no plans to initiate any positions within the next 72 hours.
I wrote this article myself, and it expresses my own opinions. I am not receiving compensation for it (other than from Seeking Alpha). I have no business relationship with any company whose stock is mentioned in this article.