DAVIDsTea (NASDAQ:DTEA) made its big splash onto the NASDAQ just over a year ago now and after cresting at $27.00 on day one of the IPO the stock fell off the shelf. Over the past five months the stock has been trading in the $12.00 to $14.00 range and now analysts are starting to see some potential growth for this stock.
DAVIDsTea may have debuted on the NASDAQ last June, but it was originally founded in 2008 in Quebec, Canada. In the years since it has grown at a modest rate and has become a mall staple in many regions.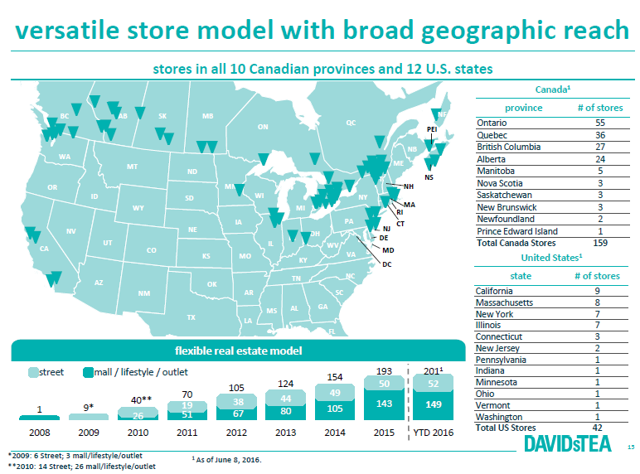 Click to enlarge
Source corporate investor presentation June 14, 2016
With growth in Canada and the United States, DAVIDsTea has attempted to ride out the "better living" trend and provide an alternative to the overly saturated coffee market. DAVIDsTea is also attempting to play the role of worthy adversary to Starbucks (NASDAQ:SBUX) owned Teavana in North America. DAVIDsTea growth in the United States may be somewhat lacking in comparison to Teavana, it is managing to keep up in Canada, with 159 of its 201 locations in its home country.
However, there are indications from the company that they could expand their current location size from 201 to 550 in the near future, with 40 locations coming online per year. The breakdown of the new locations is expected to be 70 in Canada and 280 in the United States. It is believed that given DAVIDsTea's current sales number that this expansion could translate into C$600 million in annual sales Given that DAVIDsTea's current sales guidance for 2016 is a range of C$215 million to C$219 million. Which would be right inline with DAVIDsTea's current track record of growing sales and locations.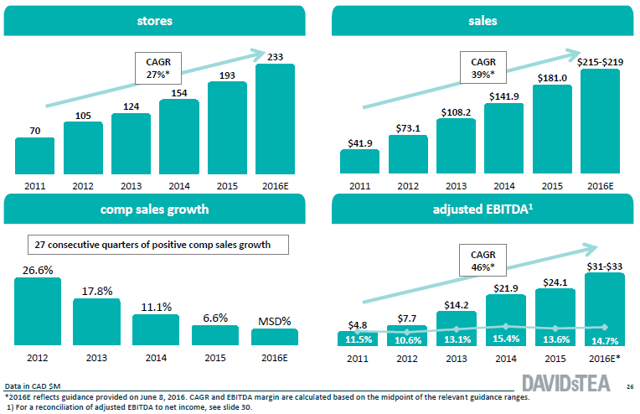 Click to enlarge
Source corporate investor presentation June 14, 2016
What happened to the IPO price?
The short answer to that question is DAVIDsTea's earnings reports following its IPO. As it posted a C$93.2 million net loss in the first quarter after the IPO which rattled many investors who paid quite a high price to jump in on day one. Despite the fact that C$90 million of that loss "represents non-cash market loss for the conversion feature of the Series A, A-1 and A-2 preferred shares. In connection with our initial public offering, this liability was converted into equity."
As I mentioned, DAVIDsTea's IPO launch proved to be too rich for the market and many investors who avoided the IPO have been waiting for the stock to a more reasonable level, strategy I agree with. In its Q1 2016 report DAVIDsTea managed to boost sales by 24.3% to C$44.5 million from C$35.8 million and increased its gross profit by 21.5% to C$23.2 million. The company also posted an increased adjusted EBITDA of C$4.58 million compared to C$3.96 million, and posted a net income of C$1.5 million compared to the post IPO Q1 2015 net loss of C$93.2 million.
This shows that while growth hasn't been explosive DAVIDsTea it still managed to boost sales. Looking back at its Q4 2014 report DAVIDsTea saw its year end revenues increased to C$180 million from C$141 million. If DAVIDsTea is able to achieve its guidance of C$215 million to C$219 million it would go a long way to draw attention from investors. Even its Q2 2016 revenue guidance of C$39 million to C$40 million would be a nice increase over the C$32.8 million in revenues it generated in Q2 2015. This also keeps DAVIDsTea inline with its projections that the global tea market would increase by 7% to 8% between 2014 and 2018.
Reading the tea leaves
Coupled with the current stock price range and the projected growth in sales many analysts are starting to take a more bullish view on this stock. With recent price targets such as $16.00 from Bank of America Merrill Lynch, Goldman Sachs at $21.00 and JP Morgan with a price target of $24.00 with a neutral rating.
Now I do not believe that this stock is not meant to be a core holding in anyone's portfolio and does carry some risk. Yet given its track record of consistent revenue growth and expansion it presents itself as niche pick for your portfolio. With a play for the "better living" market DAVIDsTea has found itself as a rare consumer goods stock which still has room for growth in North America. This is especially true as in 2015 the United States was ranked as the third largest tea importer in the world. The United States is expected to see an increase in specialty tea consumption of 8% to 10%, thanks mainly to "Millennial" consumers.
With the stock trading at $13.83 on Tuesday that brings its fwd p/e ratio to 26.10 which still makes it a touch rich in the valuation side, but the potential for growth should make investors take a moment to see if this company should steep into their portfolios.
Author's note: If you enjoyed this article and found it helpful, please "Follow" me on Seeking Alpha to receive notification whenever I publish a new article.
You may also be interested in other recent articles I have written for Seeking Alpha with my Canadian point of view that focus on stocks and stories that I have found compelling. You can also find my previous articles here for further study.
Disclosure: I/we have no positions in any stocks mentioned, and no plans to initiate any positions within the next 72 hours.
I wrote this article myself, and it expresses my own opinions. I am not receiving compensation for it (other than from Seeking Alpha). I have no business relationship with any company whose stock is mentioned in this article.