Nokia Corporation (NYSE: NOK) Price Chart 2012-2016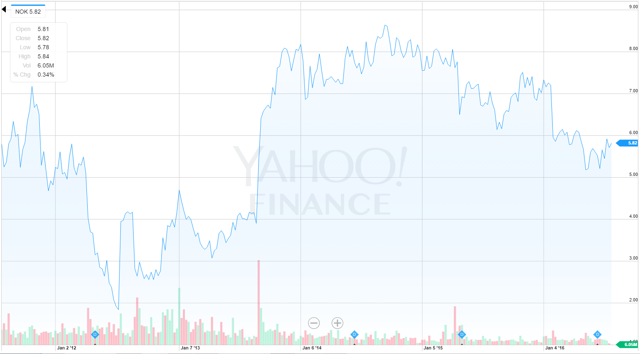 Click to enlarge
Yahoo! Finance
After a gutwrenching drop, Nokia proceeded to lull in price during 2012-2013 and the common stock also stagnated throughout 2014-2016. Today, Nokia is trading at nearly the exact same price per share as it was five years ago! But the company's operations have changed a lot.
At the beginning of 2016, the company celebrated its first joint-workspace with its 2015 acquisition target Alcatel Lucent. The company plans to continue executing this complex merger and management expects it will result in a net reduction of 14% in Nokia's workforce, the elimination 10,000 to 14,000 jobs, before the year is out.
Meanwhile the Nokia has also been busy creating a new product for the relaunch of their consumer smartphones business. The firm expects to release its first Android OS-based smartphone as early as this year CNN reports. More on that development to come.
With big merger-related changes will surely come unpredictable challenges and there are some bumps in the road ahead for Nokia that I'll make you aware of. These issues may affect the best timing for purchase. I'll point the coming bumps out in a later section.
Fair Value Estimation and More to Come
We are going to get a peak under the hood of the Nokia earnings machine. I want to know if things are going to get better for Nokia in the future.
I target stocks to buy based on the price today being lower than the price the stock seems likely to be worth tomorrow. In just a moment I'll display the results of a Warren Buffet-inspired Owner Earnings style stock valuation model.
Let's find out if Nokia should be ranked on anyone's stocks to buy list!
Nokia Corporation Opening a Whole New World
The operational turning point that Nokia is at cannot be understated nor overdramatized. The company has been out of the public eye because of how unsuccessful their exclusive deals to manufacture Microsoft Phone worked out to be. Just last year, Microsoft Phone OS was installed on just 2% of new smartphones sold.
entrepreneur.com
If Nokia can't get out of the obscurity they have entered over the last five years, it will be difficult for their new smartphone to be a success among consumers.
Nokia has many years of experience manufacturing phones and if they can keep costs down, the hardware business has a chance. Nokia does not have a large debt load to service. The low interest payments give investors an opportunity to share in the company's earnings if things go well.
But room in the smartphone space may be getting cramped even for low cost producers. Lenovo (OCTPK: OTCPK:LNVGF), and Xiaomi have recently slid down the sales rankings as the sector's roaring competition delivers greater choice and lower prices to consumers.
Not to mention Qualcomm (NASDAQ: QCOM), LM Ericsson Telephone Company (NASDAQ: ERIC), Apple Inc. (NASDAQ: AAPL) and others will be vying for the high-end Nokia device's desired place in the market.
Revenue & EPS Outlook
I mentioned before that Nokia is cutting thousands of jobs, opening up room for improvements both in productivity and on the bottom line. A penny saved is a penny earned.
Overall, Nokia is repositioning a lot of assets and shedding some expenses. During the next two years I expect significant write-offs at Nokia. These will definitely consist partly of restructuring costs, including employee severance, and possibly an accounts receivable that has grown unusually large.
Nokia's Accounts Receivable is at Roughly $8B, Typically Rings Up at $4B
The extraordinary sums in the account receivable may consist of non-collectible accounts and result in write-offs, diminishing reported earnings above and beyond restructuring and severance.
Expect a shaky bottom-line for a few quarters as the investments in the new Android-OS device and restructuring are made.
Valuation: Discounted Cashflows Model
This DCF model takes into account the recent free cash flow generated by Nokia and projects it forward to estimate how much money the company will earn in the future.
Nokia's Fair Value is $6.85 But Its Going to Be A Bumpy Ride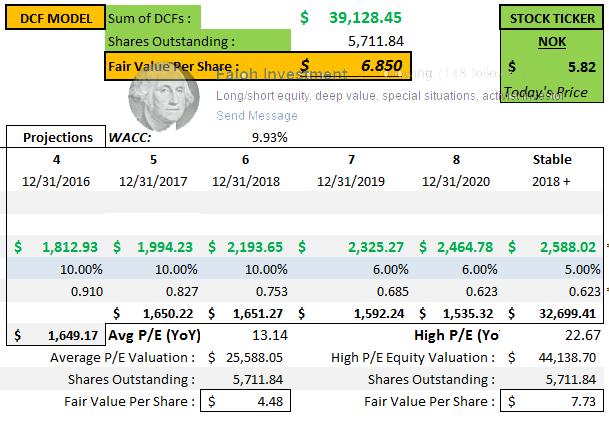 The graphic lists "Fair Value Per Share: $6.85". According to this Cashflow model, you are getting a good deal on NOK stock if you buy below $6.85 per share, and a really good deal if you buy below $4.48.
However, a conservative approach is to wait for a stock to be trading at one-half of the DCF Model's Fair Value. A bigger spread between the trading price and DCF Model's Fair Value gives the investor more slack in case the DCF Model is overestimating future growth, or future taxes..
I target most of my stock buying on companies trading at one-half or less of fair value.
The cheaper you can buy each dollar's worth of fair value, the better your margin of safety against price movements. When fair value far outstrips the stock's current trading price, you can buy or hold the company with more confidence that the stock price is going to go up in the long term.
Summing Up My Fair Value Perspective
Looking at the fair value figure based on the business before its new launch into the Android OS ecosystem, Nokia is not a good-value buy today.
Issues that Trouble the Nokia Investor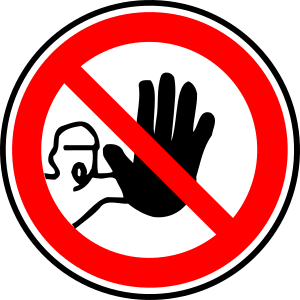 Openclipart.org
What you're really getting with Nokia at $5.82 per share is a risky bet on an old smartphone manufacturer who's going to take a hail Mary dive into the competitive consumer electronics market.
Granted, Nokia has a reputation for building great phones. If the new products gain traction in the smartphone market during 2017 and costs are controlled, this company deserves to be revisited.
Expect restructuring and account receivables write-offs to drag on earnings for the coming quarters.
Until some time passes and things become more clear for Nokia, investor beware. There may be a rally in shares on speculation that the smartphone business will take off. Waiting until the company successfuly sells some Android phones would be wise.
Blackberry has a strong brand name and their recent devices have failed to bring the company a resurgance in the contemporary smartphone market.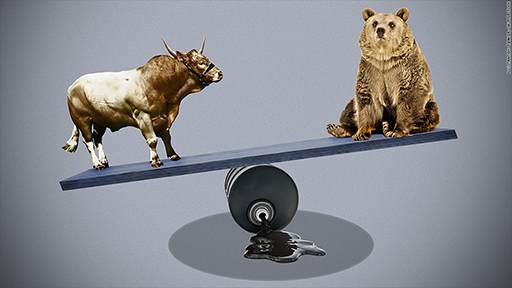 Oil Bulls: Read About The Short Opportunity in AEP Industries, Inc
You can get regular updates and be the first to know when new research articles are released by clicking the +Follow button next to my user name.
Disclaimer: This is not a recommendation to buy or sell any security. This piece is intended to convey the author's opinion and all facts are presented based on publicly available information.
Disclosure: I/we have no positions in any stocks mentioned, and no plans to initiate any positions within the next 72 hours.
I wrote this article myself, and it expresses my own opinions. I am not receiving compensation for it (other than from Seeking Alpha). I have no business relationship with any company whose stock is mentioned in this article.