Wednesday I did something I rarely do: I left the computer during market hours.
An urgent errand of the Heisenberg kind (don't ask) required my undivided attention, and as such, I wasn't able to keep tabs on the market through the close.
But while driving home, I wasn't worried...
Click to enlarge
Why? Because while stocks used to go up and down, now they only go up. Which is really helpful. I got back, cued up the CNBC parrot parade, and sure enough, everything was green.
Phew. Seven straight wins.
On the way home I was thinking about how to frame some recent commentary from Deutsche Bank that I really like, when it occurred to me that I didn't need to frame it at all. The title of the bank's note speaks for itself: "Would A Recession Even Matter?"
I then looked at my long portfolio and asked myself a similar question: "Does anything matter anymore, or is this just going to keep going up forever?"
As if on cue, some guest on CNBC, discussing the prospects for the market after the US election, said: "You'll just have to depend on central banks to keep driving the rally."
And damned if they haven't done one helluva job in that regard. There's no longer any semblance of sanity. Look at valuations on stocks...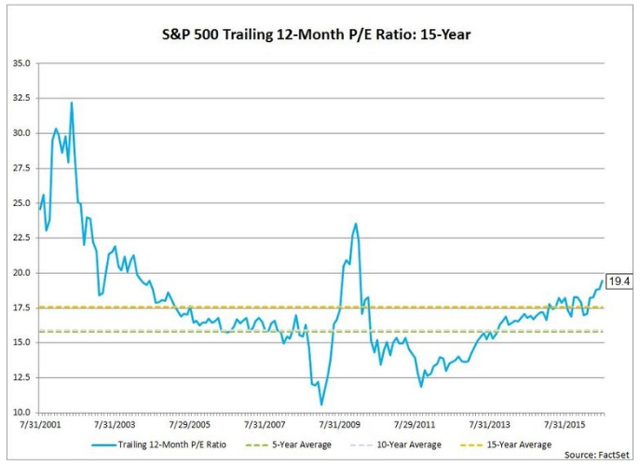 Click to enlargeChart source: FactSet.
...and then look at positioning in Treasurys...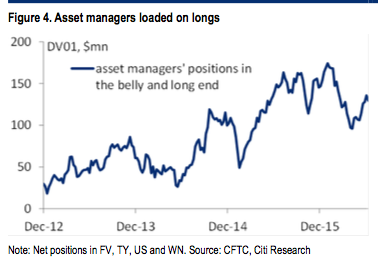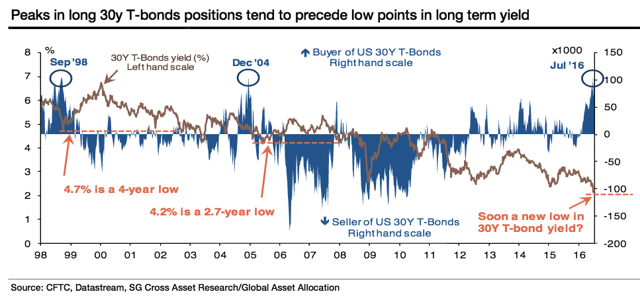 Click to enlargeChart sources: Citi, SocGen.
Everyone is bullish on everything. Nothing matters anymore - least of all the specter of a recession. Here's Deutsche Bank (emphasis mine):
If fundamentals don't matter, then the notion of valuation (and overvaluation) - a fundamental framework given the profit component - increasingly should be irrelevant. In turn, why reference the market's valuation at all? As long as prices kept expanding, the value of homes didn't seem all that relevant to most during the housing bubble, nor did the value of tulips during the tulip bubble. This suggests that elements of the stock market could be in a bubble, which we believe is a reasonable hypothesis considering the upward trend of equity values after many years of QE and ultra low Fed Funds interest rates despite the absence of global growth (and organic earnings).

When oil prices cracked $40 to the downside, it seemed as if every (armchair) oil forecaster assumed nothing would stop oil from hitting $20. When oil rebounded back above $40, the same crowd seemed to universally assert oil was unstoppable back to $70+, driven by the notion of steady demand and dwindling supply. We have repeatedly since asked why aren't oil prices already at $70?

Earnings have been resilient. Have they? As analysts have scrambled to lower near term forecasts, the "prints" have been meeting expectations - but the results have been padded with low quality (ie, excluding restructuring charges but including the benefits, declining tax rates, etc). Therefore, the context of "resilient" appears to be something of a loose interpretation based on headline prints. In other words, as long as the analysts keep their short term numbers low and the companies are able to continue to tap low quality, the headline prints should continue to "meet expectations". But if valuations don't matter, then why exactly should the EPS prints matter other than to traders who seem to need something to trade around?

It seems apparent that international investors have been buying U.S. equities (especially large caps such as GE and 3M) given economic and geopolitical uncertainties around the world. For some reason, U.S. election concerns have now been relatively downgraded (who cares about future trade war risks?). But if events overseas are significantly negative enough to warrant a scramble to buy U.S. equities, those same events seem likely to impact the future results of multi-industry companies that are themselves highly global - with 3M (everyone's current "safe haven") being among the most global of all of our companies.

Low interest rates forever. This rationale embodies the notion that the U.S. and global economies will actually remain relatively weak forever (a long time) - or weak enough so as not to generate inflation (ie, forever). In other words, the business cycle is over, inflation will never come back and the Fed's policy (that seems to twist in the wind depending on month-to-month global macro data points) has now been permanently anchored at the most favorable point for the stock market. We (politely) characterize this assertion as "flimsy".
That. Is. Truly. Epic.
Let me just tell you, from a guy who reads the sellside desk commentary every single day, the "pros" are increasingly miffed at what's going on. And it's not exactly like Wall Street is predisposed to being bearish.
The entire thing has become one giant, inexplicable joke, and it's set against the most dangerous geopolitical backdrop we've seen since World War II.
These aren't the ravings of a perma-bear, this is the incredulity of a realist.
And when you think about Deutsche Bank and their take, remember that it's coming from a bank that understands, perhaps better than any other firm, how bad things really are.
Let me leave you with one last thing to ponder, courtesy of the good folks at the world's most dangerous bank:
We haven't found a robust framework yet that explains why 1-2% long bond yields justify 20x or higher equity P/E. Moreover, what about negative bond yields - do P/E's then make sense at 100x? If the answer is no, then what determines what is too high — especially if valuations "don't matter"?
Disclosure: I/we have no positions in any stocks mentioned, and no plans to initiate any positions within the next 72 hours.
I wrote this article myself, and it expresses my own opinions. I am not receiving compensation for it (other than from Seeking Alpha). I have no business relationship with any company whose stock is mentioned in this article.