The Happy Gilmore Market
I last presented a detailed review of pricing multiples back in January (HERE). At that time, we were coming off of 2015, a year that was characterized by significant volatility, but ultimately ended up being largely flat, with the S&P providing investors with minimal gains for the year.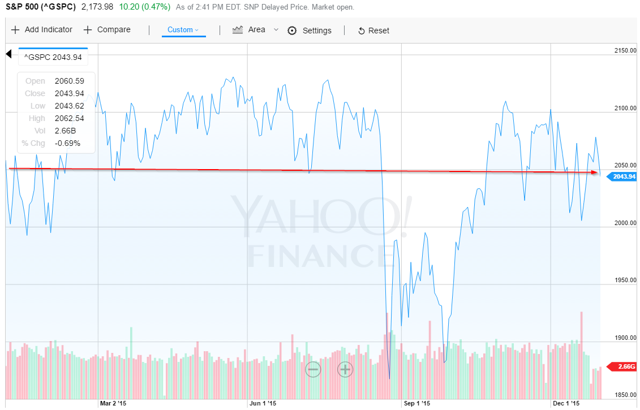 Click to enlarge
Source: Yahoo Finance, July 20, 2016
I have affectionately dubbed 2015 as being the "Happy Gilmore Year" as the lack of performance aligns with one of my favorite lines from the movie where Happy's girlfriend states:
You're going nowhere Happy, and you're taking me with you!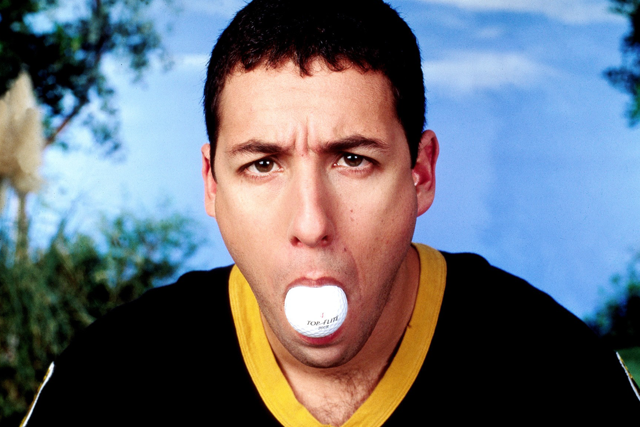 Ironically, the market WAS going nowhere, and to make matters worse, at the start of the year, we actually went backwards with the large market-wide sell-off that I spoke about in January.
What is funny to me is, just as Happy Gilmore rebounds from this low in his life to win the Tour Championship (and the girl), the market too has rebounded and has hardly done anything but rally since the sell-off ended in February.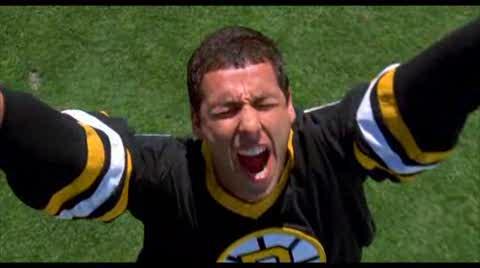 Aside from a brief pause during the Brexit vote, it has been nothing but uphill ever since!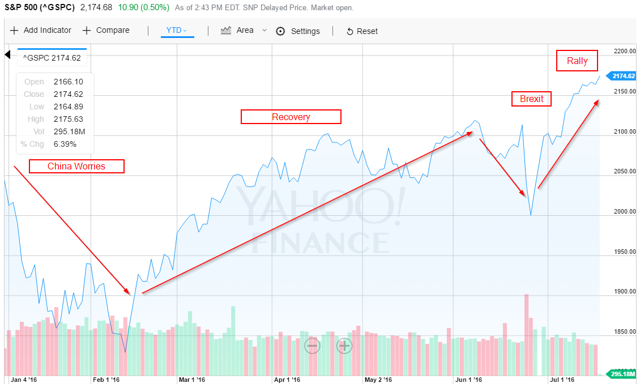 Click to enlarge
Source: Yahoo Finance, July 20, 2016
How many of us now wish we could go back in time and load up on stocks back in January? How many would have piled more money into Realty Income (NYSE:O) at $50 per share?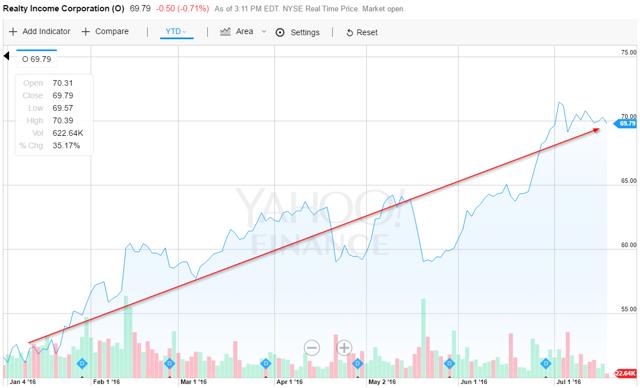 Click to enlarge
Source: Yahoo Finance, July 20, 2016
Back in January, I addressed the sell-off by stating that:
If dividend growth investing has taught me anything, it's to be diligent enough to focus on the fundamentals of the companies I invest in and avoid reacting to day to day or even week to week market movements.

Believe it or not I am actually okay seeing cheaper prices presenting themselves.

I would clarify that statement by adding that my opinion is founded on my belief that the sell-off as an overreaction, and not the start of a major recession.

What's important to note is that the MnM (Minne n' Monthly) portfolio's dividend income is pretty much unimpacted by this rapid sell-off in the markets. For example, thus far in 2016 my dividend income has not taken a hit at all and it's actually grown courtesy of three (and counting) raises.

I will leave it to others to speculate whether this is a near-term bottom or not, or if further selling is ahead, the purpose of this article is to share my insights on where P/E multiples are sitting right now. I'm always looking to find bargains in equities in relation to their historical multiples.
It turns out that I was right on most accounts.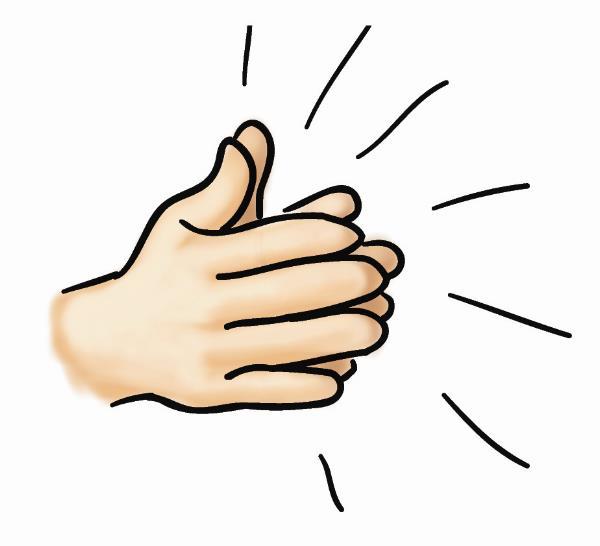 The article was written near the bottom, the sell-off now seems to have been an overreaction, and as of the time of writing, there has been no recession. My dividend income has done nothing this year but continue to climb, even as stock prices have risen in many sectors and the broader market reaches all-time highs.
Reviewing multiples within the MnM Portfolio and Watchlist
So, given all that has transpired, I have once again compiled P/E data on my MnM portfolio and for those stocks I am currently tracking on my watchlist. I derived the information from F.A.S.T. graphs.net comparing each security's current P/E to its normalized P/E multiple (the blue line in layman's terms) over both the longest term ((NYSE:ALL)) and the near term (3 years) while keeping the benchmark P/E multiple of 15 in the back of my head.
Here's how my current holdings shape up: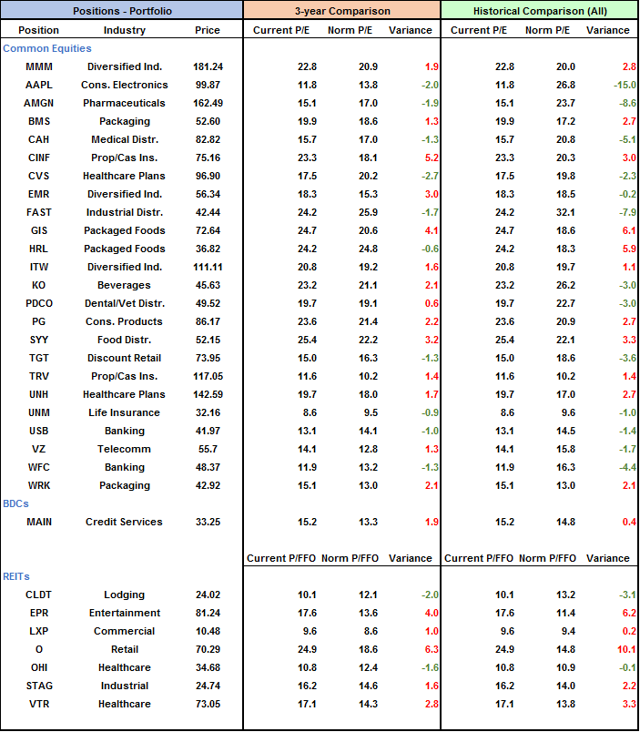 Click to enlarge
*Note that all of the Price and P/E data for this article was derived from F.A.S.T. graphsTM reports using prices as of the close of business Tuesday, July 20, 2016.
In addition to positions I am holding, I also updated my watchlist as follows: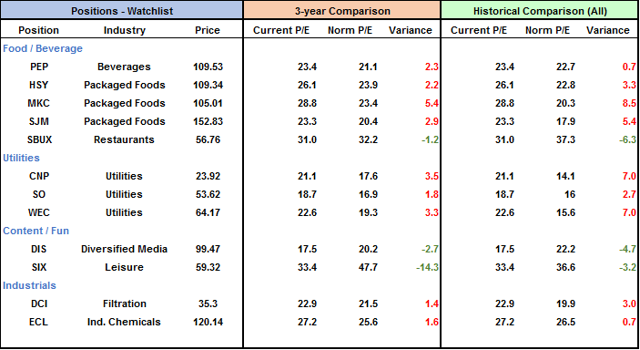 Click to enlarge
Takeaways
The market has clearly picked and rallied upon its favorite sectors. When I look at the portfolio the industrials, packaged goods, REITs, and insurers have all seen their multiples stretch past historical trendlines while the banks, retailers, and others have lagged. The Federal Reserve's decision to back off of its planned pace of interest rate increases has driven investors towards yield plays and made clear winners and losers in the market of 2016.
Within the portfolio, there are some specific concerns, which may help to explain the underperformance of several stocks. For example, Apple's (NASDAQ:AAPL) ability to innovate and keep growing iPhone sales is in question. Target (NYSE:TGT) and CVS Health (NYSE:CVS) have struggled for sales growth as have many brick and mortar retailers. Fastenal (NASDAQ:FAST) missed on its last quarter and has seen its stock pull back. I view all of these as near-term issues creating opportunity in otherwise stellar investments.
When I look over my watchlist, I have to resign myself to be patient as there aren't as many opportunities for investment there at the moment. The utilities are all trading at high multiples, as are most of the food and beverage stocks. Even the industrials, which were once thought to be stalling out, are looking pricey.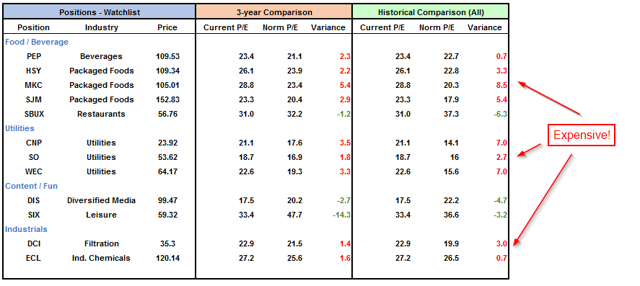 Click to enlarge
Disney (NYSE:DIS) is worth digging into as it has sold off on concerns about revenues from ESPN, but in my mind, still remains a solid long-term investment opportunity given the strength of its brands (i.e. Star Wars, Marvel, etc.). Starbucks (NASDAQ:SBUX) still trades at a high multiple, but has come down off of its historical marks and may be worth a deeper look.
Summary
Even at a time where we are at all time-highs, there are still stocks out there that can be picked up at attractive multiples. I recently re-introduced Unum (NYSE:UNM) to the MnM portfolio, which I will write about in July, and as I move into August, I will be looking to build my positions in several of the stocks which have not rallied alongside the broader market.
Within the MnM Portfolio, I see long-term opportunity in Cardinal Health (NYSE:CAH), Fastenal, Target, Wells Fargo (NYSE:WFC), and US Bancorp (NYSE:USB) to name a few.

Click to enlarge
I definitely will consider Disney and Starbucks as well.
Are we at a near-term top? Just as I commented in January, no one knows for sure. Either way, I encourage you to stick to your strategy. I know I will be. It's been a spectacular run this year, one that very few anticipated when we were looking at one of the steepest declines in history at the start.
I will say this; however, if August 2016 ends up being anything like August 2015, then additional opportunities might just be around the corner.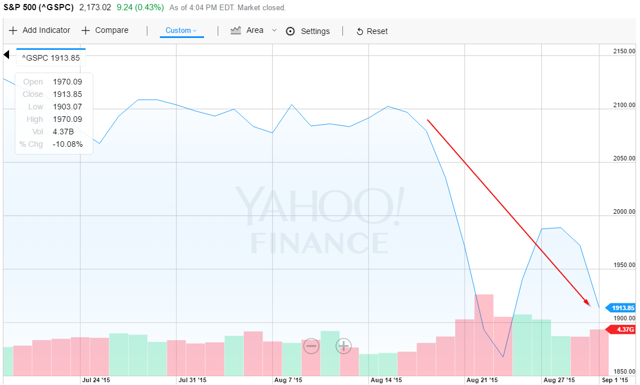 Click to enlarge
Source: Yahoo Finance, July 20, 2016
Oh, and if you haven't seen Happy Gilmore, and are in the mood for a mindless comedy, I suggest you check it out. It was full of memorable lines and funny characters. It was one of Adam Sandler's better movies, which I hate to say, doesn't mean as much anymore.
Disclosure: I am/we are long THE STOCKS LISTED IN THE PORTFOLIO.
I wrote this article myself, and it expresses my own opinions. I am not receiving compensation for it (other than from Seeking Alpha). I have no business relationship with any company whose stock is mentioned in this article.