PepsiCo (NYSE:PEP) is unquestionably a great company, and its stock has built wealth for countless investors over the decades. However, there comes a time when even great companies reach such lofty valuations in the stock market that they're essentially doomed to post mediocre returns over the next 5 years or more. Such is the case today, in my opinion, for many consumer staples: companies that manufacture foods, beverages, tobacco, household products, and other daily essentials. They've benefited greatly in recent years from the Fed's easy money policy, which has forced income-seeking investors out of money-market funds and into dividend-paying equities. Janet Yellen's post-Brexit admission that rock-bottom rates will persist into 2017 was the most recent catalyst to send these "bond proxies" even further into the stratosphere.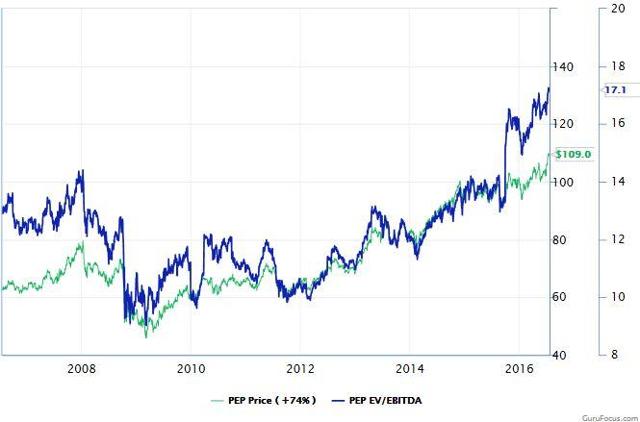 Bubbles Happen To "Safe" Stocks, Too
My favorite example of this is Coca-Cola (NYSE:KO) at the end of 1999, near the peak of the last widespread bubble across large-cap U.S. growth stocks. At December 31, 1999, Coke was already a 100+ year-old operation, whose business-selling sweetened beverages-had been thoroughly understood by investors for generations. This was no upstart tech wonder, but a mature global company trading at a P/E of 40 on the forward four-quarter consensus nonGAAP EPS estimate. Coke's fundamental performance over the succeeding five years was fantastic for an old-timer: through 12/31/2004, EPS (again, using the most generous nonGAAP numbers) compounded at 9.6% growth, while Coke's annual dividend grew at 9.3% from 1999-2004. What's not to like?
Well, KO's shareholders ended up miserable, because their total return, with dividends included, through 12/31/2004 was -22% (or a CAGR of -4.9% per year). Granted, the S&P 500 index was also down over that 5-year period, but only by half as much. What happened to Coke? Simple: its over-stretched valuation returned to earth. Economists call the tendency for extreme valuation multiples-both high ones and low ones-to gravitate back to a long-run average "reversion to the mean." While this phenomenon is never guaranteed to happen over any specific time frame, it is a principle all investors should keep in mind when evaluating very expensive, or very cheap, stocks.
At the current $109 level, PEP trades at 23x the consensus 2016 EPS estimate. While nowhere close to Coke's 40x multiple of 1999, this is a historically elevated level for PepsiCo. Further, other important valuation metrics (see the chart of PEP's enterprise value to EBITDA-cash operating earnings-above) are confirming that PEP's stock-market valuation is extended here.
Nelson Peltz bailed out earlier this year
Nelson Peltz, founding partner and CEO of activist investment firm Trian Partners, is widely regarded as one of the shrewdest judges of value in consumer staples investing. Trian established a position in PepsiCo stock in 2012, and succeeded in getting one of its Advisory Partners, former H.J. Heinz CEO William Johnson, onto PEP's board of directors in early 2015. Suffice it to say, with connections like that, Nelson Peltz should be considered an "insider" to the workings of PepsiCo. Why does this matter? In May of this year, having made a 50% return on the stock, Trian announced they had completely exited their PEP position. While I haven't seen specifics on Trian's exit price, we know that the shares traded between $93 and $106 between January 1st and Trian's May 13th announcement.
And PEP management has sold aggressively since May
Tracking insider trades can be tricky, given the various ways a personal trade can be classified in the federal filings and on financial websites. For example, was a given "purchase" of stock merely a manager exercising some options before they expired, or did that manager voluntarily buy the stock outright in the open market, because she thought it was undervalued? To weed out the options-oriented trades, I rely on insider data from Gurufocus.com. If you readers have another source that you trust, feel free to share that in the comments.

The numbers above are pretty remarkable, in my humble opinion. Through this week, PepsiCo managers and directors have unloaded a whopping $67 million of the stock in 2016. This already surpasses the total for all of 2015, a year which saw dramatically higher insider sales than any of the prior three! Important note: Trian's selling was not classified as "insider trading" by gurufocus.
So who is doing the selling? Gurufocus names seven executives, and no directors, as open-market sellers of PEP thus far in 2016. I'm always more interested in executives' trades than in directors', because executives are invariably close to their company's day-to-day information flow, while directors may only attend a handful of board meetings each year.

The real standout here is CEO & Chairman Indra Nooyi's $31 million unloading of over one-fourth of her PepsiCo holdings around the time of Trian's announced exit, in May. Also interesting is the $18 million mid-July sale by Al Carey, CEO of PEP's North American operations, which represented 40% of his PEP stake. To be clear, insiders may sell stock for any number of reasons, from simple estate planning to the need for a down payment on a new house. But the scope of these sales, and the breadth of selling across the senior management team, suggest that those closest to the plans and prospects of PepsiCo don't see much value in the stock today.
Disclosure: I/we have no positions in any stocks mentioned, and no plans to initiate any positions within the next 72 hours.
I wrote this article myself, and it expresses my own opinions. I am not receiving compensation for it (other than from Seeking Alpha). I have no business relationship with any company whose stock is mentioned in this article.