Oil and gas pipeline giant Kinder Morgan (NYSE:KMI) was one of the hardest-hit companies from the collapse in commodity prices. Even though the stock has rallied from $12 to $21 since the 2016 low, Kinder Morgan's dividend cut is still a painful memory.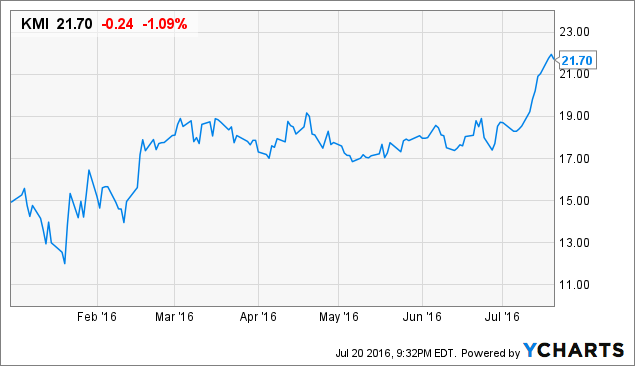 The decision to cut the dividend by nearly three quarters last year, while a difficult one, set the stage for a sustained recovery. This, along with strategic asset sales, has freed up cash which the company is using to pay down debt and strengthen its balance sheet. Eventually, Kinder Morgan will be able to return to dividend growth, but some more patience is required.
Kinder Morgan released strong earnings after the market close on July 20, and the results overall were solid. It appears investors are disappointed by the lack of a dividend hike, evident by the 4% drop after-hours, but there is a lot to like from Kinder Morgan's report. Investors will have to wait until next year for a dividend hike, but underneath the surface a significant recovery is underway.
Turnaround Remains Intact
The recovery in commodity prices over the past five months has boosted Kinder Morgan's carbon dioxide segment, and its other businesses continue to perform well, as they were already generating healthy cash flow even when oil and gas prices were in decline. The recent earnings report confirmed that the company is seeing real progress. Distributable cash flow, the key metric for midstream pipeline companies, came in at $0.47 per share, down 6% year over year. Distributable cash flow per share is down just 4.7% in the first six months of 2016.
Kinder Morgan will not need to access the capital markets to fund its growth capital expenditures for the remainder of the year. Because of this, excess cash flow can be used for capital returns, which could be done through dividends or share buybacks, or to pay down debt. Last quarter, Kinder Morgan generated $770 million of excess cash flow above its dividend payment. In addition, additional cash is being raised from strategic joint ventures undertaken with Southern Company (NYSE:SO) and Riverstone LLC on various projects. For the most part, excess cash will be used to pay down debt and strengthen the balance sheet.
The other action the company has taken to improve its near-term financial condition is to reduce future growth capital expenditures. The project backlog is down from $14.1 billion to $13.5 billion, which will likely mean future growth is comprised somewhat. But it also means lower spending requirements, and as the market made abundantly clear to Kinder Morgan last year, the most pressing need is to improve its balance sheet, which the company is doing effectively.
And yet, despite the solid quarterly report, the market reaction seems one of disappointment. Perhaps the reason why the stock fell in after-hours trading is that investors may have been anticipating a dividend increase. This could have been the result of the Southern deal, although the post-earnings disappointment seems misplaced because the company was very clear that further progress needs to be made before a dividend increase can occur. The deal with Southern, along with its other initiatives to pay down debt, will take Kinder Morgan's net debt-to-adjusted EBITDA multiple to 5.3 times by the end of 2016. However, Kinder Morgan reiterated on the ensuing conference call, that it will need to get this down to at least 5.0 before the dividend can be raised.
Patience is a Virtue
Kinder Morgan is the largest position in my IRA, so it goes without saying the past year has been painful one. But the reason I have continued to hold on to my shares and kept adding, even during the massive decline, was that I believed in the long-term potential of the company. In my view, it was crucial to remember that Kinder Morgan's assets continue to generate huge amounts of cash flow. Natural gas is a growth story in the U.S., as transport volumes are up 5% year over year, and exports to Mexico are and additional growth catalyst. In short, there is a difference between a company that had to cut its dividend because its core business has eroded, versus a company that had to change its capital structure because the debt and equity markets were no longer accommodating. The latter is the case with Kinder Morgan.
This is an important distinction, because Kinder Morgan's problems are easier to fix than a company facing a permanent deterioration. Now that Kinder Morgan no longer needs to access the equity or debt markets for capital, and can still fund its core capital spending needs from internally generated cash flow, all it needs to do is get its debt metrics down to a more manageable level. At that point, which will very likely be next year, the company can return to increasing its dividend. This is why I'm still holding on to Kinder Morgan, with no intention to sell. The long term story is still intact, the only thing needed is patience.
Disclaimer: This article represents the opinion of the author, who is not a licensed financial advisor. This article is intended for informational and educational purposes only, and should not be construed as investment advice to any particular individual. Readers should perform their own due diligence before making any investment decisions.
Disclosure: I am/we are long KMI.
I wrote this article myself, and it expresses my own opinions. I am not receiving compensation for it (other than from Seeking Alpha). I have no business relationship with any company whose stock is mentioned in this article.