There has been lots of excitement about the S&P 500 and Dow Industrials reaching new highs on July 11th and July 12th respectively for the first time in over a year. There was a big move up in price as the indexes moved above their old highs. This is certainly typical of a major breakout and the beginning of a new longer-lasting rally. Little else supports this view, however. Investors will just have to watch and wait. The rally needs to be on more solid footing by the end of August or it is likely to fail, assuming it hasn't already failed by then.
The rally so far lacks volume and this is a serious problem. For a sustainable breakout to take place, there should be a great deal of enthusiasm behind it. This means volume should be way above average as investors rush to buy stocks because they think they are getting them at bargain prices. Analysts aren't claiming stocks are cheap though, only that they are cheaper than even more overpriced bonds. Volume was weak and even below average during the breakout. Average investors had already been pulling money out of the market for months. Most of the days of the early rally have had weak volume. The selling before had high volume (another bad sign).
Dow Jones' Volume Below Average During Rally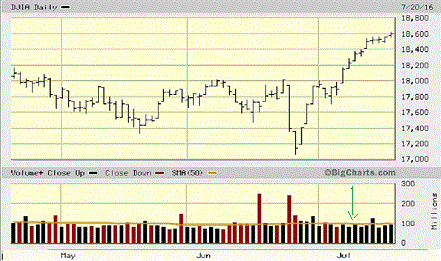 The rally is also incomplete. For a major new rally to be occurring, all the four major stock indices - the Dow, the S&P 500, the Nasdaq, and the Russell 2000 - need to participate. This is not the case so far. Both the Nasdaq and the Russell 2000 have not made new highs. The Dow is only 30 stocks and the S&P 500 is obviously only 500, but the Nasdaq represents over 3,000 stocks and the Russell 2000 index has 2,000 as its name suggests. The rally that is taking place up to now is only among a smaller number of big caps, the broader market has not rallied to new highs. It's not surprising big caps would lead the way up, but they need to be followed by the rest of the market.
Nasdaq's high of 5218.86 in July 2015 still stands. It is only 130 points or so away from it, so it would only take a couple of very good rally days to break it. The Russell 2000 peaked in June 2015 at 1295.80 and needs to rally another 86 points. That would require several good rally days to achieve. If the market remains in a bullish state, both these indices could reach their old highs by early August. There is a resistance at old highs, however, and it is a logical point for traders to sell. So, just going higher once that level is reached won't necessarily take place immediately. It usually takes two or more attempts.
Russell 2000 Not Near Old Highs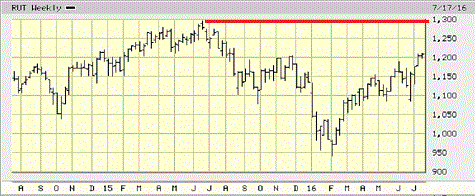 The four major indices are not the only ones that have to rally in concert, there is one other index that needs to confirm an ongoing rally has begun. According to Dow Theory, if the Dow Industrials hit new highs, the Dow Transportation Average must do so too. There is, however, no specific time period when it needs to do so. The Dow Transportation Average peaked in November 2014 and was flirting with three-year lows in February. In the current rally, it hasn't yet broken its highs from this April, let alone from two years ago. It doesn't appear likely that it will hit a new high before September.
Dow Transportation Average Not Confirming Rally in Dow Industrials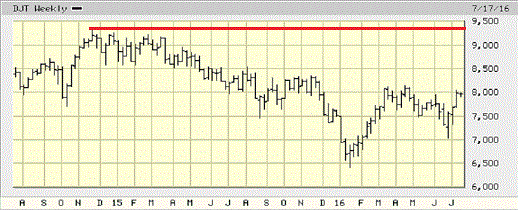 Time will not be on the side of the stock rally. When the market rallies during earnings season, as it is currently doing, there is a tendency for stocks to sell off after earnings reports are done (first week to ten days of August). The opposite is true as well.
While we won't know the final earnings scorecard until mid-August, so far, companies are beating lowered expectations (which Wall Street always tries to lowball), but sales and/or revenues are frequently falling (profits have been down the previous three quarters and it is currently estimated that S&P 500 earnings fell 5% in the second quarter of 2016).
After August, stocks will be entering their seasonally weakest period of the year. Although October is the popular month for stock crashes, September is overall the worst month for stocks.
While the market has to jump through many hoops to prove that it has entered a new rally phase, if the Dow Industrials and S&P 500 close below their breakout points - 18,312 and 2131 respectively for more than a couple of days, it can be assumed the rally has failed. If prices stay below those levels, it's time to lighten up on stocks. Aggressive investors or traders can short SPY, DIA, QQQ and IWM if key technical support such as the 200-day moving average is breached.
Disclosure: I/we have no positions in any stocks mentioned, and no plans to initiate any positions within the next 72 hours.
I wrote this article myself, and it expresses my own opinions. I am not receiving compensation for it (other than from Seeking Alpha). I have no business relationship with any company whose stock is mentioned in this article.