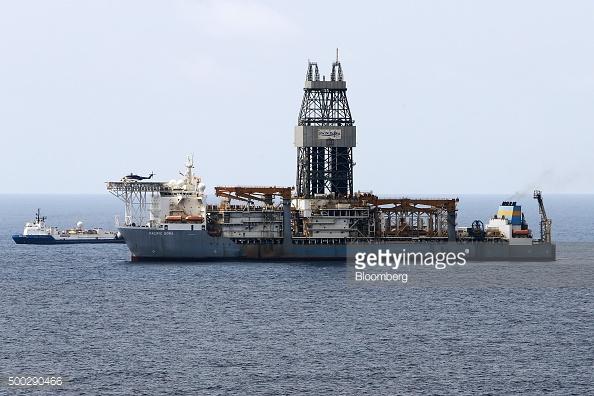 Schlumberger (NYSE:SLB) reports Q2 earnings after-hours. Analysts expect revenue of $7.13 billion and eps of $0.21. The revenue estimate implies a 35% decline Y/Y, assuming combined revenues for Schlumberger and Cameron International. In Q2 2015 Schlumberger and Cameron had revenue of $9.0 billion and $2.0 billion, respectively; Q2 2016 revenue guidance represents a sharp decline compared to their combined revenue of $11.0 billion in the year earlier period. Investors should focus on the following key items:
International Could Become A Problem
Schlumberger only receives 22% of its revenue from North America, versus 31% for Baker Hughes (NYSE:BHI) and 40% for Halliburton (NYSE:HAL). North America has been one of the hardest hit segments of the oilfield services market. North American shale plays have some of the highest break-even costs in the industry and have had to cut back on equipment spending to stem cash burn. Schlumberger has been less exposed to North America's pain than other competitors.
In Q1 Schlumberger's total revenue fell 17% Q/Q. North America and Latin America were the worst performers as revenue fell in those regions by 25% and 18%, respectively.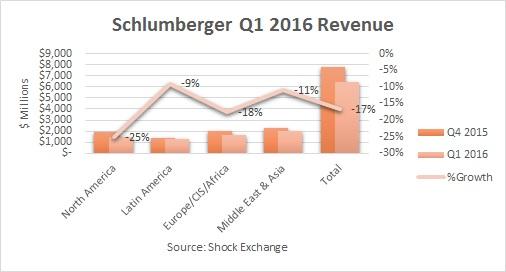 That said, I believe there could be more pain ahead in certain international markets. The U.K. referendum could cause Britain's economy to contract, and create uncertainty for the EU.
Latin America, where Schlumberger derives 18% of its revenue, is a major cause for concern. Brazil and Venezuela are heavily dependent upon exports to China; to the extent China's economy slows it could have an outsized impact on their economies and currencies. Venezuela's economy is expected to contract by double-digits again this year. The country's oil production fell to a 13-year low in June and its state oil company, PDVSA, has run up billions in unpaid bills to creditors. PDVSA is looking to increase its presence with Schlumberger, but if its oil production continues to slow it could hurt Schlumberger's future revenue in the region.
Returns On Cameron Deal Could Be Dismal Short-Term
Schlumberger completed its $14 billion acquisition of Cameron International a few months ago. About $2.8 billion of the purchase price was to be paid in cash and the rest in SLB stock. The transaction will likely reduce Schlumberger's cash balance and liquidity. Meanwhile, earnings growth from deal could be non-existent in the short-term.
Cameron's revenue and earnings were slowing when the deal was completed. Its Q4 2015 revenue of $2.1 billion was down 6% sequentially and 26% Y/Y. Revenue from Subsea Technology -- Cameron's bread and butter -- fell 7% Q/Q and 19% Y/Y. Its contract backlog had fallen to $6.5 billion at the end of 2015 from $8.4 billion when the deal was announced in Q3 2015 -- a decline of over 20%. There is a dearth of new orders in the deep water market and Barclays anticipates the offshore drilling market will not rebound until 2018. That means Schlumberger might have to wait 18 to 24 months before it receives an acceptable return from the Cameron deal. I recommend that investors avoid SLB.
Disclosure: I am/we are short BHI.
I wrote this article myself, and it expresses my own opinions. I am not receiving compensation for it. I have no business relationship with any company whose stock is mentioned in this article.