The market is once again hitting new highs, leaving individual investors scrambling to find attractive investment opportunities. Meanwhile, a low (negative?) interest rate environment has caused capital to pour into equities in search of yield, and worldwide geopolitical events have furthered the "flight to safety". This perfect storm of events has caused the "widow and orphan" sectors of utilities and consumer staples to far outpace the overall market.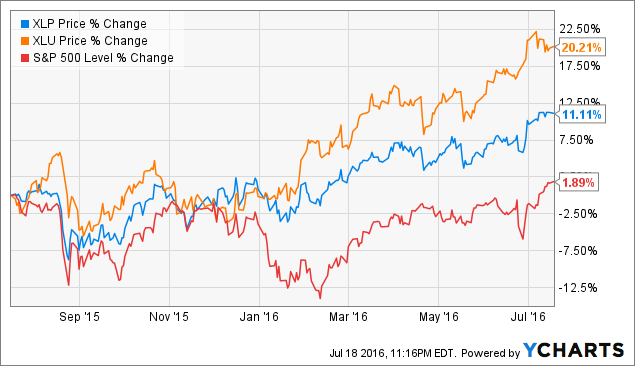 This outperformance has caused many of the consumer staple companies to trade at lofty valuations, leaving investors wondering where they should put new money to work. Approaching the sector can be a difficult task, but with this article I hope to clear through the clutter and provide an apples to apples comparison of a wide variety of stocks in the sector with a simple, numbers-based approach.
I first did this last September, with one of my most popular articles to date: Top 10 Consumer Staple Stocks For Dividend Growth And Income. The results thus far have been outstanding, as 9 of the 10 companies have returns of greater than 16%, with an average return of over 19%.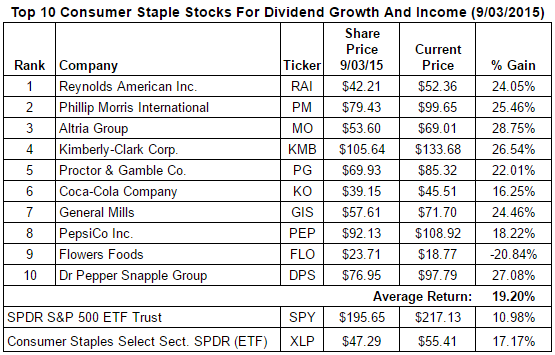 This return far outpaces the S&P (NYSEARCA:SPY) while also beating the returns provided by the (NYSEARCA:XLP). To be fair, that article was written near the bottom of a market correction, so the positive returns would be expected. However, the outperformance of the selections compared to both the overall market and the sector ETF is still noteworthy.
We are in a different environment in today's market, as indices are near all-time highs and the sector trades at a premium. So I thought it would be a good time to revisit the spreadsheet and make some new selections based on current prices and updated earnings projections.
The Watch List
Last September's article was written with a primary focus on then current and future dividend income. This article will again take those into account, but will also make selections based on total return projections as well.
With that in mind, I decided to expand the watch list from the 25 original companies by also adding: Brown-Foreman Corp., Casey's General Stores Inc., Diageo plc., The Kroger Company, and Wal-Mart Stores, Inc. I believe these companies are of interest to investors and a few of them are higher growth companies that deserve a look for potential capital gains.
Here is the updated list, along with some price comparisons to 52-week highs and lows.
| | | | | | | | | | |
| --- | --- | --- | --- | --- | --- | --- | --- | --- | --- |
| Company | Ticker | Sub Sector | # Years Div. Inc. | S&P Credit Rating | Market Cap (B$) | 52-Week High | 52-Week Low | Share Price 7/18/16 | % Below 52-Wk High |
| Altria Group | (NYSE:MO) | Tobacco | 46 | A- | $136.3 | $70.14 | $47.41 | $69.17 | -1.38% |
| Archer-Daniels-Midland | (NYSE:ADM) | Agricultural Products | 41 | A | $26.3 | $49.50 | $29.86 | $44.25 | -10.61% |
| Brown-Forman Corporation | (NYSE:BF.B) | Alcoholic Beverages | 32 | A- | $20.0 | $111.06 | $90.02 | $98.16 | -11.62% |
| Casey's General Stores Inc | (NASDAQ:CASY) | Convenience Stores | 17 | n/a | $5.1 | $134.59 | $95.71 | $130.72 | -2.88% |
| Church & Dwight | (NYSE:CHD) | Consumer Products | 20 | BBB+ | $12.9 | $107.36 | $76.85 | $99.84 | -7.00% |
| Clorox Company | (NYSE:CLX) | Consumer Products | 39 | BBB+ | $17.6 | $140.47 | $106.00 | $136.12 | -3.10% |
| Coca-Cola Company | (NYSE:KO) | Soft Drinks | 54 | AA- | $197.1 | $47.13 | $36.56 | $45.63 | -3.18% |
| Colgate-Palmolive Co. | (NYSE:CL) | Consumer Products | 53 | AA- | $66.5 | $75.32 | $50.84 | $74.50 | -1.09% |
| Costco Wholesale | (NASDAQ:COST) | Retail - Wholesale | 13 | A+ | $73.1 | $169.73 | $117.03 | $167.51 | -1.31% |
| CVS Health Corp. | (NYSE:CVS) | Retail - Drug Stores | 13 | BBB+ | $103.6 | $113.65 | $81.37 | $96.87 | -14.76% |
| Diageo plc (ADR) | (NYSE:DEO) | Alcoholic Beverages | 6 | A- | $70.7 | $121.30 | $99.59 | $113.82 | -6.17% |
| Dr Pepper Snapple Group | (NYSE:DPS) | Soft Drinks | 7 | BBB+ | $18.0 | $98.40 | $72.00 | $96.62 | -1.81% |
| Flowers Foods | (NYSE:FLO) | Food Processing | 15 | BBB- | $3.9 | $27.31 | $15.64 | $18.78 | -31.23% |
| General Mills | (NYSE:GIS) | Food Processing | 13 | BBB+ | $43.1 | $72.95 | $47.43 | $72.28 | -0.92% |
| Hershey Company | (NYSE:HSY) | Confectioners | 6 | A | $23.9 | $117.79 | $82.41 | $109.37 | -7.15% |
| Hormel Foods Corp. | (NYSE:HRL) | Food Processing | 50 | A | $19.1 | $45.72 | $28.44 | $36.53 | -20.10% |
| The J.M. Smucker Co. | (NYSE:SJM) | Food Processing | 18 | BBB | $17.9 | $154.71 | $104.30 | $152.74 | -1.27% |
| Kellogg Company | (NYSE:K) | Food Processing | 12 | BBB | $30.2 | $86.38 | $63.52 | $85.61 | -0.89% |
| The Kraft Heinz Co. | (NASDAQ:KHC) | Food Processing | 1 | BBB- | $109.0 | $90.26 | $61.42 | $89.10 | -1.29% |
| Mead Johnson Nutrition | (NYSE:MJN) | Consumer Products | 7 | BBB | $17.0 | $92.01 | $65.53 | $91.20 | -0.88% |
| McCormick & Company | (NYSE:MKC) | Food Processing | 30 | A- | $13.3 | $107.84 | $75.68 | $104.89 | -2.74% |
| Kimberly-Clark Corp. | (NYSE:KMB) | Consumer Products | 44 | A | $48.8 | $138.87 | $103.04 | $135.11 | -2.71% |
| The Kroger Co | (NYSE:KR) | Retail - Grocery | 11 | BBB | $33.9 | $42.75 | $27.32 | $36.34 | -14.99% |
| PepsiCo Inc. | (NYSE:PEP) | Snacks/Soft Drinks | 44 | A | $156.7 | $110.94 | $76.48 | $109.21 | -1.56% |
| Philip Morris International | (NYSE:PM) | Tobacco | 8 | A | $160.5 | $104.20 | $76.54 | $103.00 | -1.15% |
| Proctor & Gamble Co. | (NYSE:PG) | Consumer Products | 60 | AA- | $229.1 | $86.89 | $65.02 | $85.93 | -1.10% |
| Reynolds American Inc. | (NYSE:RAI) | Tobacco | 12 | BBB | $75.4 | $54.48 | $35.69 | $52.62 | -3.41% |
| Sysco Corp. | (NYSE:SYY) | Food Distributor | 46 | BBB+ | $29.3 | $52.31 | $35.55 | $51.96 | -0.67% |
| Walgreens Boots Alliance | (NASDAQ:WBA) | Retail - Drug Stores | 40 | BBB | $88.2 | $97.30 | $71.50 | $82.78 | -14.92% |
| Wal-Mart Stores, Inc. | (NYSE:WMT) | Retail - Discount | 43 | AA- | $230.0 | $74.35 | $56.30 | $73.84 | -0.69% |
Taking a quick glance at the numbers, 23 of the 30 stocks are trading within 10% of 52-week highs. The two biggest decliners, Hormel Foods and Flowers Foods, are more than 20% below their 52-week highs. Of course, prices alone don't make a stock a value, price in comparison to earnings do. Next, we will take a look at valuations to see if there are any attractive candidates for investment.
Historical And Current Numbers
Here we will take a look at the historical dividend growth rates for the companies, as well as the expected 2016 earnings and corresponding P/E and payout ratios based on current dividend rates. The data in the following tables was collected from various sources, including the U.S. Dividend Champions List, Yahoo Finance, Seeking Alpha, F.A.S.T. Graphs, and investor relations web pages from the selected companies.
For the earnings estimates and "Fair Value" P/E columns, I put each of the companies through F.A.S.T. Graphs and also went to the analyst estimates page on Yahoo Finance. The estimated fiscal year earnings and expected 5YR growth rates came from a blend of the numbers from the two sources. The "Fair Value" PE number was determined by looking at several different time frames on F.A.S.T. Graphs to determine what valuation each company normally trades at. A comparison was then made between the expected P/E based on analyst estimates and the "Fair Value" PE to get a feel for the relative values for the different options.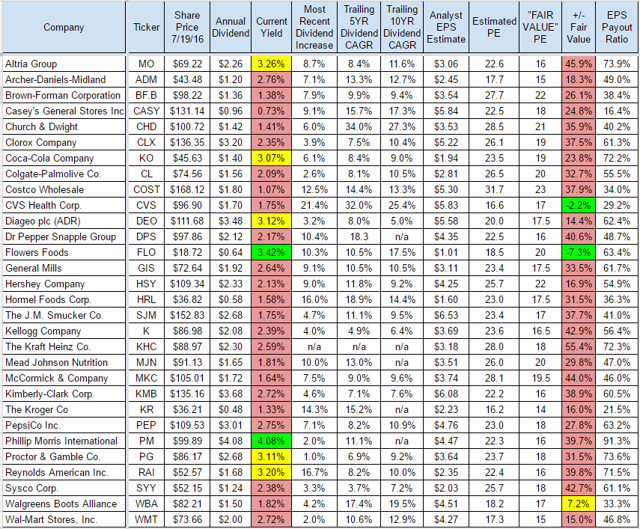 Click to enlarge
A few things jump out immediately to me when looking at the table. First of all, in what is generally considered as one of the market's top dividend paying sectors, just seven of the thirty stocks are currently providing dividend yields of over 3%. Just one, Philip Morris Internation, provides a yield over 4%.
Secondly, just two companies, Flowers Foods and CVS Health, are trading below their historical valuation levels; and Walgreens Boots is the only other trading within 10% of that mark. Meanwhile, more than half are trading at a greater than 30% premium to historical valuation levels. "Flight to safety" indeed!
5 Year Projections
The first table showed us the historical and current picture; now it is time to attempt to project returns into the future. To do this, I have reviewed conference call transcripts and investor presentations from each of the companies to see if management has provided any guidance about targeted payout ratios for the dividend. I also used Yahoo Finance and F.A.S.T. Graphs to collect analyst estimates for the expected 5YR earnings growth for each company.
The earnings estimate along with the currently declared dividend provides the payout ratio, which I then compare with the guidance payout ratio (where provided). In cases where guidance is not provided, I looked at historical payout ratios with F.A.S.T. Graphs and used that as my guide for a future target level. The analysts' estimated 5YR EPS growth rate along with the payout ratio target were then used to project an expected dividend growth rate. This was used along with the current dividend to estimate a future yield on cost "YOC" for both organic growth as well as with the reinvestment of dividends.
Finally, the "+/- Fair Value" number, along with the expected EPS and dividend growth, were used to calculate an estimated 5YR total return number, which assumes that dividends are reinvested.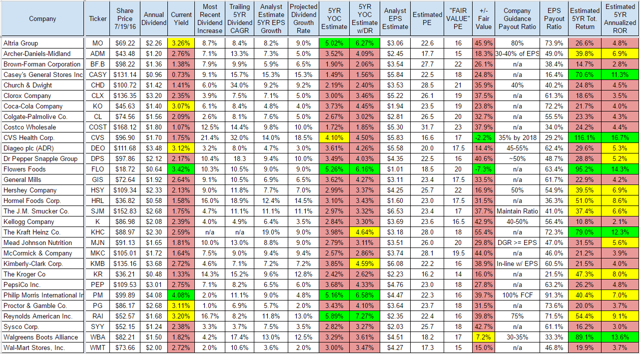 Click to enlarge
These projections yield some interesting results, the first of which is the large number of stocks that could see muted returns over the next 5 years. Half of the companies are projected to return <5% annually, while just five are expected to produce annualized double digit total returns.
On the income side, just five are expected to produce yield on costs of over 5% in five years. Not surprisingly, three of those five are tobacco companies. One that is surprising is CVS Health, which currently yields just 1.75%. However, an expected EPS growth rate of 14% coupled with a payout ratio projected to expand from the current 29.2% level to 35% over the next few years, provides an projected annual dividend growth rate of 18.5%.
Tobacco Remains Top Income Option
For investors looking strictly for income potential, the top options still come from the big three tobacco companies: Altria Group, Reynolds American, and Philip Morris International.

Click to enlarge
Reynolds American has the highest projected EPS and dividend growth of the three, which is driven by continued integration of the Lorillard acquisition as well as a dividend payout ratio that is expected to expand from the current 71.5% level to the targeted 75% level set by management.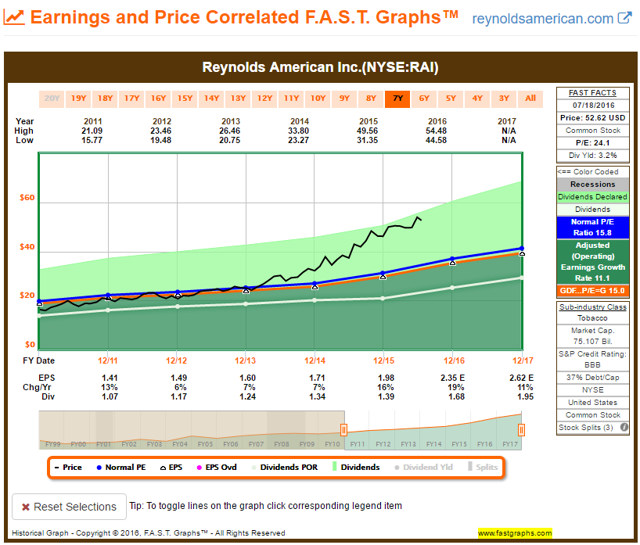 Click to enlarge
As you can see on the graph, the stock is currently trading well above fair value. However, with the high growth rate and 3%+ yield, an investor could still potentially see high-single digit total returns despite the high valuation.
The next pick, Philip Morris, has the highest initial yield at 4.08%, but a much lower expected dividend growth rate of 4.8%. This lower growth rate is due to several years of negative to flat EPS growth, which has caused the payout ratio to balloon to over 91% of earnings. However, analysts are bullish on the earnings growth prospects, and are expecting 9% annual growth over the next 5 years.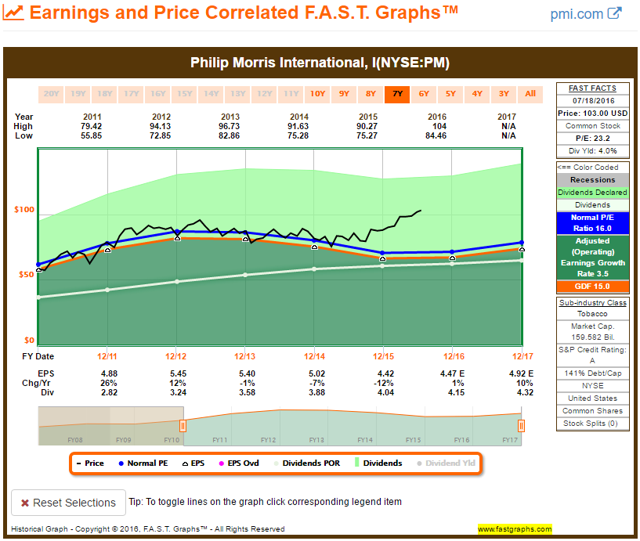 Click to enlarge
Once again, the FAST Graph clearly shows that shares are trading above normal valuation levels, however a 4% yield and 9% earnings growth could still provide 7% annualized returns going forward. I remain bullish on the company due to potential growth in its reduced risk product, iQOS. For those interested in the stock, management had some glowing comments on the product in its recent conference call, which stated that iQOS demand is exceeding supply.
With a 3.26% yield and expected EPS and dividend growth in the high-single digits, Altria Group is another attractive income candidate. The stock is also trading well above fair value and could see muted total returns over the coming years as a result.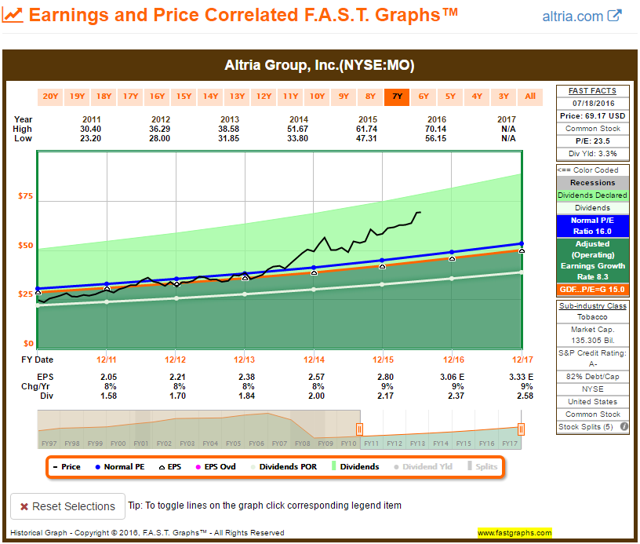 Click to enlarge
However, there are potential catalysts to the upside, including a cash infusion from the proposed SABMiller merger with AB InBev as well as the potential rollout of iQOS in the United States later this year.
Top Stocks For Total Returns
While tobacco stocks dominate the income projections, the companies offering potential capital gains represent a variety of business types and are an intriguing mix of companies.

Click to enlarge
Casey's General Stores operates convenience stores in the Midwestern United States. The company has been a strong performer over the years, producing 15.1% EPS and 17.3% dividend growth over the last decade. It is one of the new additions to the watch list, and is desirable for its growth more than income, as it currently yields just 0.7%.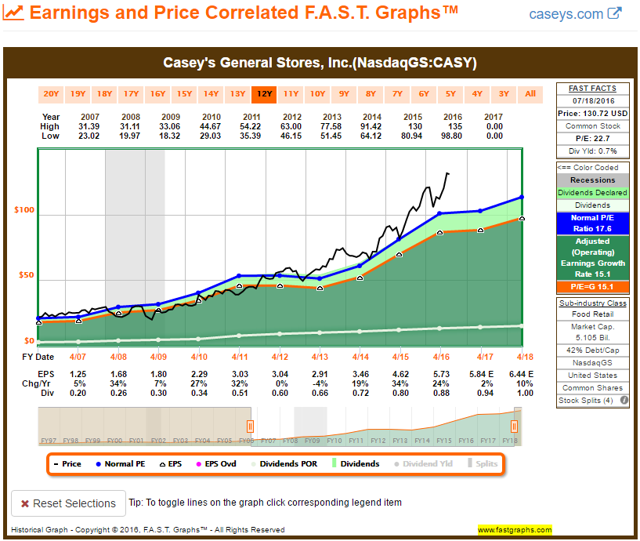 Click to enlarge
Shares are trading above fair value, but analysts are projecting EPS to continue growing at a 15% rate, which could still provide double digit annual returns over the next 5 years as it grows into its valuation. The rich valuation along with the lack of any yield support likely makes this the riskiest pick of the five listed, and should EPS growth falter, there would likely be opportunities to buy at a better valuation.
CVS Health Corp. offers an attractive combination of growth at a reasonable price along with strong income potential as it is expected to expand the payout ratio for shareholders. The company has been an excellent performer over the years, as it has produced a 13.8% growth rate over the last decade.
Click to enlarge
Shares are currently trading at 16.6 times expected 2016 earnings, which is a bit below the blended PE depicted on the F.A.S.T. Graph. Regardless of the actual number, this represents the best value seen in shares since the summer of 2014, and appears to be a reasonable point to begin a position.
Flowers Foods, Inc. is a company that produces and markets bakery products in the United States. It too has been a tremendous performer over the years, although it has seen much more price volatility while doing so. It has produced earnings and dividend growth in excess of 10% over the last decade, and analysts are projecting growth to continue at a 9% rate going forward.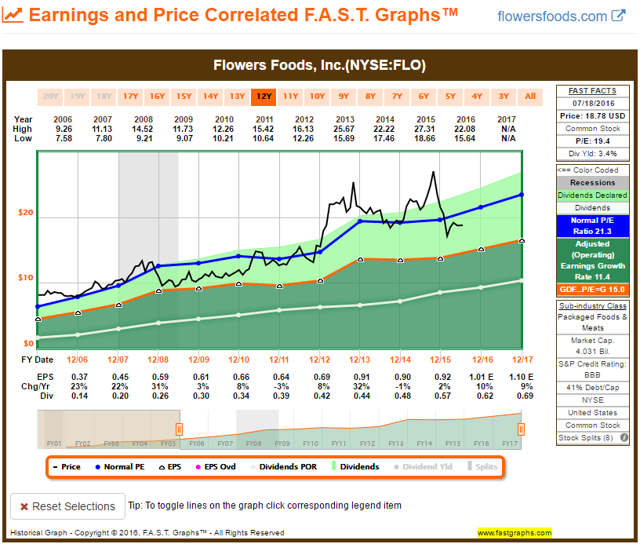 Click to enlarge
A 3.4% yield along with the high expected growth rate makes this an attractive option for both income and potential capital gains. There are some concerns due to an ongoing lawsuit by truck drivers regarding benefits and compensation, however I believe this will be settled and should not affect the long-term success of the business.
The Kraft Heinz Co. is one of the most difficult companies to project, in that it doesn't have much history nor coverage to go by when trying to forecast. The company was formed last July through the merger of Kraft Foods Group and H.J. Heinz.
I was able to find this earnings projection at Finbox.io, which has a nice charting tool showing the projected revenue and income growth for the company. As you can see, net income is expected to nearly double from $5.4B to $10.0B by 2020.
F.A.S.T. Graphs also show a quick ramp-up in earnings, as it projects 19% EPS growth over the next 5 years. KHC management has yet to provide much guidance towards dividend payout ratios, as deleveraging is a bigger priority right now, so I am currently targeting a 50% payout ratio in the future. The stock appears to be richly valued at current prices, and the current yield isn't terribly appealing, but if those growth projections are close to correct, it may still be a decent entry point for long-term investors.
The final company, Walgreens Boots Alliance Inc., is another pharmacy company that has a long track record of strong EPS and dividend growth. It has also been active on the M&A front in recent years, with the acquisition of Alliance Boots in 2014 and the proposed acquisition of Rite Aid currently under regulatory review.
The company has consistently produced 10%+ growth, and is expected to continue doing so going forward. Demographic tailwinds of 10,000 Baby Boomers a day hitting retirement age is likely to cause continued growth for both Walgreens and CVS.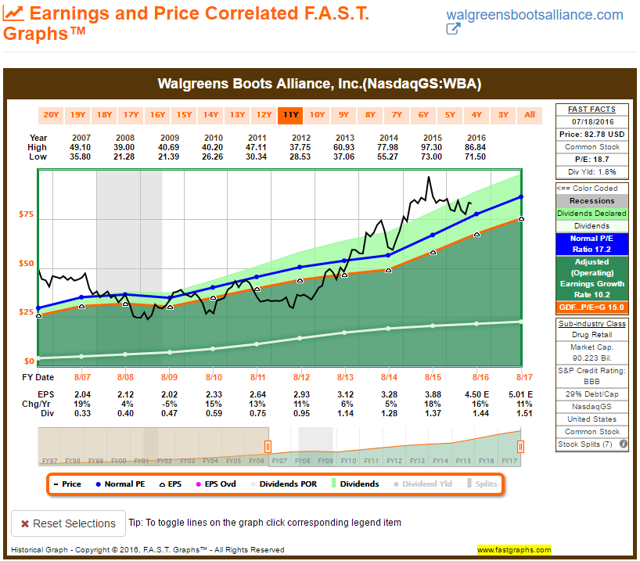 Click to enlarge
Shares are roughly 15% below 52-week highs, but are still slightly above historical valuation levels. However, since 2013 there have not been many opportunities to buy at lower levels, and this appears to be a decent place to open or add to a position.
Observation & Conclusion
There is little doubt that the consumer staples are trading well above historical valuations. However, I will point out that we are in a unique environment compared with the last 20 years. Rates on U.S. Treasuries are at all-time lows, while interest rates in other places of the world have now gone negative. This has caused money to move into equities for income, driving up share prices, as was noted.
The tables and projections for returns that I have presented assume a return to "fair value", but should interest rates remain depressed, this may not happen any time soon. So while caution is warranted, those focusing on all of the red in the valuation column should keep those thoughts in mind.
I hope this coverage of the sector is helpful to investors looking for ideas in an expensive market, and gives some clarity to those looking to put money to work.
Disclosure: I am/we are long MO, CHD, KO, CVS, DPS, FLO, GIS, PM, RAI, WBA.
I wrote this article myself, and it expresses my own opinions. I am not receiving compensation for it (other than from Seeking Alpha). I have no business relationship with any company whose stock is mentioned in this article.
Additional disclosure: I am a Civil Engineer by trade and am not a professional investment adviser or financial analyst. This article is not an endorsement for the stocks mentioned. Please perform your own due diligence before you decide to trade any securities or other products.