I started my premium service on Seeking Alpha approximately one year ago, and the results of my recommendations are better than I could have hoped for. My average recommendation has returned 17.33% versus the Russell 2000's return of 5.08%. (Note: Please see the end of this article for details on performance calculation.)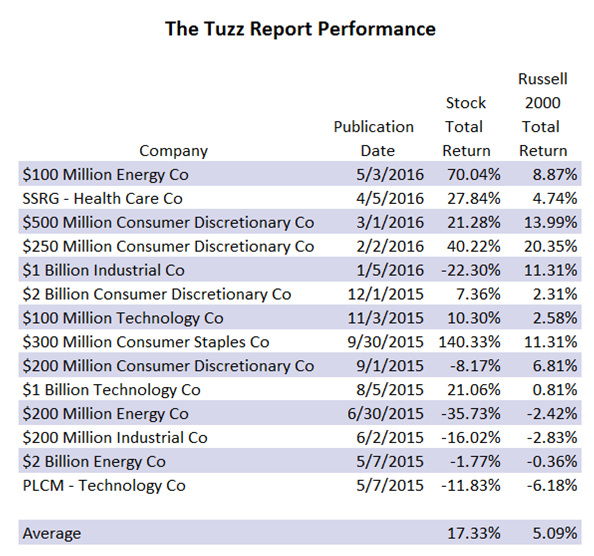 The Good
Consumer Stocks
When not wearing my generalist hat, I have spent a good portion of my professional equity-analyst career specializing in consumer stocks, so I was very pleased to see the consumer selections returned over 40% on average. Sure, this might be attributed to dumb luck given the small sample size, but I'd like to think there was some skill involved and the last 12 years focusing on consumer stocks wasn't a complete waste of time.
Recently Featured Stocks
As demonstrated by the attached table, performance has improved recently. Again, there is some luck involved here, but I also believe my investing process continues to evolve. A value investor at heart, I've historically been more than willing to risk getting cut by a falling knife. However, I'm becoming more of a believer that value in isolation does not always make for a great investment and value traps are a performance killer. The beauty of small-cap stocks is positive news doesn't immediately become discounted and it is possible to jump on board after a stock has begun to move higher based on positive news.
Acquisitions
I normally write about small-cap stocks with an investment time horizon of three to five years. So it's not unusual that I've only removed two stocks from the recommended list over the last year. Symmetry Surgical (NASDAQ:SSRG) was acquired three months after it was featured, for a 21% gain, and Polycom (NASDAQ:PLCM) is in the process of being acquired. Unfortunately, the PLCM acquisition was at a loss, but I'm excited other investors see the same value in these businesses that I do. Small-cap value stocks are a fertile ground for acquisitions and hopefully more of the companies on this list will be bought out at a premium.
Smaller Stocks Outperformed
So why offer a premium service that focuses on small and micro-cap stocks? It is commonly thought, the smaller the company, the less it is followed, given Wall Street's liquidity restrictions. This lack of attention should, in theory, lead to greater rewards. At least over the last year, it has worked out as expected. Companies with a market cap under $500 million returned 25.8% on average versus the Russell 2000 return of 5.94%.
The Bad
Industrials
Maybe, I should stay away from industrials? My two recommendations in this sector are both down double digits, making it the only sector with underperformance. I continuously monitor these companies, however, and still believe both stocks are good investments and should rebound strongly.
Caveats
Sample Size
This is a very small sample size and returns over a longer period of time may vary greatly. I don't claim to be the next Warren Buffett and I'm certainly not expecting to beat the index by 12% per year. However, after one year, the numbers are what the numbers are, and I will certainly strive to continue delivering thought-provoking, small-cap value ideas with the goal of beating the Russell 2000 index.
Single Stock Return
One consumer staples company returned 140%, generating a significant percentage of the portfolio's outperformance. If this stock is removed from the group, performance drops dramatically. However, overall stock performance still outperforms the Russell 2000 by over 300 basis points on average. Dramatic gains and losses are typical in the small-cap universe and investors need to be aware of the potential for extreme volatility in single names. The goal is to outperform with a handful of stocks in a diversified portfolio.
I hope you enjoyed this summary of the first year of offering my premium service on Seeking Alpha. If you are an investor looking for small- and micro-cap value stocks that are under-followed by Wall Street and have the opportunity to provide outsized returns, consider giving the Tuzz Report a shot. You are completely covered by Seeking Alpha's unconditional money-back guarantee.
Thanks for reading. Please do not hesitate to ask me any questions about the article or my premium service. If you would like to receive my future articles on small- and micro-cap value stocks sent directly to your email, click the "follow" button at the top of the page next to my name.

Click to enlarge
Methodology
Performance was calculated by using the price of each company at the close on the day after article publication. This gives investors a full day to make a purchase before results are calculated. Performance for all companies, except those removed from the portfolio, is calculated through July 18th, 2016. Dividends for individual stocks and the index were not reinvested when calculating returns. Performance information was obtained from dividendchannel.com. Results may differ slightly from performance calculated by Seeking Alpha given timing differences, but should be very similar. Performance for stocks featured in June and July were not included because of the very short time period, but on average, they are up approximately 50 basis points more than the Russell 2000.
Disclosure: I/we have no positions in any stocks mentioned, and no plans to initiate any positions within the next 72 hours.
I wrote this article myself, and it expresses my own opinions. I am not receiving compensation for it (other than from Seeking Alpha). I have no business relationship with any company whose stock is mentioned in this article.
Additional disclosure: Future results may differ greatly from past results. Always perform your own due diligence before investing in a stock. All information was gathered from resources believed to be accurate and reliable.