This week is a major week for Delta Air Lines' (NYSE:DAL) plans to redevelop its terminals at New York LaGuardia (LGA) and Los Angeles International (LAX) airports. On Wednesday, Los Angeles World Airports, owner of LAX, voted on a plan to allow Delta to move from its current facilities primarily in Terminal 5 to Terminals 2 and 3, a move that would provide the company with the space to continue to growth.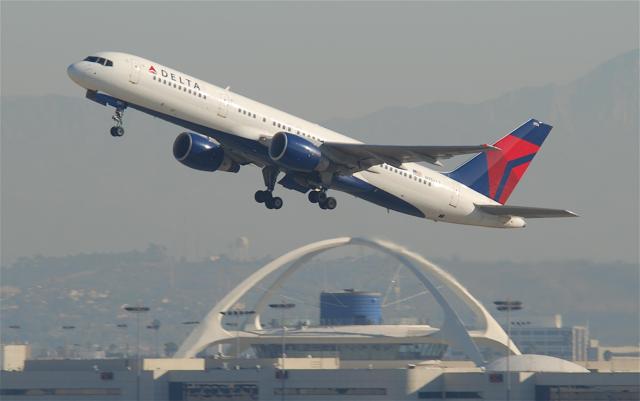 Click to enlarge
On Thursday, the Port Authority of New York and New Jersey, the owner of LaGuardia and JFK airports in NYC and Newark airport in New Jersey will vote on a plan to allow Delta to begin redevelopment of two of the three terminals which DAL operates from at LaGuardia. The Port Authority has already approved a $4 billion-plus redevelopment of Terminal B, the Central Terminal Building, from which all other airlines at LGA operate, and Delta's redevelopment of its two largest terminals will connect and modernize the three largest terminals used for nearly all passenger traffic.
After several years of strong profitability and cash flow and a strengthened balance sheet, DAL is committing to or has recently completed $10 billion in airport facility improvements and expansion. At New York's JFK airport, DAL has spent more than $1.5 billion to expand Terminal 4 and renovate Terminal 2 in a move which has helped Delta to become the largest airline at the Northeast's largest international airport. In Atlanta, Delta has committed to fund half of its hometown airport's $6 billion renovation and expansion where it operates the world's largest passenger hub.
Delta's increasing profitability is heavily tied to its increase in passenger revenues; it has grown its revenues by adding service into major industry markets which DAL has not served in the past and by delivering a high quality of service which the company says is a major reason for its 20% domestic revenue premium compared to the domestic industry average. Delta execs have told industry analysts that they believe they can sustain 15% increases in EPS, likely based on their ability to increase their presence in major industry markets.
The strategic implications for Delta's expansion at both New York airports and LAX are the most significant of all its airport plans. Most of the largest US coastal airports are at or near runway and/or terminal capacity, which means expansion will require billions of dollars and are being sought by the largest airlines at their major hubs, a reflection of the high cost involved in airport expansion. Delta will manage construction of both the LGA and LAX projects and use its own money in return for rent abatements, a strategy likely driven by its desire to keep its airport projects moving.
At LAX, Delta is currently the second-largest carrier with an 18% share of enplaned passengers, behind American Airlines' (NASDAQ:AAL) with a 20% share, according to DOT data. DAL's ability to grow its presence in Los Angeles is due in part to United's (NYSE:UAL) decision to restructure its West Coast operations to de-emphasize LAX as a connecting hub in favor of its larger San Francisco hub while maintaining LAX as a large point-to-point operation. United's passenger share at LAX has fallen to 16%.
DAL's LAX plans complement its growing hub at Seattle, giving Delta two hubs on the West Coast. Delta currently operates five transpacific flights/day from Seattle and has grown to the #2 position in Seattle behind Alaska Airlines (NYSE:ALK) in its hometown. Seattle is finalizing a multi-billion-dollar expansion plan that would give Delta room to continue to develop its second largest Asia gateway behind Detroit and allow Alaska Airlines to grow. The largest US carrier, transpacific, is UAL's hub at San Francisco, which offers more than nine flights/day to Asia. American is aggressively growing its LAX operation with a focus on creating its only West Coast transpacific hub. Because Los Angeles is the largest US market to Asia and a strong domestic presence helps to fill international flights, the stakes are high for both AAL and DAL which are both committed to growing their LAX international and domestic operations.
Japan and China are key markets
Tokyo is the largest US carrier market from LAX, and DAL is the largest carrier via its roots with its most recent merger partner Northwest Airlines. The US-Japan market is in the midst of significant change as I noted in my SA article regarding access to Tokyo's Haneda airport.
The US Dept. of Transportation recently tentatively awarded long-term service from LAX to Tokyo's Haneda airport to AAL and DAL during daytime hours; both carriers currently operate flights from LAX to Haneda which arrive and depart at night in addition to flights to Tokyo's Narita airport which arrive and depart from Tokyo during the day. However, Delta has cancelled its LAX to Narita service effective when it can begin daytime service to Haneda; other airline flights from LAX to Narita airport will likely become much less profitable with daytime service from LAX to Haneda by AAL, DAL, and Japan's All Nippon Airlines including by UAL and its joint venture partner All Nippon. It is likely that, in time, AAL and DAL will provide the only US carrier passenger service from LAX to Tokyo via Haneda airport.
China is currently the second largest Asia market from Los Angeles, but is on the verge of overtaking Japan as the largest travel market in Asia from LAX for US airlines. AAL and UAL have operated LAX to Shanghai service for several years, but DAL added service last summer, becoming the largest US carrier in the LAX to Shanghai market based on DOT passenger statistics and overtaking United as the largest airline carrying local passengers from Los Angeles to all of East Asia. AAL and DAL have both applied to add the only US carrier service from LAX to Beijing. The US DOT has yet to render a decision in that route case and could award the route to either AAL or DAL or could award the route to both carriers by taking unused China authority from UAL. DAL and UAL both operate routes from Seattle and San Francisco, respectively to both Beijing and Shanghai. If Delta succeeds at winning LAX-Beijing authority, it would be the only US carrier that operates service from two US West Coast gateways to both Chinese cities. DAL has partnerships with several Chinese airlines including an equity position in China Eastern Airlines (NYSE:CEA), which helps DAL distribute passengers beyond its two Chinese gateways.
While Asia is the primary expansion focus for both AAL and DAL at LAX, expanded facilities will allow both to grow their domestic operations as well as to other international regions. American currently operates from Terminal 4, 6, LAX's international terminal, and a remote regional airline terminal which can only handle regional jets. AAL is seeking to occupy part of DAL's Terminal 5 when Delta moves to Terminal 2 and 3. All of the existing airlines in Terminal 2 and 3 will have to move to Terminal 5 or 6, from which Delta currently operates, or the international terminal. Southwest Airlines (NYSE:LUV) and UAL are also renovating their own terminals at LAX. Delta's plans rationalize airport locations at LAX for a number of carriers, much of which will be done at DAL's expense.
Delta's plans at LAX include gaining preferential use of all gates at Terminal 2 and 3 and rebuilding or remodeling those two terminals and linking them together for joint passenger operations and to the international terminal where Delta could gain access to additional gates if it fully utilizes its facilities in Terminals 2 and 3. LAWA's agreement with DAL incentivizes Delta to grow its presence at LAX and to use large aircraft in order to gain gate space at the international terminal. Several of Delta's key partner airlines will also operate in Terminal 2, but DAL will likely gain access to 50% or more additional gates, closing the gate advantage that AAL currently has.
When completed, AAL and DAL will likely have similar terminal configurations at LAX with American likely operating from Terminal 4, parts of 5, the TBIT which adjoins Terminal 4 and, potentially, a proposed Midfield Satellite Terminal while Delta will operate from Terminals 2 and 3 as well as the international terminal which is adjacent to Terminal 3. DAL has noted to the DOT that it now has the largest average aircraft size among the large US carriers at LAX in order to compensate for its limited number of gates.
Limited room for expansion at LAX has made the airport a key focus for growth by AAL and DAL as well as other carriers; both AAL and DAL are positioning themselves to operate large hub operations at LAX while UAL and LUV will have smaller but still very large point to point operations.
New York LaGuardia - one of the most costly airport rebuilds in the world
US President Joe Biden referred to New York LGA as a third-world airport. Indeed, the airport handles far more passengers than design from facilities that are crowded, dated, and have limited passenger amenities compared to larger and newer US airports. Because LGA sits on a relatively small piece of land, rebuilding the airport terminals will require minimizing interference with the existing operation even while moving terminals further from the runways in order to create more airfield space and, hopefully reduce delays particularly especially during inclement weather. The design for all three of the new terminals features an elevated passenger bridge under which aircraft can taxi. New York governor Cuomo has been a vocal supporter of rebuilding LaGuardia airport and has noted that Delta's participation is essential for the project.
The price of the LGA airport rebuild could easily exceed $8 billion, split about evenly between DAL and all other airlines and proportionate to the size of their operations. Considering that DAL has spent about $1.5 billion for its expansion at JFK airport and will spend about $1.9 billion at LAX, both of which will accommodate large international widebody aircraft, the $8 billion price tag for LGA is very high for a domestic-only airport that can accommodate domestic widebody aircraft but where half of the flights are currently operated on aircraft with less than 100 seats. Based on 2015 passenger boardings at LGA, the $8 billion price for the rebuilt terminals amortized over 30 years but without interest will increase cost per passenger by nearly $20. The economics of a cost increase of that magnitude, even if paid for in part by increased concession revenues, could make a number of short-haul and low-cost carrier flights from LGA no longer economically viable.
Delta has been pushing for removal of the perimeter rule at LGA, a Port Authority requirement that limits flights from LGA to destinations under 1,500 miles with few exceptions. The perimeter rule was intended to protect the JFK airport by preventing airlines from adding service to major western US destinations from close-in LGA and reducing demand for service from JFK. Because air service to both LGA and JFK has grown dramatically over the past 15 years, there is little risk that removing the perimeter restriction at LGA will weaken traffic at JFK. Most other airlines including AAL and JetBlue (NASDAQ:JBLU), which also have major operations at LGA and JFK airports, are opposed to DAL's request to remove the perimeter rule. As the largest airline and slot holder at both LGA and JFK airports, Delta would be most capable of benefiting from changes to the perimeter restriction. However, the increased costs of operating from LGA require handling more passengers at the airport, but also favor Delta, which carries the most revenue from LGA and has a larger presence in key business markets than other airlines. Just as it does on its entire domestic system, Delta maintains a revenue premium to the industry from LGA.
Conclusion
One of Delta's key strategies over the past 10 years has been to increase its presence in major competitive markets. It has grown from the third largest carrier in New York City to the largest carrier and from the third to the second largest at LAX. Delta has committed to investors that it will maintain earnings growth at high levels for the airline industry based on historical precedent.
Expansion and renovation of airport facilities in the key New York and Los Angeles markets will certainly help fuel Delta's earnings expansion and also allow it to tap revenue in key industry markets.
If you would like to remain informed on key airline industry topics, click on "follow" next to my name in the header of this article.
Disclosure: I am/we are long DAL, LUV.
I wrote this article myself, and it expresses my own opinions. I am not receiving compensation for it (other than from Seeking Alpha). I have no business relationship with any company whose stock is mentioned in this article.