Since you have many attachments, you are only a little crazy. This is not crazy enough. You must become completely crazy. Then you will understand. - Seungsahn
The YMBC (You Must Be Crazy) High Yield Portfolio utilizes primarily UBS leveraged 2x ETNs in order to formulate an easily managed, crazy high yield portfolio. The YMBC(i), You Must Be Crazy - individual, portfolio is similar however it utilizes non-leveraged positions in individual equities instead of 2x leveraged ETNs. It is also more a trading portfolio than a buy and hold one, requiring more effort. The 2014 annual review article, includes an explanation of the goals, characteristics, and a risk analysis of the YMBC portfolio. The 2015 annual review article contains more information regarding the downdraft experienced by the YMBC portfolio that year, and introduces the YMBC(i) portfolio.
For this update it is assumed the reader has already read both articles and is familiar with the general goals and characteristics of these portfolios, as well as the inherent risk involved with these largely small cap, high yield positions. Going into Q2 2016 the portfolios were allocated as follows: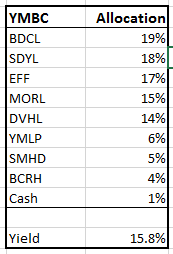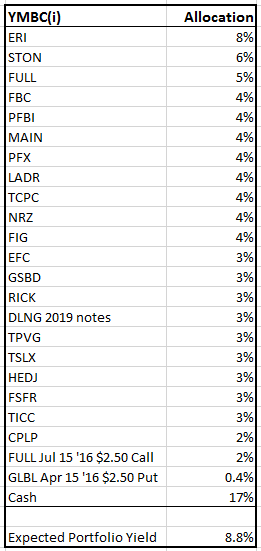 Changes:
Although I had expected to re-invest dividends from the YMBC portfolio in Blue Capital Reinsurance Holdings Ltd. (BCRH) at the start of Q2, I instead used them to purchase the Guggenheim Shipping ETF (SEA) on 6/28/2016. This puts its initial allocation at about 4% of the portfolio and is basically a call that the sector is cheap in general.
In addition, a number of shipping positions were initiated or added to in the YMBC(i) portfolio. These positions include: Capital Product Partners L.P. (CPLP) (product tankers, crude tankers, container-ships), Dynagas notes (NYSE:DLNG), Teekay Offshore Partners L.P. (TOO) offshore platforms), and Teekay Corporation (TK) (Parent of TOO, Teekay Tankers Ltd (TNK) & Teekay LNG Partners L.P. (TGP)). The YMBC(i) portfolio now has more than 20% of its value in the highly cyclical shipping sector. This is not by accident. That the shipping sector is cyclical and people hate and mistrust it, is exactly what causes the potential opportunity to produce outsized returns.
Shipping in my mind, from a financial point of view, is basically another spread business. You borrow money, which is currently cheap due to QE infinity across the globe, to buy assets, which are also currently cheap due to state support of shipyards (not a good thing), then lease them out hopefully producing enough revenue to cover the interest cost, payback the loan, and leave a little extra for profit.
Long term over multiple cycles this industry probably does something like a 7% return. However, that is nowhere near the whole story.
The leverage potential, and delay between when you order a ship and when it actually comes online, causes huge cyclicality. Thus shipping is typically a highly risky industry. Some stock is always doubling or going bankrupt. This means the industry historically is usually better suited to someone willing and able to trade rather than just buy and hold (some companies such as CPLP appear to be trying to change that). You can make money buying and holding shipping names, but the high volatility and mediocre long term returns in this industry historically have made that a poor strategy.
In my opinion, the time to buy shipping is not necessarily when the industry is in the dumps, but rather when the pricing of the stocks is in the dumps. The two frequently coincide, but not always. Thus I see the average stock in the industry being down over 50% in the last two years (based upon the shipping ETF SEA) as a positive. People say they want to buy cheap and act counter-cyclically, but how many actually do it? How many, when a stock goes down, can look at it objectively and if appropriate say, cool XYZ is 50% off, I think I'll buy it?
I indicated in last quarters article that we would have to see if a similar call to buy the VanEck Vectors High Income MLP ETF (YMLP) in Q1 turned out to be prescient or a falling knife. With a 39% gain in that name so far (plus dividends), I think we know the answer. One can only hope SEA and the various other shipping investments end up doing as well. (Q3 is starting off well with strong returns in CPLP.)
Please note, there were a number of trades made in the YMBC(i) portfolio during the quarter. I can't practically cover each and every trade in the quarterly review articles. However, each of those trades is disclosed in a comment in the comment section below the previous article and I have included a list below. The trade disclosures in the comments is usually done within a few hours of each trade being made, frequently with a brief mention of what the company does and a reason for the trade. The best way to follow these trades, potentially using them for ideas should you so choose, is to click the follow button above. (Note to TipRanks, since this is an IRA, no short positions are allowed (just puts), thus all buys open positions and all sells close positions.)
Trades during Q2:
Buys (to open):
22-Apr

***CAPITAL PRODUCTS PARTNERS L P REPSTG LTD PARTNESHIP INT

25-Apr

AFCO

AMERICAN FARMLAND COMPANY COM STK

25-Apr

BRSS

GLOBAL BRASS AND COPPER HOLDINGS INC

25-Apr

GGAL

***GRUPO FINANCIERO GALICIA SASPONSORED ADR RPSTG 10SHS CL B

25-Apr

OFS

OFS CAPITAL CORPORATION

25-Apr

PLXS

PLEXUS CORP

25-Apr

RIC

***RICHMONT MINES INC

25-Apr

TSN

TYSON FOODS INC-CL A

25-Apr

YPF

***YPF SOCIEDAD ANONIMA SPONSORED ADR REPSTG CL D SHS

26-Apr

CPLP

***CAPITAL PRODUCTS PARTNERS L P REPSTG LTD PARTNESHIP INT

11-May

AI

ARLINGTON ASSET INVESTMENT CORP CL-A

16-May

AAPL

APPLE INC

16-May

SFTBY

***SOFTBANK GROUP AMERICAN DEPOSITARY RECEIPTS

26-May

CPLP

***CAPITAL PRODUCTS PARTNERS L P REPSTG LTD PARTNESHIP INT

6-Jun

ENS

ENERSYS COM

6-Jun

FSB

FRANKLIN FINANCIAL NETWORK INCCOMMON STOCK

6-Jun

HPE

HEWLETT PACKARD ENTERPRISE COMPANY COM

6-Jun

LXFR

***LUXFER HOLDINGS PLC SPONSORED ADR

6-Jun

MED

MEDIFAST INC

6-Jun

NOVT

***NOVANTA INC COM

6-Jun

SAFM

SANDERSON FARMS INC

6-Jun

SUPV

***GRUPO SUPERVIELLE S A SPONSORED ADR REPSTG CL B

6-Jun

UFCS

UNITED FIRE GROUP INC

6-Jun

VEC

VECTRUS INC COM

6-Jun

WLKP

WESTLAKE CHEMICAL PARTNERS LP COM UNIT REPSTG LTD PARTNER

14-Jun

ARES CAPITAL CORPORATION

17-Jun

TK

***TEEKAY CORPORATION MARSHALL ISLAND

17-Jun

TOO

***TEEKAY OFFSHORE PARTNERS LP

22-Jun

FIG

FORTRESS INVT GROUP LLC CL A

24-Jun

FULL CIRCLE CAPITAL CORP

24-Jun

IMH

IMPAC MORTGAGE HOLDINGS INC

27-Jun

IMH

IMPAC MORTGAGE HOLDINGS INC

28-Jun

SEA

GUGGENHEIM SHIPPING ETF PROSPECTUS ON INITIAL PURCHASE

28-Jun

TK

***TEEKAY CORPORATION MARSHALL ISLAND

28-Jun

TNP

***TSAKOS ENERGY NAVIG USD1

29-Jun

CLNY

COLONY CAPITAL INC CL A

6-Jul

IMPHO

IMPAC MORTGAGE HOLDINGS INC 9.125% SER C CUM RED PERP PFD

18-Jul

FULL

FULL CIRCLE CAPITAL CORP OPTION EXERCISE

Options purchased:

27-Apr

CVRR May 20 '16 $15 Put

CVRR May 20 '16 $15 Put

8-Jun

CVRR Sep 16 '16 $10 Put

CVRR Sep 16 '16 $10 Put

28-Jun

CLMT Feb 17 '17 $5 Put

CLMT Feb 17 '17 $5 Put

14-Jul

CPLP Sep 16 '16 $2.50 Call

CPLP Sep 16 '16 $2.50 Call
Sells (to close):
21-Apr

CEQP

CRESTWOOD EQUITY PARTNERS LP COMMON UNITS REPRESENTING

26-Apr

FBC

FLAGSTAR BANCORP INC COM

6-May

STON

STONEMOR PARTNERS L P COMMON UNIT REP LIMITED

9-May

BRSS

GLOBAL BRASS AND COPPER HOLDINGS INC

9-May

EFC

ELLINGTON FINANCIAL LLC

9-May

FIG

FORTRESS INVT GROUP LLC CL A

9-May

GGAL

***GRUPO FINANCIERO GALICIA SASPONSORED ADR RPSTG 10SHS CL B

9-May

MAIN

MAIN STREET CAPITAL CORPORATION

9-May

NRZ

NEW RESIDENTIAL INVESTMENT CORP

9-May

PLXS

PLEXUS CORP

9-May

RIC

***RICHMONT MINES INC

9-May

STON

STONEMOR PARTNERS L P COMMON UNIT REP LIMITED

9-May

TSN

TYSON FOODS INC-CL A

9-May

YPF

***YPF SOCIEDAD ANONIMA SPONSORED ADR REPSTG CL D SHS

10-May

TCPC

TCP CAPITAL CORP

13-Jun

FSB

FRANKLIN FINANCIAL NETWORK INCCOMMON STOCK

13-Jun

LXFR

***LUXFER HOLDINGS PLC SPONSORED ADR

13-Jun

SUPV

***GRUPO SUPERVIELLE S A SPONSORED ADR REPSTG CL B

13-Jun

WLKP

WESTLAKE CHEMICAL PARTNERS LP COM UNIT REPSTG LTD PARTNER

24-Jun

HPE

HEWLETT PACKARD ENTERPRISE COMPANY COM

27-Jun

SAFM

SANDERSON FARMS INC

28-Jun

ENS

ENERSYS COM

28-Jun

HEDJ

WISDOMTREE TR EUROPE HEDGED EQUITY FUND

28-Jun

UFCS

UNITED FIRE GROUP INC

29-Jun

MED

MEDIFAST INC

29-Jun

NOVT

***NOVANTA INC COM

14-Jul

TPVG

TRIPLEPOINT VENTURE GROWTH BDC CORP

14-Jul

TSLX

TPG SPECIALTY LENDING INC COM

Options sold:

15-Jul

FULL Jul 15 '16 $2.50 Call

FULL Jul 15 '16 $2.50 Call

6-May

CVRR May 20 '16 $15 Put

CVRR May 20 '16 $15 Put

14-Jun

CVRR Sep 16 '16 $10 Put

CVRR Sep 16 '16 $10 Put
Returns:
As alluded, the first half of 2016 was good for both the YMBC and YMBC(i) portfolio's: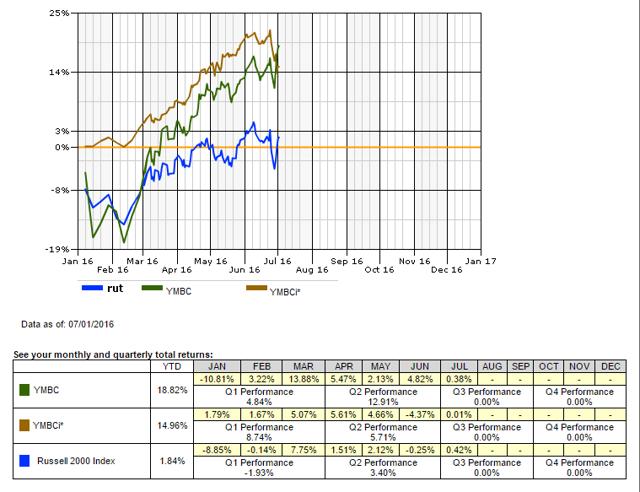 Click to enlarge
The YMBC portfolio was up 18.8%, and the YMBC(i) portfolio is showing a gain of 15%, vs. a 1.8% gain for the Russell 2000. However, that 15% gain which is showing for the YMBC(i) portfolio is really more like 18%. Phoenix Co (NYSE:PNX) was bought by a private insurance company, Nassau, at the end of the quarter. As such the investment in Phoenix quarterly interest bearing notes (Phoenix QUIBS) was no longer showing a price on the exchanges and was being counted as worth $0 by Etrade. So basically that sharp drop you see the last few days of the quarter for the YMBC(i) portfolio is not real. Etrade has subsequently fixed how the investment is displayed, but this is what the charts looked like the first day of the new quarter. When you see next quarters chart, you will see the line bounce down at the end of the quarter then right back up at the beginning of the new quarter (note: YTD returns as of today 7/19/2016 for YMBC are 21% and 29% for YMBC(i)). The website this is being published on is called Seeking Alpha, and I'm pretty satisfied we generated some Alpha so far this year. Unfortunately, one can only dream of maintaining this kind of outperformance; Darren McCammon is not a pseudonym which extremely successful investors Warren Buffett, Peter Lynch, or James Simons write under. So I can enjoy the outperformance and do a little crowing for now, but unfortunately we cannot expect nor depend upon it to continue.
The first half of 2016 has also been interesting for the market. As was indicated in this section previously, the market ended 2015 calendar year with a lot of fear. Fear that foreign countries would continue to cut interest rates while the U.S. raised theirs. Fear that this relative devaluation of foreign currencies vs. the dollar would make our companies less competitive, effectively importing the declining growth rates from foreign countries into the U.S. But fear is sometimes a good prelude to potential; what the lady taketh, she can also give back.
In mid-February, Janet Yellen changed her mind. On February 8th Yellen gave congressional testimony sighting, among other things, heightened competitive risks, and stating if necessary the U.S. too could play the negative interest rate game. This in my opinion was a signal to both the market and other foreign sovereign bank leaders that the U.S. would lead only so far. That one and done for the rest of the 2016 was a distinct possibility for the Fed funds rate.
It was not a coincidence that one day later I invested all YMBC portfolio available cash in to YMLP. I have previous written that an interest rate increase was likely to be one and done. That ongoing foreign stimulus measures simply would not allow us to normalize rates too far ahead of the rest of the world. I still think that way. We can lead, but we can't get too far into the lead. If we do we may effectively find ourselves looking over our shoulder at the rest of the world sitting on the sidelines, drinking Mai Tai's, and laughing at the stupid Americans putting out all that effort just to run around in circles.
So 2015 had its worries, Q1 2016 had its worries, and as we all know Q2 2016 had its worries too. During the last couple weeks of Q2, a new term, Brexit entered our lexicon. Britain voting to leave the European Union caused a one day 10% plummet in the value of the British pound to its lowest level in 31 year. Markets around the world crashed wiping out about $2 trillion of value in a day.
However, with challenge comes opportunity. Immediately following Brexit, the YMBC(i) portfolio purchased Impac Mortgage Holdings, Inc. (IMH) (a U.S. mortgage originator). The thesis with IMH was that England, Europe, and other worldwide central banks would probably respond to the Brexit turmoil by injecting massive amounts of capital. This plus the flight to safety would in turn likely cause U.S. interest rates to decline significantly including mortgage interest rates (they did matching 2012 lows). Mortgage interest rate declines will make refinancing more attractive which would benefit mortgage originators such as IMH and Flagstar Bancorp, Inc. (FBC) (they did, the shareholder meeting done today indicated IMH origination was $3.3 billion in Q2, up 38% vs. Q1). FBC could have just as well been chosen as IMH, particularly since I am more familiar with it due to previous investments; however, I decided to take a gamble and go with IMH instead because it opened down 5% on the Brexit news (go figure) and had 11% in short interest. It appears Q2 operating income before contingencies is going to come in more than double what it was last quarter for IMH and Q3 is starting off even stronger (locks up 63% vs. Q1). I wonder how the 10% of float still short IMH is going to take it after the earnings announcement makes IMHs strong Q2 and forward guidance more apparent?
Meanwhile, the income flow produced by the YMBC portfolio continues to just keep chugging along:

Click to enlarge
Fundamentally, the underlying holdings of most YMBC components are spread businesses designed to produce cash flow. These carry trades are significantly hurt by the flattening of the yield curve Mrs. Yellen purposely produced. Following Mrs. Yellen's congressional testimony, the curve had begun to base; however, it started sliding once again leading into and following the Brexit vote.

Click to enlarge
One should note such a small spread is not good for spread investments in general, but it is particularly challenging for businesses which specialize in leveraging low spread assets such as agency MBS. It makes those existing assets (agency MBS) more valuable initially, but then when these assets get pre-paid via a refinance of the mortgage, the resulting cash cannot be re-invested as attractively. This is something to be aware of concerning YMBC(i) holdings the UBS ETRACS Monthly Pay 2x Leveraged Mortgage REIT ETN (MORL), IMH, and Arlington Asset Investment Corporation (AI). However, in each of these cases I think there are extenuating circumstances which make the positions ok. MORL is actually more diversified than most people realize, while prepayment speeds increasing definitely hurts some of its holdings, a fair number of the components hedge where they can, and there are a few holdings which can actually benefit. IMH has a large mortgage book, $6.6 billion, whose servicing business is going to be negatively affected by pre-pays; however, they tend to sell most of their originations and the benefit from doing more originations should easily outweigh the cost of more pre-payments. Last AI purposely buys MBS with pre-payment resistant characteristics (low loan balance, etc.). These cost them more up front, but are helpful when times like this occur.
So basically, there is always something to worry about. Whether that worry freezes you, causes you to not invest, or causes you to learn and understand the risk better makes all the difference. The latter reaction enables an informed counter investment where appropriate, which in turn can greatly affect your returns. Buy low, sell high, starts with buy low. Buy low is one thing I try to do with both portfolios when possible, but the individual holding portfolio is more conducive to it.
Round Trips, Winners, and Losers:
Put options on CVR Refining (NYSE:CVRR) were the biggest round trip winner(s) of the quarter, producing a 97% gain in one case and a 58% gain in 9 days in the other. To be honest these are also probably my biggest losers. I made a large gain in a short period of time which probably caused me to let emotion take over. I pulled the trigger to lock it in rather than making a more rational judgment about future prospects. Had I continued to hold the puts, I would be looking at about 4 baggers right now. For more on my reasoning why I initiated the put, please read my blog post on the subject (hint: if you had hit the follow button last quarter, you could have read the blog post on Jun 8 th, plenty of time to do your own due diligence, make up your own mind, and potentially have a multi-bagger gain from CVRR puts of your own).
Not including the opportunity cost loss just outlined, my biggest round trip loser of the quarter was Enersys (NYSE:ENS), with a 14.6% loss. Here again I pulled the trigger too early and sold very near the short term low, if I had instead kept the shares the loss would currently be only 4%. I sold it, not because of any call that it was a bad investment (you can look at the comment sections disclosing the trade to confirm) but rather to raise funds to make another investment, Calumet puts (CLMT is another refinery stock also outlined in the blog post already referenced). So far the CLMT puts are about at the price I bought them, so the ENS sale was still ill advised. That being said, I still have high hopes that Calumet is going to tank immediately after its next earnings report (did I mention there is a blog post available that explains why?).
Risk:
The graph below is price change of the YMBC components compared to each other and the S&P 500 (thicker blue line). Realize these lines do not include the roughly 4% in dividends received each and every quarter (16% annually) by the YMBC portfolio.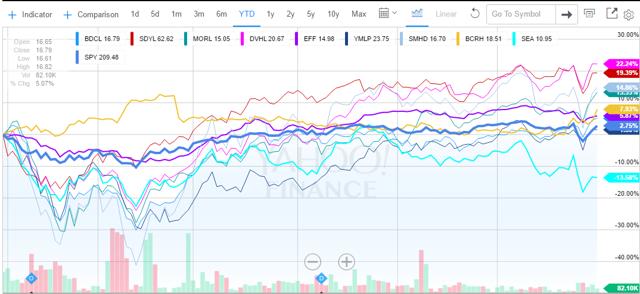 Click to enlarge
So what can I divine from the tea leaves of this price based eye chart:
Well first and most obvious, all yielding assets got heavily oversold the beginning of the year but have since bounced back (except SEA). As a matter of fact every component of the YMBC portfolio held at the beginning of the year has now outperformed the S&P 500 YTD. Once you include the roughly 8% of dividends also paid out by YMBC so far this year, you know we are having a good year.
The Caribbean blue line is SEA (appropriate), is a component only added recently, so that doesn't really count yet. I included it however because it does show a nice graphic indicator that SEA may be cheap (further research indicates it is). The gold line, BCRH, and purple line, the Eaton Vance Floating-Rate Income Plus Fund (EFF), have also lived up to their purpose so far this year; providing nice steady eddy, leavening for the rest of the portfolio (while still throwing of yield). As a matter of fact it appears if you combined the two (BCRH & EFF) into one security you would get pretty darn close to a straight line. This is probably just coincidence but a nice flat, straight price line throwing off about 9% in dividends each year is a nice thing to dream about isn't it? I'll bet a whole lot of people would be happy with that.
Anyway, the last thing I would like to point out in this graph is the best performer so far this year has been none other than DVHL. DVHL is thinly traded so limit buy and sell orders are called for, but it is also the most diversified of the UBS 2x ETNs. I'll repeat what I've said in previous articles, if you were only going to hold one component of the YMBC portfolio, DVHL would be the one I recommend. Thinly traded only matters when you trade. In this case it probably is thinly traded in part because few people actually trade it. DVHL is better suited as a buy and hold. As a matter of fact, I haven't placed a single trade in DVHL since the initial purchase two and half years ago at portfolio inception. Nope, with DVHL I've just sat there doing nothing and collecting the distribution. You can too. YMBC really is a low effort portfolio. One trade per quarter, re-investment of the dividend, is pretty much all I do.
The YMBC(i) portfolio on the other hand is very much a trading portfolio, it holds individual securities instead of the ETFs and ETNs in YMBC. YMBC(i) tries to control risk by limiting position size, remaining somewhat diversified, and utilizing timing criteria which sometimes has us heavily in cash. However, it is still a small cap value, portfolio which tends to have a lot of dividend producing holdings. By no means should anyone consider YMBC(i) diversified. At best it meant for only a portion, the small cap value portion, of one's assets.
Initial individual security buys YMBC(i) are usually limited to 3-4% of the portfolio, re-buys are limited to 8% in total, and any individual equity position is supposed to be reduced if it climbs above 10%. I said supposed to because, well, I just broke the rules. During Q1 & Q2 allocation limits were maintained. However, if you have been reading the comments section under my articles you'll know I basically through them out the window at the beginning of Q3 (in favor of CPLP). CPLP was 9% of the portfolio at the start of the quarter, within limits since I bought less than 8% and the holding had not yet reached the 10% trim level. However, due to circumstances outlined a little in the comments section of the last YMBC article (and more thoroughly in my CPLP articles), I made a very conscious decision to break the rules and put an additional 5% of the portfolio into CPLP options at the beginning of the Q3. That put us at 14% in one security, more really if you consider that the options represent significant leverage. I don't suggest others do this in their portfolio's, and frankly I would not do it if this were someone else's portfolio which I managed. However, it's not, and I did. Though the CPLP over-weighting has worked out well so far, that is not a good excuse. Don't do what I do, do what I say.
CPLP is currently about 21% of the portfolio, at least twice what it should be. I should trim it, but I'm not going to. Again, do what I say, not what I do.
I am going to once again remind readers that YMBC and YMBC(i) are NOT low or even average risk portfolio's. Neither is designed to be a core holding in one's overall portfolio strategy. YMBC is merely a live money test portfolio which comprises less than 5% of my assets. Also, though YMBC(i) is representative of how I manage a majority of my holdings, I am willing to accept more risk than most people. Both YMBC and YMBC(i) are small cap, high yield portfolios which tend to be focused on pass-through securities. They are likely to be more volatile than the S&P 500, and are better compared to a high yield version of the Russell 2000. They are having a good year, but they have bad years too.
Leveraged ETN/ETF degradation:
The UBS ETRACS Monthly Pay 2x Leveraged S&P Dividend ETN (SDYL) is essentially the 2x equivalent to the SPDR Dividend ETF (SDY). Both use the same criteria and the S&P High Yield Dividend Aristocrats Index to choose their holdings. Both have extremely similar holdings, in extremely similar proportions, once you adjust for the differences in their reset criteria (technically SDYL mimics the holdings of those stocks, whereas SDY actually holds them). Thus, because the two ETF/ETNs are so similar, if the 2x leverage results in degradation, one should be able to see it over time by comparing the two. Here is such a comparison: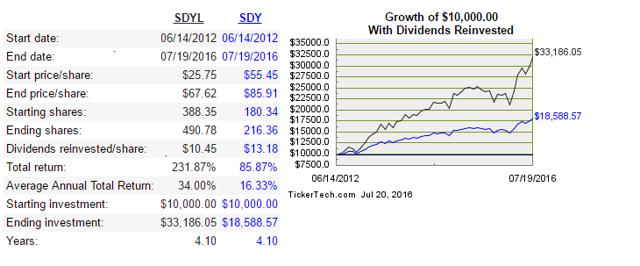 Click to enlarge
SDY charges a fee of .35%. SDYL charges a fee of 1.37% (=.3% tracking fee + .4% financing fee + .67% 3 month LIBOR, varies somewhat depending on LIBOR). So SDYL's return over time should be 2x SDYs return, less about 1% in extra fee's charged by SDYL. That is if there is no degradation. Thus a lower return than that would be an indication of how much degradation is caused by the monthly reset inherent to SDYL. Except the return isn't lower than what would be expected, it is higher. There is no degradation.
As you can see in the chart SDY's average annual return with dividends reinvested since 6/2012 (just after inception of SDYL) is 16.33%. SDYL's average annual return therefore should be about 2x that, or 32.66%, less about 1% due to the extra fee, or 31.66%. SDYLs return however isn't lower than 31.66%, instead it's actually higher, 34%. What is going on, something must be wrong, right?
Well no, I don't think so. First of all, no degradation is apparent. None, zilch, nada, give it up, admit it, don't let your bias ignore the facts. It's just not there. Second the reinvestment of the dividends is doing what it is supposed to do, buying more shares when prices are low, thereby juicing any recovery. Since SDYL has twice the dividends, you juice is more potent. Put another way, investing $5k in SDYL and $5k in cash gives you a slightly better return than putting $10k in SDY. This shouldn't occur, but it does. I guess if one were particularly obstinate, there are a few of us out there, one could argue the degradation is there, it's just overcome by the dividend reinvestment. If you want to be that person go ahead. All I really care about is that I'm being effective when trying to juice my return. That the reinvestment of very high yield is helping to juice the returns as planned.
Q3 allocation:
Going into Q3 2016 the portfolios are allocated as follows: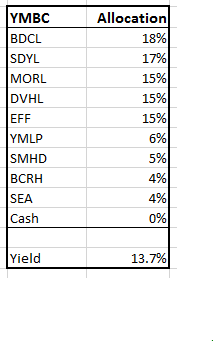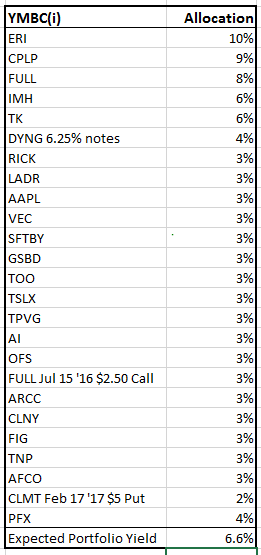 Here are some links with reasoning behind some of these positions:
2x BusDev ETN (NYSEARCA:BDCL)
Eldorado Resorts (NASDAQ:ERI)
Full Circle Capital (FULL)
TriplePoint Venture Capital (NYSE:TPVG)
Ares Capital (NASDAQ:ARCC)
Calumet Specialty Product Partners
Since the beginning of the Q3 the following trades / changes have been made to the YMBC(i) portfolio:
7/6/16 Bought IMHPO, adding to existing IMH position
7/14/16 Sold TPVG shares, closing position
7/14/16 Bought CPLP Sept '16 $2.50 call options, adding to existing CPLP position
7/18/16 Exercise and Sell FULL July '16 $2.50 call options, closing option positive but leaving FULL share position open
I would also still like to get BCRH up to about 10% in the YMBC portfolio, and am starting to think BDCL is getting fairly valued, so maybe I'll actually place a YMBC portfolio trade other than the normal dividend reinvestment in Q3. We'll see.
Conclusion:
The YMBC portfolio had a rough time of it in 2015 but is now back in positive territory, +11.5% since inception (two and a half years ago, 1/1/2014 - 6/31/2016). During this same period of time the large cap equities which dominate the S&P 500 did slightly better, +13.4%, but small cap equities in the Russell 2000 lost 1.2%. These are all actual returns with commissions, spreads, mistakes, and warts included. The more relevant of the two benchmarks is the Russell 2000 since the ETNs utilized are mostly comprised of small, not large, cap equities. Considering high yield assets fell significantly out of favor in the first two years after inception, yet the portfolio still outperformed its benchmark, the Russell 2000, by over 14%, I think YMBC continues to produce some value. This may be especially true for those who believe money flow and dividend reinvestment make a powerful combination. In my opinion the outperformance of the YMBC portfolio is due more to the power of re-investment of very high dividends, rather than either superior timing or asset selection. Again, the high yield pass-through securities held in the UBS ETNs fell significantly out of favor vs. the rest of the Russell 2000 during the first two years of this study. If anything the portfolio should be underperforming the Russell 2000 not outperforming it.
The significant outperformance of the YMBC(i) portfolio on the other hand is completely due my superior asset selection and timing skills. At least that the story I'm sticking with until the market proves me an arrogant idiot.
As always, I look forward to your comments and criticisms. If you find this article interesting, and would like to get updates as well notification of, and some limited reasoning behind, the trades, please consider clicking the follow button above.
Disclosure: I am/we are long ALMOST EVERY POSITION MENTIONED ABOVE AND MAY BUY OR SELL ANY OF THESE POSITIONS IN THE NEXT 72 HOURS.
I wrote this article myself, and it expresses my own opinions. I am not receiving compensation for it (other than from Seeking Alpha). I have no business relationship with any company whose stock is mentioned in this article.
Additional disclosure: I say right there in the name, if you follow this portfolio YOU MUST BE CRAZY! I don't know who you are much less your particular situation; so how can I recommend this portfolio or for that matter any investment to you? Don't follow a crazy person, do your own due diligence.