Has the time come to sell Chimera Investment Corporation (NYSE:CIM)? That's an important question income investors are asking themselves, since Chimera's share price has been going through the roof in the first seven months of the year. As of today, Chimera's shares have risen ~19 percent...not bad for a high-yield income vehicle, right?
Earlier this year, in January, when stock markets went into a tailspin and investors' panic levels peaked on the back of crashing crude oil prices, I was very bullish on Chimera Investment Corporation. At the time I penned the article "Chimera's 16% Dividend Yield Is Not A Red Flag," the mortgage REIT was in the bargain bin for sure, selling for 73 cents on the dollar, and for a ~16 percent dividend yield.
Chimera Investment Corporation was not the only high-yield income vehicle that I recommended income investors buy back then. Other income stocks included Prospect Capital Corporation (NASDAQ:PSEC) and Annaly Capital Management (NYSE:NLY), both of which have also been heavily sold in the first two months of the year, but have staged strong comebacks in the last months on the back of growing investor optimism toward the high-yield sector.
As much as I was bullish on Chimera Investment Corporation and Prospect Capital Corporation back then, the rather dramatic increase in their market valuations has changed the reward-to-risk ratio. While I was totally up for buying Chimera around ~$13, at more than $16 Chimera Investment has become quite expensive, which limits investors' total return potential.
Today, Chimera Investment is selling for ~1.05x book value, and a 12 percent yield. That is still a good price level for investors to buy into the mortgage REIT for income, but I nonetheless see limited upside for the shares moving forward. If anything, given the strong run Chimera's shares have had, the mortgage REIT is vulnerable to a correction.
Chimera's shares have climbed ~19 percent YTD, but they have gained a whopping ~49 percent since falling to a new 52-week low on January 20, 2016 ($10.89). The gradual increase in Chimera's market valuation has unfortunately made the shares way more expensive, and now overbought, too.
The Relative Strength Index at the top portion of the chart below flashes a value of 76.61, indicating that the mortgage REIT is overbought at the time of writing.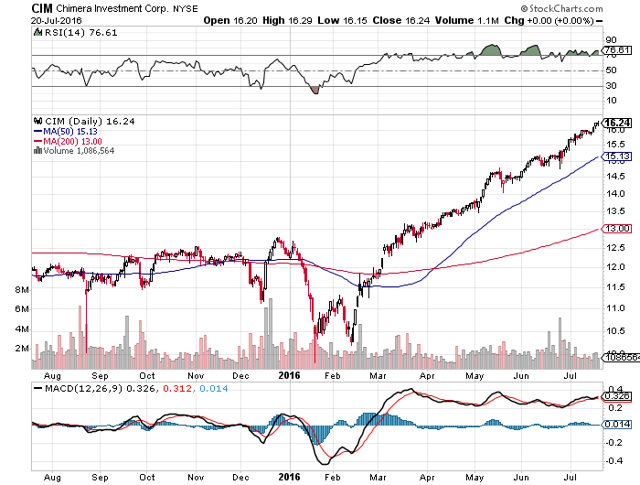 Click to enlarge
Your Takeaway
Chimera Investment Corporation and other high-yield income vehicles have rebounded strongly after falling to new lows at the beginning of the year. As great as the increase in market valuation is for shareholders, the company now sells for a premium to book value. The 12 percent yield that an investment in Chimera Investment throws off is great, no doubt, but I see very limited upside for the mortgage REIT given the rise in its market valuation YTD. Protect existing profits with stop-loss orders.
Disclosure: I am/we are long CIM, PSEC, NLY.
I wrote this article myself, and it expresses my own opinions. I am not receiving compensation for it (other than from Seeking Alpha). I have no business relationship with any company whose stock is mentioned in this article.