Shares of Tractor Supply (NASDAQ:TSCO) are down almost 4% as I write this on Thursday, and below $90 for the first time since April, after reporting second quarter earnings after the close Wednesday. TSCO shares posted a similar decline last month, when the company pre-announced disappointing sales figures. Between the two declines, the quarter has had a relatively material impact on the stock: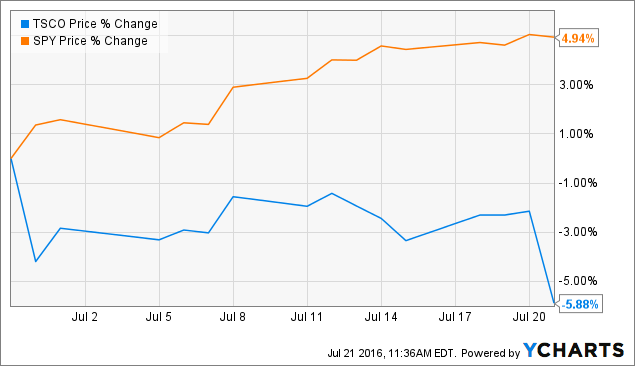 There is some reason for concern, admittedly. Notably, comps were negative in Q2, the second time that has happened in the last three quarters. That's a noticeable change for a company that has literally decades of comparable-store strength, with annual same-stores sales below 2% just three times in the past twenty two years, and negative just once (2009, unsurprisingly) over that span.
Meanwhile, EPS growth was meager - less than 4% year over year. With Tractor Supply having to compare against a 53rd week in 2017, and comps possibly decelerating, a still-lofty valuation of over 26x the midpoint of 2016 guidance seems at risk, even with the stock off ~8% from recent highs.
I'm not quite ready to abandon my long-held respect for Tractor Supply, however. My concern traditionally has been price rather than execution, and from that standpoint, the post-Q2 decline looks like an opportunity from my perspective. There might be some near-term risk, and the Q3 report now looks extremely important in terms of investor sentiment. But, for a number of reasons, I'm not prepared to alter my long-term view towards TSCO, even after recent choppiness.
1. Q4 2015 and Q4 2016 don't change the long-term demand outlook.
Obviously, the key question coming out of Q2 is whether two rough quarters of late imply that Tractor Supply's long-term goals of 3-5% annual comps are too optimistic, and/or whether investors' long-term comp expectations should be lowered.
Honestly, that question can't be dismissed. Same-store sales growth has moderated over the past few, moving towards the bottom of the company's long-term range: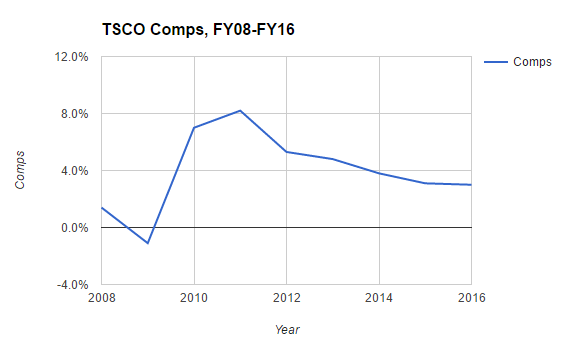 Source: Author from TSCO 10-K filings. 2016 figure at midpoint of guidance; 2011 and 2016 include extra comp day.
Even at 26x+ EPS, I don't believe the market itself is pricing in ~4% annual comp increases going forward. Given operating leverage and whitespace to expand the store count another 50%+, those types of expectations likely would imply an even higher multiple. But if even the choppiness of the past few quarters is emblematic of a "new normal" for TSCO, then current expectations still look too optimistic.
For its part, management was insistent on the Q2 conference call that recent results are not the result of some general slowdown in demand. Several executives cited weather as a driver of the weakness in the quarter, with that weather leading to lower sales of spring seasonal goods and so-called "big ticket" items such as riding lawn mowers. Tractor Supply traditionally had avoided using the weather as an excuse, but it apparently has become a bigger factor (at least according to management): Q4 was too warm (hurting seasonal sales of winter items), Q1 was more than warm enough (pulling forward spring sales out of Q2), and Q2 seems to have been a mess everywhere except the South.
I (and many others) have griped elsewhere about retailers using the weather as an excuse, but TSCO at least has been upfront, highlighting an estimated $18 million benefit from weather in Q1, for instance. Assuming even half of those sales were pulled forward from Q2, Q2 comps would at least have been positive, and against a very tough comparison (5.6% same-store sales growth a year ago). It certainly looks like Q1 benefited at Q2's expense: CFO Tony Crudele said on the Q1 call that 'big ticket' revenue had been helped by "early spring riding lawn mower and trailer sales" - exactly the category that was a key driver of Q2 weakness.
For now, I'm willing to give management the benefit of the doubt, and for the most part, the market is too: a ~6% decline from June 28th (the day before preliminary figures were announced) is a modest drop for a retailer in this day and age, even against the backdrop of broader indexes being at all-time highs. Management's argument essentially is that weather was too much to overcome this quarter, and given an 8% drop in big ticket sales (per Crudele on the Q2 call), Q1 pull-forward, and a tough comparison, that argument seems to hold water.
Livestock and Pet - the heart of TSCO's business, driving 44% of sales in each of the last two years, per the 10-K - comped mid-single digits per the Q2 release. Comparable transaction counts were up 1.5% (its 33rd straight quarter of growth), so traffic doesn't appear to be a concern. Rather, the major driver seems to be big ticket sales, impacted by weather, Q1 pull forward, and a tough comparison.
Not only were Q2 2015 sales strong overall, but the 'big ticket' category was called out as particularly impressive on the post-earnings call, and cited as the cause of a 130 bps increase in average ticket that quarter. As Crudele put it on this year's call, "Big ticket drove last year's increase and was the principal driver of this year's average ticket decrease." The rest of the business could have been better, but there's simply not enough reason to markedly change the long-term outlook on the demand side.
2. The model still looks intact.
If demand seems reasonably OK, the question then is whether other factors impacted the quarter, and that doesn't appear to be the case, either. TSCO has had a bit of difficulty with newer stores over the past few years, and the concern might be that those stores are becoming a bit of a drag on the top line as they enter the comp base: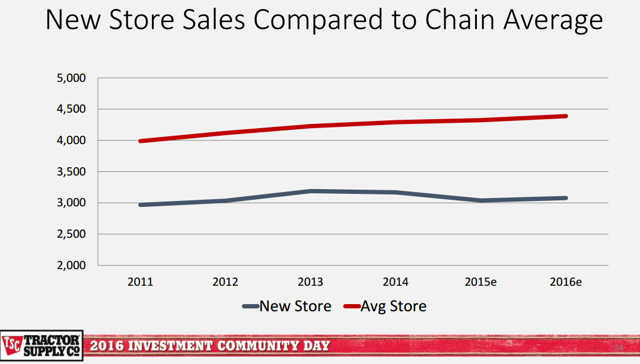 Click to enlarge
Source: TSCO 2016 Investment Community Day presentation
TSCO was asked directly where the newer base was responsible for recent weakness; CEO Greg Sandfort replied that wasn't the case. TSCO has said in the past that the Utah market was the primary cause of that early weakness, and Sandfort reiterated that claim on the Q4 call. New store productivity figures have declined, but at least from management's point of view, not to the extent that it would drive some of the recent weakness.
Competition doesn't appear to have changed much either, and while Tractor Supply was "slightly sharper on price," per Crudele, that appears more a response to early-quarter weakness than to promotional activities from competitors. From a long-term standpoint, the positive attributes of Tractor Supply's model - among them a level of protection from 'big box' and online competition, a base of customers who shop on 'need', not desire, and the lack of a similarly-scaled competitor - remain intact.
3. Margins are OK - for now.
Tractor Supply did see modest margin pressure in the quarter: gross margin fell 30 bps and SG&A increased 15 bps as a percentage of sales. But both moves are relatively unsurprising against the negative-comp backdrop, and neither implies some sort of shift in the business. Mix shift impacted gross margin negatively. While some of the 'big ticket' items have lower margin percentages, so do the C.U.E. (consumable, usable, and edible) items that drove the quarter's strength.
Missing out on higher-margin seasonal items appears to have had an impact as well. On the SG&A line, higher expense from a new distribution center in Arizona drove the entirety of the increase, with lower incentive-based compensation appearing to offset most, if not all, of the operational deleverage from the comp decline. The impact of the Arizona DC isn't unexpected.
That facility is part of the company's expansion strategy in the West, and Tractor Supply still is negotiating with vendors as part of a strategy to optimize the supply chain in and out of that state. Again, there's nothing to suggest some sort of elevated promotional expense or wage pressure that would eliminate or even reduce TSCO's long-term operational leverage.
Valuation
All that said, I certainly see an elevated level of risk relative to TSCO after the past three quarters in terms of the long-term case. In my opinion, it's too soon to materially change the outlook; but there is some room for concern, and it looks like Q3 will be closely watched. Tractor Supply has a reasonably difficult comparison (2.9% comp growth, 16% EPS growth) and from commentary on the Q3 call, there wasn't much, if anything, in the way of recapturing lost Q2 sales in July.
Still, $89 looks like an opportunity. 2019 targets imply EPS over $5, as I wrote after Q1, when the company still will have room to further store growth (25-30% by that point at the current pace), and those type of earnings likely imply at least double-digit annual appreciation including the ~1% dividend yield. For now, that case remains intact, and if Tractor Supply can get back to being Tractor Supply in Q3, double-digit appreciation seems highly likely before year-end as well.
Disclosure: I/we have no positions in any stocks mentioned, but may initiate a long position in TSCO over the next 72 hours.
I wrote this article myself, and it expresses my own opinions. I am not receiving compensation for it (other than from Seeking Alpha). I have no business relationship with any company whose stock is mentioned in this article.