Waste Management (NYSE:WM) tends to have the most earnings leverage to pricing versus the rest of the group. If commercial volumes continue to increase, there will be further pricing opportunity, as the sector appears much more rational now.
WM's pricing strategy to drive upside:
WM's strategy has always been focusing on core price and be selective with adding new volumes even at the expense of losing customers. WM is the largest player in the waste sector and it bodes well for both the industry in pricing and the company's profitability. When WM increases price 100% will drop to the bottom line for every $1 of incremental price increase.
I think WM has been successful with this strategy for the last two years. Mainly, WM's core pricing in collection and disposal has been up strongly, exceeding the company's target. Higher margin commercial has also shown continued strength recently, which is a good sign for the company.
WM's better pricing backed by industry trends help offset low CPI:
Around 40% of WM's contracts are tied to the CPI index. WM's growth for the last few years has been difficult due to low CPI, as it has only increased by 1.5% over the last 6 years versus 3% historically. Given low CPI levels, WM is trying to negotiate with its customers to move towards waste specific CPI Index and increase contract pricing to align with the industry cost. While this takes some time, WM is trying to offset this weakness by focusing on strong pricing in open markets.
Cash flow and best-in-class returns to share holders:
WM makes an attractive investment mainly based on its consistent and impressive cash flow generation. The company generates free cash flows in the range of $1.4bn ($1.2bn historically) which is by far the highest in the waste sector group. I think acquisitions and improved working capital will further grow FCF for the company further going forward. WM will continue to buy back stocks boosting its free cash flow per share over the next few years. WM is focused on replacing lost revenues and EBITDA after selling Wheelabrator.
The company used some proceeds from the sale for debt pay-down and reinvestment, although it has ~$400mn left to apply to M&A. WM is waiting for legal clearance for M&A (locked up currently). The company plans to buy companies at or below 6.0x levels as it expects 8.0x to 9.0x multiples for itself in the long term.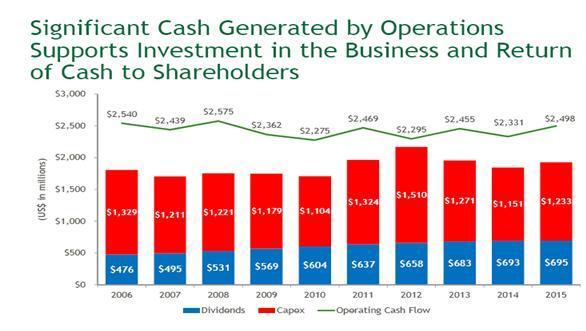 Source: Company financials
Opportunity on cost takeout:
From an operational standpoint, WM has cut SG&A and it plans to reduce further. The run rate of SG&A has reduced from 12% in 2002 to 10% in 2015. The company has reduced its head count to 10,000 plus employees and also the market areas from ~21 in 2004 to 17. The middle layer of management has been eliminated, which enables the company to be much more nimble than before. Going forward, I expect SG&A expense to be flat.
Well Positioned for Coal Ash Opportunity
In December 2014, EPA decided to control coal ash waste after several situations in which water was contaminated due to coal ash pits leakage. EPA will regulate coal ash under section D by setting specific standards for new and existing disposal sites of coal ash landfills by monitoring it frequently. This is a big opportunity as ~140mn tons of coal waste is generated by electric utilities each year. To put this in view, WM handles 100mn tons of MSW per year and operates at sites located in the Midwest, Southeast, and Texas among other players.
The company has a strong relationship with coal players that may be scrutinized by states, which will clamp down coal ash disposal. I believe the coal ash business will come in line in 2017 as EPA estimates the total cost of the rule to be $509-735mn per year, which will benefit WM in the long term.
Valuation
My price target of $72 is based on FY16 normalized EBITDA estimate of $4.2bn at a target multiple of 10x. WM has traded at an average EBITDA multiple of 8.0x to 9.0x over the last 5 years. The target multiple bakes in WM's more focused management team, better capital allocation and disciplined pricing strategy.
Current Trading Price $

Mcap

PE

EV/EBITDA

Company

Ticker

in $m

FY16E

FY17E

FY16E

FY17E

New Waste Connections

WCN US

73

12,810

30.2x

23.7x

14.9x

11.0x

Republic Services

RSG US

52

17,927

24.2x

22.1x

9.5x

9.0x

Clean Harbors

CLH US

53

3,065

na

38.5x

9.3x

7.8x

Waste Management

WM US

67

29,868

23.9x

22.0x

10.7x

10.0x

Average

27.2x

28.1x

11.2x

9.3x

Discount on peer average

-12%

-22%

-5%

8%
Source: Fundamental Investment estimates
Disclosure: I/we have no positions in any stocks mentioned, and no plans to initiate any positions within the next 72 hours.
I wrote this article myself, and it expresses my own opinions. I am not receiving compensation for it (other than from Seeking Alpha). I have no business relationship with any company whose stock is mentioned in this article.