Screaming headlines tout hands-free, self-driving, autonomous vehicles. The "smartcar/truck/bus/aircraft" evolution has arrived. The natural question is to ask, "Why?" What problem does a driverless car solve?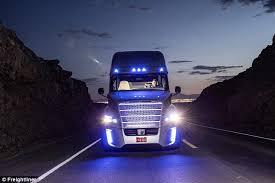 A business anthropologist I'm guessing spoke to automakers about generational priorities. "The Greatest Generation" after World War II bought big cars with tail fins, Naugahyde covered seats, Corinthian leather interiors (coined by an ad agency for Chrysler luxury vehicles), automatic shift, and speed. Alfred E. Neuman ruled with the slogan, "What, Me Worry?"
Baby boomers and Generation X (the latch key children from daycare and divorce) bought sleek and fast cars that answered their conundrum "what's in it for me?" The car became a tool of their freedom. The next cohort, Generation Y, bought more sophisticated and technologically inspired cars in new colors reflecting society's diversity. Powerful Hummers, SUVs, and family vans equipped came with an entertainment center, satellite radio, built in movie, cassette and CD players, TVs, antennas hidden in windshields, computerized gadgets and engines.
My international university students are millennials, Generation Z. They are hyper-aware, multi-taskers, and totally technology-reliant. They are the perfect target market for hands-free (Nissan (OTCPK:NSANY) calls their technology ProPilot) and self-driving cars. The futurists hit the bulls-eye when they advised carmakers to go in the smartcar direction ten years ago.
I suggest not investing in carmakers scrambling to be first to market. First, the hype reminds me about the rush to throw money at start-ups in the electric car and marijuana businesses; penny stock prices soared, IPOs went wild, and management was laden with characters having peculiar credentials. It's going to be decades before driverless smartcars hit the roads.
Second, the driverless smartcar market will not add much to profitability, because of the staggering investment costs in perfecting vision equipment, software, and public infrastructure. Wait until government regulators start adding demands. Third, are owners going to trust carmakers with their lives when carmakers cannot be trusted to honestly report pollution emissions and gas mileage?
Their PR people are already on the hunt renaming them from driverless and self-driving to Advanced Driver Assistance Systems vehicles. Sounds like Corinthian leather. Think Pinto, as one of my business students reminded the class.
The better bet for small investors are vision and chip making microcontroller and processor companies. Experts predict the market will jump 625 percent from 2013 to $500M by 2020.
Chart: July 20, 2016 Nasdaq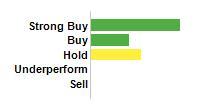 Mobileye (NYSE:MBLY) is a leader in smartcar computer vision with multiple strategic partners: e.g., Tesla (NASDAQ:TSLA), BMW (BAMXY), and Volkswagen (OTCPK:VLKAY). The stock sells for $48 per share with JPMorgan setting a target price at $55. Calls are 13 to one against puts. This Israel-based company is an R&D powerhouse.
Mobileye's EyeQ chip and algorithms have been integrated into new car models since 2007. Officers have a track record of business success, and others are from a wide range of disciplines in military, corporate and university research. This is a great long-term buy if investors are willing to bet on growth or a buyout.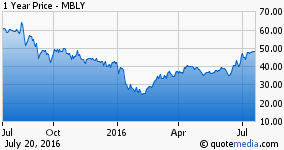 Something more affordable is three decades old STMicroelectronics (NYSE:STM). Share price is $6.25. The low was $5.11 and the high $8.04 over the past 52 weeks. STM leads in innovation and production of automotive semiconductors. STM owns dozens of design, manufacturing and distribution sites around the world. The demand for STM microcontrollers and automotive products are reportedly what's pushing revenues the past three years.
The dividend rate is .24 and the current yield 3.9. STM's market cap is about $5.5B and annual revenues are $6.8B. Despite having thousands of products for hundreds of industries, STM's website prominently promotes its Smart Driving products "making driving safer, greener and more connected through the fusion of several of our technologies." Analysts expect STM to rise to $8 per share. This is a safe harbor to park money and participate in the smartcar business.
Chart: July 20, 2016 Nasdaq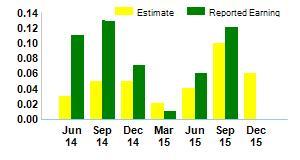 The answer to the original question, "Why?" is because it's the path already chosen. The greatest automobile innovations of our time are enabled by electronics. The smartcar already employs advanced consumer technology for toll way drive-through, parking payments, Bluetooth, and mapping. Municipal boot trucks and drones read computer chips, so they can easily locate and boot cars for unpaid tickets, locate stolen vehicles, and blow up fugitives from space.
The smartcar industry is a good investment, because technology solves these inconveniences:
Personal care: Apply makeup, change clothes, change a diaper, eat breakfast and snack, spoon hot soup, or turn around scream and yell at the kids in the back so they can see your scrunched up face.
Education: Finish homework, reading the book, newspaper, and emails.
Entertainment: Play a keyboard or guitar no longer needing to steer with one hand, crochet and finish that sweater, watch a good video.
Socialization: Party, smoke, drink-and-"drive," do drugs; the "driver" is not steering the car, so when the police ask the person behind the wheel if there is one because now - the "driver" has a choice of seats - which car caused the accident, the driver seat occupant can honestly say (like my three-year-old granddaughter), "Not me," and avoid a ticket.
Exercise Options: Do isometric exercises, or sleep in the smartcar until it arrives at work, school, or home just like on the old fashion train. "Drive tired" will be as popular an ad moniker as Corinthian leather.
Business: The smartcar doubles as an office with a printer and computer screen, so the "driver" can type messages, do deals, trade stocks, etc.
Other: Pick your nose at leisure, play with the dog; eliminates road rage, taking two spaces in a parking lot, sneaking into handicap parking spaces, and car horns no longer needed.
Infrastructure: Computers talk with road sensors regulating car speed, stoplights, passing opportunities. Smartcar pilot automatically adjusts to "road hazard ahead" warnings from Waze.
My students are looking forward to autonomous self-driving hands free. Just make the interior mirrors bigger.
Disclosure: I/we have no positions in any stocks mentioned, and no plans to initiate any positions within the next 72 hours.
I wrote this article myself, and it expresses my own opinions. I am not receiving compensation for it (other than from Seeking Alpha). I have no business relationship with any company whose stock is mentioned in this article.