Why Another MGT Article?
Regardless of your opinion of the media figure that is MGT's (NYSEMKT:MGT) John McAfee, it is hard to deny that he is an industry pioneer. If you take away his previous success as a software developer, we are left with a very flamboyant and outspoken advocate for privacy and security. The former Libertarian presidential candidate is something of a paradox in terms of how a traditional CEO should behave. Fortunately for those who need a breath of fresh air, John McAfee is anything but traditional. Sometimes when following the drama around this company, I forget that it is not season 2 of the popular show Mr. Robot.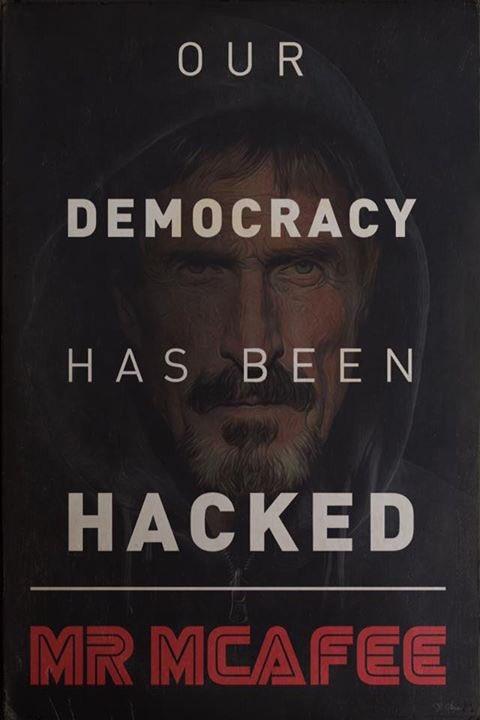 Due to these circumstances, much has already been published about this special situation regarding McAfee's personal life and the recent reverse merger. While I commend my fellow contributors for their efforts toward objectivity, I can no longer ignore their framing of these events to paint a subjective context. In light of these recent articles, I wish now to offer my own insights as a rebuttal to their short thesis.
What the Bears Haven't Told You
MGT is at its core a company intent on acquiring intellectual assets, although the short thesis would have the less informed among you believing that the recent technology acquisitions are a new occurrence for the company. They will insist this is nothing more than a "pump and dump" scheme, somehow orchestrated by John McAfee, Atari founder Nolan Bushnell, Demonsaw founder Eric Anderson, and D-Vasive Founder John Clore, but that would be a gross misrepresentation of MGT Capital Investments.
*Please do some back reading on the topic if you are new to MGT as this article is already lengthy enough and assumes a working knowledge of the company. Admittedly, I originally phrased this next section in a way that may lead investors to think MGT still had a legitimate claim to the mentioned patent. That was not my intention but an unfortunate oversight in tense usage after several revisions of this article. I have enclosed the 3 clarifications within "* *" tags into the original text. I only mention this matter to highlight the motivations of previous short interest.
Since the scope of this article is to focus on the proxy vote to be put forth to shareholders, let's start with the questions raised by the description of the 14A itself: "Preliminary proxy statement not related to a contested matter or merger/acquisition." The contested matter *I would like to talk about* relates to the acquisition of a patent filed in 2001 by Steven Brandstetter. His method of networking electronic games of skill in a way that gamblers could compete against each other in "bonus rounds" was widely adapted in Las Vegas casinos.
Despite the evident adaptation of his idea the U.S. Patent and Trademark Office labored almost an entire decade to clarify the scope of the invention. In the 10 years preceding the original filing date, Brandstetter felt that he wasn't being compensated by the gaming industry that was now using his method of enticing gamblers to bet more of their winnings. In order to seek royalties owed, Brandstetter sold to a division of MGT the rights to 55% of his patent, 7,892,088.
It is this asset that I feel has been the keystone to understanding the entire past, present and future direction of MGT. In May of 2011, Mr. Brandstetter individually sued International Game Technologies and Bally's Gaming, Inc. for fraud and conspiracy. There are now large royalties assumed to be owed to both Brandstetter and MGT through the patents filed by these defendants. MGT placed a high-end value of this at ~$4.5 billion. Even with the inventors cut and assuming a standard one-third take for the experienced law firm which has seen progress in asserting the company's claim, there would be enough meat on the bone to entice in-house fighting among insiders. That may have been exactly the catalyst that led MGT stock to be at the precariously low value at the time of McAfee's arrival.
MGT Was the Victim of an Attempted Hostile Takeover
When I wrote, "MGT, Hackers and Hedge Funds, Oh my!" I cited the very public battle between Robert Ladd and a rouge director, Iroquois "hedgie" Joshua Silverman. Upon further research, it appears that this entire episode was an attempted takeover against MGT's leadership in order to maintain control of any award granted through the extremely lucrative gaming patents.
I circumstantially believe that Silverman attempted to impose his own agenda by having Ladd appoint Iroquois' own private equity cronies as MGT board members. When Ladd refused, Silverman allegedly threatened to manipulate the company's stock to the point of potentially being unqualified for the continued liquidity provided by major equity markets. The goal of Iroquois may have been to short MGT down to the sub-dollar level and use those profits to force the company to sell its majority interest in the gaming patent.
"I am going to crush you and drive your stock down to 50 cents."

-R. Ladd quoting Silverman to journalist T. Buhl
Ladd went public, doing his own legwork to tie associates of Silverman to the apparently successful stock manipulation. As Ladd explained, Silverman's associates were "rat holes" acquiring shares of MGT that could be dumped on the market and outside of the scope of SEC regulations.
Eventually, Ladd and Silverman settled, the outcome being that Iroquois Capital no longer holds any representation on the MGT Board of Directors while maintaining their sizable position. Ladd, an experienced hedge fund manager himself, is not without blame for letting this happen on his watch and will still stay with the company as a director upon stepping down as CEO.
A Reverse Merger to Maintain Control of MGT
For the most bullish long and perhaps the amusement of the skeptical shorts, I will attempt to argue that McAfee is sincerely a white knight and the D-Vasive acquisition is the horse that he rode on. If that is a hard pill to swallow, consider that in an evident stalemate, Iroquois, through Silverman, still owned a significant stake in MGT prior to the reverse merger. When you consider the initial proposal to grant 28% percent of MGT to Demonsaw and 47% going to D-Vasive, it seems apparent that the reverse merger is an anti-take-over device. When bears argue that McAfee used stock promotion and was paid to keep the stock above certain levels, please consider that by promoting the stock through McAfee's name, it provides the upcoming shareholder vote a new source of investors to leverage power away from the private equity company that may have battered the shares down to begin with.
Unlike an IPO that has already diluted its equity by having shares of common stock valuated prior to being offered to the public, this merger seeks to the opposite. Investors have the opportunity to set a realistic price for what they feel the acquisitions and future operations are worth. This allows management to set realistic goals based on available funds raised through the issuing of shares. This may prove to be a better long-term option compared to the IPO process that could lead to overvaluation and the resulting sharp drop-offs in share price and secondary offering.
The drawback to this approach is that if shorts can continue to control the conversation as well as the trading, then they can manipulate MGT's ability to raise enough capital to efficiently operate without taking on debt or prematurely selling assets. MGT at any time could *have sold* their interest in the patent in order to finance some of these new operations but that would fall right into the hands of their private equity opposition. If the well of speculative investors dries up, then the company will be vulnerable again to hostile takeovers.
It is through this reverse merger that the company began to have an actionable plan within compliance of the SEC to implement the anti-takeover measures mentioned in the preliminary proxy statement that has been ignored by my fellow S.A. contributors.
By having an appropriate business model that would require the need to increase the number of shares from 75,000,000 to 250,000,000, MGT will be operating under its own steam and away from the influence of the private equity interest that have attempted to usurp the company. The subsequent reverse stock split proposed would be used as a device to bring outstanding shares back to reasonable levels at a time when the operations of the company can provide further guidance. By waiting for the price of MGT to up on revenue and EPS projections rather than speculation, the reverse merger at least in theory will all but illuminate Iroquois influence over the price of the common shares.
I could be dead wrong, but ask yourself this: Why am I the only one sharing this information with investors in the hopes of continuing the conversation?
Time to Be Objective
To give shorts their credit, McAfee is no stranger to the SEC in his previous ventures. The only tangible concern about the incoming CEO stems from a decade's old case where McAfee Inc. overstated revenues by 131%. McAfee's previous company agreed to settle without admitting or denying guilt. To make the case stronger for the bears, McAfee's initial consulting agreement awarded him a bonus if MGT stock was to achieve certain benchmarks. Initially, it did seem as if he may have been attempting to mislead shareholders through MGT's innovative way of reaching out through social media.
Although I'm now optimistic almost to the point of being considered a "fanboy" of MGT, that was not my initial sentiment. From the onset of his arrival, I was very skeptical of McAfee's intentions. In the interest of transparency, consider my tweets from May. You can watch me accuse McAfee of being a manipulator, reconsider a hypothetical position, and finally, come to my current opinion. How I managed to reach this conclusion was through my own due diligence and backtracking of company insiders. This also led me to write my most successful article idea to date, shorting XGTI based upon poor managment and the arrival of Silverman's Iroquois beneficial ownership.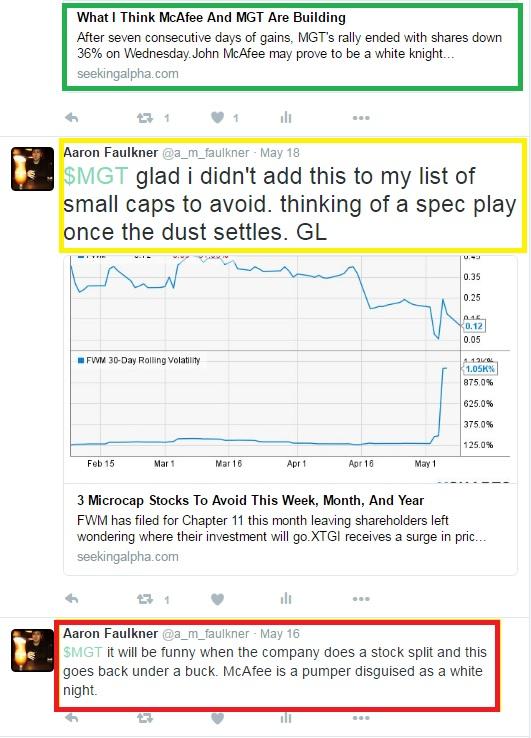 Unfortunately, for those who continued to short MGT in hopes that a halt to trading or a crash in the stock would happen due to John's competency to hold the positions of a consultant, CEO and Executive Chairman have proven so far to be disappointed.
It seems that in the face of proposed dilution and a reverse split the free market system is continuing to build an equity base of optimistic investors for these expansive projects. The only question of legitimacy about the company that remains in the unforeseeable future that shorts are only framing in a negative context. I purpose that if skeptics are misinformed or willingly blind to the point of overlooking the topics I have brought before you, then why take their warnings that the stock will drop back to under a dollar seriously? It is clear to me that they lack any forward-looking-thinking outside the scope of stock analysis that does not accurately represent disruptive technology or a reverse-merger.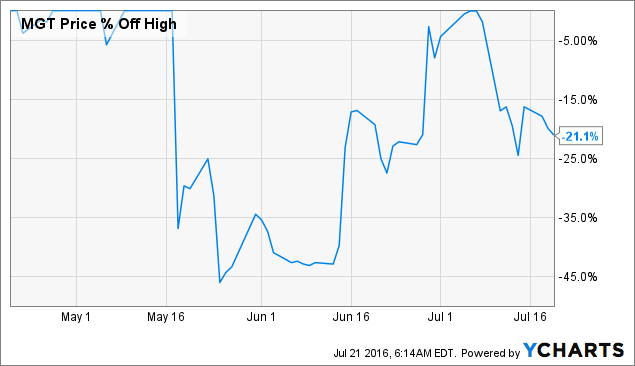 MGT data by YCharts
Even with pressure on the shares due to the limited capital of the company and lack of a product to offer revenue guidance, shares returned to their 52-week-high prior to the proxy's release. Despite successful shorting on the news that dropped shares nearly 25% from their high, by the end of the week, a reversal had begun.
At a time when the bearish camp would have those interested in MGT believing that the shares are set to head back to under $1, that has again been proven untrue. Shares of MGT slipped away from their high after McAfee's arrival without revenue guidance and a product offering but are showing strong support at $3.30. Even if that were to break tomorrow, the decline would be limited due to the strong support shown in the mid $2.00 range after the profit taking from the ~1000% rally.
MGT has attracted speculative long investors but also landed inclusion on the Russell Microcap Index. It seems as if McAfee's involvement is legitimizing the company and bringing in access to additional liquidity. With new buyers ready to purchase the newly issued shares, these investors provide the needed capital in order to complete the initial phase of this advantageous endeavor. While the bearish thesis would argue that this is early evidence of MGT misleading shareholders, such a notion lacks any insight into the current condition of the company.
"We are pleased to be included in the Russell Microcap Index, which immediately provides us with a group of stable index investors for the company's stock"

-John McAfee, proposed Executive Chairman and CEO of MGT Capital.
Of course, if we ignore the company's motivation for these new anti-takeover measures while forgetting that they, in fact, have initialized new revenue streams, then shorting becomes reasonable. Fortunately for those who seek transparency, it has become obvious by the sheer number of articles published that many are ignoring these topics out of personal motivations.
Have They Forgot About Bitcoin Revenue?
Where an IPO would be a lengthy process, a reverse merger streamlines the rebranding process while keeping the bulk of the capital raised inside the company rather than financial underwriters. MGT is to start generating in-house revenue on August 1, 2016, less than two weeks away from the most recent bearish article being published. Because of the volatility and other variables based on the hardware used to solve these complex computer algorithms, comparing bitcoin operations is a bit tricky. To those interested in scaling this operation, I offer a comparable miner, Dave Carlson, who reported having earned $8,000,000 per month in his Washington State Bitcoin mining operation.
Although MGT's new mining operation will have more powerful chipsets for faster processing that Carlson's, MGT has entered the industry during a historic anti-inflation and decentralization measure referred to by "the Halfling." This event means that miners will only earn half of the reward per block solved that was previously granted. This may seem like a drawback at first but consider the overcrowded mining space. The halfing is thought to only hinder smaller operators who now have an insolvent business model. With twice the capacity as Carlson and with hardware approximately twice as fast due to hardware developments, MGT may eventually exceed Carlson's operation.
What Investors Are Getting With D-Vasive and Demonsaw
Now on to the most controversial aspect of the reverse merger, the acquisitions of D-vasive and Demonsaw. The final price tag being put to a vote is 43,800,000 shares being issued for the D-vasive and Demonsaw package. This means ~63% of the company's outstanding shares will be exchanged for these two pieces of software.
The bearish thesis has put for the claim that D-Vasive and Demonsaw generate little-to-no revenue to justify the granting of shares to the "D-Vasive Sellers." This is, in fact, true but to ignore the reason for the acquisition in light of the previous takeover attempt shows either a lack of diligence or outright bias. As the device in which the critical anti-takeover measures were implemented, D-Vasive gives MGT an initial entry into the booming cyber security industry.
I caught up with D-Vasive's creator, John Clore, in the public Demonsaw chat room. Mr. Clore, as well as "Eijah", use the Demonsaw community to chat with other network engineers and programmers as well as anyone who is interested in the software's applications. You can catch them "at work" almost every day attempting to fulfill the promise to shareholders set by John McAfee. Mr. Clore offered me his insights when asked for a comment on the D-Vasive acquisition.
"D-Vasive's software is a foothold in the privacy community that instills confidence in MGT's commitment and dedication to developing and delivering privacy and security applications to consumers and businesses alike.

MGT is moving forward as a leader in the privacy and security sector by being proactive with a keen eye for acquiring talent and revolutionary software products.

Running on Real Time technology, D-Vasive revolutionizes the way privacy protection secures user data without the use of any database definitions or the need for root access. We at D-Vasive are highly committed to preserving privacy on the technology front. D-Vasive is the epitome of a grassroots movement with a focus on the individual."

-D-Vasive Creator, John Clore
These insiders within the organization are only willing to discuss the scope of information already publicly known. That is not to say that there is not more information out there. As Mr. Clore points out, MGT bought these assets not to market them in their current form but repackage them as flagship enterprise products capable of meeting the needs of corporations and government entities.
A Small Glimpse at the Future
At DefCon 24 in Las Vegas, August 4-7, Anderson and MGT will unveil Demonsaw version 3.0 and the newest release notes include future features that extend past this next release. One promising addition is Demoncast, the purposed Voice Over IP service that also will allow for live video streaming. With the addition of those features, Anderson has given investors a product to compete with other popular encrypted communication technology like WhatsApp. As the market accepts the high-end valuation of $22,000,000,000 placed upon WhatsApp, Demonsaw attempts to compete directly against the entire array of file sharing and network communications.
For example, on the road map for v3.1 is two-way-file syncing. This feature's notation provided by volunteer Demonsaw liaisons entrusted to help "Eijah" grow the community, which simply states "#dropdropbox." This could give investors the impression that as CFO of MGT, Anderson intends to campaign directly against the "big boys" of file sharing. Dropbox (Private:DROPB) has a ~$10,000,000,000 valuation and has become a major player in cloud storage. While Demonsaw already has the ability to remotely share files through "headless routers," and with the addition of Two-Way-Syncing, the software will grab the attention of privacy advocates as well as torrent enthusiast.
Eric Anderson already is placing MGT on the path to challenging the dominance of these popular networking applications while the ink on the check is still wet.
I wrote this article in preparation for my upcoming trip to DefCon 24 in order to be on-hand for what I believe will be a historical event for the company that will provide investors with the biggest piece of the puzzle yet. Mr. Anderson has been gracious enough to give Seeking Alpha readers the opportunity for a first-hand look at the technology and vision of the company that seeks to inspire change to the landscape of network security. I promise that our full interview will offer readers an exclusive insight to the complex programmer, ethical hacker and now CTO, who is leading the technological developments behind your potential investment.

Conclusion: Still Bullish
Despite the hard work of shorts who have insisted from the early onset that the company is nothing more than a shell, devoid of any merit worth investing, MGT has provided shareholders with a feasible plan to re-brand the company. When the bearish argument claims that the company has no source of revenue, they are ignoring the gaming patents that could *have* provide the company with enough capital to fund the entire McAfee venture. The outcome of this litigation is inconsequential to refuting the short thesis. You will not find one mention of this potential cash infusion, the attempted hostile takeover, or the motivation for the reverse merger in any of their arguments against the company's legitimacy.
Why then, should we as investors, take their outlook to mean anything other than an admission of their prejudice? Please remember that in these special situations that not even John McAfee himself knows what the stock will do a daily basis. I maintain that if one is considering a long-term speculative position seeking returns in one to three years, MGT will prove to be a worthwhile investment even with the purposed dilution.
Thank you for taking the time to read this opinion based article that will serve as a base for future work as I follow the developments within MGT and partners. Also, if you would like to be updated when I begin my coverage at Def Con 24, please click the follow button on this page. I'm sorry that I did not get a chance to cover the different board and advisors I feel also legitimize this venture. Within the organization lays the collective intelligence and experience to improve the infrastructure of cryptocurrency economies as well as provide government contracts. I hope to expand on these takeaways at a later time.
Disclosure: I/we have no positions in any stocks mentioned, and no plans to initiate any positions within the next 72 hours.
I wrote this article myself, and it expresses my own opinions. I am not receiving compensation for it (other than from Seeking Alpha). I have no business relationship with any company whose stock is mentioned in this article.
Editor's Note: This article covers one or more stocks trading at less than $1 per share and/or with less than a $100 million market cap. Please be aware of the risks associated with these stocks.