I wrote "Chinese electric vehicles companies about to boom" back in March 2015. The graph below shows what happened next. At that time, the top selling electric vehicle (EV) companies in China were BYD Co (OTCPK:BYDDF) (HK:1211), Kandi (NASDAQ:KNDI), Cherry, Zotye, and BAIC (HK:1958).
In this article, I will take a look at what has happened since then, where the market is today, and where it is heading. Also a brief look at the top EV sellers, and ways to invest in the China EV boom.
China monthly plug-in electric vehicles (PEV) sales rising strongly after March 2015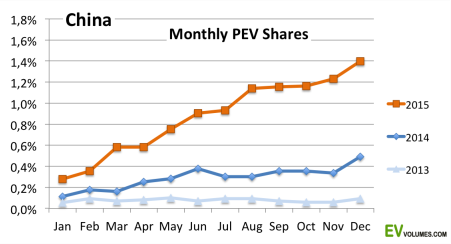 Chinese EV sales until now (July 2016)
As you can see from the graph above and below, 2015 was the breakout year for EVs in China. Chinese EV sales surged 223% to 188,700 units sold in 2015, for a total of 0.9% market share. So far in 2016 EV sales have reached around 170,000, so are on track to rise around 100% in 2016, and hit 1.75% market share. Now that's an impressive 2 years of growth, and indicates to me China has started the rapid rise in penetration following the S curve. More on that later.
China annual PEV sales 2010-mid 2016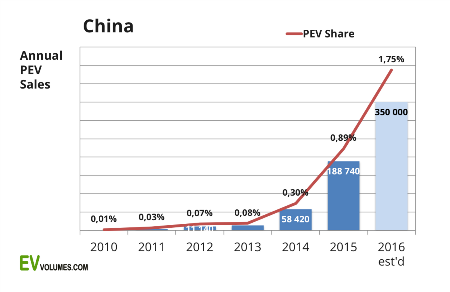 China EV sales growth is leading the world at 102%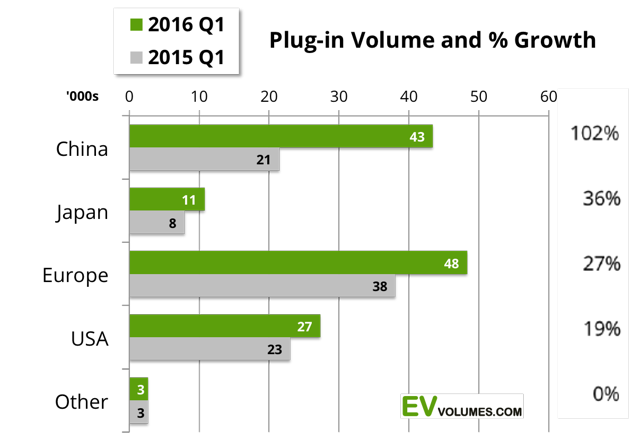 Click to enlarge
EV sales going forward (2017-2020)
Given EV subsidies in China will reduce by 20% in 2017 and 2018, and by 40% in 2019 and 2020, we can expect some slight slowdown in the 100%+ growth rates of the past 2 years.
Nonetheless, incentives will keep EV sales going strongly, as will falling EV prices due to lithium battery prices falling, an ever increasing charging network, and Government strategic priority towards EVs. A few quick facts to support this:
Smog Pollution in Beijing, China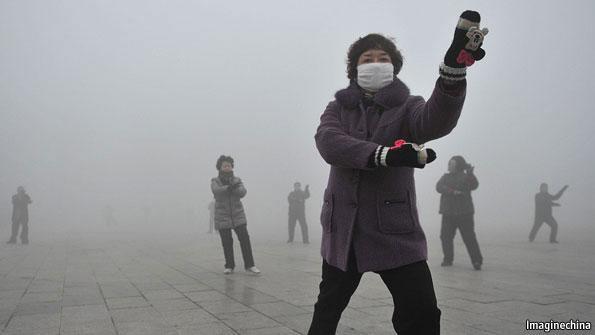 History has shown that to get to 1% market penetration can take many years and many company failures. It took 16 years (1896-1912) for the automobile to reach 1%, then it grew to 70% market penetration in just 30 years (1912-1950) (see graph below). Interestingly EV penetration in China is now just over 1% of new sales, and globally it is also around 1%. This signifies the EV boom has just started, and we can expect it to last 38 years, if we base it on the original automobile boom.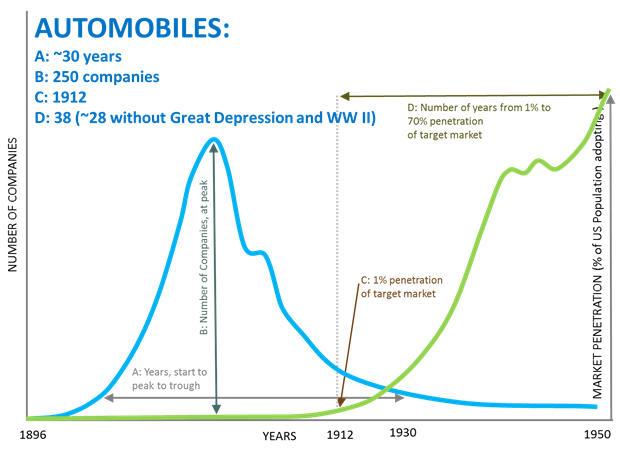 Boom

Number of years to go from

1% to 70% market penetration

Years (1%-70%)
Automobile
38
1912-1950
Color TV
20
1965-1985
Personal computer
24
1980-2004
Internet
10
1995-2005
Smartphone
10 (estimate)
2007- ?2017
Solar PV
26 (estimate)
2014- ?2040
Electric vehicle
14 (my estimate)
2016- ?2030
Energy storage
20 (estimate)
?2020- ?2040
The graph below shows in recent history we are adopting to new technologies quicker than we did before. Obviously we tend to adopt cheaper (smartphone) new technology quicker than more expensive big ticket items (solar, EVs). My estimate of 14 years for EVs to move from 1% to 70% penetration is based on recent technology adoptions being quicker, needs based (urgent pollution problem), EVs will be 5-10 times cheaper to run and maintain, EVs will be the same price to buy by around 2022-2025, and EVs perform better and last longer.
S curve adoption of technology in the US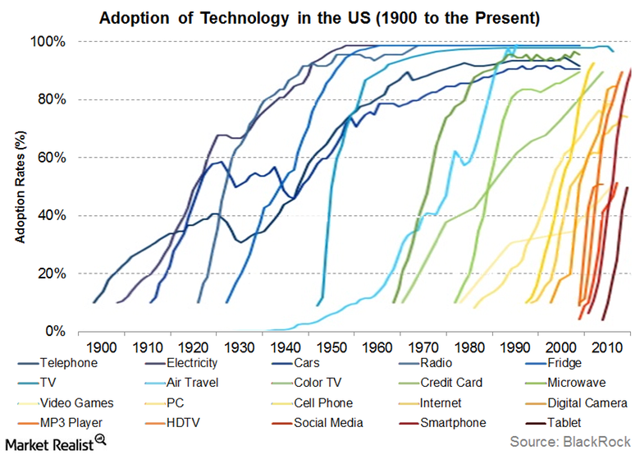 Click to enlarge
By 2020
I expect that by end 2020, 60kWh EV prices will be around USD 26,000, and around 8% of all vehicles sold globally, based on my own research and estimates. I see this rising to 40% by end 2025. Barings estimate 7% market share by 2020, and 100% by 2030. Tony Seba forecasts 100% EVs by 2025.
My updated EV penetration forecasts (China and global)
| | | | | |
| --- | --- | --- | --- | --- |
| By year end | 2020 | 2025 | 2030 | 2035 |
| % market share | 8 | 40 | 70 | 100 |
Barings summarizes very well:
"We believe a 15-year average timeframe for complete disruption of the ICE market (in other words, that EVs make up 100% of the global car pool by 2030) is probably a fair estimate and that the key driver, currently overlooked, is the rapid and continuing decline of rechargeable lithium-ion battery costs."
The S curve shows disruptive technologies take typically 10-30 years to move from 1% to 70% penetration.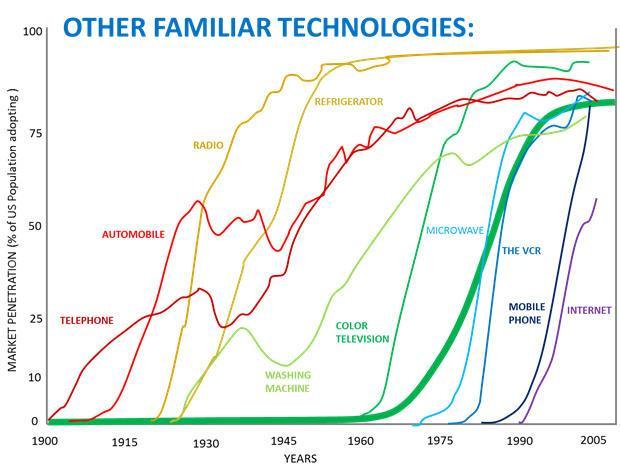 How should investors play this trend (with a focus on China)
1) Buy the top selling Chinese EV car makers.
This would mean buying BYD Co, BAIC, SAIC (SS:600104), JAC (SS:600418) and Kandi, as you can see they are the top year to date sellers of EVs in China.
China EV sales by company to end June 2016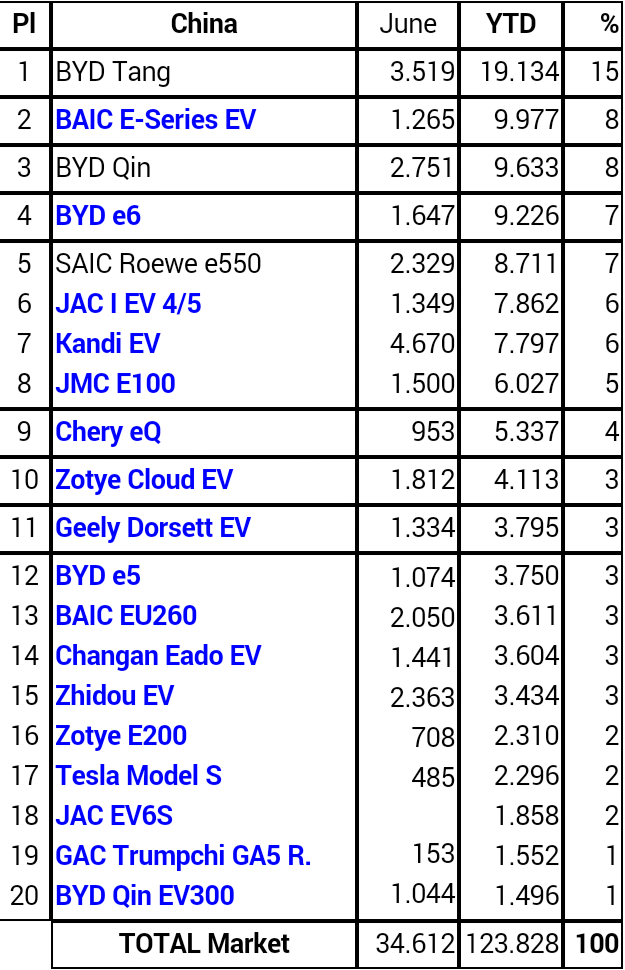 Investors should note from the table above only one foreign company, Tesla (NASDAQ:TSLA), made the top 20, and that was in 17th position. This should teach investors that the foreign car companies will have a tough time penetrating the world's largest EV market. It is best to buy the top 5 Chinese EV companies in my view.
2) Buy the battery companies that supply China.
Top 5 EV battery manufacturers in China
| | | | | | |
| --- | --- | --- | --- | --- | --- |
| | No 1 | No 2 | No 3 | No 4 | No 5 |
| Company | BYD Co | CALB | Guoxuan | Microvast | CATL |
| GWh production capacity | 4.5 | 2.0 | 1.5 | 1.5 | 1.4 |
Note: Many of the above have large expansion plans such as CALB 5GWh new factory currently under construction. BYD is also expanding rapidly. Microvast has 4GWh factory under construction. CATL supplies BMW.
Lishen currently has 1GWh of production capacity, however has very large plans to expand. It's a subsidiary of state-owned China Electronics Technology Group Corporation (NASDAQ:CETC).
China BAK Battery (NASDAQ:CBAK) has current production capacity is 0.6 GWh. BAK is considered as a pioneer of cylindrical EV batteries in China and is listed on NASDAQ.
The global battery giants of Panasonic (OTCPK:PCRFF), LG Chem (OTC:LGCLF) (051819:KS), Samsung SDI (OTC:SSDIY), and Tesla all find it difficult to sell in China against strong Chinese competition. Nonetheless they all have very strong and expanding battery businesses servicing the global market. In particular LG Chem supplies Volkswagen/Audi (OTCPK:VLKAY), Chevrolet/GM (NYSE:GM), Ford (NYSE:F), Hyundai (OTC:HYMTF), Renault (OTC:RNSDF), and Volvo (OTCPK:VOLVY).
3) Buy the lithium miners that supply China
The lithium miners with the strongest Chinese connections are;
Chengdu Tianqi (SHE:002466) 51% and Albermarle (NYSE:ALB) 49% - Tianqi are a massive Chinese company that own 51% of the Talison's Greenbushes mine in Australia, the largest lithium supplier to China. Albermarle owns 49%.
Ganfeng Lithium (SHE:002460) 43.1%, Mineral Resources (NYSE:MIN) 43.1%, Neometals own 13.1% of the Mt Marion lithium mine in Western Australia, that supplies China.
Galaxy Resources (OTCPK:GALXF) (ASX:GXY) - Galaxy recently took over General Mining, and are now 100% owners of the Mt Cattlin lithium mine. Galaxy sold their lithium conversion plant to Tianqi when restructuring their debt 2 years ago, which has meant they now have strong links to around 30 battery manufacturers in China.
For most investors it will be difficult to access Chengdu Tianqi and Ganfeng Lithium as they are only listed on the Shenzhen stock exchange, and are very highly priced right now. Albermarle can be an ok choice, however only around 25% (and growing) of it's revenues come from lithium. Galaxy Resources would be my choice of a pure lithium miner with the best Chinese connections, along with Mineral Resources.
Conclusion
The world has begun switching to EVs and is hitting the critical 1% market penetration level in 2016, with China and Europe already there. China is growing at the fastest pace (227% in 2015, and 102% so far in 2016), with Europe not too far behind. Noting Norway is in a league of it's own with 22% EV penetration in 2015.
History has show us once new technologies reach 1% market penetration, they then take off quickly following the S curve. We are just in the first round of a massive change from ICE cars to EVs, that I expect will take 10-20 years to complete. As a result of this disruptive change there will be many winners and losers, and investors will need to be patient and ride some ups and downs.
Right now the winners in China are companies like BYD Co, BAIC, SAIC, JAC, Kandi, CALB, Guoxuan, Microvast, KATL, China BAK Battery, Chengdu Tianqi, Ganfeng Lithium, Albemarle, Mineral Resources and Galaxy Resources.
Given EV penetration in China is only around 1% now, and I believe likely to grow to 8% EV penetration by the end of 2020 (4.5 years from now), then 40% penetration by the end of 2025, 70% by end 2030, and 100% by end 2035, investors should jump onboard and be sure not to miss the ride.
Note that I have reduced slightly my estimates from my article "electric vehicles will be affordable and popular by 2020", where I had forecast 10% by 2020, and 50% penetration by 2025.
As usual, all comments are welcome.
Disclosure: I am/we are long BYD CO (HK:1211), GALAXY RESOURCES (ASX:GXY) , ALBERMARLE (ALB).
I wrote this article myself, and it expresses my own opinions. I am not receiving compensation for it (other than from Seeking Alpha). I have no business relationship with any company whose stock is mentioned in this article.
Additional disclosure: The information in this article is general in nature and should not be relied upon as personal financial advice.
Editor's Note: This article covers one or more stocks trading at less than $1 per share and/or with less than a $100 million market cap. Please be aware of the risks associated with these stocks.