Every quarter, we pay particular close attention to what Core Laboratories ((NYSE:CLB) or Core Lab) has to say about US production. Now be mindful that Core Labs has in its own interest to pump up the sentiment on the overall oil markets as it derives its revenue from oil and gas companies. Without activity around drilling, Core Labs' own fundamentals would suffer.

Click to enlarge
Now that the bias is laid out, CLB has deep insight into oil and gas production as it provides services like production enhancement and reservoir management. It works closely with oil and gas companies to get the best out of the reserves, and find efficient and cost effective ways to drill. Because of this role, CLB has the knowledge base on the decline rates, and various other metrics that helps it get a good view on the overall oil market.
In its Q2 earnings, President & CEO, David Demshur talks about the outlook for US production.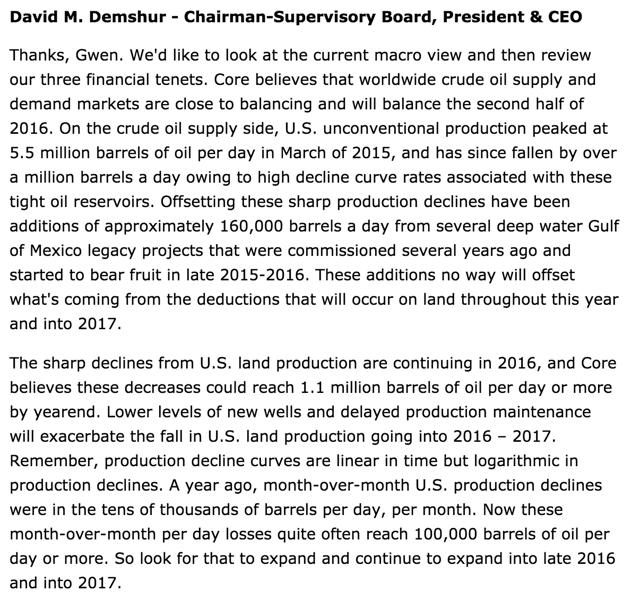 Click to enlarge
What's clear to us from his remarks is that the declines are finally starting to kick in. Many participants expected to see large declines last year, but was disappointed to see that production barely rolled off. As we highlighted in our weekly inventory reports, estimates for US lower 48 production continues to decline despite WTI recovering from $26 to $45. The decline rates have actually increased week over week as the same amount of barrels are rolling off on a smaller base. Similar to CLB, we expect US production to end the year around 8.2 million-8.4 million b/d and do not see production stabilizing till second half of 2017.
Gulf of Mexico projects are keeping overall declines relatively modest, but the increase in decline rates we are seeing on the offshore end will keep the overall growth modest.
Onto the global oil market front, CLB thinks that global supply won't keep up with the natural decline: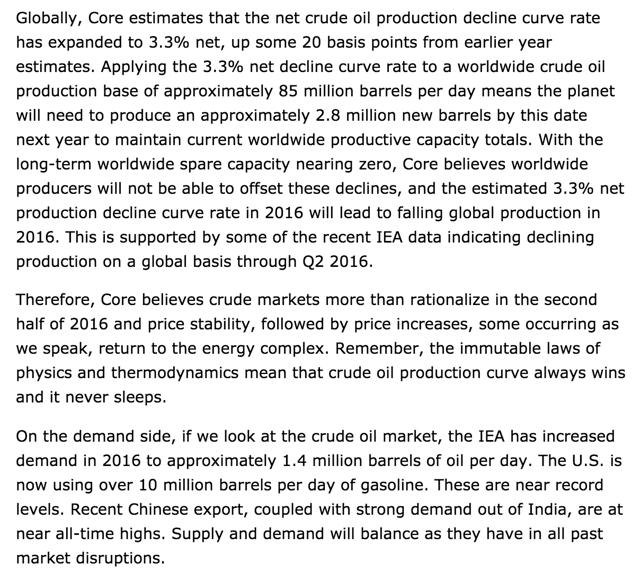 Click to enlarge
People sometimes forget that global oil production shrinks every year and that additional supplies need to be brought online just to keep production flat. CLB expects decline rates to expand to 3.3%, and that could mean 2.8 million b/d that needs to be replaced. If demand continues to grow at 1.4 million b/d, the delta would be 4.2 million b/d.
Going into 2017, the decline rates might bump up more, and if demand continues, the delta could remain wide. If US production won't increase, then the bulk of the delta would need to be supplied by OPEC and Russia. Estimates so far points to the market being in undersupply territory next year with storage remaining an issue. Once surplus crude (NYSEARCA:USO) is resolved, the market will focus more attention on the supply shortfall and prices could materially increase.
What do you think about CLB's commentary on global oil supplies? Let us know in the comment section below!
Thank you for reading our Oil Markets Daily. If you want to read more of our articles, please be sure to hit the "Follow" button above. We also write a weekly HFI portfolio update for premium subscribers. You can read a sample weekly update here and view our delayed one-month portfolio update here. We hope you can join the HFI community.
Disclosure: I/we have no positions in any stocks mentioned, and no plans to initiate any positions within the next 72 hours.
I wrote this article myself, and it expresses my own opinions. I am not receiving compensation for it (other than from Seeking Alpha). I have no business relationship with any company whose stock is mentioned in this article.