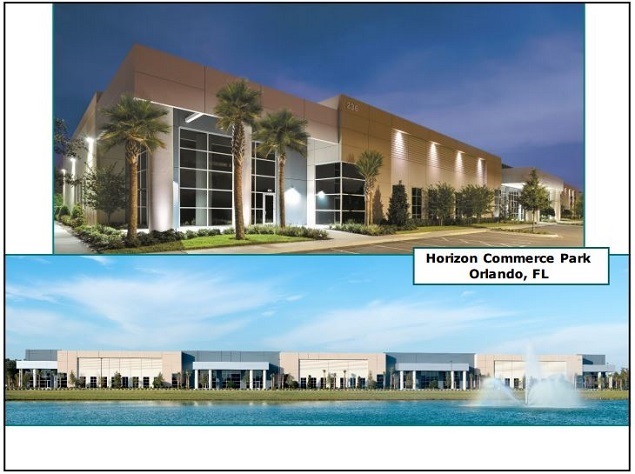 Source: EastGroup
In a world where retailers are trying offer consumers omnichannel solutions, one of the most difficult parts of the puzzle is to navigate the last mile for e-commerce delivery.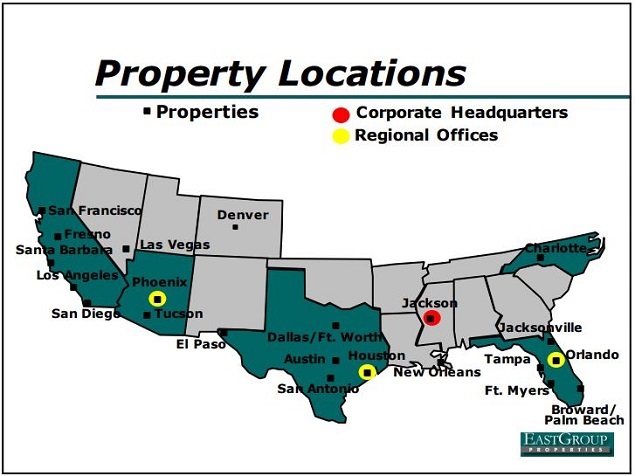 Source: EastGroup Sept. 2015
EastGroup Properties (NYSE: EGP) operates and develops a Sunbelt-focused portfolio of predominately small-bay warehouse facilities, along with some larger footprint distribution properties, primarily build-to-suits. These properties are well suited to attract tenants who need to be close to their local customers.
I would consider EastGroup to be one of my "get rich slowly" REITs, with similarities to Agree Realty Corp. (NYSE: ADC), my small-cap freestanding net-lease pick. Both management teams have a clear vision, strong existing customer relationships, and sharpshoot local and regional markets.
Additionally, both of these REITs have an in-house development capability, which helps them to source build-to-suits and actively manage portfolios both to de-risk and add to the bottom line.
If you are unfamiliar with EastGroup, here are links to recent SA focus articles, for background:
During the first half of 2016, EGP shareholders have been rewarded with over 30% price appreciation to go along with the rock-solid quarterly distributions.
Tale Of The Tape - Shareholders Rewarded 1H2016
When I covered EastGroup's Q1 earnings call for SA readers in April, I pointed out that the valuation was still quite reasonable both on an absolute basis and relative to historical multiples.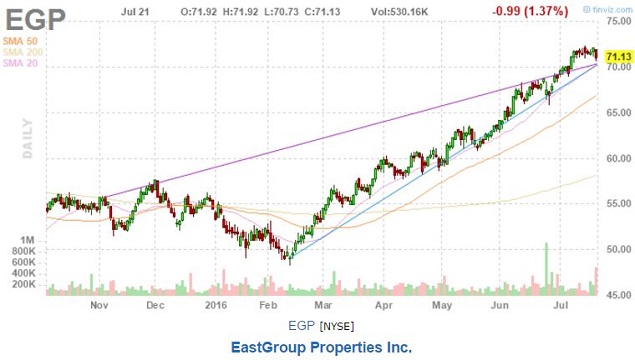 During the past 52 weeks, EastGroup has traded in a range of $48.36-$72.34 per share. EGP shares continued to make new highs leading up to the Q2 2016 earnings print and July 21st conference call.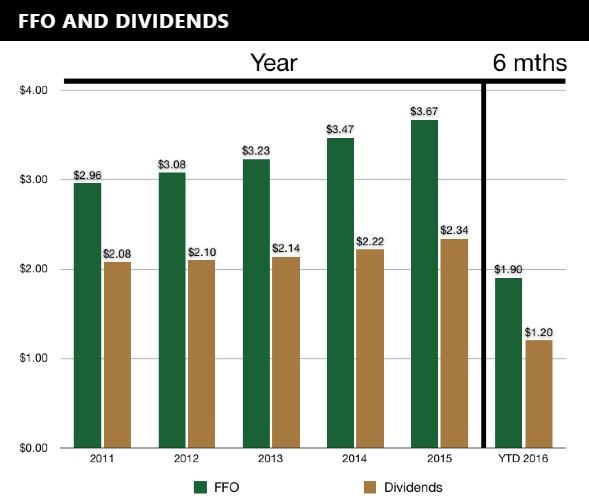 Source: EastGroup website
EastGroup is conservatively managed and has a track record of executing on an operational plan which provides FFO growth to fund the predictable distribution increases that dividend growth investors crave.
EGP - Q2 Earnings Highlights
The June 30, 2016, results continue a streak of 13 straight quarters with higher FFO per share year over year.
Q2 2016 FFO per share increased by 7.6% Y/Y.
As of June 30, 97.2% leased and 95.7% occupied, (essentially full occupancy for a multitenant portfolio).
Rental rates were up 6.9% during the quarter, including new leases and renewals.
Houston exposure decreased from 6.5 million SF to 5.9 million SF, at 94.4% occupancy.
Sold 872,000 SF of operating properties and 3.9 acres of land for $55.9 million.
Issued 447,665 shares of common stock during Q2, with proceeds of ~$30 million.
EGP - Metrics At A Glance
The table below shows that EastGroup consistently delivers on REIT metrics that matter.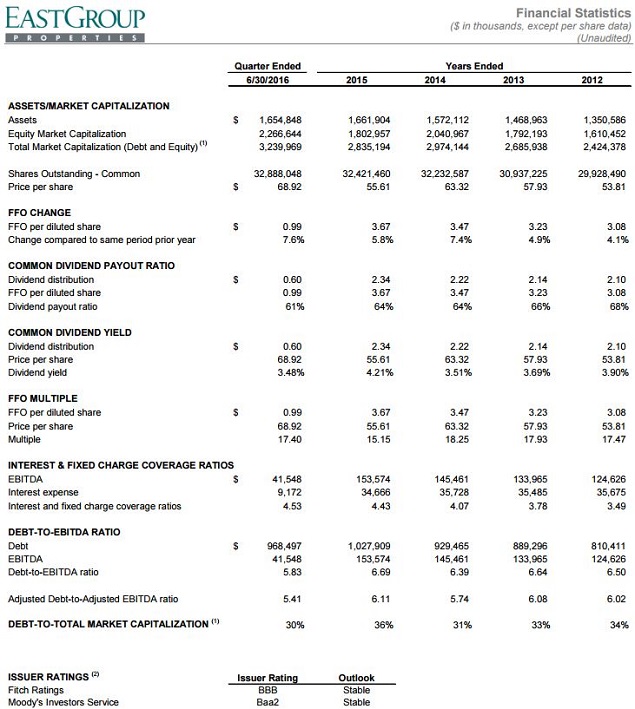 Source: EastGroup Q2'16 Supplemental
The low debt-to-total market cap underscores the conservative approach management continues to take with the balance sheet.
EGP - Q2 Earnings Call Takeaways
During the most recent EastGroup earnings call, CEO Marshall Loeb and his team continue to impress with the amount of granular information they are able to provide while answering analyst questions. Here is a link to the Seeking Alpha Q2 earnings call transcript, if you are interested in the play-by-play.
Strong Fundamentals: Major EGP markets including Los Angeles, Dallas, Orlando, San Francisco and Charlotte were all at 98% occupancy or better.
Houston: SVP Brent Wood pointed out that the fundamentals remain stronger than most investors realize:
"Across the Houston market, there was 1.8 million square feet of positive net absorption for the second quarter which marked the 21th consecutive quarter of positive net absorption and rate the year-to-date total to 3.8 million square feet. Meanwhile, developers continue to show restraint with the construction pipeline containing just 2.8 million square feet of speculative space which represents about 0.5% of the total market."
However, specific to EastGroup, there are still additional tenants who will be moving out during 2016.
"However, we have a number of known move-outs later in the year, primarily the result of tenants either downsizing or consolidating locations. As a result, we continue to be cautious with our Houston budget assumptions included in our guidance. Our leasing assumptions produced an average occupancy of 93% for the year, unchanged from guidance last quarter, with the anticipated low point being third quarter at 90%."
This information was shared during the Q1 call and is baked into company guidance going forward.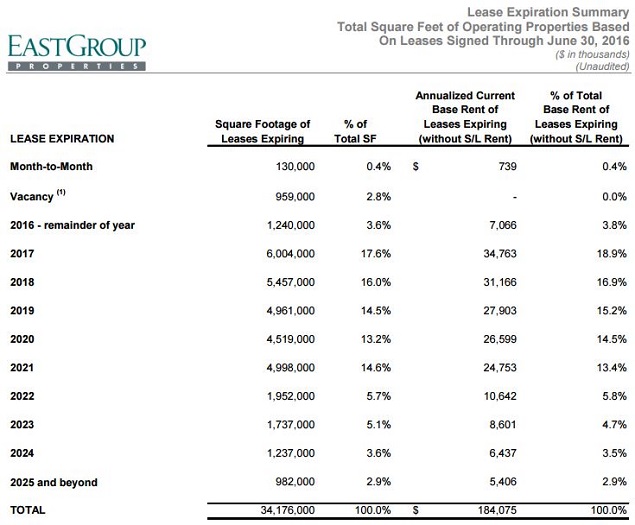 Source: EastGroup - Q2'16 Supplemental
Additionally, EastGroup's Top Ten tenants account for less than 10% of revenues in the aggregate with no single tenant accounting for more than 1.2%.
The lease roll-overs for the next five years are consistent with most industrial REITs due to the prevalence of five-year initial lease terms in this asset class. The vast majority of new industrial space in Dallas and Houston (two US markets considered at risk for oversupply) are big boxes of 250,000 SF and greater. This inventory has little impact on the EastGroup small-bay, multitenant portfolio.
However, EastGroup continues to make moves to prune both the portfolio and land holdings opportunistically and in order to deal with changing market conditions.
"…regarding Houston, we were very pleased with the quality and depth of the buyer pool and the cap rates we're achieving which has ranged from a low 5% to a mid-6% depending on asset, age and characteristics. Our Houston portfolio now consist exclusively a 100% Class A properties, with 95% of the square footage contained in one of our five master plan business parks spread across three submarkets," according to Wood.
Notably, gains associated with ~$74 million in dispositions in 2016 have been sheltered by 1031 exchanges.
Development Pipeline: Given the strong fundamentals in most US industrial markets, it makes sense for EGP to dispose of non-core properties and recycle the cash into accretive development. As of June 30, the projected investment return of EastGroup's development pipeline was 8% vs. an estimated market cap rate for completed properties to be in the low-to-mid 5s.
The 8% initial yield includes land at EGP cost, not marking the land up to market. This is one benefit of maintaining a small land bank on the balance sheet.
In 2012, Houston accounted for 90% of EastGroup's development starts. Currently, EGP has a development pipeline of 14 projects containing 1.9 million square feet, with projected cost of $133.6 million, with zero Houston development. Other Sunbelt markets, primarily in Texas and Florida, are contributing to portfolio growth and taking up the slack in Houston.
Conservative Balance Sheet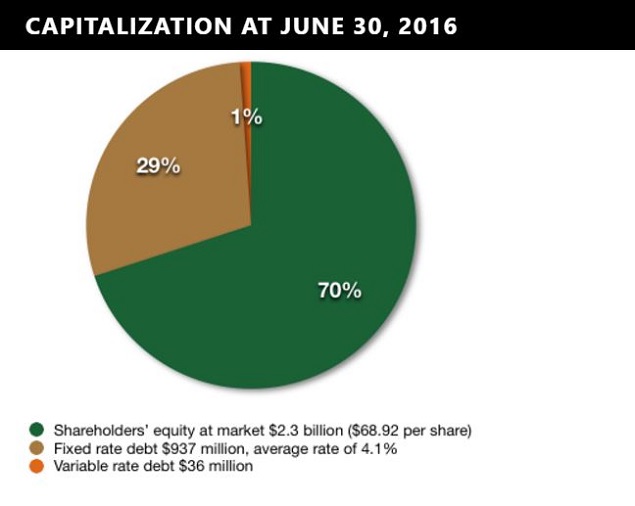 Source: EastGroup website - July 21, 2016
On April 1, management closed on a $65 million seven-year term loan, at Libor +1.65%, fully swapped, for a 2.863% rate. In June, another $40 million five-year term loan was negotiated at Libor +1.1%, fully swapped for a 2.335% rate.
Despite EGP shares now trading at record highs, CEO Loeb is not in any hurry to issue additional equity in 2H2016. It is difficult to find attractively priced assets in Sunbelt markets to purchase, and the capital recycling initiatives are providing ample funds for current projects.
Investor Takeaway
Investors who stayed the course or initiated a position during Q1 2016 did not have to wait long for EastGroup FFO per share multiples to return to historic averages.
However, the last bump up in share prices beyond ~$68 per share reflects the bump up in equity REITs as a result of record low Brexit-induced interest rates.
I view EastGroup to be a core REIT holding due to conservative management, strong balance sheet, in-house development capability and active portfolio management.
Investors looking to get rich slowly should consider EGP shares on a pullback closer to $68.00 the next time Mr. Market decides to sell off equity REITs. This would equate to just over a 3.5% interest rate at the current $2.40 annual distribution.
I would expect to see a mid-single digit bump up in October with plenty of safety given the extremely low 63% payout ratio.
I relentlessly hunt for diamonds in the rough and rising stars, in addition to closely following data centers, covering REIT blue chips and breaking news. Please consider following me as a Seeking Alpha author if you would like to be notified when my future articles are published.
Disclosure: I/we have no positions in any stocks mentioned, and no plans to initiate any positions within the next 72 hours.
I wrote this article myself, and it expresses my own opinions. I am not receiving compensation for it (other than from Seeking Alpha). I have no business relationship with any company whose stock is mentioned in this article.