For 2016 Q2, Intel (NASDAQ:INTC) reported a slight revenue gain of 3% y/y to $13.5 billion, while net income plummeted by 51% to $1.3 billion. Despite optimistic predictions of growth, there is no real hope of it. Intel's processor architecture, which has propelled its growth for decades, has simply become obsolete.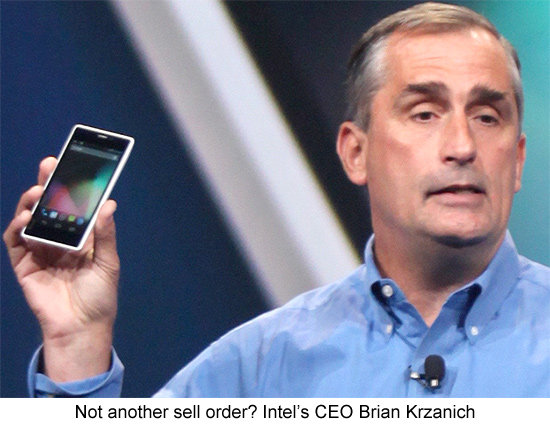 Source: Xbitlabs
Choosing Retrenchment
Following Intel's 2016 Q1 earnings report, I felt that Intel was faced with a very simple choice between retrenchment or transformation. Retrenchment meant clinging to the x86 architecture and squeezing as much remaining profit out of it as possible. Transformation involved much more risk by attempting to become a maker of what is emerging as the new microprocessor standard, ARM Holdings' (NASDAQ:ARMH) 64 bit ARM v8.
Although there didn't seem to be much chance that Intel would choose the more dangerous course, I was willing to allow for the possibility. Intel had hired Murthy Renduchintala from Qualcomm (NASDAQ:QCOM), and elevated this outsider from an ARM processor company to have overall charge of both the Client Computing Group and the IoT Group.
Since then, I've been looking for signs of which way things were breaking. At first, I was encouraged. Not long after the Q1 earnings report, Intel announced that it was discontinuing the Atom X series processors for smartphones and tablets. The Atom X3, (formerly SoFIA) was to have been Intel's big leap into mid-priced smartphones. The Atom X5 and X7 series were subsidized through "contra revenue" to be almost free to tablet makers, and found their way into a host of truly awful Android and Windows tablets.
After failing to penetrate the smartphone market and losing billions on its tablet processors, pulling the plug on them was the right thing to do, and I attributed this to Renduchintala's influence. But that appears to have been the extent of his influence. By the time Computex 2016 rolled around in June, it was apparent that Intel had chosen retrenchment. While Intel appears to have given up on mobile processors, it's doubling down on x86 for PCs, IoT and servers.
Certainly, everything Intel presented in its Q2 earnings report and the conference call only served to confirm this. Focus was clearly on the data center and IoT for growth, with PCs as the cash generator to fund the growth areas. Outside of Intel's modem work, there was no mention of mobile devices.
The failure in mobile hangs over Intel like a very dark cloud. If, as I maintain, Intel was defeated in mobile devices because of the inherent cost advantage of ARM architecture, why does Intel think it can compete against ARM in its espoused growth areas?
IoT seems especially vulnerable since it's so much like the situation with smartphones. As in smartphones, the IoT market is all about large quantities of inexpensive, low power devices with very modest computing requirements. This doesn't seem like a good fit to Intel at all, except in special cases that involve high performance computing, such as in autonomous vehicles. Here, the partnership with BMW (BAMXY) and Mobileye (NYSE:MBLY) is at least sensible.
In servers, Intel is probably living on borrowed time. As I pointed out recently, a new generation of ARM architecture servers is about to be released that are fabricated on 14-16 nm FinFET processes, making them much more competitive with Intel. Here, I also expect ARM to win based on its cost advantage.
Even though x86 PCs continue to be a profit center for the company, it is an ever dwindling profit center as ARM-based smartphones and tablets become ever more powerful and useful. Apple's (NASDAQ:AAPL) A9X SOCs that power its iPad Pros have achieved performance comparable to the Skylake Core M series, and the next generation "A10" series will be even more capable.
Choosing Obsolescence
Is it that Intel's management doesn't see where this is all going? I suppose that's possible. The future of various processor architectures is an abstruse topic about which there can be reasonable disagreement.
But I actually think that Intel's management understand their situation very well. They've chosen to stick with the tried and true because to do otherwise would be an extremely disruptive, costly and risky process.
Staying the course at least keeps the company reasonably profitable and stable. While Client Computing Group (CCG) revenue was down slightly y/y by 3% to $7.34 billion, operating profit grew considerably by 19% to $1.911 billion as a consequence of Intel discontinuing its subsidized tablet processors.
Data Center Group and IoT Group also remain profit centers, although operating income declined in both, probably indicative of increasing competition. DCG revenue grew by 4.5% y/y to $4.03 billion while operating income fell by 4%. IoT revenue grew by 2% y/y to $572 million while operating income fell by 39% y/y to $89 million.
The idea that DCG and IoT are going to be big growth areas for Intel going forward is probably a smoke screen. Intel is in the best competitive position it will ever be in at the moment, and there's basically no growth. Intel's competitive position only gets worse from here.
Why would the management of a technology giant deliberately consign it to obsolescence? I think the reason is simply to provide a graceful way for the management to cash out of the company. And CEO Brian Krzanich has certainly been cashing out, as recent SEC filings show. His most recent (July 6) SEC Form 4/A shows that he sold a total of 71,413 Intel shares and netted about $2.3 million.
Investor Takeaway
In addition to having little credible expectation of growth, Intel investors probably have little expectation of capital returns in the form of dividends and stock buybacks. Intel's cash less short-term and long-term debt is -$10.9 billion.
During the conference call, CFO Stacy Smith made it clear that he was not in favor of issuing more debt in order to fund capital returns. Good for him. That's very sensible. But it leaves investors with really no motivation: no growth, no cash. I now rate Intel a sell.
Disclosure: I am/we are long AAPL, QCOM.
I wrote this article myself, and it expresses my own opinions. I am not receiving compensation for it (other than from Seeking Alpha). I have no business relationship with any company whose stock is mentioned in this article.