Chipotle Mexican Grill (NYSE:CMG) remains a shell of its prior self in all ways except valuation. The company reported that Q2 earnings results missed analyst estimates, yet the stock is bouncing around in the after hours far above $400. The market is holding on to slight traffic improvements from the new loyalty program, when the reality isn't that impressive.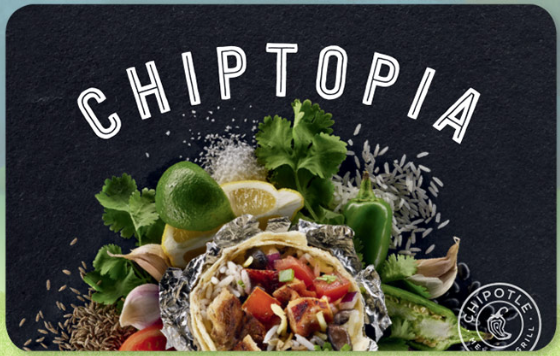 While the restaurant concept generated a profit for the quarter, Chipotle is still only seeing slight improvements in traffic. Hence, the company recorded a Q2 EPS of $0.87 that failed to match analyst estimates of $0.93. Revenues were $52 million below estimates, again highlighting how the market remains too bullish on the stock.
The results back the Morgan Stanley view on traffic based on a recent survey of 2,000 customers. In the survey, nearly a quarter of customers suggest they've found other restaurants they like better. With food safety being the highest concern, these customers may never return, having found other places to eat.
For Q2, comparable restaurant transactions decreased by 19.3%. This number was only a slight improvement over the 21.1% decrease during Q1.
The company suggests a 200-300 basis points improvement in comp sales trends during July from the Chiptopia loyalty program. The higher transactions are being offset by free food for repeat customers. Unfortunately, this is a minor improvement that comes at a cost of giveaways for joining the program.
Both of these metrics suggest Chipotle will take years to ever approach the peak sales of the past. Even worse, the reality is that the restaurant concept will never match the margins of the past, due to higher food safety costs and marketing expenses combined with lower sales per store.
The question remains as to why the stock is still valued as a premium concept versus only a solid one. In comparison to Panera Bread (NASDAQ:PNRA), which is a strong restaurant at a similar size, and Zoe's Kitchen (NYSE:ZOES), which has solid comps and store growth, Chipotle remains by far the most expensive based on forward P/S ratios.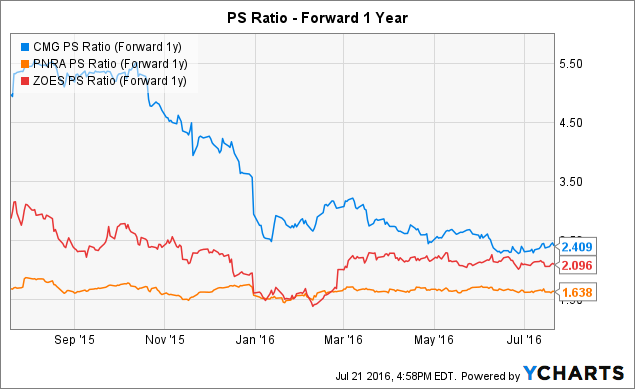 CMG PS Ratio (Forward 1y) data by YCharts
Using P/S multiple helps normalize the lower short-term margins at Chipotle with an assumption that the 15.5% restaurant margin rebounds to the 20% level by next year.
The key investor takeaway is that expectations continue to outpace reality. The stock has no reason to trade above $400, as the prime reason for most of the improvements in traffic (though still highly negative YoY) is the higher marketing expenses and the new Chiptopia loyalty program.
Avoid the Chiptomania until Chipotle can actually drive traffic growth without higher marketing spending.
Disclosure: I am/we are long ZOES.
I wrote this article myself, and it expresses my own opinions. I am not receiving compensation for it (other than from Seeking Alpha). I have no business relationship with any company whose stock is mentioned in this article.
Additional disclosure: The information contained herein is for informational purposes only. Nothing in this article should be taken as a solicitation to purchase or sell securities. Before buying or selling any stock you should do your own research and reach your own conclusion or consult a financial advisor. Investing includes risks, including loss of principal.