Background: Mobile homes have an image problem.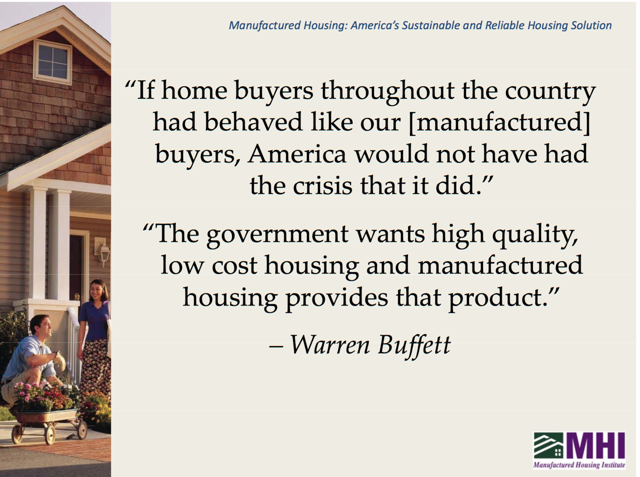 Click to enlarge
Most investors do not spend much time around mobile home parks. Naturally, the public perception of these communities is shaped by movies and media, which tend to be overwhelmingly negative.
Mobile home parks are perceived to be crime-ridden communities in rural areas that house poor, undereducated and underemployed white residents, often outside of the typical workforce. The homes themselves are assumed to be only a slight upgrade from a shanty town: poorly built, not up to safety codes and prone to natural disasters.
The most "famous" mobile home community in terms of media coverage is Palace Mobile Home Park in St. Petersburg, Florida, dubbed "Pervert Park" for housing hundreds of sex offenders.
The only thing more negative than the portrayal of mobile home residents is the portrayal of mobile home investors. Famous investors have faced harsh criticism for their investments in the sector including Sam Zell, chairman of Equity Lifestyle (NYSE:ELS), one of the largest owners of communities, and Warren Buffett, who bought Clayton Homes in 2013, the largest financier of manufactured housing units. Headlines often read something to the tune of The Center for Public Integrity's 2015 article, "Warren Buffett's mobile home empire preys on the poor" and "Warren Buffett: Slumlord."
As with everything, there is often a shade of truth to popular perception, but also a significant amount of misunderstanding. The dynamics of mobile home communities, their residents and their investors are certainly no exception.
We set out to clarify some of these misconceptions for Seeking Alpha readers, who have several solid options if they choose to participate in the manufactured housing sector. In doing so, we will lay out a Bull and a Bear thesis and explain where we stand.
Two Major Players in the Manufactured Housing REIT Sector
According to the National Multifamily Housing Council, five percent of all U.S. residents live on one of two million manufactured housing sites (MH). MH are especially prevalent in the southern United States, where as many as one in five residents in South Carolina and one in six in Florida resides in MH communities.
Like the apartment and self-storage sector, MH community ownership is a highly fragmented industry. Of the two million sites in the US, publicly traded REITs own less than 20%. There are three publicly traded manufactured housing REITs.
Equity Lifestyle is the largest MH REIT with 145,000 sites. ELS has undoubtedly the highest quality portfolio among the three REITs with average monthly rents of roughly $600. ELS holds a diversified portfolio scattered fairly evenly across the United States, but concentrates in higher quality resort-style and retirement properties that tend to have higher occupancy, higher barriers to entry and house renters with higher average incomes. Many ELS properties have resort-style amenities and nearly a quarter are located directly adjacent to a lake or ocean.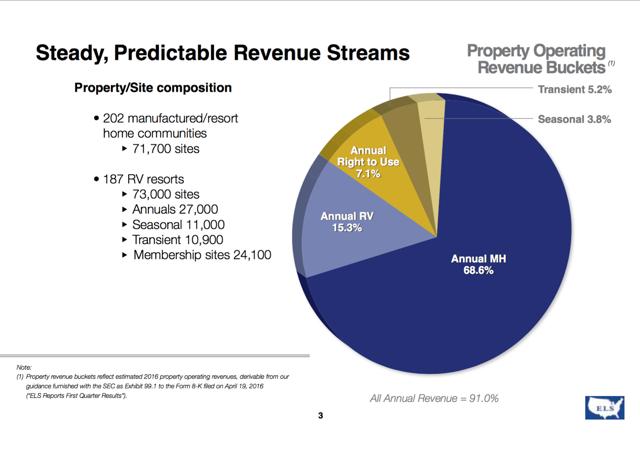 Click to enlarge
Sun Communities (NYSE:SUI) is the second largest MH REIT with roughly 90,000 sites and average rents of roughly $500 per month. SUI recently acquired the fifth largest MH owner Carefree Properties, which allowed the company to expand more into the higher quality age-restricted retirement communities that ELS dominates. Sun Communities has a more geographically concentrated portfolio with a higher focus on the rust belt region, particularly Michigan. The Carefree acquisition evened out the exposure across the Southeast and Texas as well. While the Carefree acquisition raised the quality of the portfolio, SUI communities still tends to house more low-income blue collar workers and families than retirees.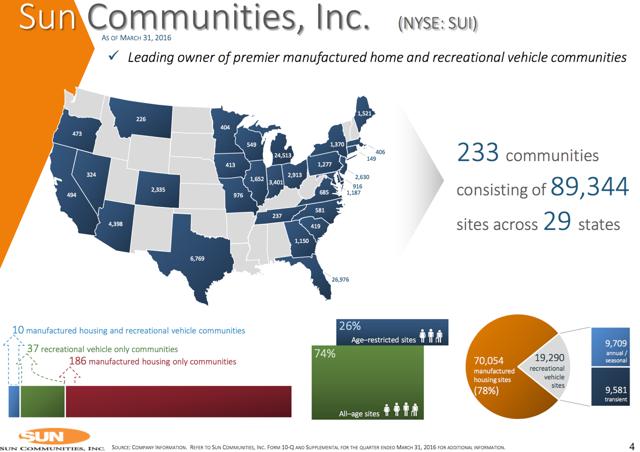 Click to enlarge
The last and smallest MH REIT is UMH Properties (NYSEMKT:UMH), which owns roughly 18,000 sites concentrated in the northern Appalachia shale region. UMH has the lowest quality portfolio of the three REITs with just 80% occupancy (compared to 90-95% in ELS and SUI) and with average monthly rents of around $420. Oddly, UMH holds a $100 million portfolio of shares in other REITs, which is significant considering the market capitalization of the entire firm is just over $300 million. Essentially, investors are buying a two-thirds share in a manufactured housing REIT and a one-third share in an actively managed REIT mutual fund. Complexity, we believe, is an unnecessary feature of REIT investing, and for that reason, we focus primarily on ELS and SUI in this report.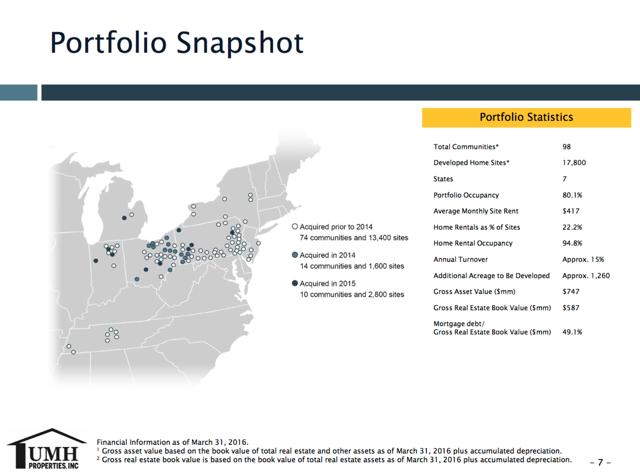 Click to enlarge
Bull Case
Perception
It could be argued that investors' misconception of manufactured housing residents - and the companies that manage the communities - has resulted in a persistent undervaluation, which may be corrected as more generalist investors enter the sector.
Manufactured homes typically cannot get traditional mortgages, as government sponsored entities including Fannie (OTCQB:FNMA) and Freddie (OTCQB:FMCC) have been hesitant to extend government support to manufactured homes. Interestingly, the lack of mortgage credit for manufactured homes forces many buyers to pay in cash, which liberates many residents from the burdens of mortgage debt.
Despite the stigma of mobile home residents, the average household is, by many metrics, more financially responsible than the average individual in the bottom income quintile. Manufactured housing residents have less debt and higher household equity than the average household in the bottom-quintile of annual income.
According to a Consumer Financial Protection Bureau study, manufactured housing residents pay significantly less all-in housing costs than typical renters and homeowners.

Click to enlarge
In metropolitan areas, the average manufactured housing resident pays roughly $6,500 in rent compared to the average homeowner who pays $18,000 and the average renter who pays $12,000.
Compare that to the income distribution of manufactured housing residents. While MH residents earn about 25% less annual income, they pay 50% less on housing. While the average renter pays upwards of 35-40% of income on housing, MH residents pay roughly 20%.
Critics of the multifamily REIT sector point out that renters are "tapped-out" and REITs cannot sustain rental increases. Manufactured Housing REITs appear to be far better positioned for continued growth in rental income, based on the resident's ability to pay.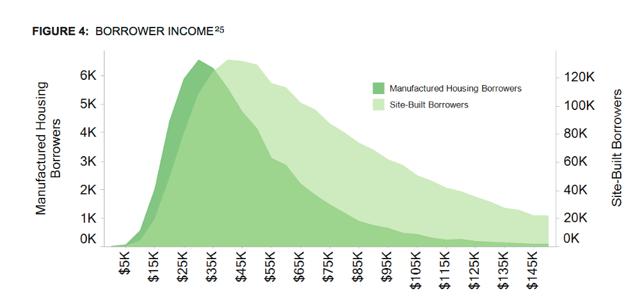 Click to enlarge
Warren Buffett has said," If home buyers throughout the country had behaved like our buyers, America would not have had the crisis that it did. Our approach was simply to get a meaningful down-payment and gear fixed monthly payments to a sensible percentage of income… Our country's social goal should not be to put families into the house of their dreams, but rather to put them into a house they can afford."
Additionally, contrary to popular perception, manufactured housing communities are not the crime-ridden areas they are believed to be. A 2010 study published in Cityscape: A Journal of Policy Development and Research concluded that these communities did not have significantly more crime than other areas of similar demographics.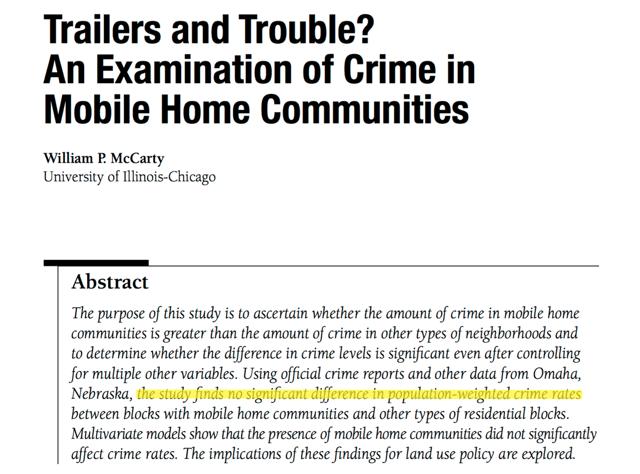 Click to enlarge
The fundamental misunderstanding of manufactured housing communities leads to a discussion on the persistent undervaluation of the REIT sub-sector.
Valuation
On our modified PEG valuation model (which uses AFFO instead of earnings), the manufactured housing sector screens as the third cheapest REIT sector behind technology and self-storage. Within the sector, however, we believe that ELS may be overextended after an incredible run, while SUI looks extremely attractive.

Click to enlarge
ELS's strong run has pushed the dividend yield down to just 2.11%, and with a forward AFFOx of over 25x and a PAFFOG of over 3, it appears that ELS is no longer under the radar. It is firmly in the "Growth REIT" category and appears to be priced for perfection. Even with an elevated valuation, at the end of the day, it is difficult to find very high quality companies that grow nearly 10% and still yield anything. Don't expect ELS to fall off a cliff anytime soon.
SUI, on the other hand, still appears to be flying under the radar and is not getting the respect it deserves. Over the past 52 weeks, SUI has underperformed ELS by 3000 bps, which does not appear to be justified based on fundamentals. With a healthy yield of 3.5%, a relatively low PAFFOG of 2.5, and modest forward AFFOx of 22.5, SUI seems to be the better investment from a valuation perspective. We expect the spread between ELS and SUI to narrow post-Carefree acquisition.
Supply/Demand
With essentially zero net supply coming online for the foreseeable future, manufactured housing is relatively immune from the oversupply fears that encumber other REIT sectors. Across the country, zoning commissions continue to have a sharply unfavorable view of manufactured housing communities. Getting approval for a new development is nearly impossible. Local residents argue that MH communities decrease the value of their own home and bring crime into the area. Zoning boards point out that tax revenues from MH communities are far less than traditional apartments or homes and that MH residents put a disproportionately higher strain on local public services, particularly schools.
In a GlobeSt.com interview, Art Tuverson, the managing director of Pillar's MHC/RV Resort Group, points out, "Across the country, there are very few, if any, ground-up, new-development manufactured-home communities… Over the last five years, we've seen a decrease in home sites due to redevelopment…We have seen a net decrease in supply over the last 10 years."
Net new supply is the single most important metric we analyze, and MH is unique among REIT sectors for its complete lack of new development. That makes analysis rather simple: what will the demand picture look like over the coming decades?
The unemployment and underemployment rate in manufactured housing communities is well above average, particularly within the non-retirement communities. Critics of the sector have argued that blue collar jobs are not coming back, and that wages for the lower skilled and under educated workers will continue to stagnate.
Manufactured housing is levered to an improving blue-collar economy and improving wages, which appears to be a focus of both major political parties. We wrote a piece on Seeking Alpha last week, Trump or Clinton?, where we concluded that both political parties are highly supportive of significant increases in infrastructure spending. A well-targeted infrastructure and jobs policy aimed at the undereducated workers in the United States would be particularly beneficial to MH residents. We view this as a potentially unrecognized positive catalyst.
Additionally, the negative impacts of globalization on the bottom quintile of earners, it could be argued, is a transitory force that may be running its course. As wages of manufacturing-centric countries increase, blue collar jobs could return to the United States. After a sharp decrease in manufacturing jobs between 1999 and 2010, the trend appears to have bottomed and shows signs of recovery.

Click to enlarge
Bear Case
While we are generally bullish on the Manufactured Housing sector, we recognize several significant downside risks.
Yield Sensitivity
Over the past 5 years, the manufactured housing sector has been one of the more "yield-sensitive" sectors, and the price performance may stall if interest rates rise. We ran a correlation analysis, which revealed that while the REIT sector as a whole has very little correlation with the 10-Year Treasury, manufactured housing REITs tend to be slightly more exposed to variation in interest rates. Correlations of 0.3 for ELS and 0.23 for SUI remain low, but could increase if the market enters into the "rates-up-REITs-down" mentality.

Click to enlarge
Reliance on Insolvent Government Retirement Programs
The average age of new manufactured housing residents is nearly 60 years and is projected to get older. Social security will be the primary income source for a significant percentage of residents, and there is legitimate concern over the long-term solvency of the program. Modifications to the cost of living adjustments could weaken income growth for many residents, and impair the REIT's ability to raise rents.
On the most recent ELS conference call, an analyst asked about this issue, and the company conceded that it was having issues, in some cases, with raising rents on certain properties.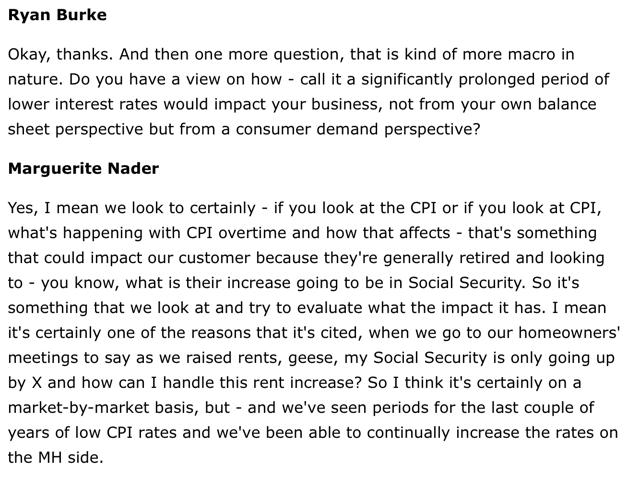 Click to enlarge
Dependent on Non-Existent Wage Increases in Bottom Quintile
With half of the residents entering retirement age, that means that the other half is working age. 22% of residents are employed full-time, with another 23% either working part-time or looking for work. Combining those two categories, we see that roughly 45% of residents are in the workforce.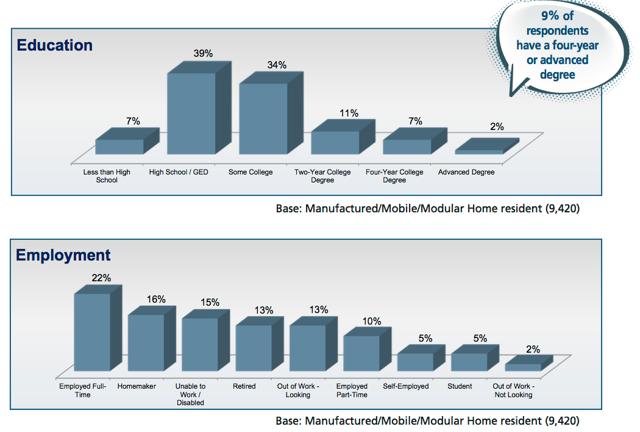 Click to enlarge
The economic success of the less-educated workforce has been nothing short of dismal over the past quarter century. Globalization has pushed many lower skill and labor-intensive jobs overseas. A college education has become a requirement for the vast majority of occupations in the United States. Wages for workers with less than a bachelor's degree have stagnated or declined in real terms over the past 25 years. If this trend continues, it is difficult to see how ELS and SUI could continue to raise rents 3-4% per year as they have been over the last five years.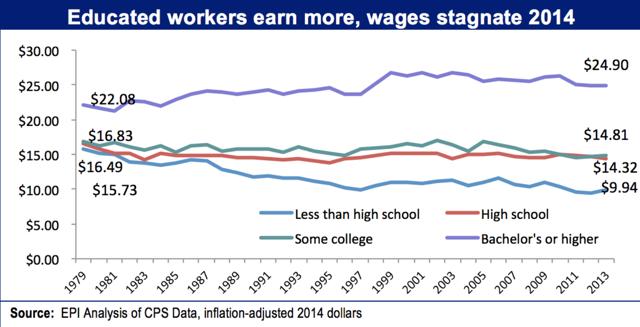 Click to enlarge
Bottom Line: Our Investing Thesis
As traditional home prices continue to remain at elevated levels due to the high cost of land and construction, more marginal households will look to cheaper alternatives as an intermediate step between full home ownership and rental housing.
From a demand perspective, over the next decade, there will be incremental demand from downsizing boomers and millennials trading up from low-end rental housing or shared housing arrangements. As the cheapest non-subsidized housing option available, there is a natural floor on demand from the tens of millions of low-income households.
The complete lack of new supply is the most interesting characteristic of the sector, and perhaps the single biggest reason we tend to be bullish. Never underestimate the simple economics of supply and demand in the REIT space.
ELS appears to be priced for perfection, but SUI has significant room to close the performance gap, particularly after the acquisition of Carefree.
While much of the investing public still holds misconceptions about the manufactured housing sector, the investors that looked past the public portrayal has achieved tremendous performance over the past five years.
While manufactured housing residents may not be movie heroes that save humanity, they certainly do pay their rent.
Disclosure: I am/we are long ELS, SUI.
I wrote this article myself, and it expresses my own opinions. I am not receiving compensation for it (other than from Seeking Alpha). I have no business relationship with any company whose stock is mentioned in this article.