We wrote an article that advised the shorting of Herzfeld Caribbean Basin Fund (NASDAQ:CUBA), given the irrationality of investor thought in that particular closed-end fund. Almost overnight, this fund run by Herzfeld went from a 12.6% discount to NAV to a 9.2% premium. That is a massive (and crazy) move in one day for a closed-end fund. Two days later, the shares were trading at a 43% premium and four days later a 70% premium! The price of the fund rose over 29% on December 16, 2014, and over 100% over the subsequent five trading days.
The result is a classic episode of why the efficient market hypothesis can be bogus in many areas of the market. This is especially true in the closed-end fund marketplace which is a largely retail investor base. These investors are driven primarily by sentiment and emotional investing.
The efficient market hypothesis is a theory proposed by Eugene Fama in 1960 that states you cannot outperform the market because stock prices reflect all relevant information, and thus stocks always trade at fair market value. But the theory is based on investors having rational expectations, and it is our notion that a large portion of the investors in closed-end funds are far from rational (and yes, Fama was talking about stocks not CEFs).
The Herzfeld Caribbean Basin Fund is focused on companies that do a large portion of their business in the geographic area. From the prospectus:
The investment objective is focused on investing in issuers that are "likely, in the Advisor's view, to benefit from economic, political, structural and technological developments in the countries in the Caribbean Basin, which consist of Cuba, Jamaica, Trinidad and Tobago, the Bahamas, the Dominican Republic, Barbados, Aruba, Haiti, the Netherlands Antilles, the Commonwealth of Puerto Rico, Mexico, Honduras, Guatemala, Belize, Costa Rica, Panama, Colombia and Venezuela. The fund invests at least 80% of its total assets in a broad range of securities of issuers including U.S.-based companies that engage in substantial trade with, and derive substantial revenue from, operations in the Caribbean Basin Countries."
The fund's performance was directly a result of the Obama Administration's efforts to begin the normalization of relations with Cuba. As investors scrambled for a way to play that trade, they found this closed-end fund with CUBA as the ticker symbol and the sponsor named "Herzfeld Cuba." And, in typical rash and reckless fashion, they gobbled up shares of the fund. This is a fund with about 40K shares traded per day, on average, and a (at the time) $7 share price (today it's $6.23). Thus, only $280K worth of shares were typically traded, meaning the limit order book was likely shallow.
Investors and financial advisors, and others, likely threw out market orders which took out any and all supply that was on the limit book. With massive (irrational) demand and a dearth of supply, the price skyrocketed despite the NAV being down. The shares had typically traded at a mid-to-high teens discount to NAV, but were suddenly at a 40% premium. The irrationality of the buying spree didn't end until the start of June - nearly six months later - when the price hit $11.80, up 71% from the day before the announcement by the President. This despite the fact that the fund held a total of ZERO investments in the country of Cuba!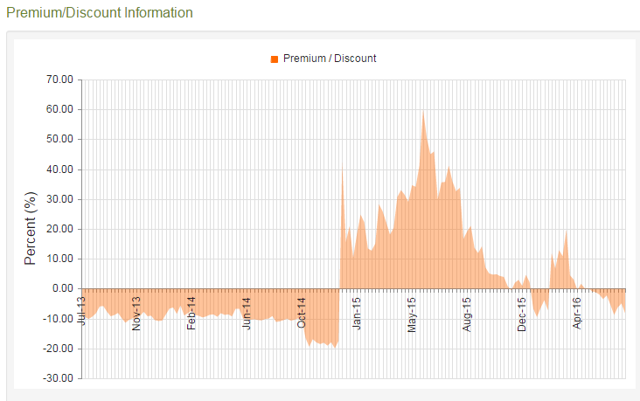 Click to enlarge
(Source: CEFConnect.com)
Again, this is a closed-end fund where there is a benchmark value which investors can base their valuation upon - the NAV. This is far different than a stock which lacks the same value benchmark. Essentially, investors were willing to pay $1.60 for a $1.00 worth of assets. Not the smartest investment one can make - especially when this fund has little in the way of yield. Our article noted that there was a high probability arbitrage and pair trade opportunity. We advocated investors short the CEF and go long a handful of the largest positions in the fund.
Efficient My Eye!
It took over a year for the price of CUBA to fall back to its underlying NAV. The peak of valuation was June 1, 2015, when the price was at a 60% premium. A month later, that premium was cut in half to about 28%. But then, the fund traded between a 30% and 40% premium for the next two months before falling back to the 20%-30% range. By October, the premium was back to the single digits and in November, briefly traded below NAV for the first time since the announcement.
The exuberance and collapse of CUBA is a prime example of the lack of efficiency that exists in the closed-end fund space. Investors in CEFs are largely driven by sentiment and emotions which need to be separated when committing capital. For example, the most opportune time to acquire additional shares is when there is strong selling pressure, for seemingly no reason. This occurs rarely, but there are enough instances each year to allow for an opportunity to buy.
Muni CEFs are one of the underlying asset classes that see this play out on a regular basis and in similar fashion. The prices of muni CEFs tend to move higher slowly but fairly steadily. But every so often, a quick adjustment occurs that lasts anywhere from a couple of days to as much as two weeks. We have already had two such occurrences this year: one in May and then another a couple of weeks ago.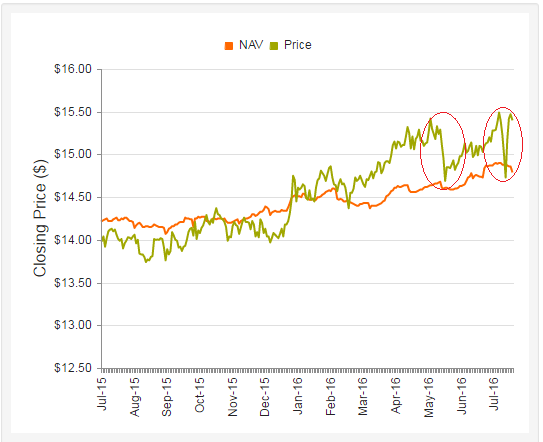 (Source: CEFConnect.com. Ticker: MMU)
The trigger of each of those selloffs was different. In May, it was the fear of the Fed raising interest rates, which was also the reason for the historically wide discounts back in the second half of 2015. Two weeks ago, it was the quick reversal of the ten-year following the post-Brexit rally to historic lows of 1.34%. That fast reversal led to profit taking in the muni CEF space after a strong YTD run (prices up 12%).
We expect a new opportunity to materialize over the next several weeks - although this would be the third in four months, which is more frequent than is typical. The ebb and flow of interest-rate mania (September is on the table, September is off the table) continues to present opportunities for entry into these and other CEFs that are sensitive to higher rates (more acute in the muni world). Given the strength of the recent economic data, we think chatter is going to build in the next couple of weeks about September, and especially December, given it is past the Presidential election, being increasingly on the table.
Conclusion
The pricing and efficiency of the closed-end fund space is irrational fairly often. These markets can be extremely shallow except possibly in the largest funds that have higher liquidity and a larger institutional presence. But in funds that are smaller with wider bid-ask spreads, the supply and demand imbalance can create significant swings in prices. Sentiment, as opposed to rational expectations, is the primary driver of prices in the space. Taking a contrarian stance in many instances can provide strong risk-adjusted returns.
Marketplace Service For Those Hunting For Yield
We launched our new marketplace service, Yield Hunting: Alternative Income Investing a few months ago dedicated to yield investors who wish to avoid the froth associated with the equity, REIT, and other more volatile areas of the market. We encourage investors to utilize the free two-week trial in order to benefit from our yield opportunities within closed-end funds, business development companies, and other niche areas. We attempt to construct a "low-maintenance portfolio" with a yield in excess of 8% on a tax-equivalent basis with capital gain optionality.
Disclosure: I/we have no positions in any stocks mentioned, and no plans to initiate any positions within the next 72 hours.
I wrote this article myself, and it expresses my own opinions. I am not receiving compensation for it (other than from Seeking Alpha). I have no business relationship with any company whose stock is mentioned in this article.
Additional disclosure: The commentary does not constitute individualized investment advice. The opinions offered herein are not personalized recommendations to buy, sell or hold securities. As I have no knowledge of individual investor circumstances, goals, and/or portfolio concentration or diversification, readers are expected to complete their own due diligence before purchasing any stocks mentioned. The strategies discussed are strictly for illustrative and educational purposes and should not be construed as a recommendation to purchase or sell, or an offer to sell or a solicitation of an offer to buy any security. There is no guarantee that any strategies discussed will be effective. The information provided is not intended to be a complete analysis of every material fact respecting any strategy. The examples presented do not take into consideration commissions, tax implications or other transactions costs, which may significantly affect the economic consequences of a given strategy. This material represents an assessment of the market environment at a specific time and is not intended to be a forecast of future events or a guarantee of future results. This information should not be relied upon by the reader as research or investment advice regarding the funds or any security in particular.