Global emerging markets ("EM") debt, both hard and local currency, rebounded strongly in June after a significant retracement in May. One of the main drivers behind the resumption of the EM debt rally was yet another shift in interest rate expectations, following a very weak U.S. employment release on June 3. The U.K. Brexit vote on June 23 was an even more significant event, one that placed a very large exclamation point on the renewed expectations for "lower for longer."
Negative Rates Intensify the Hunt for Yield
As unpredictable as the Brexit decision was, the fact that the resulting selloff in risk markets reversed so quickly, yet rates continued to fall, was equally difficult to forecast. The net result has been that by early July, some $11.5 trillion in bonds were trading at negative rates, with 58% of the Barclays US Aggregate Bond Index1 trading below 1%. Thus, the hunt for yield continued as aggressively as ever. Given the impact that the more hawkish tone struck by the Federal Open Market Committee members had on debt markets in May, the rapidity of the shift back to extremely dovish expectations is somewhat unsettling and leaves one wondering how quickly expectations can swing back the other way.
Current Conditions Support Emerging Markets Debt
In the near term, the precarious position of European banks - a situation that has persisted but has moved in and out of focus over the last four years - in combination with a variety of risks to global growth prospects will likely keep the hawks at bay. While global growth statistics remain within muted expectations, EM debt and equity could remain the beneficiaries of additional capital flows for some time. The inflows to EM debt funds to date in 2016 are quite small relative to what left EM debt funds in 2015.
Under current conditions, we expect to see an acceleration of inflows during the second half of the year. Valuations, positive real rates of interest and EM central banks with (conventional) policy flexibility are all supportive of the case for EM. The risks are many, including further growth deceleration and a reversal in the commodity price recovery. On the flip side, a rate shock, as unlikely as it may seem at the moment, could cause a sharp reversal in flows to various debt asset classes, including EM.
Brexit's Impact Hardest for Central and Eastern Europe
Within emerging markets, the Brexit impact, predictably, was felt most poignantly in Central and Eastern Europe. These countries have the highest dependence on Britain and the EU for trade. Romania, Poland and Hungary were the laggards in the local currency space, while high beta countries such as Brazil, South Africa and Colombia posted total returns (from both local interest rates and foreign currency movements) of between 10% and 15% in June alone. Despite recovering 1.8% in June, Mexico's local debt is the only major market with a negative return year-to-date return (-2%) for the first half of 2016, all due to persistent weakness in the peso. In hard currency markets, Venezuelan debt continued to recover, returning more than 12% in June. Brazilian, South African and Colombian sovereign and corporate U.S. dollar-denominated bonds were among the top performers as well, particularly sovereign bonds with returns in excess of 5%. That being said, overall in June, credit spreads on hard currency EM debt were only marginally tighter (virtually unchanged in the corporate markets). Duration and the U.S. Treasury rally were very much the drivers of return.
10-Year Local Currency Sovereign Bond Yields (%)
as of June 30, 2016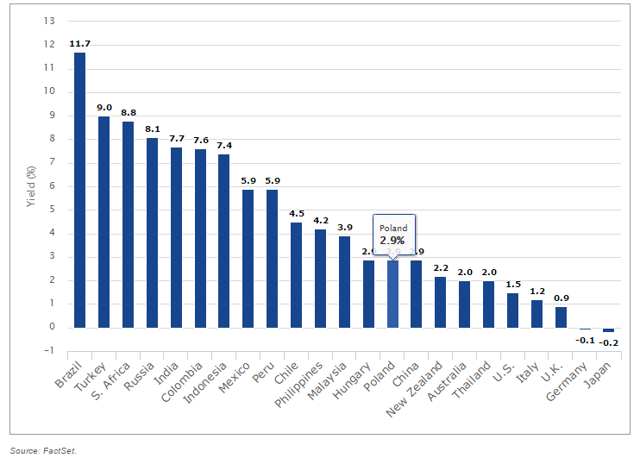 Post Disclosure
1The Barclays US Aggregate Bond Index is a broad-based benchmark that measures the investment grade, US dollar-denominated, fixed-rate taxable bond market. The index includes Treasuries, government-related and corporate securities, MBS (agency fixed-rate and hybrid ARM pass-throughs), ABS and CMBS (agency and non-agency).
All data as of 6/30/2016. Source of all data: FactSet, Barclays, and J.P. Morgan.
Duration is a measure of the sensitivity of the price of a fixed-income investment to a change in interest rates.
The information herein represents the opinion of the author(s), but not necessarily those of VanEck, and these opinions may change at any time and from time to time. Non-VanEck proprietary information contained herein has been obtained from sources believed to be reliable, but not guaranteed. Not intended to be a forecast of future events, a guarantee of future results or investment advice. Historical performance is not indicative of future results. Current data may differ from data quoted. Any graphs shown herein are for illustrative purposes only. No part of this material may be reproduced in any form, or referred to in any other publication, without express written permission of VanEck.
Any indices listed are unmanaged indices and include the reinvestment of all dividends, but do not reflect the payment of transaction costs, advisory fees or expenses that are associated with an investment in a fund. An index's performance is not illustrative of a fund's performance. Indices are not securities in which investments can be made.
Please note that Van Eck Securities Corporation offers investment products that invest in the asset class(es) included in this commentary. Debt securities carry interest rate and credit risk. Bonds and bond funds will decrease in value as interest rates rise. Debt securities carry interest rate and credit risk. Interest rate risk refers to the risk that bond prices generally fall as interest rates rise and vice versa. Credit risk is the risk of loss on an investment due to the deterioration of an issuer's financial health. Securities may be subject to call risk, which may result in having to reinvest the proceeds at lower interest rates, resulting in a decline in income. International investing involves additional risks which include greater market volatility, the availability of less reliable financial information, higher transactional and custody costs, taxation by foreign governments, decreased market liquidity and political instability. Changes in currency exchange rates may negatively impact the Fund's return. Investments in emerging markets securities are subject to elevated risks which include, among others, expropriation, confiscatory taxation, issues with repatriation of investment income, limitations of foreign ownership, political instability, armed conflict and social instability.
Investing involves substantial risk and high volatility, including possible loss of principal. Bonds and bond funds will generally decrease in value as interest rates rise. An investor should consider the investment objective, risks, charges and expenses of the Fund carefully before investing. To obtain a prospectus and summary prospectus, which contains this and other information, call 800.826.2333 or visit vaneck.com/etfs. Please read the prospectus and summary prospectus carefully before investing.
Important Disclosure
This content is published in the United States for residents of specified countries. Investors are subject to securities and tax regulations within their applicable jurisdictions that are not addressed on this content. Nothing in this content should be considered a solicitation to buy or an offer to sell shares of any investment in any jurisdiction where the offer or solicitation would be unlawful under the securities laws of such jurisdiction, nor is it intended as investment, tax, financial, or legal advice. Investors should seek such professional advice for their particular situation and jurisdiction.
The views and opinions expressed are those of the speakers and are current as of the posting date. Videos and commentaries are general in nature and should not be construed as investment advice. Opinions are subject to change with market conditions. All performance information is historical and is not a guarantee of future results.
Please note that Van Eck Securities Corporation offers investment portfolios that invest in the asset class(es) mentioned in this commentary. The Emerging Markets Equity strategy is subject to the risks associated with its investments in emerging markets securities, which tend to be more volatile and less liquid than securities traded in developed countries. The Emerging Markets Equity strategy's investments in foreign securities involve risks related to adverse political and economic developments unique to a country or a region, currency fluctuations or controls, and the possibility of arbitrary action by foreign governments, including the takeover of property without adequate compensation or imposition of prohibitive taxation. The Emerging Markets Equity strategy is subject to risks associated with investments in derivatives, illiquid securities, and small or mid-cap companies. The Emerging Markets Equity strategy is also subject to inflation risk, market risk, non-diversification risk, and leverage risk. Please see the prospectus and summary prospectus for information on these and other risk considerations.
You can obtain more specific information on VanEck strategies by visiting Investment Strategies.
Investing involves risk, including possible loss of principal. An investor should consider investment objectives, risks, charges and expenses of any investment strategy carefully before investing. No part of this material may be reproduced in any form, or referred to in any other publication, without express written permission of Van Eck Securities Corporation.