One of my friends used to always say, "the cream always rises to the top" and what he meant by that is that it's always good to buy high-quality stocks.
I find that especially true in the retail REIT sector where store closures and weaker tenant sales have driven a broader sell-off in lower productivity mall REITs.
For that reason, we maintain a strong bias for superior Mall REITs that have more durable sources of income to defend against the choppy macro-economic conditions. We believe that the higher productivity landlords are best positioned to deliver out-sized returns over the next few quarters.
Within our REIT coverage universe, we consider the "cream of the crop" Mall landlords to be Simon Property Group (NYSE:SPG), Tanger Factory Outlet (NYSE:SKT), and Taubman Centers (NYSE:TCO). We recently wrote on Pennsylvania Real Estate Investment Trust (NYSE:PEI) and General Growth Properties (NYSE:GGP), neither "blue chips" in our opinion, but deserving picks, just not as much cream.
Back in March, we recommended Tanger, and since that time, shares have returned over 24%. In addition, we recommended the lower-productivity mall REIT, WP Glimcher (NYSE:WPG) and shares have returned over 40%.
We knew that WPG was not a "cream of the crop" REIT but we saw value in the shares.

Click to enlarge
We still like SKT and WPG, but we are continually seeking stocks that we can purchase at a discount. Today, we will inspect a Mall REIT that has the potential to outperform - the cream always rises to the top!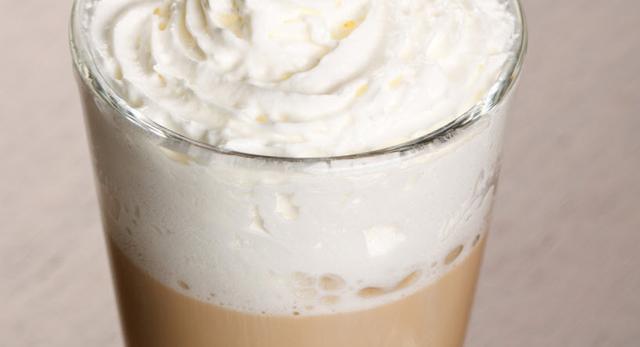 Click to enlarge
Taubman Centers: A Treasure Chest Unlocked
Taubman Centers has been in business for over 60 years, and the company was founded by A. Alford Taubman in 1950. It converted to a REIT in 1992, and the Bloomfield Hills-based REIT has maintained a consistent cash payout history for over 23 years.
Most notable for the durable Regional Mall company is the fact that Taubman was a pioneer REIT that became the first publicly traded UPREIT (in 1992), laying the groundwork for real estate companies in all sectors to access the public equity markets.
Favoring "quality over quantity," it owns or manages 24 properties in the U.S. and Asia - large enough to provide economies of scale and solidify relationships with some of the world's best retailers, yet small enough to effectively maximize the potential of every asset by receiving attention of the senior management team. Taubman was added to the prestigious S&P 400 MidCap Index in January 2011.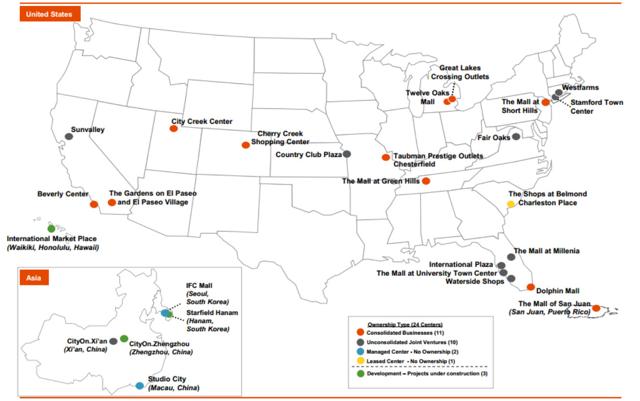 Click to enlarge
Over the years, the REIT has maintained a strategic capital recycling model in which it has selectively bought and sold assets in order to maximize the potential of the individual assets. Taubman started as a public company 22 years ago with 19 properties.
Along the way, the company built 17 and acquired 11 properties, but sold 26 properties (including a portfolio of 7 properties for $1.405 billion sold to Starwood (NYSE: STWD) in 2014). So, on a net basis, Taubman went from 19 to 24 assets.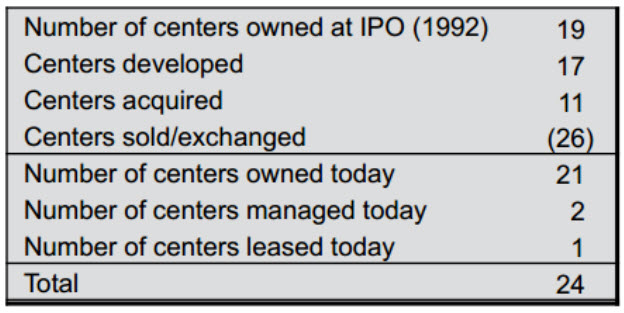 Much of the company's success has been its unique-to-market tenant base that includes high-end brands such as Dolce & Gabbana, Diesel, Restoration Hardware, Forever 21, J.Lindeberg, and Ben Sherman.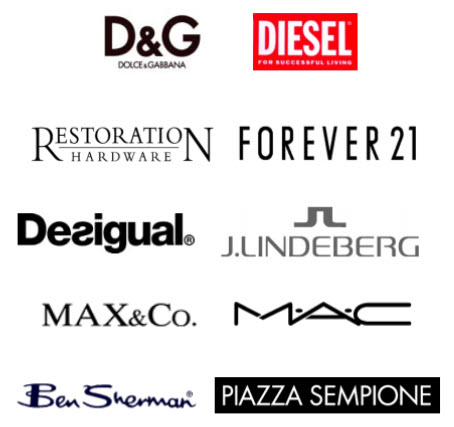 In May 2014, Bank of America Merrill Lynch provided a broad mall industry assessment indicating that Taubman is the highest-quality mall operator in the peer group. This report was based on a number of quantitative data points, including rent to sales, demographics, and other quality "wide moat" metrics.
Another premium metric to consider is the company's industry-leading average rent per square foot (March 31, 2016).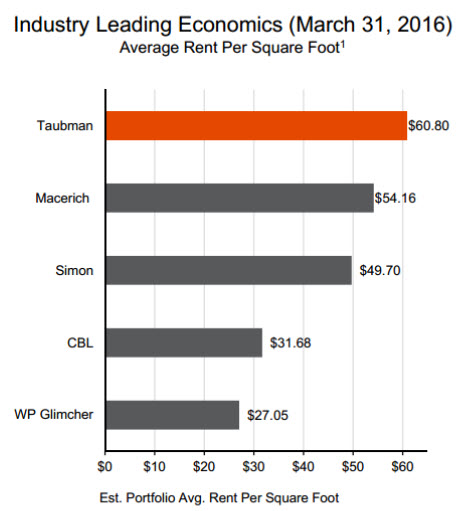 Needless to say, you will not see any troubled department store chains (i.e., Sears (NASDAQ: SHLD) and J.C. Penney (NYSE: JCP)) show up on Taubman's Top 10 tenant list. Here is a snapshot of its top tenants: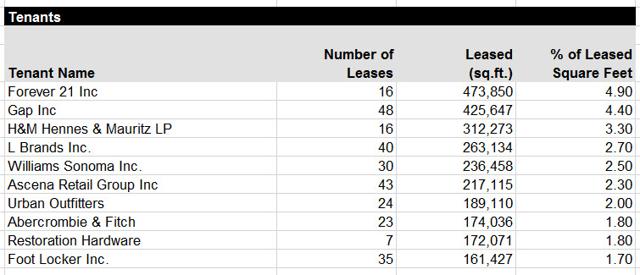 Click to enlarge
Unlocking the Development Secrets
One key differentiator for Taubman is the fact that the company is a mall developer, and over the last 14 years, the REIT has invested in over $3 billion of projects. As a result, it has created in excess of $4 billion in value. Taubman is one of the few regional mall developers that possess a full set of development capabilities internally.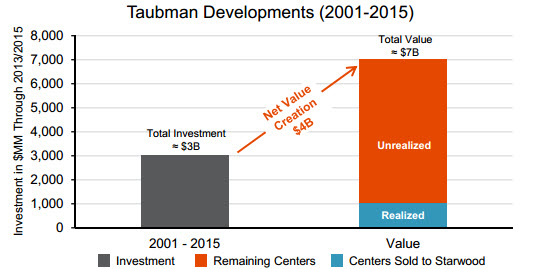 Here is a snapshot of Taubman's development projects: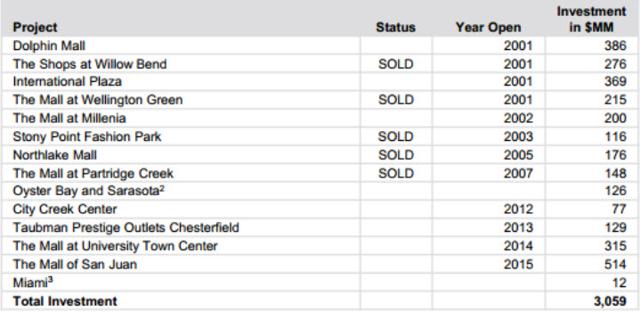 Click to enlarge
The company's levered and unlevered IRRs on all development spending since 2001 - assuming 50% leverage, a conservative terminal cap rate of 4.5% on the seven assets still held in the portfolio, using the sale price of the five assets sold to Starwood, and including all pre-development and impairment charges over the period - would be 19% and 14%, respectively.
The seven assets developed since 2001 that remain in Taubman's portfolio have delivered robust returns. The 50% leveraged IRR is approximately 22%, based on a conservative terminal cap rate of 4.5%. On an unlevered basis, the IRR would have been approximately 18%.
As you can see below, Taubman's development business generates outsized returns - the model below is a hypothetical model based on $400 million of capital allocated to development. By using a projected yield of 7%, construction financing of 65%, and 3% annual rent bumps, the project realizes $752 million in value in Year 12.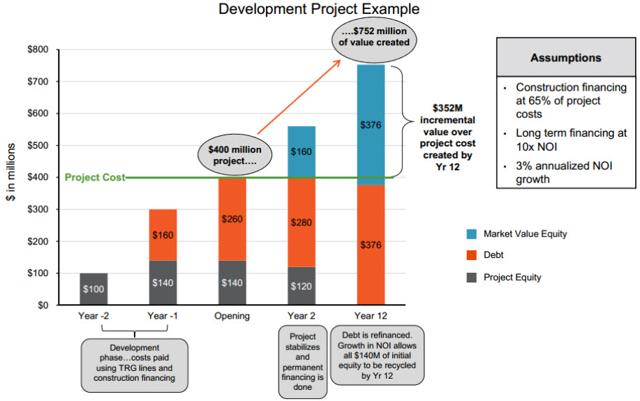 Click to enlarge
Unlocking the Balance Sheet Secrets
Another differentiator for Taubman is the company's balance sheet. Taubman is an icon of operational excellence, as the mall REIT has successfully orchestrated a showcase of prudent financial management.
I believe the balance sheet is a key competitive advantage of the business and one reason that the company has maintained a very stable and reliable dividend history (more on that below). The balance sheet is solid. At quarter-end, Taubman had approximately $4 billion of debt with well-added maturities.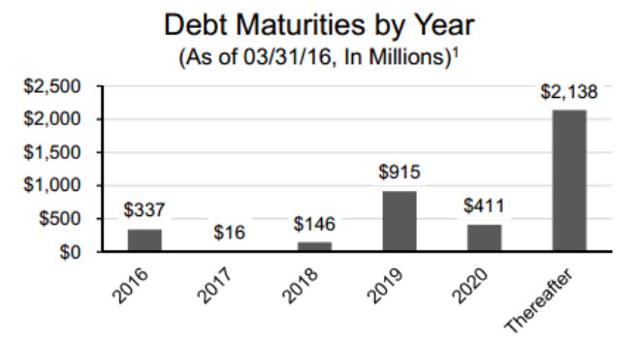 Click to enlarge
Over the previous four quarters, Taubman extended its weighted average maturity from four to six years and extended the weighted average maturity on the company's fixed rate debt from four to eight years.
Approximately, 80% of our debt is fixed and recently the company lowered its weighted average interest rate by about 50 bps, to just under 3.5%.
As referenced above, Taubman has a steady stream of development projects and the company is trending near the higher end of its targeted debt-to-EBITDA range of 6-8x. Towards the end of 2017, leverage should trend downward below 8x. The ratio will reduce as the NOI from Taubman's four centers open this year and are stabilized.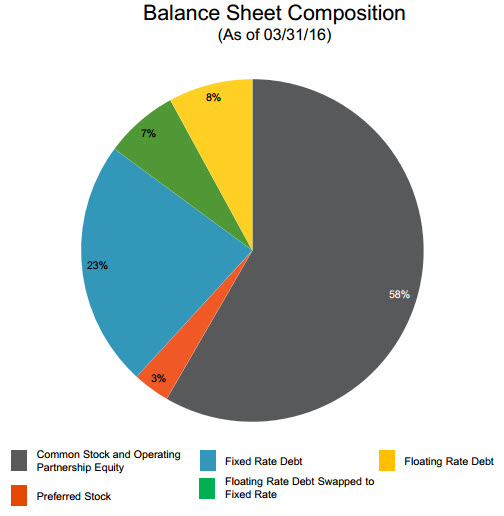 From Taubman's developments opening this year, the company expects a total of approximately $80 million of NOI by 2019.
Also by 2019, Taubman will have completed the redevelopments of Green Hills and Beverly Center and their NOI should be stabilizing. In other words, growth in the core portfolio will further contribute to the natural deleveraging of the company's balance sheet.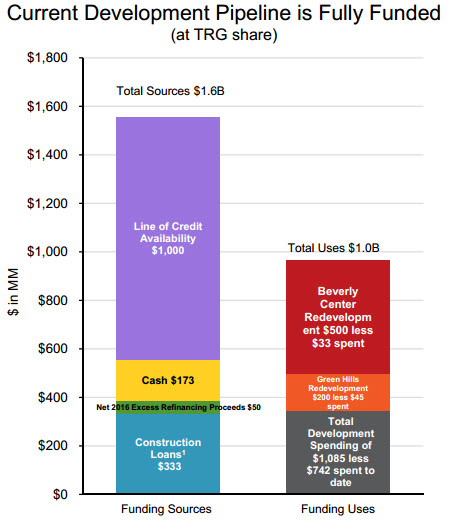 Most of Taubman's projected spending would have NOI associated with it. In addition to debt-to-EBITDA, Taubman is focused on its fixed charge coverage ratio - through 2019, the company expects to remain in the 2.25 to 3x range. Taubman maintains around $500 million of liquidity at all times.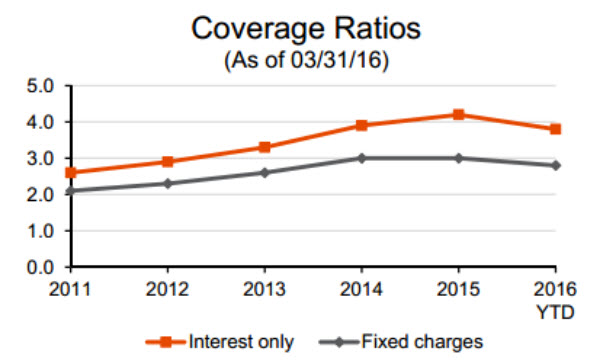 We carefully watch our liquidity and target at least $500 million of availability at all times.
Now an update to our guidance. As we said in the release for the full year 2016, we're expecting FFO per share to be in the range of $3.75 to $3.95. Our guidance now incorporates the positive impact of Country Club Plaza; it was not included in our original guidance as the acquisition was pending.
Comp center NOI excluding lease cancellation income is now expected to be at the high end of our original range at about 5% for the year, due to the positive CPI result in February. Our guidance also includes a $21 million payment that we expect to receive in the second quarter. As you know, the Shops at Crystals in Las Vegas have been sold and will no longer be providing leasing services at the center. This payment is for the early termination of our services agreement.
As a result, we are lowering our guidance range for net third party revenues by $1.5 million to a range of $2 million to $2.5 million.
Due to the Country Club Plaza acquisition and financing, we now expect our share of consolidated and unconsolidated interest expense for the year to be $135 million to $140 million at 100% consolidated, non-consolidated interest expense is expected to be $190 million to $195 million. The rest of our key assumptions are unchanged.
Unlocking the Asian Secrets
In Asia, Taubman is pursuing a strategy of seeking strategic partners to jointly develop high-quality malls in the company's areas of focus. Taubman Asia is engaged in projects that leverage the REIT's strong retail, planning, design, and operational capabilities.
Taubman currently has two joint venture developments with Wangfujing Group Co. Ltd., one of China's largest department store chains, and another with Shinsegae Group, South Korea's largest retailer. All three are scheduled to open in 2016, and a few months ago, the company celebrated the grand opening of CityOn.Xi'an, Taubman's first ground-up development in China.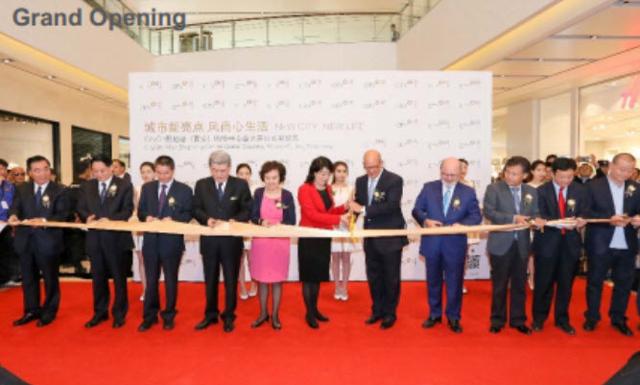 Click to enlarge
On the recent earnings call, Taubman said it had "delivered on-time and on-budget," and the company said it is confident the project will generate returns targeted "at 6% to 6.5% at stabilization."
In addition to Wangfujing, Taubman was instrumental in bringing in quite a few retailers, including Coach (NYSE: COH), Forever 21, Gap (NYSE: GPS), H&M, Muzzy, Starbucks (NASDAQ: SBUX), Toys "R" Us, and others.
Xi'an is approaching 9 million people and is one of the most important cultural destinations in the world, having been in the capital of China for nearly 700 years.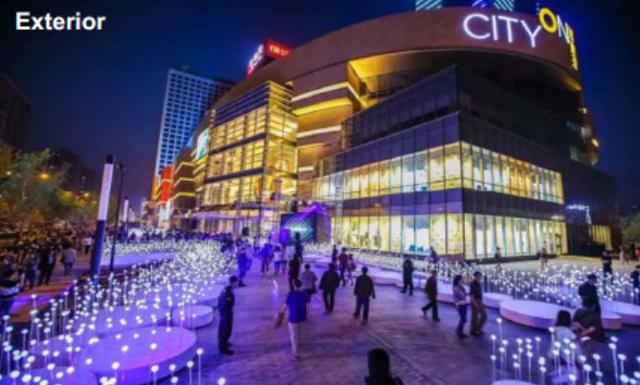 Click to enlarge
Taubman's other project in China, CityOn.Zhengzhou, is progressing. Construction remains on schedule, and the company expects this center to replicate the leasing and occupancy levels achieved at Xi'an.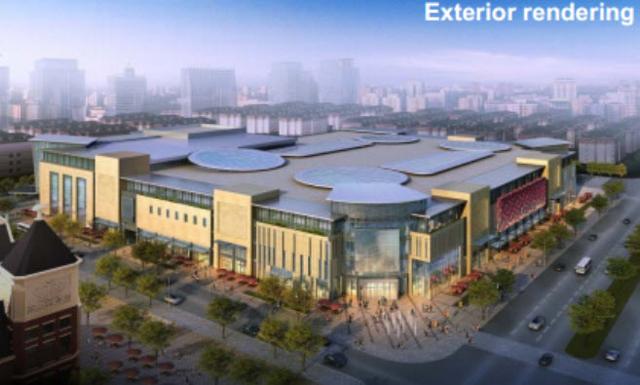 Click to enlarge
The company's third project in Asia is located in Korea and is now named Starfield Hanam. The opening date will be in mid-September, three months ahead of the original schedule. Construction is now more than 70% complete, and Taubman said it had reduced the total project cost by a $100 million to $1 billion.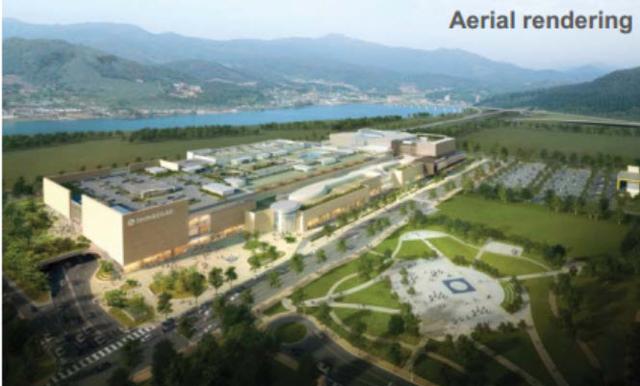 Click to enlarge
For many years, the Asian economies have been growing at a much faster pace than in the U.S., and in many Asian markets, there is a shortage of well-designed and well-managed retail space.
Although Taubman's traditional US development produces higher returns in the early years, the Asian model produces outsized returns when the projects are stabilized, and that is why the company believes the international growth is an attractive area for expansion.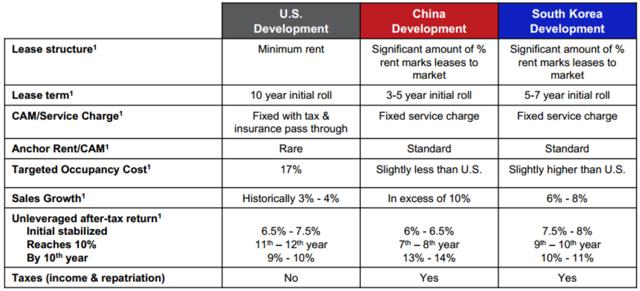 Click to enlarge
Unlocking the Dinosaur Myth - All Malls Are NOT Dead
I have now provided you with several of the secrets that may help you understand Taubman and that also serve as catalysts for the company's share price growth. Obviously, the sum of all of these secrets is the earnings potential and reliability of the future dividend stream. Let's first start with Taubman's historical earnings record - AFFO from 2011-2015: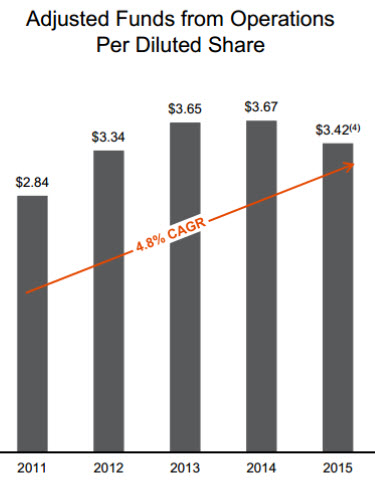 In the latest quarter (Q1-16), the company produced strong results, with FFO per share of 3.7% and comp center NOI growth of 5.8%. This was driven by increased occupancy and higher rent per square foot. Average rents grew 2.7% in the quarter, and trailing 12 months releasing spreads remained strong at 25.2% (this is now five years of very positive spreads, averaging nearly 22%).
Taubman said that its full year 2016 FFO per share guidance is to be in the range of $3.75-3.95, and AFFO is $3.50-3.70 per diluted share. Also on March 3rd, the company increased its quarterly dividend by 5.3% to $.595 per common share. This represents an annualized dividend payout of $2.38 per share.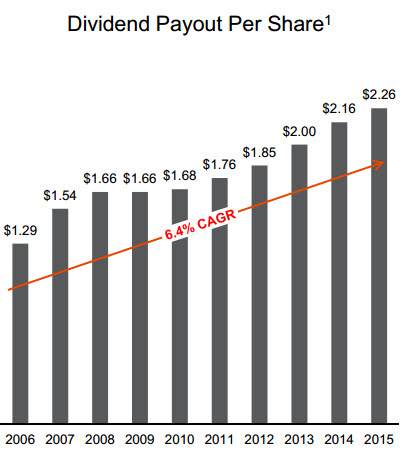 As the picture above indicates, Taubman has an impressive history of dividend performance - the stalwart REIT has never reduced its dividend since its IPO in 1992. That's clearly a "blue chip" record, and one which only one other mall REIT has been able to emulate (Tanger has paid and increased dividends for over 22 years in a row). Also, the dividend is well covered (around 65%, based on AFFO in 2016).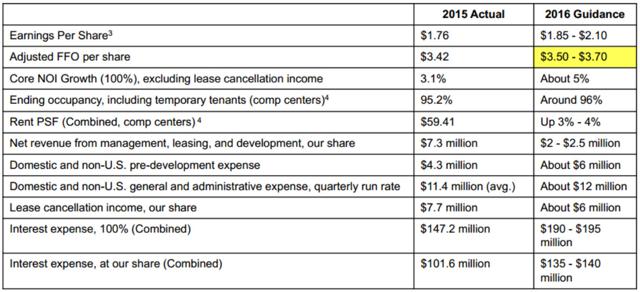 Click to enlarge
As you can see above, Taubman's AFFO per share guidance is $3.50 to $3.70 per share, wider guidance than normal due to the robust development activity. So now let's examine the valuation for this blue chip REIT.
This Blue Chip REIT Is Hard To Beat
Let's see how Taubman's dividend yield compares with that of its peer group:

Click to enlarge
Now let's see how its P/FFO multiple compares with that of peers:

Click to enlarge
Keep in mind, Taubman insiders have considerable ownership, the Taubman family owns roughly 1/3 of the company, and they have never sold a share in 24 years. There is a substantial alignment of interest and the steady stream of dividend growth validates that point.
As I said at the outset, we are always looking for higher-productivity mall landlords and Taubman fits that bill. We are also looking for stable dividend payers and Taubman fits that bill.

Click to enlarge
Most development projects, especially bigger deals, take around three years to stabilize. In other words, the projects don't generate full NOI for at least three years. Given the strong development pipeline with Taubman, we expect to see stronger dividend growth in 2017 and 2018.
Taubman is trading at $78.74 per share, around 25% below consensus NAV of around $100 per share. As the company brings more projects to stabilization, we believe the company will begin to close the NAV gap. We're a fan of the Asian expansion and we believe that Taubman continues to maintain a disciplined capital markets profile.
In summary, we are maintaining a BUY recommendation on Taubman, as we believe the "cream always rises to the top."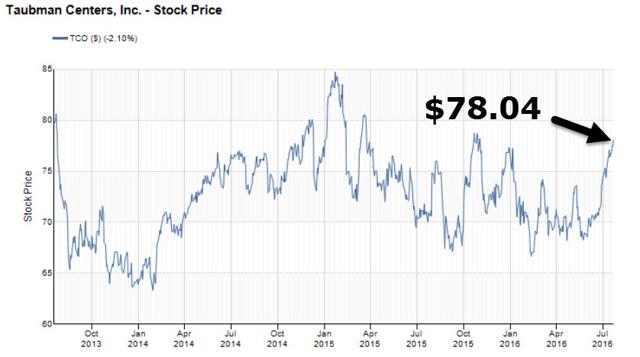 Click to enlarge
Author's Note: Brad Thomas is a Wall Street writer and that means that he is not always right with his predictions or recommendations. That also applies to his grammar. Please excuse any typos, and I assure you that he will do his best to correct any errors if they are overlooked.
Finally, this article is free, and the sole purpose for writing it is to assist with research (Thomas is the editor of a newsletter, Forbes Real Estate Investor), while also providing a forum for second-level thinking. If you have not followed him, please take 5 seconds and click his name above (top of the page).
Sources: FAST Graphs, SNL Financial and TCO Presentation.
Other REITs: Macerich Co. (NYSE:MAC), Seritage Growth Properties (NYSE:SRG), and CBL & Associates Properties, Inc. (NYSE:CBL).
Disclaimer: This article is intended to provide information to interested parties. As I have no knowledge of individual investor circumstances, goals, and/or portfolio concentration or diversification, readers are expected to complete their own due diligence before purchasing any stocks mentioned or recommended.
Disclosure: I am/we are long O, DLR, VTR, HTA , STAG, GPT, ROIC, HCN, OHI, LXP, KIM, WPC, DOC, EXR, MYCC, TCO, SKT, UBA, STWD, CONE, BRX, CLDT, HST, APTS, FPI, CORR, NHI, CCP, CTRE, WPG, KRG, SNR, LADR, PEB, BXMT, IRM, CIO.
I wrote this article myself, and it expresses my own opinions. I am not receiving compensation for it (other than from Seeking Alpha). I have no business relationship with any company whose stock is mentioned in this article.