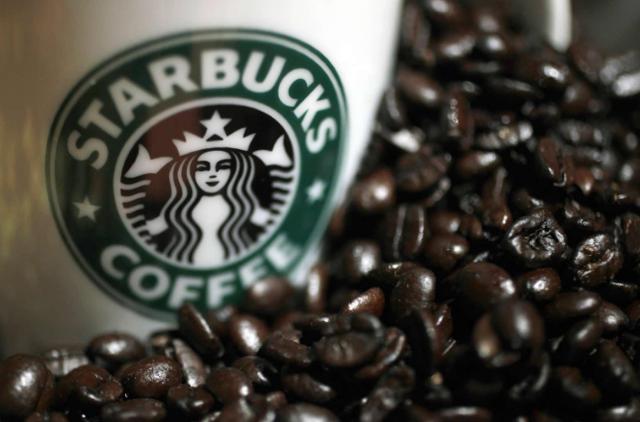 Click to enlarge
I've been bullish on ubiquitous coffee chain Starbucks (NASDAQ:SBUX) for a long time now. The company's unbelievable growth trajectory over the past several years has been awe-inspiring but of late, it seems investors have decided that run is all but over. SBUX has somewhat become a victim of its own success when record results are viewed as disappointing and send the stock down. With shares back around $56 after yesterday's earnings report, SBUX continues to bounce around in a trading range that has consumed right at a year's worth of activity at this point. So is Starbucks fairly valued here or is the market missing something?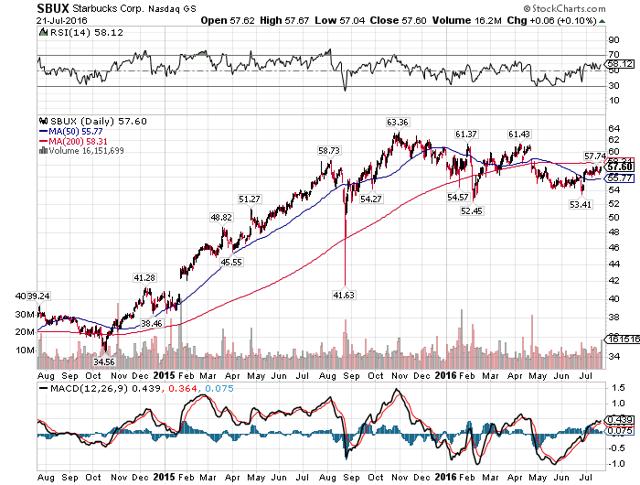 Click to enlarge
Starbucks' FQ3 revenue was indeed a record but it wasn't good enough, missing analyst expectations by a slim margin. The problem is that when a stock is valued as highly as SBUX - ~30 times this year's earnings - misses of any sort aren't tolerated. That's what we're seeing today and while the damage to the stock has been very manageable, it seems SBUX has missed an opportunity to provide shares with an upside catalyst.
Still, total revenue was up 7% as new stores and comp sales both came in with respectable results. Comp sales slowed from recent increases but were still up 4% globally with China remaining a pocket of strength at +7%. The +4% global result would be celebrated for most companies but as I said, at 30 times earnings, SBUX is not most companies. It has to be better as it is held to a much higher standard and it simply didn't get it done in FQ3.
Perhaps more alarming for me is that SBUX saw flat traffic during FQ3; the entirety of the comp gain was due to pricing and ticket gains. While ticket gains are terrific - and Starbucks is one of the best around at passing on pricing increases - flat traffic makes me worry. After all, traffic is the lifeblood of any business with physical locations and while SBUX didn't lose traffic, it didn't gain any either. That's a change from a very long term trend we've seen in the past few years and while the pricing gains were strong - and should continue to be as new price increases are passed along starting in the current quarter - I'd be lying if I said I wasn't concerned by the lack of traffic gains. Schultz said that the comp in FQ3 was an anomaly and while I believe what he says - he's earned that right over time - I will be closely watching the complexion of the FQ4 comp number. Will traffic growth return? If it doesn't, I think the bull case for SBUX changes materially.
On the margin side, SBUX' march higher continues. This is another pillar in the bull case but unlike traffic, this one hasn't wavered. Operating margin was up 30bps to 19.6% in a continuation of an incredible, multi-year trend upwards. Lower commodity costs did the trick for SBUX in FQ3 and while those can be fickle, with SBUX gaining ever more scale through higher sales levels, continuous leverage on labor and occupancy costs should continue to bump operating margins higher over time. Nothing more to say here other than SBUX continued the great work it was already doing despite dealing with flat traffic in FQ3.
In terms of the Princi partnership, I don't think this is going to be a needle-mover for SBUX. This is a very small company that produces a specialized set of products that are very difficult to replicate at scale. There is simply no way to replicate an artisanal product at tens of thousands of stores and retain the same sort of quality. Of course, SBUX knows this so the plan is likely something different but if it isn't a chain-wide rollout, the numbers likely won't mean much. I like the fact that SBUX is branching out but I honestly don't care about Princi until SBUX proves it can make something meaningful out of it. SBUX already offers lots of baked goods at its stores so I'm not sure where the excitement is coming from.
Next year, analysts are looking for $2.19 in earnings off of 9% sales gain. If SBUX is right and it can continue to hit 5% comp sales, the 9% sales gain really shouldn't be that challenging to hit. It would be a marked slowdown from this fiscal year's results so I don't have any reservations there except that traffic was flat in FQ3. If FQ4's traffic number is flat or even down, I think estimates for next year will need to come down. SBUX cannot rely solely on price increases because while those do work, it cannot pass along enough for that to be the sole increaser of comp sales. In addition, I would simply worry that SBUX had reached its capacity in terms of demand if traffic is going to be flat from here on out. It is way too early to tell if that is the case but the fact that we're talking about it is a change in and of itself. Also keep in mind comparisons will be tougher next year than they are this year so that is another hurdle for SBUX to overcome.
The chart isn't particularly inspiring at this point as SBUX remains below its 200DMA. On the bright side, the 50DMA is at ~$55 and is moving up, potentially providing some support for the stock as we move forward from here. If SBUX can stay above the 50DMA off of the earnings report, it should bolster the bulls in the short term. The next step is cresting the 200DMA in convincing fashion but as I said, I'm not sure of what the catalyst would be for that at this point. The disappointing traffic number this quarter is a big deal to me and apparently others as well as the stock is weak off of the report. The good news is that strong support exists in the $53 so downside potential is limited right now. At the same time, the stock continues to search for direction.
Overall, SBUX continued to do what it always does with one notable exception in FQ3; traffic. The fact that traffic was flat is concerning to me and while Schultz sought to calm investors, I'll be very interested to see if it can produce positive traffic in FQ4. If it can't, look out below because SBUX is still priced for perfection at ~30 times this year's earnings and another flat or even negative traffic number would be devastating. I still believe in the SBUX story but if traffic is getting weaker, we need to reset expectations as such. One quarter is not a trend but it is certainly worth watching going forward. For now, I'll remain cautiously bullish because SBUX is just that good; I'm just unsure of upside catalysts until we get more clarity on the traffic situation.
Disclosure: I am/we are long SBUX.
I wrote this article myself, and it expresses my own opinions. I am not receiving compensation for it (other than from Seeking Alpha). I have no business relationship with any company whose stock is mentioned in this article.