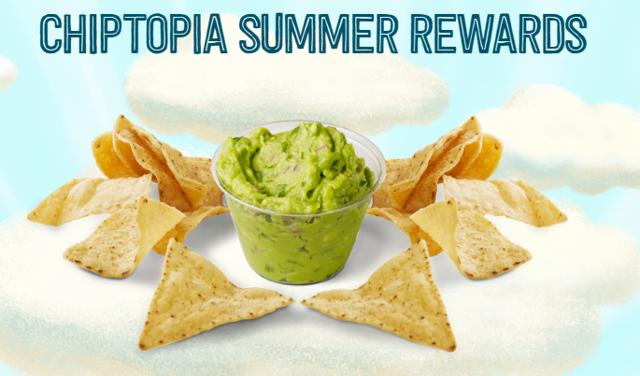 Click to enlarge
After being a bear on Chipotle (NYSE:CMG) for a long time based upon valuation, the scandal regarding the company's food safety and the resulting crushing of the stock price has made me rethink my position. Brand crises for a company as strong as CMG has been transitory for others in the past and, the thinking goes, at some point people will forget about it and CMG will be back to its old ways. But that has taken much longer than I originally thought it would and CMG's share price and earnings continue to remain in the tank. Still, CMG is trying to do something about it and while I don't necessarily agree with the methods, I applaud the efforts. Will it be enough?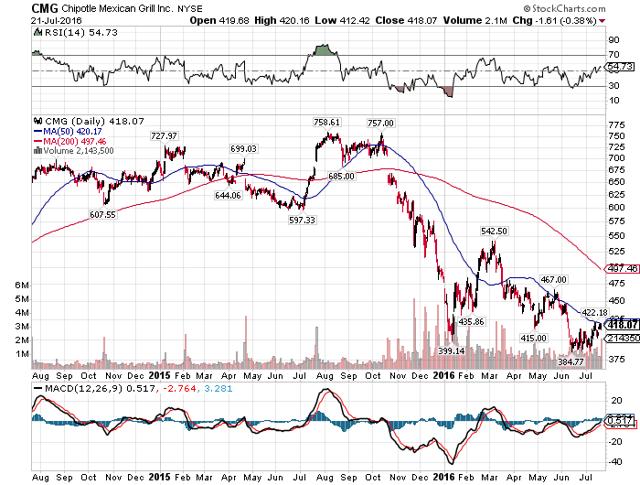 Click to enlarge
The bottom line on Q2 is that it was horrendous, just as bad as Q1 and the realization of another nightmare scenario for CMG. However, despite how bad it was, the share price is still reasonable and to a large extent, investors expected the beating the company would take. Just how bad was it?
Total revenue was off 17% as last year's Q2 hadn't seen the crisis begin yet. Despite the fact that CMG continues to expand its footprint, its total sales are well off of their former levels and will continue to be for some time. When CMG will regain its former levels of sales is anyone's guess but it is going to be a while; the public's trust in CMG is taking much longer to regain than I thought it would.
The culprit was, of course, comp sales, which plummeted 23.6% during the quarter. The composition of the loss was 4.3% from promotional activity and the balance - 19.3% - from lost traffic. That is one of the worst traffic numbers I've ever seen from any retailer or restaurant chain ever and while I'm sure someone has been worse, it is difficult to imagine that level of losses. Lots of former customers have literally stopped going to Chipotle and it is crushing the company's results.
Obviously, the elephant in the room is CMG's traffic numbers and that, more than anything, is where improvement needs to come. No company can sustain that level of lost traffic except - it seems - Chipotle. That kind of traffic loss would produce negative operating margins at most other companies but CMG is so good and was so strong heading into the crisis that its operating margins are now in the mid-teens, a level many restaurants have never seen in the best of times. And that is with CMG battling a huge brand crisis; that speaks volumes to just how good CMG was before the crisis and how good it could be again. Traffic will be the most important thing CMG reports in FQ3 and in particular, in light of its Chiptopia rewards program.
I love the idea of rewarding customers to come into stores; CMG has more than enough margin to support giving away some free stuff. I also like the idea of rewarding visits instead of dollar amounts because it should appeal to a larger base of customers instead of just those that spend a lot of money. However, I think CMG is missing a big opportunity with some of the arbitrary limitations on the program.
The levels of rewards are great and easy to understand and can give customers reason for incremental visits; if you're one visit away from going from Mild to Medium, you may be more inclined to go to CMG. But there is a pointless restriction that says only one visit per day counts towards your rewards. Excuse me? So if a customer eats at CMG twice in one day - I assume such people exist - you want to limit their rewards? Aren't those the brand ambassadors you want to reward more than anyone? Why would you limit their rewards when they would ostensibly be among your best customers? That makes no sense at all and I think CMG is overthinking its reward program, potentially at its own peril. Just make the rewards program based upon visits and move on; pointless restrictions will just irritate people at a time when you're trying to rebuild your brand. You don't do that by telling your best customers they can't earn the same rewards as everyone else.
I mentioned operating margins earlier and in Q2, the decline was epic. CMG fell from an industry-leading 28% in last year's Q2 to an above average 15.5% this year. While that is still a fine operating margin for a restaurant, it pales in comparison to CMG's former levels and while I don't know that it will ever get back to high 20s operating margins, I do know that 15% is not the long term norm. CMG will see higher operating margins again but upward pressure on labor costs may keep a lid on future gains. Still, it seems reasonable to me that in a couple of years, we could see CMG back in the mid-20s. That would be a massive improvement on its current profitability level and there is no reason right now to think it won't happen. That could change of course but right now, we are still fresh enough with the food safety issues that we can't say the long term health of the business is impaired.
We already know comps will be horrible in Q3 and potentially in Q4 as well but as the crisis anniversaries, CMG comp sales nightmare will be over. Then, CMG can begin to rebuild and see positive comps, something analysts fully expect to happen by 2018 at the latest. As I said, I would have thought when the crisis began that CMG would have seen some improvement by now but it obviously hasn't. Still, any company that produces a 23% loss in comp sales and still hits 15% operating margins is alright by me and I continue to think that CMG is a premium franchise that will rise from the proverbial ashes. The rewards program is a step in the right direction but too restrictive considering that CMG is trying to rebuild trust with consumers. And easy comps beginning in Q4 or Q1 of next year will help CMG's earnings results look more impressive even if they aren't.
That being said, CMG is still trading at 37 times next year's earnings, a product of the company's high multiple prior to the food safety issue and the fact that others - like me - believe the damage is transitory. CMG is being valued like a turnaround play and that's really what it amounts to at this point. Obviously, $4 or $5 in EPS this year is not close to a normalized level and indeed, even $11 next year isn't normalized. Thus, to own CMG you are looking two years or more out into the future and valuing the business based upon the expectation that CMG will get past this and back to its old self. As I said, it is taking longer than I thought but nothing has caused me to change the viewpoint that it will occur; I just don't know when. That's why I'm still bullish long term on CMG; you just have to have a lot of patience.
Disclosure: I am/we are long CMG.
I wrote this article myself, and it expresses my own opinions. I am not receiving compensation for it (other than from Seeking Alpha). I have no business relationship with any company whose stock is mentioned in this article.