IBM's (NYSE:IBM) second quarter results were better than expected. Revenue, down 2.7%, declined for the 17th consecutive quarter, but it fell less than analysts thought it would, beating estimates by $210 million. EPS beat by $0.06. Investors have been bearish on IBM for a long time. The company's legacy hardware businesses are in secular decline, and there is a lot of uncertainty surrounding management's ability to transform IBM into a software and services firm. But the company is ahead of schedule in its strategic initiatives, and the firm's unique approach to cloud gives the company a chance to succeed long-term in a market that is becoming increasingly competitive.
IBM's portfolio transformation is starting to pay off. In the second quarter, IBM's strategic initiatives (cloud and mobile computing, analytics, and social and security software aka CMASS) grew 12% year over year. Cloud performed the best, growing 30%, driving software-as-a-service revenues up 50%. Annualized revenues for this segment increased 24% sequentially. Through a mix of acquisitions and organic growth, IBM has been able to grow its strategic initiatives faster than expected. Management set out a goal for strategic initiatives to comprise 40% of total revenues by 2018. In the second quarter they accounted for 38%, compared to 35% at the end of 2015 and 28% in the third quarter of last year. Growth in CMASS has partially offset weakness in IBM's legacy businesses, causing total sales declines to decelerate (Figure 1). We expect IBM to return to growth soon, largely due to CMASS-related acquisitions. The question is whether or not the company can sustain organic growth in CMASS.
Figure 1: Year-Over-Year Sales Declines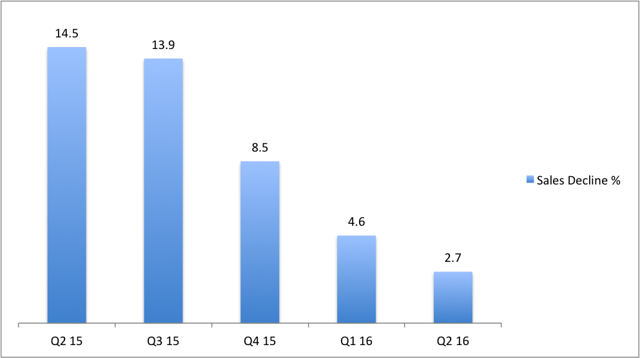 Click to enlarge
Source: Morningstar
IBM's unique approach to the cloud gives it a chance to do just that. The firm has spent heavily on acquisitions in recent years to build up a diverse portfolio of cloud-based services that position the firm for organic growth as more businesses turn to the cloud. In the infrastructure-based model that Amazon (NASDAQ:AMZN), Microsoft (NASDAQ:MSFT), and Alphabet (NASDAQ:GOOG)(NASDAQ:GOOGL) follow, scale is the main way that a company can carve out a competitive advantage, and competition is primarily based on price. IBM, on the other hand, uses a hybrid cloud strategy, offering customized solutions for clients that best fit their needs. Rather than push customers exclusively to its own platforms under an infrastructure-centric model, IBM allows clients to manage their cloud infrastructure across different providers, and focuses on adding value with differentiated services.
This unique approach to cloud can drive growth across the CMASS portfolio. Perhaps more than price, cloud flexibility is a key factor that drives client purchase decisions. Even within a single organization, businesses use the cloud for a wide range of tasks, sometimes at a broad range of capacity levels. The ability to offer clients customized solutions that fit their unique needs is an advantage, and it should drive customer acquisition: by helping clients transition to the cloud, IBM can expand the customer base for its software-as-a-service offerings, which run on multiple cloud platforms. IBM's Cloud Marketplace consists of an extensive portfolio of cloud offerings, not only from IBM but from licensed third parties. This allows IBM to sell cloud services to clients without first having to add them to its own platform. As a result, we expect Marketplace sales to grow more-or-less in tandem with the overall rate of industry-wide cloud adaptation in the long term.
As is the case with any firm undergoing a major transition, there are significant risks. IBM will rely on its strategic initiatives going forward, areas in which the firm is relatively unproven and where the firm's competitive positioning is not as formidable. IBM has a wide moat in its legacy hardware businesses, thanks to a strong brand, intellectual property, entrenched customer relationships, and high switch costs. But the competitive dynamics are different in CMASS segments. With so much new capacity being added, software services are becoming increasingly commoditized. The pay-as-you go approach, which characterizes most software services, leads to more volatile revenue streams. Switch costs are low because customers can easily integrate across systems, and this is especially true for IBM with its hybrid cloud strategy. In making clients mold their infrastructures to their platforms, Amazon and Microsoft can reduce the incentive for clients to switch to another provider. But this dynamic is absent in IBM's model that is all about getting as many customers to the cloud as possible.
Conclusion:
In the second quarter, cloud revenues comprised 35% of "strategic imperative revenues". We expect cloud will surpass analytics (50%) as the firm's largest strategic imperatives division sooner rather than later. Much of the skepticism surrounding IBM's transition to the cloud relates to the challenges of competing against larger platforms such as AWS and Microsoft's Azure offering. But IBM is not directly competing with them. Instead it is focused on getting as many businesses to use the cloud as it can, so that it can sell more of its differentiated services. So far the strategy seems to be working, and we think it can be sustained.
Disclosure: I/we have no positions in any stocks mentioned, and no plans to initiate any positions within the next 72 hours.
I wrote this article myself, and it expresses my own opinions. I am not receiving compensation for it (other than from Seeking Alpha). I have no business relationship with any company whose stock is mentioned in this article.