In a recent series of articles, I have been describing factor tilts that have generated structural alpha over long-time intervals. Two of these factor tilts - dividend growth and low volatility - have generated outperformance through lower drawdowns in market corrections and steady returns in bull markets.
For purposes of my "5 Ways to Beat the Market", I have used the S&P 500 Dividend Aristocrats ETF (NYSEARCA:NOBL) as my proxy fund for the dividend growth tilt. Long-time reader, Augustus, has asked for a comparison between this fund and the S&P 500 High Dividend Low Volatility ETF (NYSEARCA:SPHD), a strategy that blends dividend payers and low volatility.
In this article, I will compare and contrast these two leading dividend funds. Both have generated long-run outperformance relative to the S&P 500 (NYSEARCA:SPY), and have continued this success to double-digit total returns in 2016 (SPHD 18.2%; NOBL 12.9%). Before we do an analytical examination of the performance of these two dividend strategies historically, let's look at how these indices and their corresponding replicating funds are constructed.
Dividend Aristocrats
In addition to the bellwether S&P 500, Standard and Poor's produces the S&P 500 Dividend Aristocrats Index. This index, which is replicated by the ProShares S&P 500 Dividend Aristocrats ETF (NOBL), measures the performance of equal weighted holdings of S&P 500 constituents that have followed a policy of increasing dividends every year for at least 25 consecutive years. To put this into perspective, the average S&P 500 constituent now stays in the index for an average of only eighteen years, so the list of companies who have had the discipline and financial wherewithal to pay increasing dividends for an even longer period is necessarily short at 50 companies (10% of the index).
Detailed below is a nearly thirty year return history for this index relative to the S&P 500. The Dividend Aristocrats have produced higher average annual returns, outperforming the S&P 500 by 2.74% per year. This approach has also produced returns with lower volatility and drawdowns than the broader market. The stable business profiles of these market constituents has produced better returns in down markets. The cumulative return profile graph of the Dividend Aristocrat strategy is compared to the market benchmark below: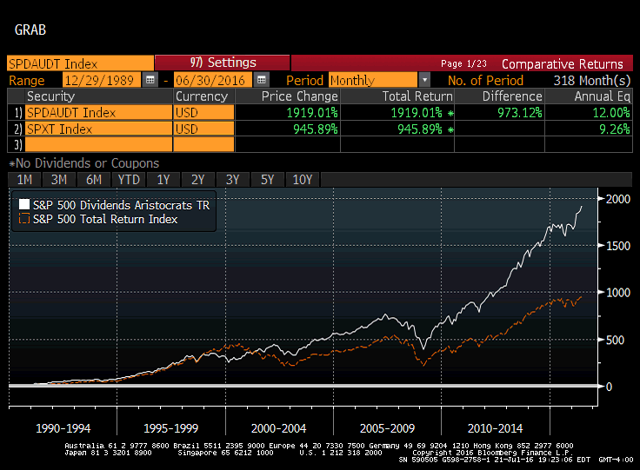 Click to enlarge
Source: Standard and Poor's Bloomberg
S&P 500 Low Volatility High Dividend Index
While there is just under a four-year history with SPHD, data on the underlying index is available back to 1990. The S&P 500 Low Volatility High Dividend Index takes the 75 highest dividend-yielding stocks in the S&P 500, selecting the 50 stocks with the lowest realized volatility over the trailing year. The number of stocks from a given industry is capped at 10. The index constituents are weighted by dividend yield, and rebalancing is done biannually in January and July.
Since the advent of the index in 1990, the S&P High Dividend Low Volatility Index has strongly outperformed the S&P 500 with lower return volatility. The index has had an average return of 12.45%, besting the S&P 500 by 287 bps per year. This absolute outperformance was achieved with meaningfully less return volatility. (The returns discussed in this article are total returns including price appreciation and dividends, with dividends assumed to be reinvested into the respective index.)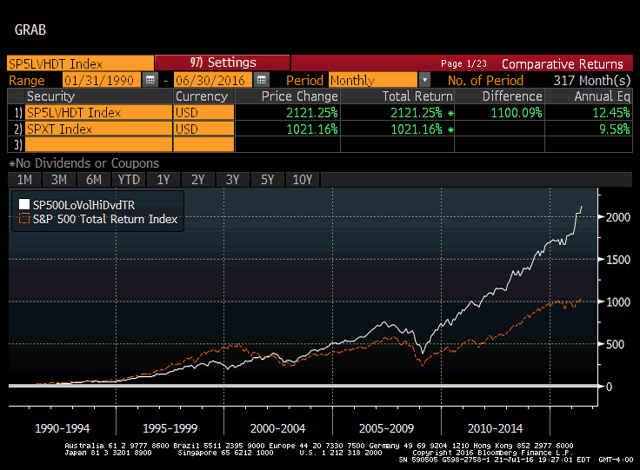 Click to enlarge
Source: Standard and Poor's; Bloomberg
Historical Comparison
Two dividend strategies that are comprised of S&P 500 constituents. Both have produced higher historical returns with less risk. Which of these funds has produced higher risk-adjusted returns historically?
Below are summary statistics for the quarterly return series for the two strategies and the S&P 500. Full quarterly index returns are appended to the end of this article.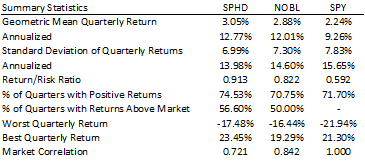 The underlying index for SPHD has produced higher average returns with a lower variability of returns than either the underlying index for NOBL or the S&P 500. While NOBL experienced a slightly lower drawdown during the fourth quarter of 2008, SPHD has also more consistently produced positive returns and beat the market return. Additionally, SPHD has had a lower correlation with the broader market.
As I demonstrated in "The Graph All Dividend Investors Should See", I demonstrated that the dividend sweet spot was stocks that paid higher than average returns, but not market leading returns. SPHD seems to reliably fit in that sweet spot. Because the dividend yield and trailing volatility will alter the constituents over time, NOBL is going to offer a more stable constituent mix given its long-term hurdle for inclusion. This may lead to lower capital gains from rebalancing over-time. I think both dividend strategies offer value to investors. With this long-run outperformance, a higher current indicated dividend yield (3.46% vs. 1.77%), and modestly lower expense ratio (35bp vs. 30bp), I can see why investors might gravitate towards SPHD, which may factor into its very strong performance in 2016.
I hope this illustration was helpful for the Seeking Alpha community, and especially the robust Income Investing readership.
Disclaimer: My articles may contain statements and projections that are forward-looking in nature, and therefore inherently subject to numerous risks, uncertainties and assumptions. While my articles focus on generating long-term risk-adjusted returns, investment decisions necessarily involve the risk of loss of principal. Individual investor circumstances vary significantly, and information gleaned from my articles should be applied to your own unique investment situation, objectives, risk tolerance, and investment horizon.
Data Appendix: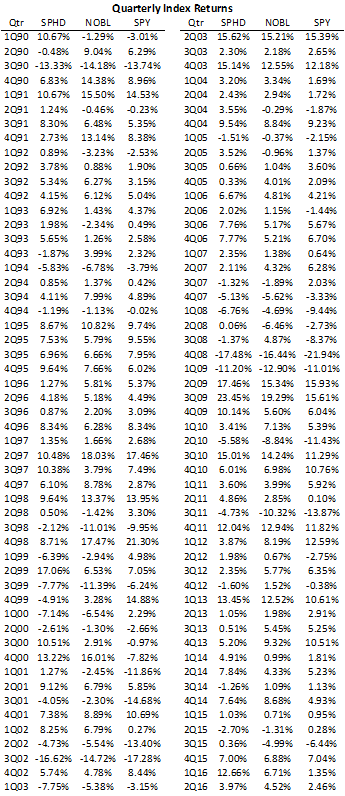 Disclosure: I am/we are long SPHD, NOBL, SPY.
I wrote this article myself, and it expresses my own opinions. I am not receiving compensation for it (other than from Seeking Alpha). I have no business relationship with any company whose stock is mentioned in this article.