By Scott Tzu
We believe we have been the voice of reason in the Nintendo (OTCPK:NTDOY) debate for the last week or two. We have said in several articles that we believe investors should not chase NTDOY stock and should wait for the stock to pull back to levels near the $20 region before considering a purchase. In our series of articles, we laid out our reasoning based on potential revenues for Nintendo going forward and all of the unknown risk factors that have yet to be accounted for with this new type of augmented reality gaming.
We think this morning's reset of expectations from the company provide a perfect pocket to begin building a position with a long-term focus. This morning, a transcript of a Nintendo AGM was posted and according to Bloomberg, management notes,
Nintendo says financial impact from Pokemon Go will be limited, according to Bloomberg headlines.
Current forecasts include Pokemon Go Plus sales and the company does not current have plans to adjust its outlook.
Nintendo said it will update expectations if it becomes necessary.
This proves to us that management is trying to reset expectations and tell the market that the financial impact of this game may not be as unbelievable as everybody's making it out to be. This was what we stated in two previous articles. This falls directly in line with our suggestion that the public take this launch with a grain of salt due to the opacity surrounding how much money Nintendo would make and the unknown risks of this new method of gaming.
As we said before, Nintendo is a great debt-free company to own, but the tacking on of almost $10 billion in market cap due to the overnight success of one game is a little overdone, we believe.
We concluded in our first article,
Euphoric situations are sometimes the toughest time to not go in and buy stock. They are often when we need the most discipline. We feel as though we are in a time like that for Nintendo and a time like that with the overall market. While the stock may continue to rise on the popularity of this app, we do not think chasing a rising stock price for an app that has only been out a couple days and whose risk profile is still relatively unknown is a responsible way to manage capital.

We are going to wait, see if Nintendo blows off some steam, read some more reviews and try and locate some risks and reevaluate the situation in a week or two. We know this isn't a sexy story pitching you a quick way to make millions, but it may be able to preserve some hard earned capital at the end of the day.
Already, the novelty of Pokémon Go is starting to wear off as best as we can tell from social media sites and forums online.
(source)
The problem with Nintendo and Pokemon Go is that everyone automatically assumed they were going to do great without doing the work. The real "surprise" profits are actually going to secondary companies that benefit alongside of video game purchases. For instance, we found out yesterday that Apple (NASDAQ:AAPL) was going to be a huge beneficiary of the game's success,
CLSA analyst Jay Defibaugh said last week that Nintendo may receive "little direct profit" from the game, given its minor stake. Nintendo's stock has nevertheless doubled since the launch of the game. "We think Apple's near-term cash flow from Pokémon Go is higher than Nintendo," Martin said.
Management is likely looking to reset expectations for a good reason. After such a successful launch, it is starting to seem that the real unexpected winners are going to be those with ancillary ties to the business, companies like GameStop (NYSE:GME) and Zagg (NASDAQ:ZAGG), both of which have over performed over the last few days.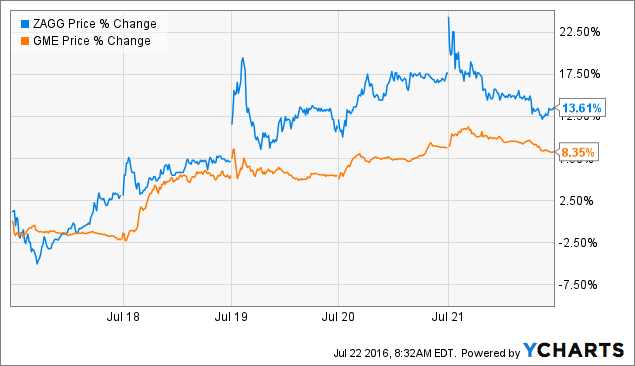 ZAGG Price data by YCharts
But CLSA also made good points that Nintendo would benefit from more A/R games in the future and coming hardware sales. This is why we think this morning's sell off may be the opportunity to buy that many are waiting for.
CLSA's note last week reiterated a sell on Nintendo, which is a rating that we don't necessarily agree with. We are not in the business of issuing advice, more in the business of dictating what our own moves are, and we certainly don't think it's a sell. Perhaps it's a hold here while we wait for it to take a couple of breaths. Really, though, our strategy is waiting for price pullbacks to find an entry point. Today's sell off could be that chance.
And the CLSA note actually goes on to make one important bullish point. The CLSA analyst makes the bull case going forward. In the note, the analyst states that Nintendo may see more profit drop to the bottom line when they release the associated hardware that is supposed to be coming in the future. He states,
"In our past conversations with Nintendo management in the context of Pokemon games for Nintendo handhelds and consoles, management has indicated that Nintendo receives royalties for Pokemon titles but, surprisingly, little direct profit benefiting instead from the impact of Pokemon titles on hardware sales and penetration."
Nintendo is going to be manufacturing a product that is a wearable that allows people to know when Pokémon are nearby. This product falls right into the category that CLSA seems to be talking about and could be a smash hit success for the company. This article in Bustle talks about why the wearable is going to essentially be a "must buy" for anyone who plays the game seriously,
With the "Pokemon Go" Plus, which connects to your phone via Bluetooth, you'll receive blinking and vibrating notifications when you're near a PokeStop or Pokemon. The button on the "Pokemon Go" Plus will also allow wearers to catch nearby Pokemon and to collect items at the PokeStops. The nifty little device can be clipped to your clothes or your bag, instead of worn on your wrist. With a distinctive PokeBall design, the thing doesn't look half bad, either.

Though you don't need the "Pokemon Go" Plus in order to play the game, it will probably be hard to compete against players with the wearable once it's released. They'll be passively playing the game all day every day with the help of their "Pokemon Go" Plus, while you'll be stuck with your face in your phone all the time. This isn't just annoying but dangerous, and reports of "Pokemon Go"-related injuries are already rolling in.
In addition, we know that the company is trying to do every single thing if they can to branch off from the success and figure out other road maps to monetizing augmented reality.
We are sure that the company is looking at different opportunities for Nintendo owned classics and we are sure that Nintendo is going to try and utilize all of the potential supplemental avenues it can for monetization.
We would suggest perhaps looking at Nintendo as well as the abovementioned ancillary companies for a way to continue playing the Pokémon craze going forward. Although their products aren't always directly linked to Pokémon Go, we are going to see an increase in in-store traffic as well as an increased need for accessories and other supplemental products that will likely help these two companies out.
The hardware element will be important for Nintendo as well. When Nintendo goes to release hardware that will technically alert players to where Pokémon are, the margins on these products should be substantial enough to give Nintendo the real bottom line boost that investors anticipated from the launch of the game. If you were looking to invest in the hardware side of things, any pull back on NTDOY shares to under $30 may be a great opportunity to get in on the long side and try and ride out the rest of the Pokémon hype as well as capitalize on high margin hardware products but the company is offering going forward.
For two weeks, we have been saying to wait for your pitch when it comes to Nintendo. This reset of expectations could very well be the dip that investors have been waiting for to buy on, and if shares move lower into the $20s we will consider this realignment a potential gift to get long in Nintendo at the price that we wanted.
Disclosure: I/we have no positions in any stocks mentioned, but may initiate a long position in NTDOY over the next 72 hours.
I wrote this article myself, and it expresses my own opinions. I am not receiving compensation for it (other than from Seeking Alpha). I have no business relationship with any company whose stock is mentioned in this article.
Editor's Note: This article discusses one or more securities that do not trade on a major U.S. exchange. Please be aware of the risks associated with these stocks.