Preferred Shares CEFs: Can We Find a Buy?
Preferred shares should be a part of any diversified income portfolio for their yield, their safety and their capital stability. Closed-end funds are an excellent choice for someone who would prefer to leave the choices to professional managers. I last wrote about preferred-share closed-end funds at the beginning of 2016. At that time, preferreds were the top-performing asset class of the previous year. Investors were looking for safe havens, especially through the tumultuous second half of 2015. Thus, preferreds were the top performer and muni bonds were the second best.
I had been loading up on both of those categories and writing about them here at SA throughout 2015. Preferred-stock CEFs were reasonable bargains throughout the year but by the end of 2015, it was beginning to look like those bargains might be fading. At the time I asked, "will that end of year momentum continue, driving… preferreds (and munis) higher over the coming months?" And, I continued, "I've been operating with the assumption that they will." Turns out that was a pretty good assumption.
Now, a few weeks into the second half of 2016, I'd really like to add to my holdings, but a few casual looks over the last few months have not shown me much with promise. I thought the time was ripe for a complete update of the category to see if I was missing something. This article shows what I've found.
Probably best place to start is to compare median values for three key metrics, Yield at NAV, Yield at Market and Premium/Discount.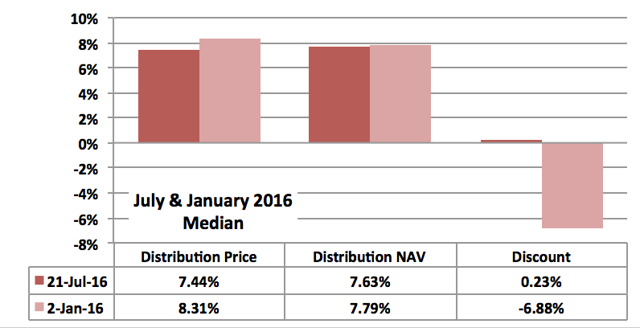 Click to enlarge
Distribution yields are down 82 bps at market and 12 bps at NAV. The median discount, which was -6.15% in January, has disappeared. The median fund is now priced at a 2.43% premium. With that 8.6-point swing from discount to premium, it's not hard to see how we've gotten that big drop in yield, is it? If nothing else had changed, the discount to premium move alone would have taken 0.7 points from the market yield rate.
The Funds
The set I've been following comprises 17 funds.
Nuveen has changed its lineup in the category since the January article by merging two funds (defunct tickers JTP and JHP) into JPS, which has been renamed.
There's a passel of excellent funds in that list. Surely, there's one or two ripe for plucking, even in the face of those category medians. Or, so you'd think.
Discount/Premium
Here is the Premium/Discount status of the funds (this and all subsequent data are through 21 July close).

Click to enlarge
This sort of distribution is something that has been repeated in many of the CEFs that fall into the safety end of the income spectrum. Only LDP and DPF have discounts below -1%, and at the high end, there are three funds with greater than 9% premiums.
To put the discount/premium values in a context, here are the Z-scores for 3, 6 and 12 months.

Click to enlarge
Every fund has a positive Z-score for the year. Only one drops below zero for six months, and one more joins it (however slightly) for the past three months, and these funds are outliers in terms of their strategies. Anyone who puts credence in the principle that Z-score indicates pending reversion to means might well be looking for money to be moving out of the category.
When I opined back in January that the momentum in preferred CEFs would likely continue, I had not imagined this sort of lopsidedness six months later. Even six months ago, positive Z-scores were the order of the day. The range pushed as far as +3.5 for HPS for six months, but the current 0.8 at 6 months for HPS tells us there has not been any meaningful mean reversion even for this extreme case as yet.
Performance
With the near absence of discounts and Z-scores solidly in positive ranges, you might think the funds have had a monster run since last January. The data aggregator I rely on to put together these analyses (cefanalyzer) does not include six-month performance stats, but we do have the 3 and 12-month numbers for total return.

Click to enlarge
Focusing on NAV return, it's clear that things have been moving in a markedly positive direction. Fund prices are exceeding NAV increases however, but we knew that from the discount/premium metrics. So, from this chart, it looks like there is some justification for investors' enthusiasm.

Click to enlarge
The 12-month picture shows more of the same. Clearly, it has been a good year for preferreds.
So, what can we conclude? NAV returns have been solid for the category. But, true to the typical pattern, CEF investors have pushed hard to buy into that performance, and by doing so, have swung the category into what looks like overvalued territory.
Distributions
It should come as no surprise that the increasing valuations have resulted in meaningful losses of yield. Recall that median yield to shareholder dropped from 8.3% to 7.4%. I was delighted to buy into this category at a median yield of 8.3%, but today's 7.4% certainly feels a lot less competitive with some other choices.

Click to enlarge
FFC, one of the stars of the category, has been bid up to the point that its category-leading NAV yield of 8.4% is down to 7.5% in the marketplace. This is not a recent move. Six months ago, I sold my entire position in FFC and moved it to its sibling FLC. FLC had a fair discount at the time (-6% or so), and as I recall, nearly the same distribution yield. Since that move, FLC is up over 15% and has a premium of 6.3%. That gain is the equivalent of two years' distributions if I sell, but it can easily turn into nothing if the discount returns. Gives one pause, doesn't it?
These two charts show the pattern of discount/premium movement in these two funds for the last year. First FFC: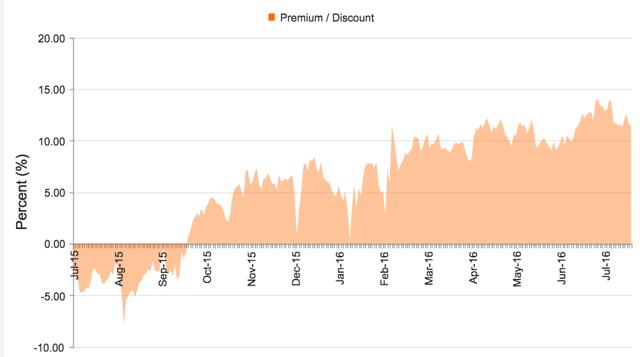 Click to enlarge
And FLC: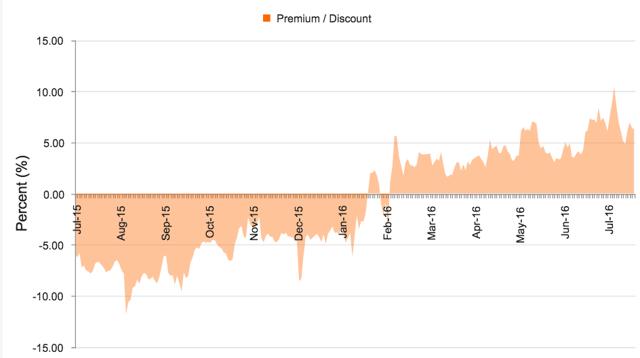 Click to enlarge
To finish up the discussion of distributions here is a chart showing UNII (Undistributed Net Investment Income) as a percent of the annual distribution.

Click to enlarge
This metric gives a indication of distribution sustainability. Negative values are not in themselves a deal breaker, but they do suggest the ability to maintain the distribution might bear investigation. The John Hancock funds (HPI, HPS and HPF) and PSF are the only ones that raise a concern about UNII. JPS looks especially strong.
Summary
Much as I like being invested in preferreds, I am increasingly concerned about the overvaluation of the CEFs in the category. As I suggested above, I am more inclined to be selling right now with an eye to getting back in when the asset class cools than I am to be buying.
If you are thinking about buying into the category despite the warning signs, here's the Mintz plot (explained here) I like to use when looking for how funds may be valued in relation to their peers.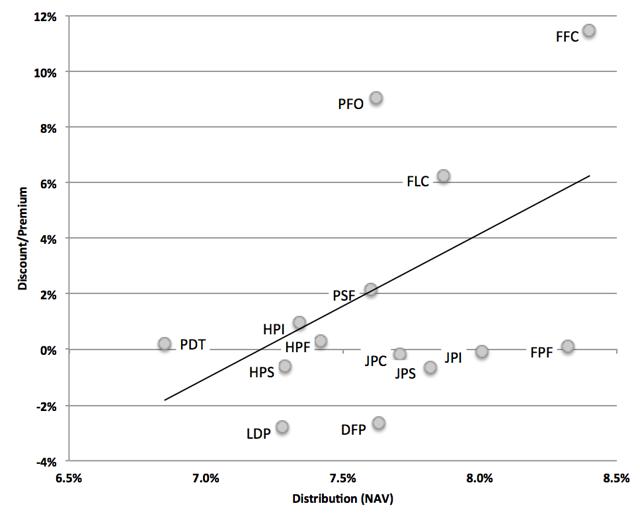 Click to enlarge
I'll not repeat my recent discussion of why this chart is useful; it's in the link in the preceding paragraph. In a nutshell, let's say that funds well below the trend line have a tendency to move to a less discounted valuation. It is by no means a definitive metric, but it does help point to funds that may be worth a further look based on their distance below the line. The Nuveen funds (JPC, JPS and JPI), which have had something of a rough patch in an otherwise bright period for preferred CEFs, are well below the line, although they are hardly discounted at all.
FPF is another that looks relatively attractive even sitting on its small premium. But this is no more than a directional signal. There are good reasons for funds to be below that line that have nothing to do with valuation. For whatever reasons Nuveen's funds tend to occupy the space well below the line fairly consistently, so I'd not make too much of their positioning.
At the other end of the spectrum, the chart emphasizes the extent to which FFC has exceeded reasonableness. It's a terrific fund. I hated to part with it. But it's not so much better than everything else that it merits a double-digit premium. PFO and FLC look too far out there as well, at least to my eye.
Another thing to keep in mind is that these funds cover a lot of territory. They are not all drawing from the same pool. FPF and DFP are global funds, which is something to consider in evaluating their apparently strong positions relative to the rest of the pack. Take a look at the January article linked in the introduction for a capsule comparison of the funds to get a sense of how they are positioned.
Bottom line? I'm not a buyer of anything right now. There are several excellent, well-managed, low-risk funds in the group, but they are too richly priced for my style of investing. I may well be a seller of my position in FLC in fact. Of all of the funds, the only one I might want to consider is FPF with its solid yield and essentially par valuation, but I already own it.
Disclosure: I am/we are long FLC, FPF.
I wrote this article myself, and it expresses my own opinions. I am not receiving compensation for it (other than from Seeking Alpha). I have no business relationship with any company whose stock is mentioned in this article.
Additional disclosure: I am not an investment professional and this article does not constitute investment advice. I am passing along the results of my research on the subject. Any investor who finds these results intriguing will certainly want to do all due diligence to determine if any security mentioned here is suitable for his or her portfolio.