Skyworks Solutions (NASDAQ:SWKS) reported Q3 earnings after the market close on Thursday and results were relatively impressive. The company marginally beat on the top and bottom lines and guided higher than I expected. As some might recall, I penned an article before Skyworks' earnings suggesting that buying puts to hedge against downside risk on what I expected to be a downbeat report might not be a bad idea. That article can be found here.
Well I bought those puts, and I was scouring and refreshing my news feed constantly, waiting for earnings to be released. When the press release was finally available, I saw Q3 results and Q4 guidance and thought that SWKS would surely head upwards. But this was not the case.
Skyworks posted a solid report, guided for a double-digit sequential revenue increase, authorized $400 million in additional share repurchases, and increased the dividend to $0.28 per share. All positive news so what gives?
Before I get into this article, please note this will not be a comprehensive analysis of the Q3 earnings report, which I will likely get to next week. This article will take a look at how management runs Skyworks and its priorities.
So You Think You're A Blue Chip?
Regardless of why the market reacted negatively to third quarter results (down 9%), I am personally disappointed by the report and with Skyworks management in general. Most observers would agree that the radiofrequency market consists of mostly growth companies capitalizing on the increasing complexity and interconnectivity of devices. This market is growing at an extremely fast pace due to this development and the top line growth of companies like Skyworks and Qorvo (NASDAQ:QRVO) can attest to that: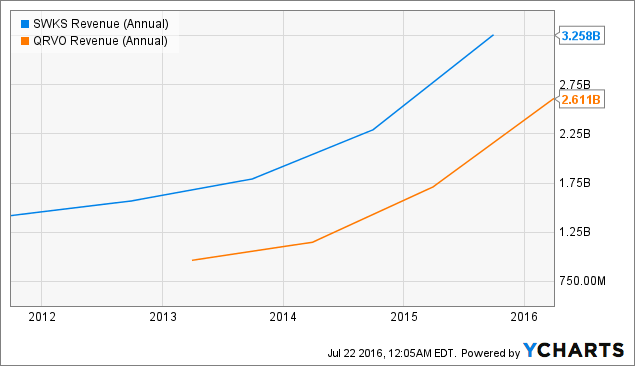 SWKS Revenue (Annual) data by YCharts
That chart demonstrates some pretty stellar increases. While both Skyworks and Qorvo have reaped the benefits of recent technological trends and shifts, the companies have taken very different approaches towards achieving success.
Skyworks has a healthy profit margin, zero debt, pays a dividend, spends hundreds of millions on share buybacks, and really has more cash than it knows what to do with. Qorvo has taken a very different approach and is focusing on growing revenue and market share at the cost of aggressive operating expenses and unprofitability.
Skyworks' plan appears much better, but I'm not sure it is the optimal strategy right now. As with all high-growth markets, there are always more companies looking to get in on the action. Skyworks competes with Qorvo of course, but there is also Broadcom (NASDAQ:AVGO) and more recently Qualcomm (NASDAQ:QCOM), through a joint venture with Japanese firm TDK. Everyone is looking for a piece of the pie.
So what is Qorvo doing to stay competitive? In 2015, the company spent 17% of total revenue on research and development to try and keep themselves competitive and on the same level as other companies in the space. The R&D figures are about the same for Q1 and Q2 2016 as well. In sharp contrast, in 2015, Skyworks spent less than 10% of total revenue on R&D and in the most recent quarter, spent a tad more than 10%. Sure, this boosted operating income, and a bit further down the line, net income, but at what cost?
Interest rates are at all-time lows, Skyworks generates plenty of free cash flow, yet management can't sell some debt to finance buybacks and dividends? Or better yet to finance an acquisition or investment? It just seems like Skyworks is content to sit on its laurels while competitors move in to steal away market share.
Take a look at this matrix originally devised by the Boston Consulting Group: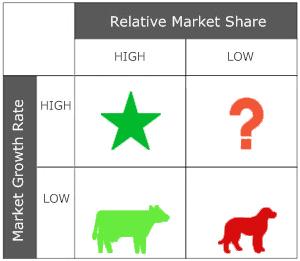 Skyworks seems to think it has a cash cow on its hands when in reality it has a star. The business has a high growth rate and relatively high market share and requires capital infusions to maintain its favorable positioning. However, management does not seem to be taking seriously the notion that to survive in a competitive marketplace, you have to be willing to spend some cash.
I would not be surprised if many of you reading this right now are in complete and utter disagreement with me and my opinions. That's fine. Maybe shareholders like the way things are being run right now with the frequent shareholder returns through buybacks and dividends. Personally, I think that Skyworks has a ton of growth potential in this business and I cannot understand why management doesn't allocate more resources towards trying to maintain and boost its market share.
This all seems too much to me like complacency. Qualcomm and Broadcom are nothing to scoff at, and Skyworks is playing with fire by trying to act like a blue chip in an increasingly competitive marketplace.
To be clear though, I still think Skyworks is a major opportunity and it remains the largest position in my equity portfolio. Q3 again showed ongoing progress in diversification with more design wins inside Huawei devices and Q4 guidance points towards a substantial sequential revenue increase. Both Q3 and Q4 revenue figures were down modestly year over year, but I think that can be attributed to poor iPhone 6 performance in the last year of its cycle. Perhaps it was the result of competition, but there is no evidence for that argument to this point, so we'll have to wait and see.
The bottom line is that I think SWKS has huge potential upside, and the odds of unlocking it will go up drastically if management decides to just spend a bit of cash instead of letting it gather dust or be returned to shareholders directly. It is my opinion that most SWKS investors want growth, not direct capital return. When a company is positioned in a high-growth market, the main objective should be to grow until you can't grow anymore. The market becomes saturated, you get entrenched, and now you have a cash cow. Then you return value directly to shareholders.
I will fully admit to being an armchair executive right now because I have never run a company nor have I ever witnessed the inner workings of Skyworks in particular. With that said, unless management knows something that we do not, I think the current strategy is not optimal for shareholder returns.
In my opinion, there are much better uses for capital at an expanding company in a high-growth, competitive market than dividends and share buybacks. Yes, the income statement, balance sheet, and cash flow statement look pristine, but that should not be a priority right now. Growth first, return capital to shareholders later. The armchair executive has spoken!
If you want to stay up to date on my articles, you can Follow me by going to my author page or by clicking "Follow" at the top of this page.
Disclosure: I am/we are long SWKS.
I wrote this article myself, and it expresses my own opinions. I am not receiving compensation for it (other than from Seeking Alpha). I have no business relationship with any company whose stock is mentioned in this article.