Halliburton (NYSE:HAL), the world's second largest oilfield services company that dominates North America, has recently released its quarterly results, in which it swung to a large loss, even after excluding the hefty charges related to its failed attempt to acquire Baker Hughes (NYSE:BHI). But there's light at the end of this tunnel.
Earnings - Quick Recap
Revenue fell 35% from last year to $3.84 billion.
The company swung to a net loss of $3.21 billion, or $3.73 per share, from a profit of $54 million, or $0.06 per share, in the corresponding quarter last year.
Excluding one-off charges, including $3.5 billion fee related to the failed merger paid to Baker Hughes, the company lost $0.14 per share.
Adjusted operating income plunged 90.4% to $62 million.
Results were better than analysts' estimate of a loss of $0.19 per share from revenues of $3.75 billion, according to data polled by Thomson Reuters.
Poor performance was led by North America where Halliburton's revenues slid 43% while it swung to an operating loss of $124 million from a profit of $130 million a year earlier.
The revenue decline in international markets was less severe while the business remained profitable (in terms of op. income) outside of North America.
Operating margin in international markets dropped from 17.9% a year earlier to 10.6% in the previous quarter.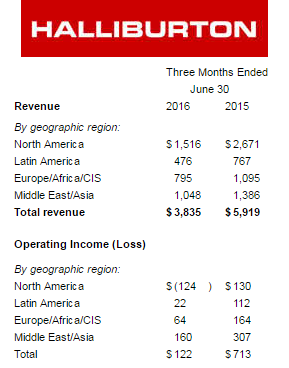 Decent Performance In A Brutal Environment
Halliburton's bottom line was expected to decline significantly as it booked charges related to its failed merger with Baker Hughes. And it did as the company posted its biggest loss in the downturn.
This is Halliburton's second significant loss in a row which has been driven by one-time charges. In the first quarter of this year, the company said that it lost $2.81 per share, thanks in large part to $2.1 billion in charges related to job cuts and asset write-downs.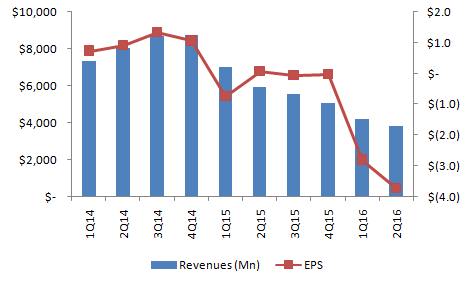 HAL quarterly results, 1Q2014-2Q2016
Meanwhile, Halliburton continued to struggle with low levels of activity as rig count declined to, what could turn out to be, the bottom of this cycle. The company also continued to face pricing pressure from its clients, the exploration and production companies, and is finding it difficult to recover payments from Venezuela's state-owned oil producer as the country goes through one of its worst political and economic turmoil.
Considering this brutal environment, Halliburton delivered a decent performance. The decline in revenues and adjusted earnings wasn't as bad as everyone feared. In fact, the company managed to outperform the rig count declines in major markets, which indicates that it could be gaining market share.
In North America, revenues fell 15% in the second quarter as compared to the first quarter, but it was better than the 23% decline witnessed in the US rig count in the same period. Similarly, revenue drops in Latin America and the eastern hemisphere were better than the corresponding decline in drilling activity.
Short-Term Weakness
The good news is that Halliburton seems to have taken into account all the major one-time charges. Consequently, moving forward, we'll likely witness a substantial improvement in earnings on a sequential basis. However, we are still not through with the downturn yet and the company's earnings may remain in the red.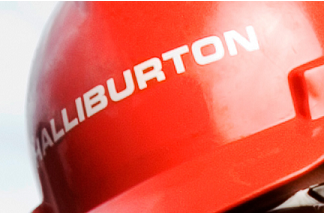 That's because, firstly, while the drilling activity has picked up recently as oil climbed to around $47 a barrel, the gains have been modest. According to the latest report from Baker Hughes, there are currently 542 rigs operating in the US and Canada; this shows a drop of 507 rigs from a year earlier. This means that even if shale drillers continue to add rigs, it will still take a lot of time before the rig count climbs back to last year's levels.
Secondly, Halliburton, like all other oilfield service providers, has given deep discounts to oil producers. It needs to scale back pricing in order to improve its bottom line and post a turnaround. But the recent rise in rig count hasn't come with a corresponding increase in capital expenditure from oil and gas producers. Although some shale drillers, such as Devon Energy (NYSE:DVN), have increased drilling expenditure, a large majority of oil producers continue to keep a lid on their spending levels and are reluctant to offer better prices.
This means that for now, Halliburton will continue to struggle with weak revenues and earnings.
Light At The End Of Tunnel
However, we are now seeing the first signs of a turnaround.
As mentioned earlier, drilling activity has picked up in recent weeks, with 21 rig additions seen in the US and Canada in the week ending July 15. The gains have come as oil producers show confidence in the ~70% increase in oil prices seen since February. Companies like Devon Energy and Pioneer Natural Resources (NYSE:PXD) have talked about adding additional rigs in the coming months. Overall, Halliburton believes that we'll see a "modest uptick" in rig count in the second half of this year, though an uptick nonetheless which will be a big positive.
Buoyed by this development, Halliburton is now actively pushing for better prices. The company is now willing to walk away from those jobs that it believes are uneconomic and is evaluating every contract that it has signed in the downturn. In the coming quarters, the pricing environment should improve, which will lift Halliburton's profit margins and earnings.
Meanwhile, oil producers are focusing on more efficient, high-intensity drilling methods by covering larger areas, using more proppants and greater horsepower on a single well than ever before. In fact, Halliburton's president, Jeff Miller, believes that 900 rigs working today will consume as much horsepower as 2,000 rigs did prior to the downturn. That has boosted the demand of fracking equipment, even though the rig count is down on a year-over-year basis. Halliburton could turn out to be the biggest beneficiary here given it is the global leader in the fracking equipment space and has a ton of idle equipment available just waiting to get more work.
Note from author: Thank you for reading. If you like this article, then please follow me by clicking the "Follow" link at the top of this page.
Disclosure: I/we have no positions in any stocks mentioned, and no plans to initiate any positions within the next 72 hours.
I wrote this article myself, and it expresses my own opinions. I am not receiving compensation for it (other than from Seeking Alpha). I have no business relationship with any company whose stock is mentioned in this article.
Additional disclosure: I own shares of funds that may hold a long position in SLB, HAL.