Over the past several years Canada's second largest railway, Canadian Pacific Railway (NYSE:CP) has seen its stock climb as high as $214.00 only to see it come crashing back down to $104.00 earlier this year.
The sudden drop in price has lead many to question the long-term value that CP Rail may have in investors portfolios. The debate has also emerged as to if CP Rail should be a long-term hold, or my preferred outlook, a short term hold. Now as CP Rail releases its Q2 2016 report we must see if there is any chance for the stock to recover to the $200.00 range in the near-future.
CP Rail's quarterly report is very much a highlight reel of the troubles that the Canadian economy had during the first half of 2016. With lower than anticipated exports and energy shipments CP Rail's financials are covered in red ink. Revenues in the quarter fell by 12% to C$1.45 billion from C$1.65 billion. As we see below two of the largest drops in revenues came from the lack of crude and Canadian grain.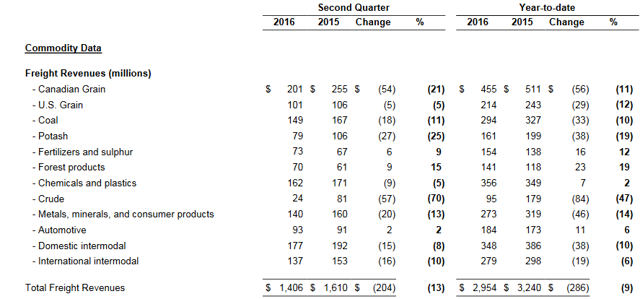 Click to enlarge
source Q2 2016 report
Both of which are understandable given the current state of lower energy prices and the Fort McMurray forest fires. While grain shipments are down this is more a reflection that grain production was back to normal levels, as in Q2 2015 CP Rail was still dealing with the backlog from that years' record setting crop.
However the bad news continues for CP Rail in its quarterly report as operating income fell to C$551 million from C$646 million. Despite the fact that operating expenses fell from C$1 billion to C$899 million, thanks to a 29% decrease in fuel costs. When we get to the bottom line, reported net income fell by 16% to C$328 million from C$390 million. In terms of earnings per share this translates to C$2.16 per share in Q2 2016 down from C$2.38 per share in Q2 2015, far below analysts expectations of C$2.50 per share. These results should have come as no surprise for investors as CP Rail warned back in June in its earnings outlook that "lower-than-anticipated volumes in bulk commodities, such as grain and potash, the unexpected and devastating wildfires in northern Alberta and a strengthening Canadian dollar" could lead to a 12% drop in revenues.
Operating margin fudging
The last and perhaps most key section of CP Rail's financials in the eyes of investors is its operating margin. The magic number that CEO Hunter Harrison vowed to reduce, the drive to lower the operating ratio has driven the bulk of the railway's decisions (for better or worse) in the past few year. This means that the operating ratio has become the measuring stick with which the investors judge this company upon, and the goal to reduce the operating ratio has driven much of the stock price growth in recent years.
I have written previously (here & here) on how the quest to achieve a better operating ratio has led the company to make some odd and dangerous decisions. Such as the plans to sell off property holdings, and overly aggressive share repurchase program, attempted acquisition of Norfolk Southern Corp. (NYSE:NSC), a 100 year debt bond offering, the hollowing out of its locomotive fleet and workforce. This has also lead to decisions that have lead to safety concerns, derailments and Transport Canada reprimands, along with increased discontent from customers.
I have previously called this the "Great Canadian Pacific Magic Show" as its quest for increased profits and a more favorable net income is stripping out the company's ability to compete against its competitors. There has also been the question to the lengths that CP Rail will go to ensure the best possible operating ratio, and I am not alone in thinking this.
Recently an analyst at Accountability Research Corp stated that he believed that CP Rail's Q1 record operating ratio was generated through "questionable" accounting practices. As CP Rail apparently used the C$50 million it generated from the sale of the Arbutus Corridor in Vancouver to adjust its operating ratio to 58.9%. When the analyst stripped out the property sale the operating ratio became 62.1% in Q1 2016. Now in Q2 2016 the operating ratio, with out any one time sales of property or other factors was 62.1%, which is up from 60.9% in Q2 2015, and this is just one example.
This is such a key issue in the debate over a long-term or short-term hold because it is this one number which has had so much weight on CP Rail's stock price. Plus the fact that this is a non-GAAP calculation that can vary between companies makes it even easier to manipulate. So this creates our debate, on the one hand we have a company whose quest is to slash its operating ratio and boost profits. On the other hand we have a company which has cut every corner and is beginning to show cracks in the form of safety issues, labour issues and customer complaints.
While it is the job of a publicly-traded company to be profitable and reward its shareholders, it must do it in a way that doesn't threaten the long-term viability of the company or its ability to compete. Which is what I have believed about CP Rail for sometime now, that over the short term investors can make some money on this stock, but eventually all of these cuts will come back and bite CP Rail, leaving investors in an unwanted predicament. Which is why according to my own investing beliefs I cannot endorse a long-term "set it and forget it" hold on this company.
The investment caboose
Despite my views on CP Rail's ability to compete in the long-term there is still an opportunity to hop on the rails and ride the stock price towards its price targets. CP Rail is still recovering from the February crash of the TSX and has been steadily climbing back up.
| | | | | | | |
| --- | --- | --- | --- | --- | --- | --- |
| | Price | 52 week high | 52 week low | Annualized dividend | Dividend yield | Fwd p/e |
| TSX | C$194.59 | C$212.06 | C$140.02 | C$2.00 | 1.04% | 18.66 |
| NYSE | $149.01 | $162.83 | $97.09 | $2.00 | 1.07% | 14.35 |
CP Rail has a current average price target of C$174.89 with a range of C$162.00 to C$214.00 on the TSX. With the most recent reports coming in on Thursday from Dejardins with a price target of $212.00 and RBC at $216.00.
While CP Rail's NYSE average price is sitting at $145.18 with a range of $133.00 to $203.00, with the most recent report coming from Cowen coming in at $168.00 on Wednesday. This means that the there is still an opportunity to take advantage of this stock over the short-term.
Despite the favorable price targets there is still some risk here as the Conference Board of Canada has just reduced their GDP outlook for Canada to 1.4% from 1.6%. This combined with the continuance of low oil prices and a coming change of leader ship next July at CP Rail, means that investors who do buy into CP Rail must pay close attention.
Author's note: If you enjoyed this article and found it helpful, please "Follow" me on Seeking Alpha to receive notification whenever I publish a new article.
You may also be interested in other recent articles I have written for Seeking Alpha with my Canadian point of view that focus on stocks and stories that I have found compelling. You can also find my previous articles here for further study.
Disclosure: I/we have no positions in any stocks mentioned, and no plans to initiate any positions within the next 72 hours.
I wrote this article myself, and it expresses my own opinions. I am not receiving compensation for it (other than from Seeking Alpha). I have no business relationship with any company whose stock is mentioned in this article.