By Parke Shall
Some of the best news that Ford (NYSE:F) shareholders could have gotten was the General Motors (NYSE:GM) earnings report just a day ago. General Motors knocked it out of the park, beating on both lines handily and more importantly, showing promise in both Europe and in China. For those that didn't catch the General Motors report, here is a wrap up from Seeking Alpha,
General Motors +4.1% premarket after easily beating Q2 earnings expectations and raising its FY 2016 guidance despite concerns about the financial impact of the U.K.'s decision to leave the European Union.
GM says Q2 net income more than doubled to a record $2.9B from $1.1B a year ago on 11% higher revenues of $42.4B, with operating margins of 9.3% globally and 12.1% in North America representing post-bankruptcy records, despite relatively flat sales and a decline in U.S. market share.
GM posted a $137M profit in its European operations, its first quarterly profit in the region since 2011 after losing $45M in the region a year ago, but it warns that the U.K.'s plan to exit the European Union could cost the company $400M in H2.
Income from China operations was steady at ~$500M, although the 9.5% operating margin for the country was slightly lower than a year ago.
GM raises its full-year EPS outlook to $5.50-$6.00 from $5.25-$5.75 previously, vs. $5.63 analyst consensus estimate.
Why is this great news for us Ford shareholders?
We believe Ford is going to blow it out of the water this quarter as well, as the public focuses on an auto financing bubble that has yet to burst and how each individual auto company continues to crank out excellent operational results for itself. We have noted this in several of our past articles, stating that as long as the company continues to meet or exceed expectations, that with a small short in Credit Acceptance (NASDAQ:CACC), a consumer auto credit company, owning Ford should not be an issue here.
General Motors and Ford have seen their earnings be very similar over the last few years. Usually, when one of the automakers is doing well, the other one is also doing well. The companies trade side by side because their results are generally very close to one another in relative fashion.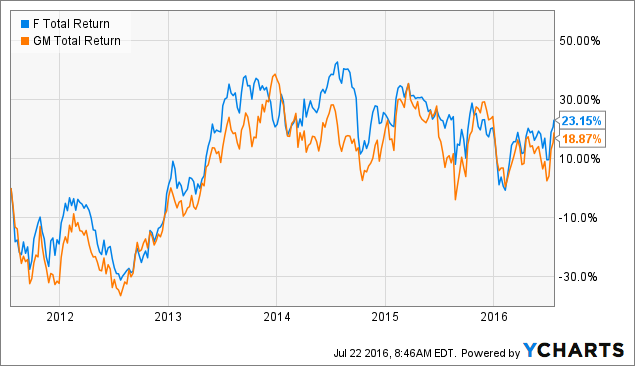 F Total Return Price data by YCharts
Those that have been reading this for a while know that our main focus for Ford has been its international profit centers, an area that Ford has invested a lot in but has yet to see a lot of return in as far as the bottom line is concerned. Our long term bull case on Ford revolves around the company turning international locations into profit centers, using them to boost the bottom line, and the multiple getting too compressed to ignore. As you can see, right now, both US automakers trade at a very low multiple and a very high dividend yield.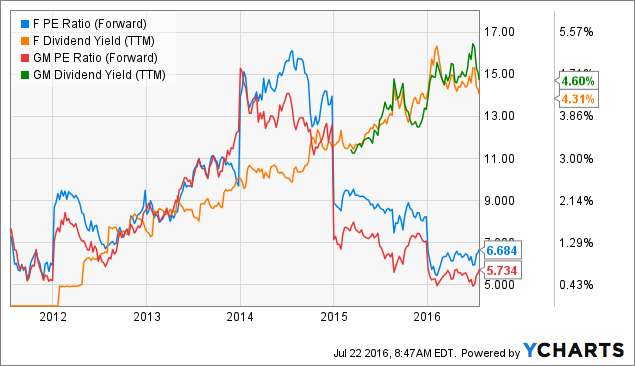 F PE Ratio (Forward) data by YCharts
Again, this is due to lingering fears of an auto financing bubble bursting. We have recommended in several articles and will recommend again shorting CACC as a hedge against any long position in any US automaker. Here is how they have performed collectively,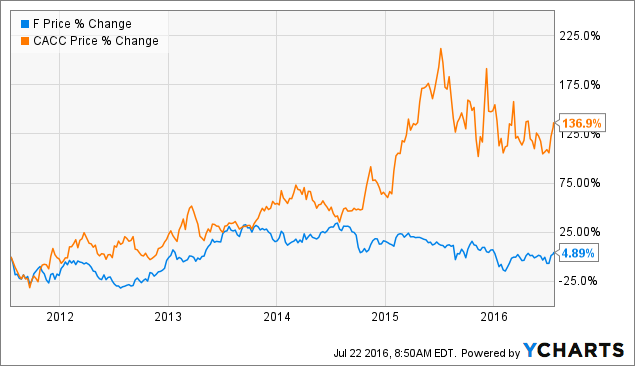 As you can see, CACC has been the obvioius beneficiary of low interest rates and easy credit for consumers post-2008. It's up 136% over the last 5 years, making it a prime suspect for a pull back should the auto credit market start to come undone. For Ford and GM, we're not sure how much more downside there is when you already trade at just 5x forward earnings.
General Motors also gave us decent news from China.
"This was an outstanding quarter for GM," said Chairman and CEO Mary Barra. "Our results were generated by strong retail sales in the U.S., record sales in China and a continued emphasis on improving the performance of our operations worldwide. We'll continue to focus on driving profitable growth and leveraging our technical expertise to lead in the future of personal mobility."
China has been another international location that Ford has invested billions of dollars in, in hopes of being able to produce vehicles that are cheaper and turn it into a profit center. Ford has also invested billions over the last 12 months into researching smart car and EV technology in China, two of the emerging auto markets overseas.
We believe that Ford is moving in the right direction, both domestically and overseas. The core business continues to show strength in key markets like Europe, and it continues to innovate here on the homefront, launching the new 2017 Super Duty and soon launching its new F-series, piggybacking on the innovation Ford spearheaded when they made a shift to using aluminum in their vehicles years ago.
The continued focus on efficiency from weight loss proves that innovation made years ago and continue to pay benefits for years to come. While other automakers like GM are focused on distributing capital to shareholders, Ford continues to make strategic investments in itself all over the globe in hopes that these initiatives will pay out in years to come. We think that profitability in key international markets will drive Ford's stock much higher in years, so we support these strategic investments across the globe.
For those that have been reading us, you know that there has been a significant amount of call buying in Ford as well this week. We noted days ago,
Also catching our eye was a bullish bet in the options market yesterday that came in to Ford. Traders bought the weekly expiration $13.50 calls. 2311 contracts were bought in one shot and 15K contracts in total were traded during the day. This was compared to total open interest of 11K contracts. This bet signifies the bettor is looking for an almost immediate price move to the upside.
In addition to those call buyers we pointed out just two days ago, we saw more call buying in the $14 strikes yesterday and the day prior. The expirations were scattered, ranging from next week, to the beginning of August. According to Yahoo Finance, the company will be reporting earnings on July 28th before the bell.
The real question is what is going to unlock value when it comes to the multiple. How are we going to see multiple expansion in the sector that doesn't seem to want to expand? One good way we could see a return on our investment is for Ford to issue another special dividend, similar to the one that they did months ago, to give their shareholders some of the value that has been trapped in a stock trades at such a low multiple.
Another option at the company has, that it has not tapped, is to perform a buyback. We have not been huge fans of using capital for this, as we would rather see Ford continue to simply invest in itself and invest in innovation, but a buyback is certainly on the table due to the compressed nature of Ford stock
We see the General Motors positive news as a definite positive catalyst for Ford moving forward here, and we are happy to be long into the earnings print next week.
Disclosure: I am/we are long F, GM.
I wrote this article myself, and it expresses my own opinions. I am not receiving compensation for it (other than from Seeking Alpha). I have no business relationship with any company whose stock is mentioned in this article.