Inland Real Estate (NYSE:IRC) announced a re-opening of their 8.125% series A $25 par perpetual preferred.
Inland Real Estate Corporation is a self-managed real estate investment trust that owns and operates neighborhood, community, power and single tenant retail centers. IRC is the largest shopping center REIT focused on operating throughout the Midwest and Chicagoland, with a total of approximately $1.8 billion in asset acquisition value. The company is one of the Midwest's largest owners and operators of community and neighborhood shopping centers, or everyday necessity retail.
Centers with a grocery, drug or discount component comprise 82% of total retail gross leasable area (GLA). IRC has interests in 85 retail assets in the Chicago area, comprising 64% of the retail portfolio and 7% market share based on retail square footage. IRC also has a large presence in the Minneapolis-St. Paul area, with 27 properties comprising 17% of the portfolio and representing a 4% market share.
The Details
Issuer: Inland Real Estate Corporation
Security Type: Cumulative Redeemable Perpetual Preferred Stock
Rating: Not rated
Original Deal Size: $50 million (2mm shares)
Dividends: Monthly, Fixed for Life, and Cumulative
CUSIP: 457461408
There are also special optional redemption and conversion features:
Optional redemption: Upon the occurrence of Change of Control (COC), the company may redeem the Series A Preferred Shares, in whole or in part and within 120 days after the first date on which the COC occurred, by paying $25 per share, plus any accrued and unpaid distributions.
Conversion: Upon the occurrence of Change of Control, each holder of Series A Preferred Shares will have the right (subject to the Company's Special Optional Redemption) to convert some or all of the Series A Preferred Shares held by such holder on the COC Conversion Date into a number of the common shares per Series A Preferred Share to be converted equal to the lesser of:
• the quotient obtained by dividing (i) the sum of the $25.00 liquidation preference plus the amount of any accrued and unpaid distributions to the Change of Control Conversion Date by (ii) the Common Share Price; and • 11.4943 (the Share Cap), subject to certain adjustments.
Prospectus can be found here.
Some stats on Inland:
Dividend Payout to FFO - 67.86%
Recurring EBITDA/ Interest Expense - 2.74x (+.53 YOY and +.34 seq)
Total Assets - 1,159,906 (Down 7.7% YOY and down 8.5% seq)
FFO per Share - $0.21 (Flat YOY, down 18% sequentially)
Occupancy - total portfolio leased occupancy rate of 92.7%
IRC has a diversified rental base of well-known tenants: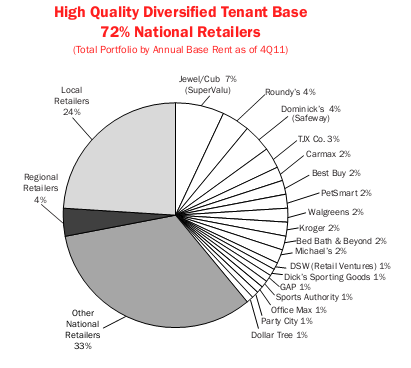 Lets look at some comps for the issue:
Issuer Ticker Size ($mm) Cpn Rating Call Date PX YLD
Inland IRC/A $50.0 8.125% NR/NR 10/06/16 25.83 7.91
Kite Realty KRG/A $70.0 8.250% NR/NR 12/17/15 25.39 8.14
Excel Trust EXL/B $92.0 8.125% NR/NR 01/20/12 25.61 7.98
KIMCO KIM/F $175.0 6.650% Baa2/BBB- 03/28/12 25.29 6.64
Assuming this issue comes at the low end of the expected yield (8%), its yield is attractive - both compared to its peers and where the issue currently trades. Looking at IRC versus its non-rated peers, while IRC holds many properties in JV form (as does Kite) (NYSE:KRG), it has lower secured debt than Excel (NYSE:EXL) and the preferreds have a conversion feature that Kite does not.
As a result of the comparison to their peers (operating model, secured debt and issue features), I believe that this issue has value and should be considered by preferred stock, REIT or income investors.
Disclosure: I have no positions in any stocks mentioned, and no plans to initiate any positions within the next 72 hours.