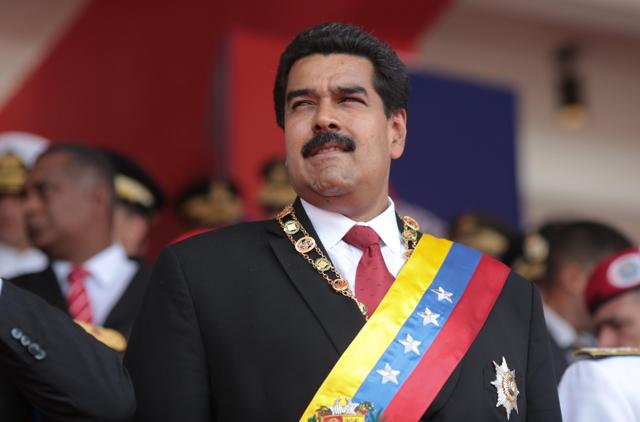 Click to enlarge
Venezuela President Nicolas Maduro
Last month Venezuela state-owned oil company PDVSA announced it signed financing agreements with oil services companies Weatherford (NYSE:WFT) and Halliburton (NYSE:HAL) to help alleviate its payment difficulties. PDVSA has more than $20 billion in unpaid bills which had prompted Schlumberger (NYSE:SLB) and Halliburton to halt or slow work. Both Weatherford and Halliburton have been struggling to find new sources of revenue amid the slump in oil prices and E&P. Venezuela is one of the world's largest oil producers and a loss of its business would have stung the oil services giants.
The Situation
Venezuela receives over half its revenues from the sale of oil. It missed the opportunity to diversify its economy when oil prices were above $100. Now the rout in oil prices has punished the country. It borrowed $60 billion from China in exchange for a steady flow of oil; however, China's consumption of oil and other commodities could decline if its economy slows. Venezuela's economy contracted in 2015 and is expected to contract by double-digits again this year. The country's oil production fell to a 13-year low in June.
According to RBC analyst Kurt Hallead Halliburton received about 3% of its revenue from Venezuela and had $704 million in receivables from the country at year-end 2015. Weatherford received about 4% of its revenue from Venezuela and had $205 million in credit exposure.
Can Weatherford Afford To Use Its Balance Sheet To Compete?
Using one's balance sheet to help struggling clients purchase oil services and equipment could make sense. However, Weatherford may not be in the best financial position to support such an endeavor. Its $7 billion debt load has been given a junk rating, and I am on record that the company is insolvent. In fact, Weatherford has raised capital twice this year to help service its debt.
At Q1 its cash on hand was $464 million -- paltry compared to Halliburton's $9.6 billion and Schlumberger's $14.4 billion. Secondly, Weatherford's cash flow from operations was -205 million. This compares unfavorably to cash flow from operations for Halliburton and Schlumberger of - 171 million and $1.2 billion, respectively. Given Weatherford's insolvency I do not expect the situation to change anytime soon.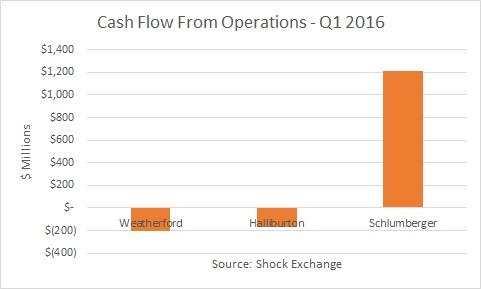 Weatherford recently raised over $2 billion in debt to redeem some of its bonds maturing from 2017 - 2019. If investors do not tender $2 billion worth of bonds I suspect some of the capital raise will be used to shore up Weatherford's liquidity. Nonetheless, using its balance sheet to finance PDVSA's oilfield services would likely worsen its already negative cash flow and chew up capital. Investors should continue to avoid WFT.
Disclosure: I am/we are short WFT, SLB.
I wrote this article myself, and it expresses my own opinions. I am not receiving compensation for it. I have no business relationship with any company whose stock is mentioned in this article.